These tender and chewy chocolate cookies are so simple to make. The batter is made from butter, sugar, egg, flour and lots of rich cocoa powder. Then, we add lots (and lots) of chocolate chunks to make them extra delicious. (More chocolate is always a good idea, right?)
This chewy double chocolate cookies recipe is one of our favorites…
They are moist, tender and perfectly chewy. Extra chunks of chocolate pierce through the cookies and melt away in your mouth. They're easy, too! No stand mixer required and you can make the dough in about 10 minutes.
We made these chocolate cookies for the Great Food Blogger Cookie Swap. We sent a dozen cookies to 3 different food bloggers and received amazing cookies from Kelly and Carol.
Hooray for cookies!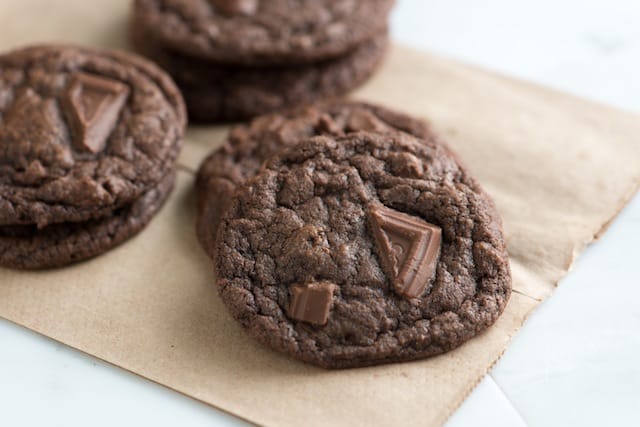 Did you like our chewy chocolate cookies? If so, we bet you'll love these:
Chewy Double Chocolate Cookies Recipe
These tender and chewy chocolate cookies are so simple to make. The batter is made from butter, sugar, egg, flour and lots of rich cocoa powder. Then, we add lots (and lots) of chocolate chunks to make them extra delicious.
Created By: Joanne and Adam Gallagher
Yield: 3 dozen cookies
Ingredients
1 cup plus 2 tablespoons (255 grams) unsalted butter at room temperature (2 1/4 sticks)
1 cup (200 grams) sugar
1 cup (215 grams) light brown sugar
2 eggs
2 teaspoons vanilla extract
2 1/2 cups (350 grams) all-purpose flour
3/4 cups (60 grams) unsweetened cocoa powder
1 teaspoon baking soda
1/2 teaspoon salt
12 ounces (340 grams) milk chocolate chunks (about 2 1/2 cups)
Method
Preheat oven to 350 degrees F ( degrees C). Then, line two baking sheets with parchment paper.
Add butter and sugars to a large bowl, turn a hand mixer to medium speed and beat until creamy, light and fluffy.
Add one egg, then turn mixer to medium and beat until well incorporated. Add the second egg as well as the vanilla extract and beat until they are well incorporated.
In a separate bowl, combine the flour, cocoa powder, baking soda and the salt with a whisk. Whisk at least 6 to 10 times.
With the hand mixer on low, slowly add the dry ingredients to the wet ingredients, scraping down the sides of the bowl as needed. The cookie batter will become very thick. You only need to mix until everything has combined.
Then, use a large knife to chop the chocolate into small chunks. Add the chocolate to the batter then use a spoon or spatula to stir in the chocolate.
Drop cookie dough by rounded tablespoonfulls onto baking sheets (or use a medium cookie scoop). Bake 9 to 12 minutes or until the cookies have puffed a little and the tops are dry. Cool on baking sheets for 5 minutes then transfer to a cooling rack and cool completely.