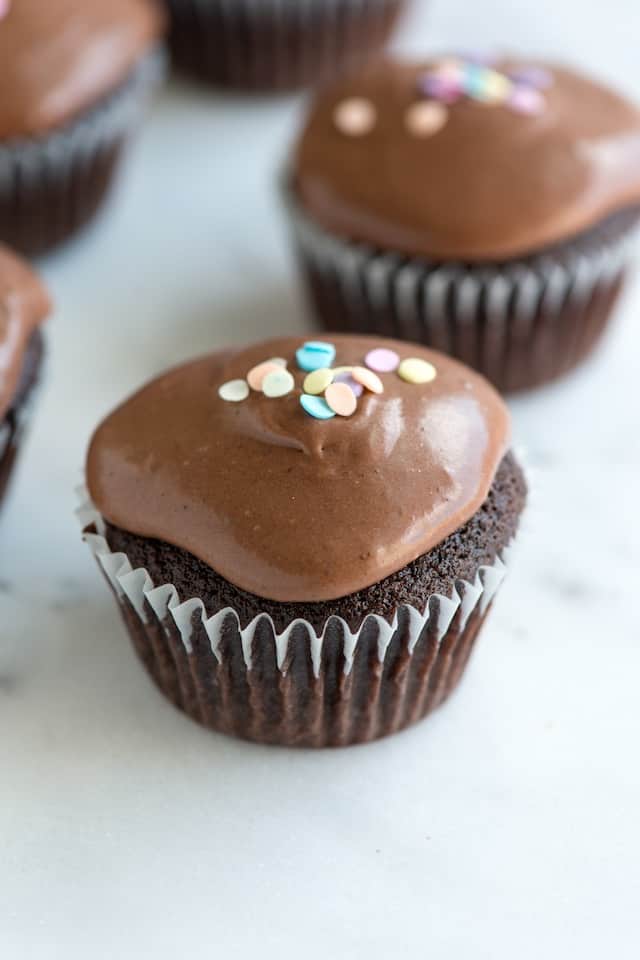 This isn't your standard chocolate cupcake recipe. Packed with butter, cocoa powder and sour cream, these chocolate cupcakes are light, chocolaty and moist all at the same time. There's even a secret ingredient thrown in. Can you guess what it is?
It's coffee — we know, coffee sounds a little odd, but trust us. You don't end up tasting the coffee, but you do taste the chocolate. That's right — coffee boosts the flavor of the cocoa powder, making these taste rich and chocolaty.
The cupcakes are topped with one of our favorite frosting recipes — sour cream chocolate frosting.
Mixer Free Double Chocolate Cupcake Recipe
There's no need to break out the mixer for these cupcakes 0r the frosting. Just a few bowls, a whisk and a spoon. Pretty awesome, right?
Making the Cupcakes
Making the cupcakes is simple — melt butter, add the coffee and cocoa powder then whisk until smooth. Then, combine with flour, sugar and a few more ingredients like baking soda and salt.
After that, add sour cream, eggs and vanilla. Then, they are ready to bake. Seriously simple.
What is Sour Cream Chocolate Frosting Like?
If you've never had sour cream chocolate frosting, the best way to explain it is something in between rich chocolate pudding and buttercream. It isn't something you can pipe onto cake. Instead, you just spoon or spread it on top. The frosting then has enough powdered sugar in it to gently fall over the sides of the cupcake, but not so far that it's messy.
It tastes rich, chocolaty and is a tiny bit tart from the sour cream, which we like — it cuts through the richness.
It goes without saying that you could use any frosting you like — for this chocolate cupcake recipe, we also love the creamy white frosting used on our Guinness Chocolate Cake.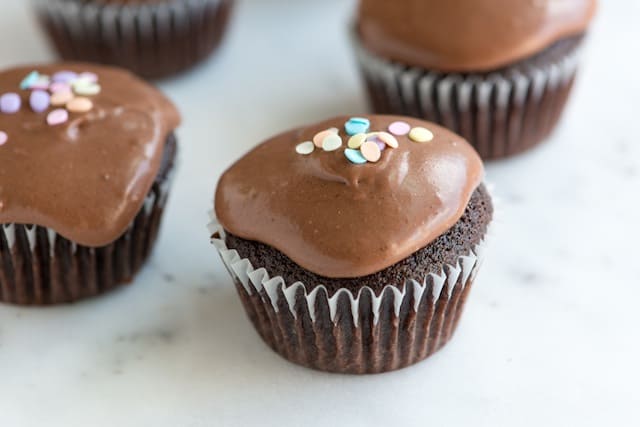 We just love these double chocolate cupcakes. What do you think, are you ready to give them a try?
You May Also Like
Double Chocolate Cupcake Recipe
Why we love this recipe. These chocolate cupcakes are so easy to make. They are light, but so chocolaty. We top each cupcake with a spoonful of sour cream chocolate frosting -- a frosting that's between pudding and buttercream. It's rich, chocolaty and delicious.

What you need to know. We add coffee to this recipe -- you don't really taste the coffee. It's there to bring out as much chocolate flavor as possible. If you don't want to use coffee, water will also work. Also, you can make the sour cream chocolate frosting a day in advance -- just keep covered in the refrigerator.

Equipment you'll need. You will need a small saucepan, measuring jugs, cups and spoons, large bowl, medium bowl, spatula and a whisk.
Created By:
Joanne and Adam Gallagher
You Will Need
Chocolate Cupcakes
3/4 cup (170 grams) unsalted butter (1 1/2 sticks)
3/4 cup (177 ml) brewed coffee
1/2 cup (41 grams) unsweetened cocoa powder
1 1/2 cups (210 grams) all purpose flour
1 1/2 cups (300 grams) sugar
1 1/2 teaspoons baking soda
1/2 teaspoon kosher salt
2 large eggs
1/2 cup (125 grams) sour cream (we use regular sour cream)
1 teaspoon vanilla extract
Sour Cream Chocolate Frosting
1/4 cup (57 grams) unsalted butter (1/2 stick)
1 ounce (28 grams) unsweetened chocolate, chopped
3 tablespoons unsweetened cocoa powder
1 teaspoon vanilla extract
1 cup (115 grams) powdered sugar
1/4 to 1/3 cup (63 grams to 83 grams) sour cream (we use regular sour cream)
Directions
Heat Oven and Prepare Pan
Heat oven to 350 degrees F (177 degrees C). Place paper baking cups in each of 18 regular-size muffin cups.
Prepare Cupcake Batter
Melt butter in a medium saucepan over medium heat then add coffee and warm through. Remove from heat then whisk in cocoa powder until completely smooth. Cool 1 minute.
Combine flour, sugar, baking soda and salt in a large mixing bowl. Whisk or stir 10 to 20 times -- it is important that everything is combined.
In a small bowl, whisk together eggs, sour cream and the vanilla extract until well blended.
Pour cocoa and coffee mixture into the flour mixture then use a spatula or large spoon to gently stir until combined. You do not need to beat, just stir until incorporated. Now, add the egg and sour cream mixture and continue to stir until incorporated.
Bake Cupcakes
Fill prepared muffin cups two-thirds full then bake 16 to 20 minutes until a tooth pick can be inserted and comes out clean. Cool in pan 5 minutes then transfer to a cooling rack and cool completely.
Prepare Sour Cream Chocolate Frosting
Melt butter and chocolate in a small saucepan over low heat, stirring constantly until smooth. Transfer butter and chocolate to a medium bowl then whisk in the cocoa powder and vanilla extract.
Whisk in powdered sugar then add 1/4 cup of the sour cream and whisk until blended. Frosting should be loose, but spreadable. Add more sour cream as necessary. Refrigerate 30 minutes. (This frosting thickens slightly after refrigeration).
Frost Cupcakes
Check the consistency of the frosting -- if it is a little too loose, refrigerate it for another 30 to 45 minutes. It thickens slightly when cold.
To frost cupcakes, spoon or spread a generous tablespoon on top of each cooled cupcake.