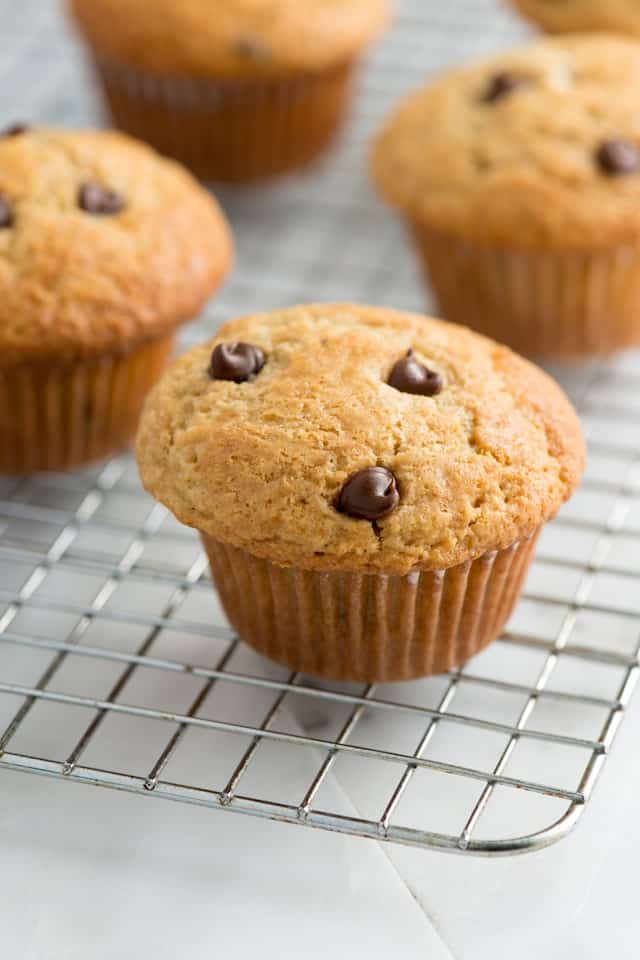 These vanilla-scented muffins, filled with chocolate chips are tender and moist. Plus, they only take about 30 minutes to make — and most of that is the baking time.
This is a classic recipe — no fuss and still unbelievably delicious.
If you get some extra inspiration though, you could add additional ingredients.  Pecans or walnuts, a variety of chocolate or even a few strawberry slices would be delicious.
Quick and Easy Chocolate Chip Muffin Recipe – Less Than 30 Minutes
One reason we love making muffins is they are usually simple and fast to make. If we're craving something sweet or baked fresh from the oven, muffins are always on the list.
These chocolate chip muffins don't require any fancy equipment — just bowls and a spoon.
Flour, brown sugar and salt are combined with two leavening ingredients — baking powder and baking soda. They both help the muffins rise — the baking powder does most of the rising, while the baking soda keeps the muffins tender and soft.
Then, we combine vegetable oil, an egg, milk and vanilla extract. That's stirred into some sour cream, which adds flavor and even more moisture to the muffins.
Everything is combined, chocolate chips are added and you're done. Told you it was easy.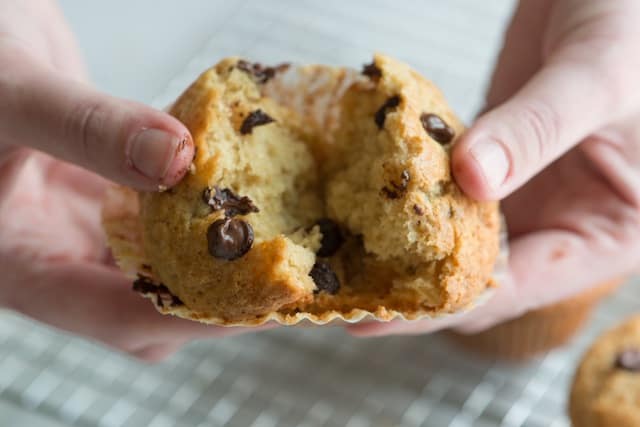 Just look at that muffin — they're so delicious when warm.
Keep Things Light, Don't Over Mix
When you make muffins, remember this: mix dry ingredients as much as you want, mix wet ingredients as much as you want but, when you put the two together only mix until they combine. If you over mix, the muffins will be heavy and flat. This is why we ask you to use a fork to mix things together in our recipe below. If you were to use a hand blender or stand mixer, the muffins could become tough.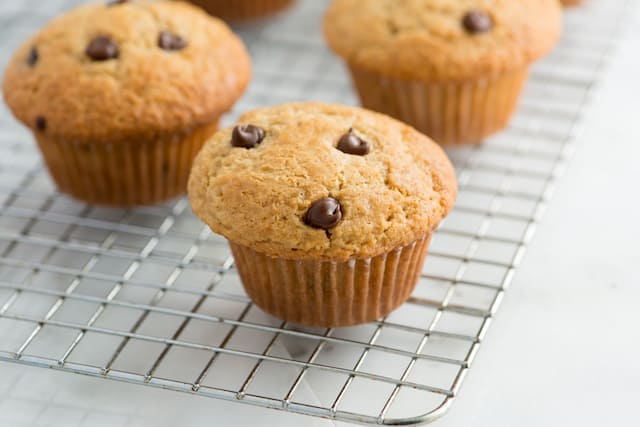 What do you think, have we convinced you to make our chocolate chip muffin recipe yet? They are so good.
You May Also Like
Classic Chocolate Chip Muffin Recipe
Why we love this recipe. This recipe is so easy to make. We especially love these when we're in the mood for something other than cereal, we'll skip pancakes and make these for breakfast instead.

What you need to know. This chocolate chip muffin recipe makes 9 muffins. Since most standard muffin tins have 12 muffin cups, in our recipe we ask that you add 1 to 2 tablespoons of water to the empty cups. This way the cups with water will heat up at the same rate as the cups with muffin batter, helping the muffins cook evenly.

Equipment you'll need. You will need a 12-cup muffin pan, 2 bowls, paper liners, a whisk, a measuring jug that holds at least 1 cup, measuring cups and spoons, a fork and a spoon or spatula.
Created By:
Joanne and Adam Gallagher
You Will Need
1 1/2 cups (195 grams) all-purpose flour
3/4 cup (150 grams) brown sugar
1/2 teaspoon kosher salt
1 1/2 teaspoons baking powder
1/2 teaspoon baking soda
1/3 cup (79 ml) vegetable oil
1 large egg
1/3 – 1/2 cup (79 ml – 118 ml) reduced fat (2 %) milk
1 teaspoon vanilla extract
1/2 cup sour cream
3/4 cup chocolate chips
Directions
Heat Oven and Prepare Muffin Cups
Heat oven to 400 degrees F (205 degrees C). Then, line 9 standard-size muffin cups with paper liners. Add 1 to 2 tablespoons of water to the 3 empty muffin cups (this helps to make sure the muffins bake evenly).
Prepare Muffin Batter
Combine flour, sugar, baking powder, baking soda and the salt in a large bowl with a whisk. Whisk at least 10 times to make sure everything has mixed well.
Next, add vegetable oil to a measuring jug that holds at least 1 cup. Add the egg then fill the jug to the 1-cup line with milk (this should be 1/3 to a 1/2 cup of milk). Add vanilla extract and whisk until combined. Add milk mixture to a medium bowl, add sour cream and mix well.
Pour milk and sour cream mixture into flour and sugar mixture then use a fork to combine. Do not over mix. Add chocolate chips and use a spatula or spoon to gently fold the chocolate into the muffin batter.
Divide batter between 9 muffin cups. (The batter will come to the tops of the paper liners).
Bake Muffins
Bake muffins 15 to 20 minutes or until tops are no longer wet and a toothpick inserted into the middle of a muffin comes out clean or with crumbs, not wet batter. Transfer muffins to a cooling rack and cool completely.