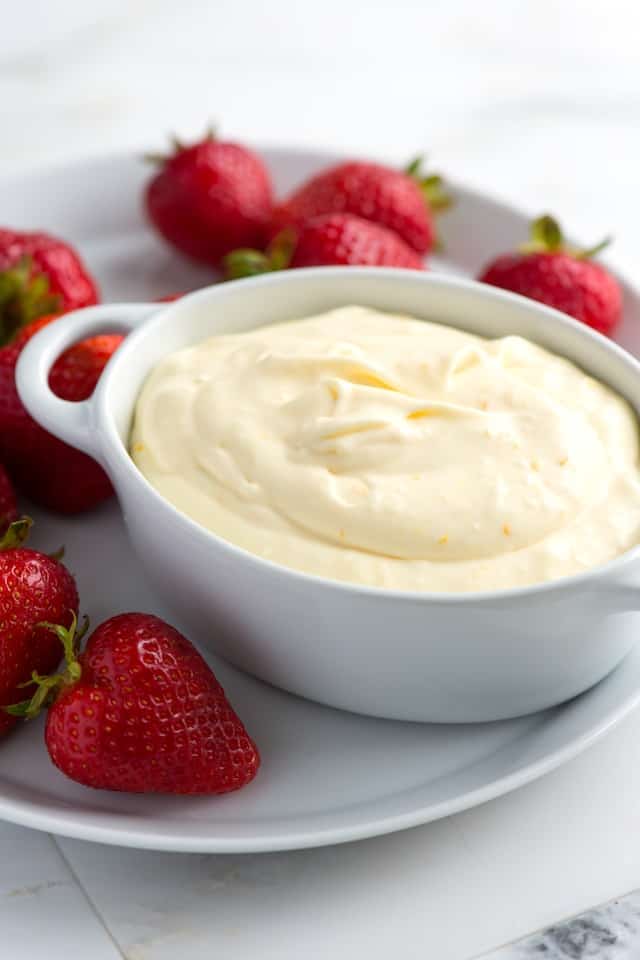 Let's say we're at a party. There's a table. At one end you find rich chocolate cupcakes at the other, you see this creamy fruit dip.
Where am I?  You'll find me next to the dip. And by next to, I mean completely hoarding the bowl.
I can eat this with a spoon — I barely need the fruit.
With that said, we serve our ultra creamy dip with strawberries, but you could add pineapple, apples, other fruit or even cookies — Shortbread cookies or graham crackers would be amazing.
Ridiculously Easy (and Addictive) Fruit Dip Recipe
Making this fruit dip is almost cheating — it's so easy.
With a hand mixer (or stand mixer), we beat cream cheese, vanilla extract, orange zest, powdered sugar, orange juice and cream together until creamy. It takes less than 10 minutes and can even be made in advance — just keep in the refrigerator up to 2 days.
The orange zest and juice adds so much flavor and natural sweetness.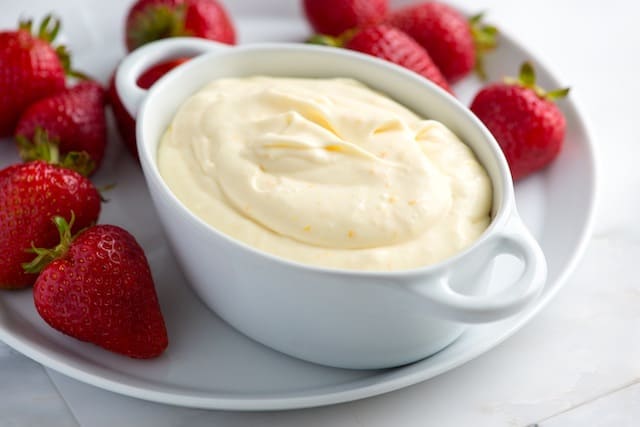 I swear this fruit dip tastes just like orange creamsicles — Yum.
You May Also Like
Orange Cream Fruit Dip Recipe
Why we love this recipe. This is such a simple recipe and tastes just like an orange creamsicle. It's delicious served alongside fruit or cookies.

What you need to know. This can be made in advance. Keep tightly covered in the refrigerator up to 2 days in advance.

Equipment you'll need. A medium bowl, measuring jugs, cups and spoons, a fine grater or microplane and a stand or hand mixer.
Created By:
Joanne and Adam Gallagher
You Will Need
4 ounces (28 grams) cream cheese, room temperature
1/2 teaspoon vanilla extract
1 tablespoon orange zest
1/2 cup (58 grams) powdered sugar
1/4 cup (60 ml) freshly squeezed orange juice
1/4 cup (60 ml) whipping cream
Directions
Add cream cheese, vanilla extract and orange zest to a medium bowl then beat on medium speed with a hand mixer (or stand mixer with paddle attachment) until smooth. Add powdered sugar a little at a time, mixing after each addition.
Add orange juice then beat until smooth. Add cream then continue to beat with mixer until thick and creamy, about 1 minute.
Serve alongside fruit or cookies.