Let's talk about why you need to make this fresh strawberry pie recipe, shall we?
Looking for a simple and humble pie ? You've found it.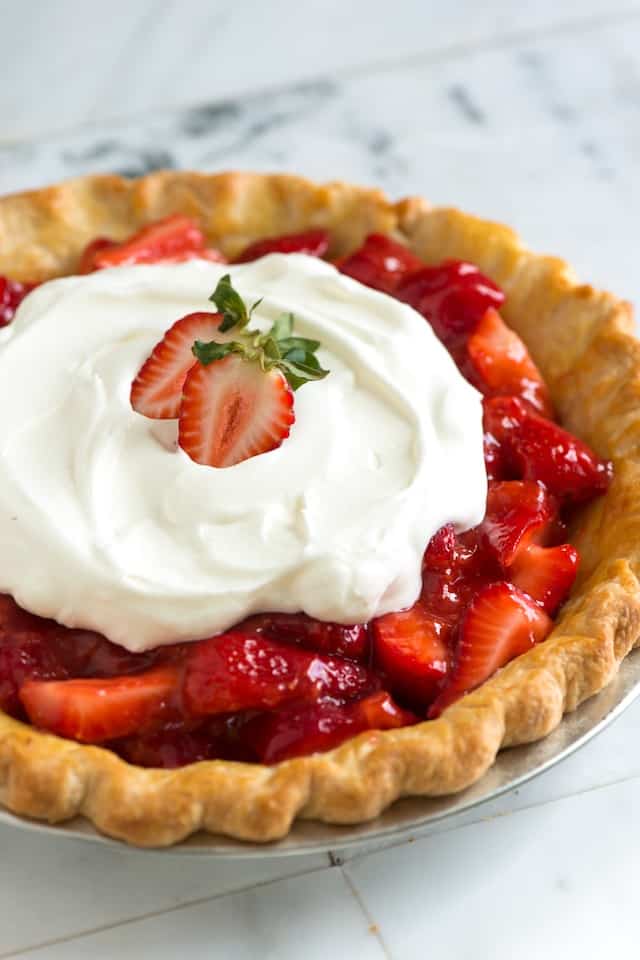 This one's filled with fresh, sweet strawberries coated in a light strawberry glaze. A glaze that's just thick enough to hold the strawberries together, but just loose enough so a couple stray strawberries fall out out onto the plate. It's not perfect — we love that. Not to mention, those stray strawberries are perfect for swiping through some lightly whipped cream.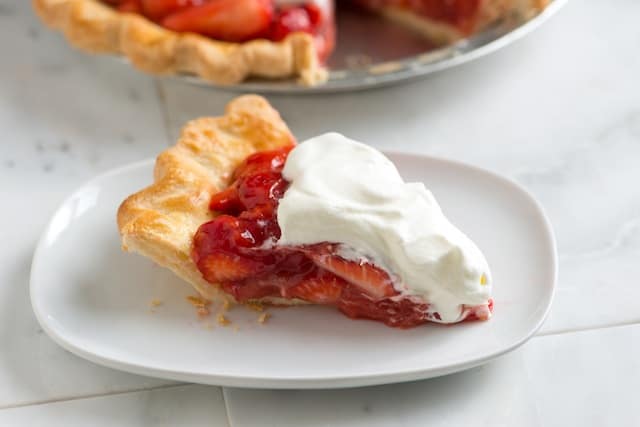 The recipe is a breeze, too.
You May Also Like: Our Homemade Blueberry Pie Recipe with quick recipe video showing you how we make it. Or, take a look at our Cherry Pie.
How We Make It — Fresh Strawberry Pie Recipe
There are two parts to this recipe — the pie shell and the strawberry filling.
How to Bake Pie Crust
Whether you buy pie dough or make homemade dough, you will need to bake the pie shell. This takes 20 to 30 minutes.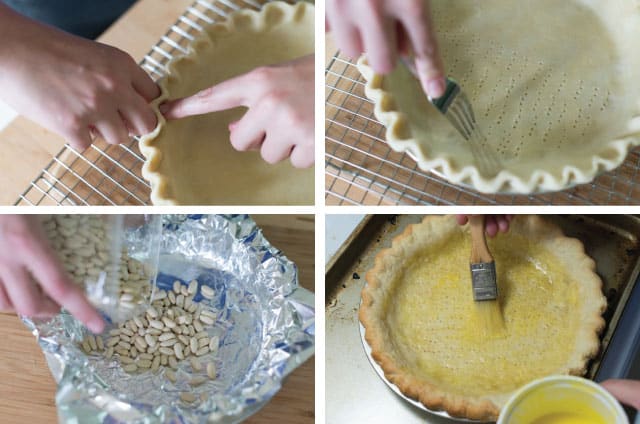 Start by rolling out some pie dough and placing into a pie dish (for help, take a look at our pie crust recipe video — in it, you'll see how we make it, roll it, place it into the pie dish and crimp the edges).
Next, use a fork to prick the bottom of the pie shell — this helps to prevent the dough from bubbling up when baking. Add some aluminum foil or parchment paper to the bottom then weigh it down with rice, dried beans or pie weights. Bake until golden then remove the foil or parchment and brush the entire shell with egg wash and bake a little longer. The egg wash helps make the pie shell shiny and golden, but it also seals the bottom of the pie shell and prevents the strawberry filling from making the crust soggy.
Cool the pie shell then fill.
How to Make the Strawberry Filling
We really like to use fresh strawberries for this. Start by mashing about 2 cups of strawberries. Add some sugar, corn starch and extra flavors (like vanilla and lemon) then cook until bubbly and thick. — That's your strawberry glaze.
Then, toss with more strawberries and add to the baked and cooled pie crust.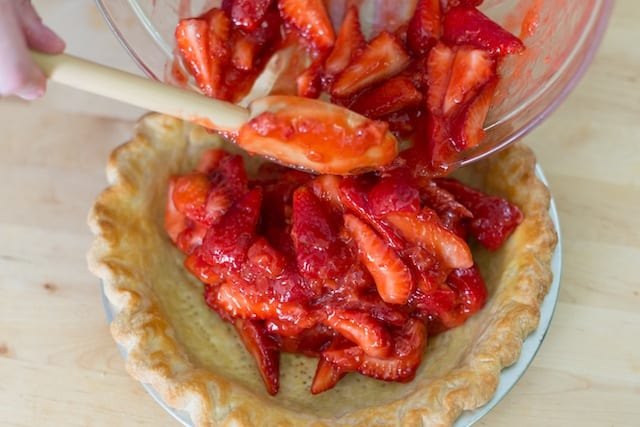 Refrigerate for a few hours then top with whipped cream.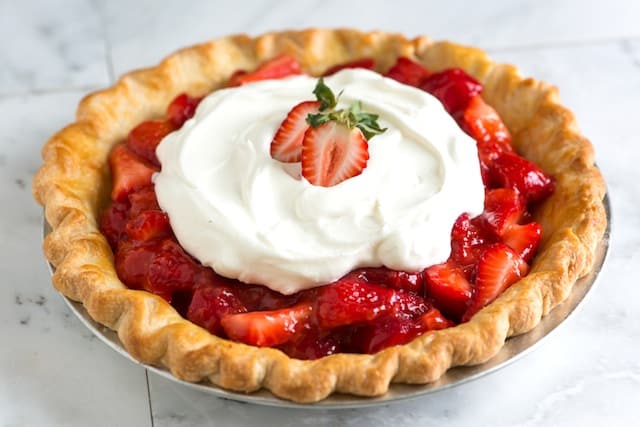 So simple. Do you have any strawberry pie recipe tips?
You May Also Like
Simple Strawberry Pie Recipe
Why we love this recipe. We love using fresh strawberries for this. They are coated in a glaze that's just thick enough to hold the strawberries together, but just loose enough so a couple stray strawberries fall out out onto the plate.

What you need to know. The sugar amount for this recipes varies depending on how sweet your strawberries are. Add to your taste.

Equipment you'll need. A chef's knife, measuring cups and spoons, rolling pin, pie dish and small saucepan.
Created By:
Joanne and Adam Gallagher
Yield:
1 (9-inch) pie, 8 servings
You Will Need
Chilled pie dough for one 9-inch pie (see our pie crust recipe)
5 cups (24 ounces or 680 grams) quartered and hulled strawberries
1/4 (30 grams) cup cornstarch
2/3 to 3/4 cup (134 to 150 grams) sugar, adjusted according to the sweetness of strawberries
1/8 teaspoon salt
1 teaspoon vanilla extract
1/4 teaspoon almond extract
1 tablespoon lemon juice
1 egg yolk
1 tablespoon heavy or whipping cream
Whipped cream, optional
Directions
Prepare Pie Crust
Roll out pie dough to fit pie dish. Gently press dough down into dish so that it lines the bottom and sides of the dish. (Be careful not to pull or stretch the dough). Then, use a knife or pair of kitchen scissors to trim dough to within 1/2-inch of the edge of the dish.
Fold edges of dough underneath itself, creating a thicker, 1/4-inch border that rests on the lip of the dish. Then, crimp edges. (You can see us do this in our pie crust recipe video).
Bake Pie Crust
Heat oven to 425 degrees F (220 C). Place a baking sheet on a middle oven rack.
Pierce bottom of the crust with a fork (this prevent air pockets or bubbles from forming while baking). Line the crust with two sheets of aluminum foil. (Be sure to push foil against the edges of the crust). Then, fill foil with dried rice, dried beans or pie weights. Refrigerate 30 minutes or freeze for 10 minutes, or until firm to the touch.
Place pie crust onto preheated baking sheet and reduce oven temperature to 400 degrees F (200 C). Bake 20 to 30 minutes or until the crust is golden.
Make egg wash by whisking egg yolk and cream in a small bowl. Then, remove rice, beans or pie weights and foil from pie crust. Brush bottom and sides of crust with egg wash. Bake until egg wash is dry and shiny, 3 to 5 minutes. Cool crust completely before filling.
Make Pie Filling
Add 2 cups of strawberries to a small saucepan. Mash strawberries until chunky.
Add sugar, corn starch, vanilla extract, almond extract, lemon juice and salt. Bring to a simmer over medium heat and cook, stirring occasionally, until sugar dissolves and glaze has thickened; 3 to 5 minutes. Cool completely.
Combine remaining 3 cups of strawberries with cooled strawberry glaze. Stir until strawberries are well coated. Spoon strawberry filling into cooled pie crust.
Refrigerate pie at least 2 hours before cutting to allow filling to set. Top with whipped cream.