These whole wheat pancakes are light, fluffy and delicious! Jump to the full Whole Wheat Pancakes Recipe now or read on to see how we make them.
Not too long ago, we shared our Essential Pancakes Recipe. It's simple and makes extra light and fluffy pancakes. Since it uses all-purpose flour, we became curious to see what would happen if we replaced some or all of that flour with whole wheat flour. After a few tries, we realized it works beautifully.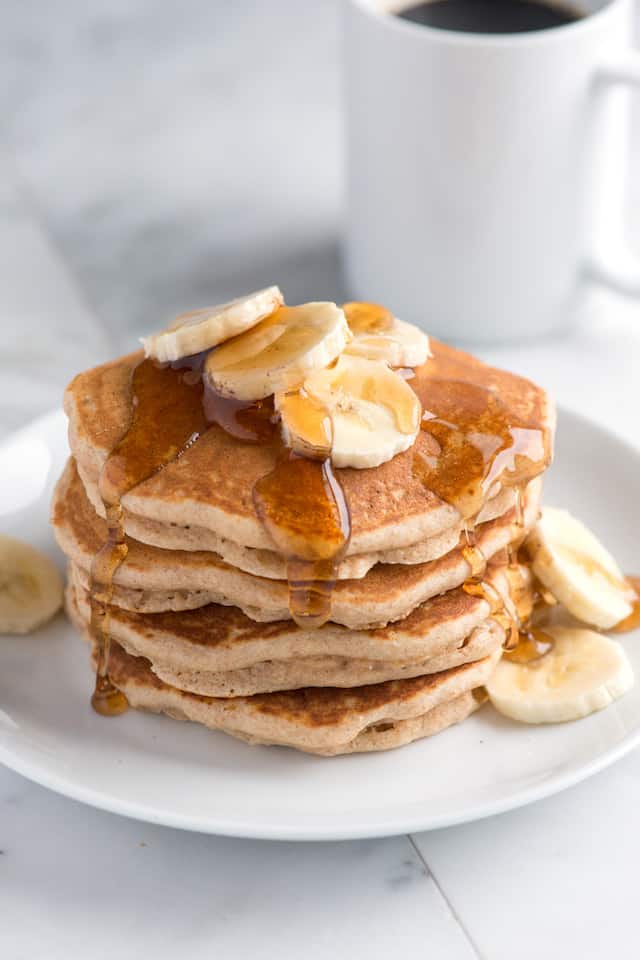 – Sponsored Post –
Need More Breakfast Ideas? Try One of These:
Our Essential Pancakes Recipe is so easy and is practically no-fail. In our recipe, we share extra tips for make the best pancakes at home.
Our Spiced Buttermilk Banana Pancakes are delicious and so popular. We add buttermilk, warm cinnamon and nutmeg as wells as mashed bananas.
If you are in the mood for waffles, try our Essential Waffle Recipe. It's just as simple as our pancakes and takes advantage of our best tips for making waffles that are tender on the inside and crispy on the outside.
A Flexible, Light and Fluffy Whole Wheat Pancakes Recipe
If you're looking for whole wheat pancakes with 100% whole wheat flour, this one will do it for you. With all whole wheat, the pancakes are quite fluffy and taste great. We absolutely love the nutty flavor of the flour.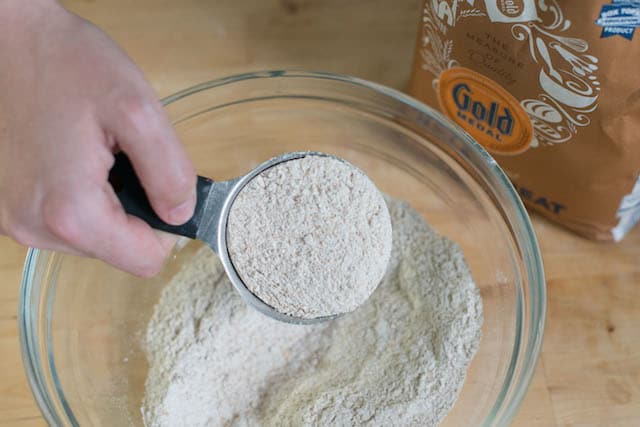 You can also use half whole wheat and half all-purpose flour. If you're not used to using whole wheat flour in your kitchen, we suggest you use 50% whole wheat and 50% all-purpose flour.
In fact, even though we're used to whole wheat ourselves, we prefer using two flours instead of only using whole wheat. The pancakes are a little lighter, fluffy and taste great.
Another option is to use white whole wheat flour. While we have not yet tried this ourselves, you could take a look at this whole wheat pancakes recipe from Skinnytaste – she uses white whole wheat.
We love topping whole wheat pancakes with some warm syrup and sliced bananas, but we're sure you already have a plan for the topping. Enjoy!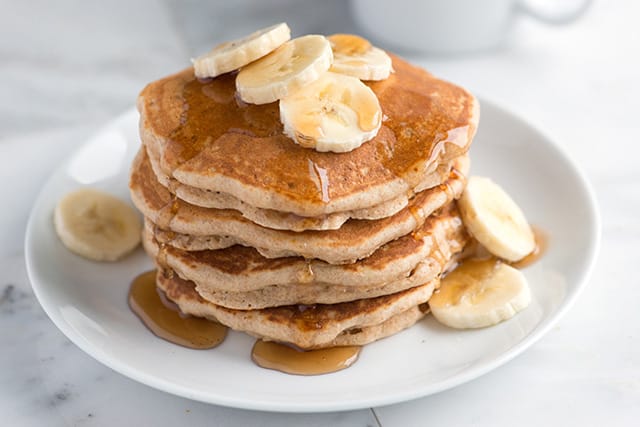 Disclosure: We're sharing this in partnership with Gold Medal Flour. We're pretty excited about it because it's been our flour of choice for quite some time (my Mom's, too). This recipe is part of an ongoing relationship with Gold Medal. Last month, we shared our Fluffy Pumpkin Pancakes with Butter Pecan Topping.
If you're shopping for a new bag of flour, we really do suggest Gold Medal — especially for pancakes. Gold Medal flours tend to have a little less protein than other brands, which makes the flour softer and makes baked goods tender and light.
Recipe updated, originally posted November 2013. Since posting this in 2013, we have tweaked the recipe to be more clear and added a quick recipe video. – Adam and Joanne

Easy Whole Wheat Pancakes Recipe
Whole wheat flour makes pancakes taste nutty and delicious. This recipe is quite flexible. We love using a combination of whole wheat and all-purpose flour. The pancakes are lovely, light and fluffy. For 100% whole wheat pancakes, simply use all (1 1/2 cups) whole wheat flour and no all-purpose flour. We have noticed that whole wheat flour absorbs liquid a little more than all-purpose flour. Because of this, you might find that you need to add a little extra milk to the pancake batter before cooking the pancakes.
Created By:
Adam and Joanne Gallagher
You Will Need
3/4 cups (105 grams) whole wheat flour (we use Gold Medal flour)
3/4 cups (105 grams) all-purpose flour (we use Gold Medal unbleached all-purpose flour)
2 tablespoons sugar
1/2 teaspoon ground cinnamon, optional
1 tablespoon baking powder
3/4 teaspoon kosher salt
1 1/4 to 1 1/2 cups (295 to 350 ml) milk, dairy or non-dairy will work
1 large egg
4 tablespoons unsalted butter, melted, plus more for skillet (substitute: coconut oil)
1 1/2 teaspoons vanilla extract
Directions
Prepare Pancake Batter: Whisk flours, sugar, cinnamon, baking powder and the salt in a medium bowl, set aside. Warm the milk until lukewarm, not hot (you should be able to keep your finger submerged for 10 seconds). Whisk milk, butter, egg and the vanilla together until blended.
Make a well in the center of the flour mixture. Pour milk mixture into the well and stir with a fork until mixed and only small clumps of flour remain. Do not over mix batter.
Note: The batter will be quite thick. If it is unreasonably thick, add 1 to 2 tablespoons more milk to thin it out a little.
Cook Pancakes: Heat a large skillet (or use griddle) over medium heat. The pan is ready if when you splatter a little water onto the pan surface, the water dances around the pan and eventually evaporates.
Lightly brush skillet with melted butter. Spoon a 1/4-cup of the batter onto the skillet and gently spread into a 4-inch circle. (If the batter is thick, you may need to use the back of a spoon to spread the batter into a circle).
When edges look dry and bubbles start to appear and pop on the top surfaces of the pancakes, turn over, about 2 minutes. Once flipped, cook 1 to 2 minutes or until lightly browned and cooked in the middle. Serve warm with syrup, bananas or other toppings.
Notes and Tips
We use kosher salt. If you don't have it on hand, keep this in mind: 1 teaspoon fine sea or table salt = about 1 1/4 teaspoons kosher salt.