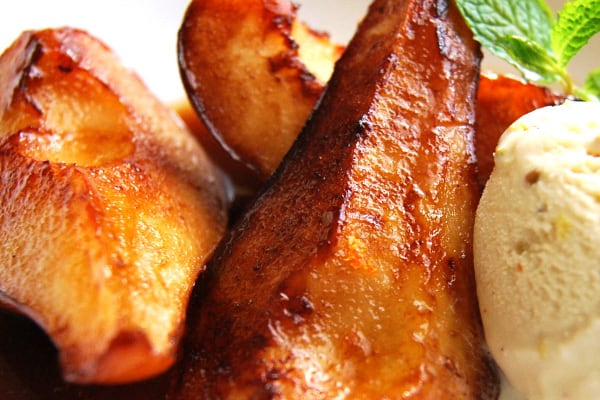 Need a holiday dessert idea?  Try these delicious roasted pears; we posted them last year and loved them so much that we just had to share them again!
Adam and I are not the biggest dessert eaters.  In fact, to be perfectly honest, we rarely bake or prepare desserts at home and almost never order them at a restaurant.  If we are ever in the mood for something sweet at the end of the meal, we usually just grab a chocolate bar (Adam goes for the dark chocolate and I the milk) and we are happy as can be.  With all of that said, we do as most people do, get cravings.  The most recent one was my influence.  For a few weeks now, I had been wanting to poach a pear.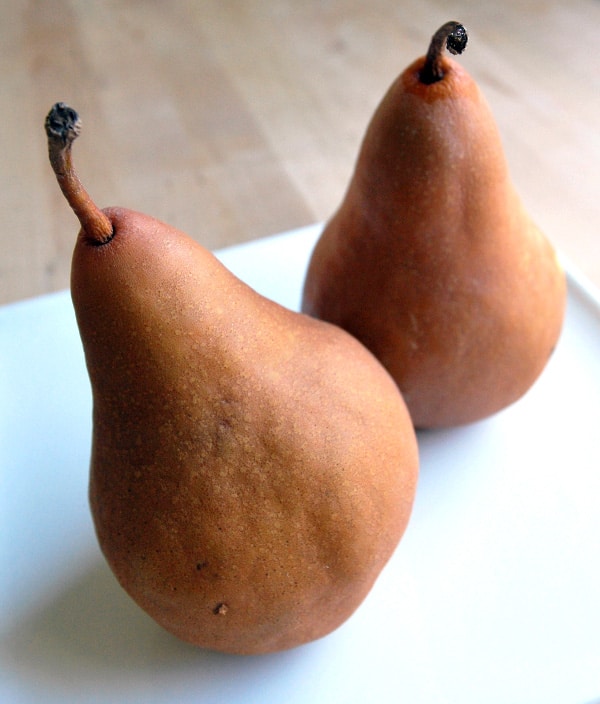 I don't really know why I was so infatuated with the concept of poaching a pear, it wasn't like I had recently seen it in a magazine or on TV or even at a restaurant, but the feeling was overwhelming, so much so that I was finally able to convince Adam to drive to the store and purchase some absolutely beautiful Bosc pears so we could then quickly drive back home and poach.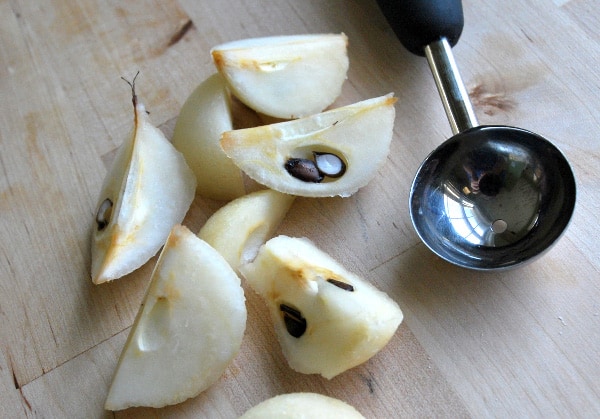 Oh, I was so excited…this was weeks in the making… I had been thinking and continuously updating with Adam (he was thrilled) about what I wanted to poach them in for days… should we use a sweet Muscat wine or go with something a little different, maybe vanilla poached pears would be nice.  I was so ready and so excited, especially when we came to our final decision which was to use  a Riesling that was slightly sweet, fruity and light.  The entire drive back from the store, I was replaying our game plan in my head (which was probably a relief for Adam since it meant I was finally quiet and not going on and on about poaching fruit), we finally parked our car, lugged the bags up 3 flights of stairs, entered the condo and went directly to the kitchen.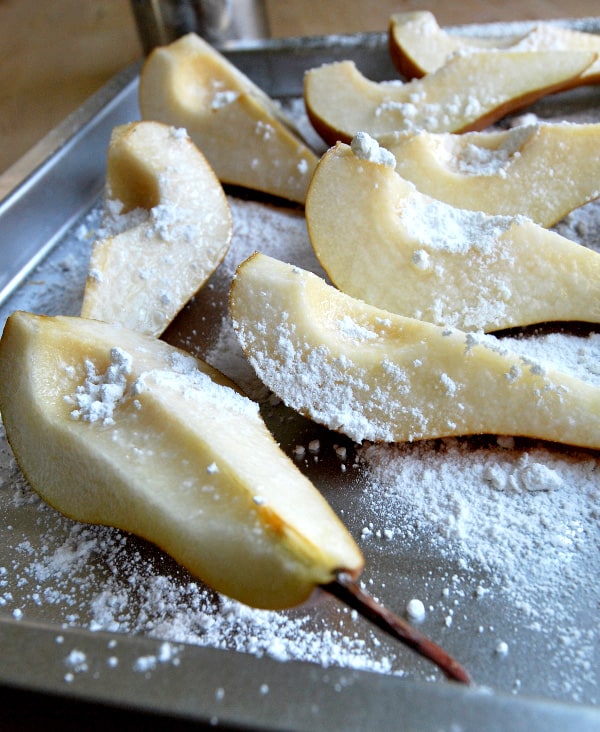 Then, everything changed…as we were preparing our ingredients, we decided we really should taste the wine before we use the entire bottle to poach our pears since whatever flavor the wine was would only be intensified as it is used in the poaching process.  The wine was delicious, so much so, that we did not want to use it all up for poaching, we wanted to drink it!
So, after all the lead up, the extra drive to the store for pears, the weeks of talking and planning about poaching liquid and the potential negative impact on our marriage, we actually decided that we no longer wished to poach pears and in an effort to use as little of the wine as possible, went with roasting them instead!!  Our new plan of action only required 3/4 cup of wine, much less cooking time and butter…all fabulous things…Even though weeks of poaching-liquid discussions and extra trips to the store were somewhat wasted, we now believe it was meant to be, because without this change of plan, we would never have known how ridiculously, mouth-watering and amazing roasted pears are (especially with a big scoop of ice cream on top)!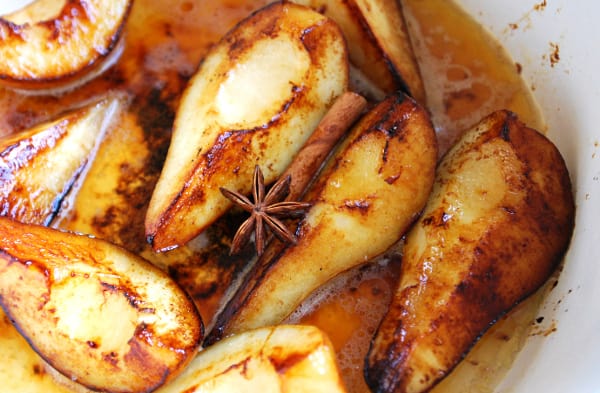 Roasted pears are so simple and the perfect end to a special meal.
You Will Need
4 semi-ripe Bosc pears
1/2 cup powdered sugar
2 tbsp. unsalted butter
3/4 cup semi-sweet wine (we used Riesling)
1 star anise
1 cinnamon stick
ice cream or whipped cream, for serving
Directions
Preheat oven to 400 degrees.
Quarter and core the pears, then place cut-side up (skin-side down) and dust with powdered sugar.
Melt butter in an oven-safe Dutch oven or similar over medium-high heat. Once the butter is melted, add pears cut-side down to pan and cook until browned, about 8-10 minutes.
Flip pears skin-side up, add wine, star anise and cinnamon stick; place into oven for 15-20 minutes. The wine should reduce down to a syrup consistency and the pears will be tender.
Transfer pears to a serving dish, drizzle with syrup from pan and top with a scoop of ice cream or whipped cream.