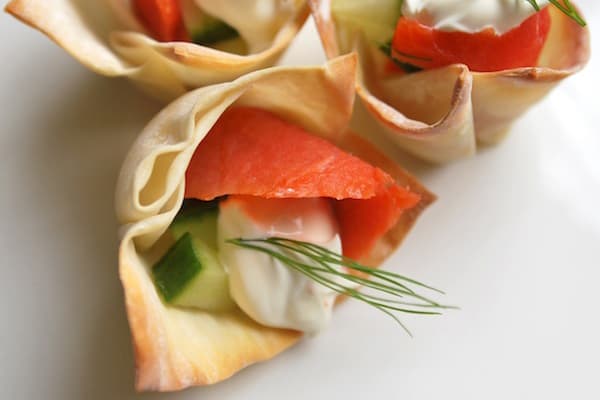 Wonton wrappers are not just for dumplings anymore. We love creating these fun, and easy party appetizers using baked wonton cups as the shell. They're perfect for a swanky cocktail party, but easy enough for a Sunday snack.
Party Appetizers. How to Make Baked Wonton Cups
Simply place  wonton wrappers in the bottom of a mini cupcake pan then bake in the oven for 7 to 9 minutes until crisp and slightly brown.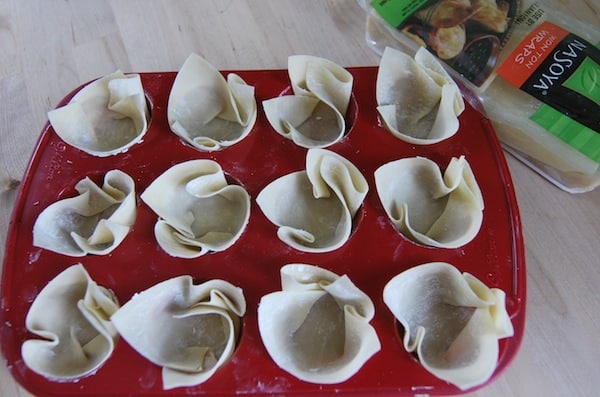 Then, just fill each cup with your choice of fillings. In our case, we chose to fill half of our baked won ton cups with crunchy cucumber, creme fraiche, smoked salmon and dill and the other half was filled with softened goat cheese, fig jam, walnuts and thyme. Both fillings are absolutely delicious.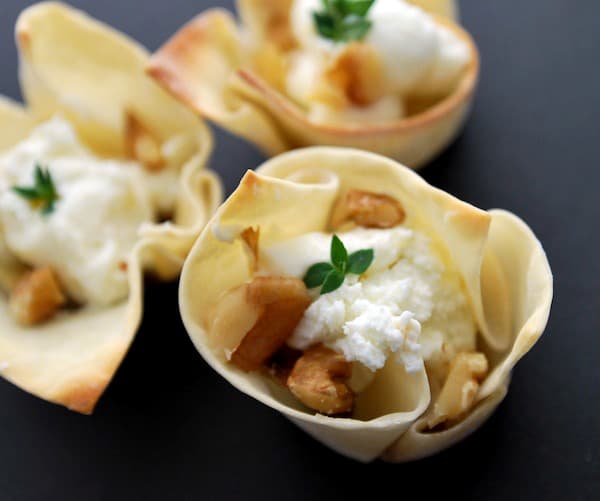 We love this little party appetizer so much that we've made a few more variations:
Party Appetizers - How to Make Baked Wonton Cups
Wonton Appetizers are simple to make. Fill them with whatever you like. We've included two of our favorite fillings: Smoked Salmon and Fig and Goat Cheese
Created By:
Adam and Joanne Gallagher
You Will Need
Wonton Cups
Smoked Salmon Wonton Cups
12 baked wonton cups, cooled
4 ounces smoked salmon
1/4 cup creme fraiche
1/4 cup diced cucumber
fresh dill
Fig and Goat Cheese Wonton Cups
12 baked wonton cups, cooled
3 ounces goat cheese, at room temperature
2 tablespoons fig jam
2 tablespoons chopped walnuts
1 sprig of thyme
Directions
Preheat oven to 350 degrees F.
Take a mini cupcake pan and fill each cup with one wonton wrapper then bake in the oven for 7 to 9 minutes.
Fill each baked wonton cup with a little smoked salmon and cucumber, add a dollop of creme fraiche on top and garnish with a small sprig of fresh dill.
Place the chopped walnuts in a dry pan over medium heat and heat until lightly toasted, then set aside to cool.
Place a little fig jam at the bottom of each baked won ton cup. Add a dollop of the room temperature goat cheese on top of the jam, sprinkle with a few chopped walnuts and add a leaf of thyme to the top.