Ultimate Slow Cooker Pulled Pork
How to make the best slow cooker pulled pork that's perfect for sandwiches, salads, and tacos. For a quicker version, we have also shared how to make this pulled pork using a pressure cooker (like an Instant Pot). Jump to the Slow Cooker Pulled Pork Recipe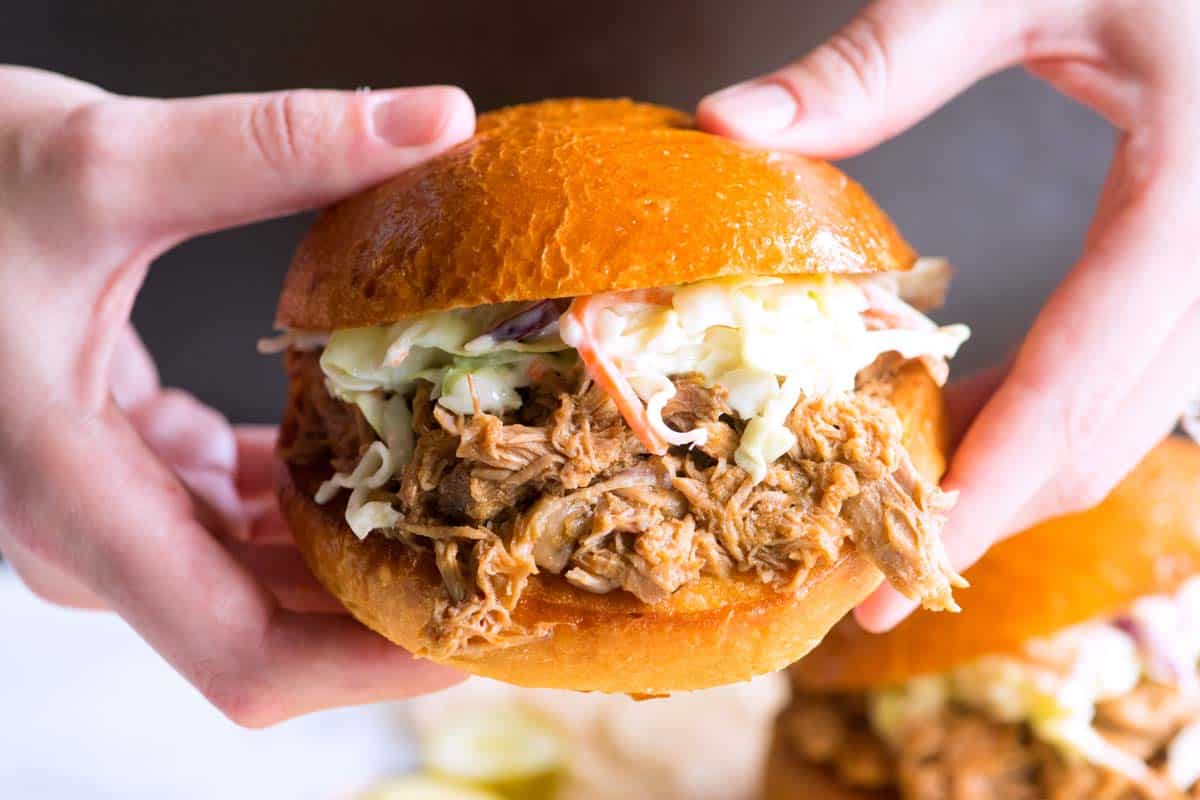 How to Make the Best Pulled Pork Using a Slow Cooker
Pulled pork is perfect for the slow cooker. It's easy to do and is the ultimate make-ahead meal. Our recipe makes pork that's tender, full of flavor, and juicy. It's delicious served alone or add a bit of your favorite barbecue sauce. The slow cooker shines in this recipe. We start with a pork shoulder — also called pork butt or Boston butt.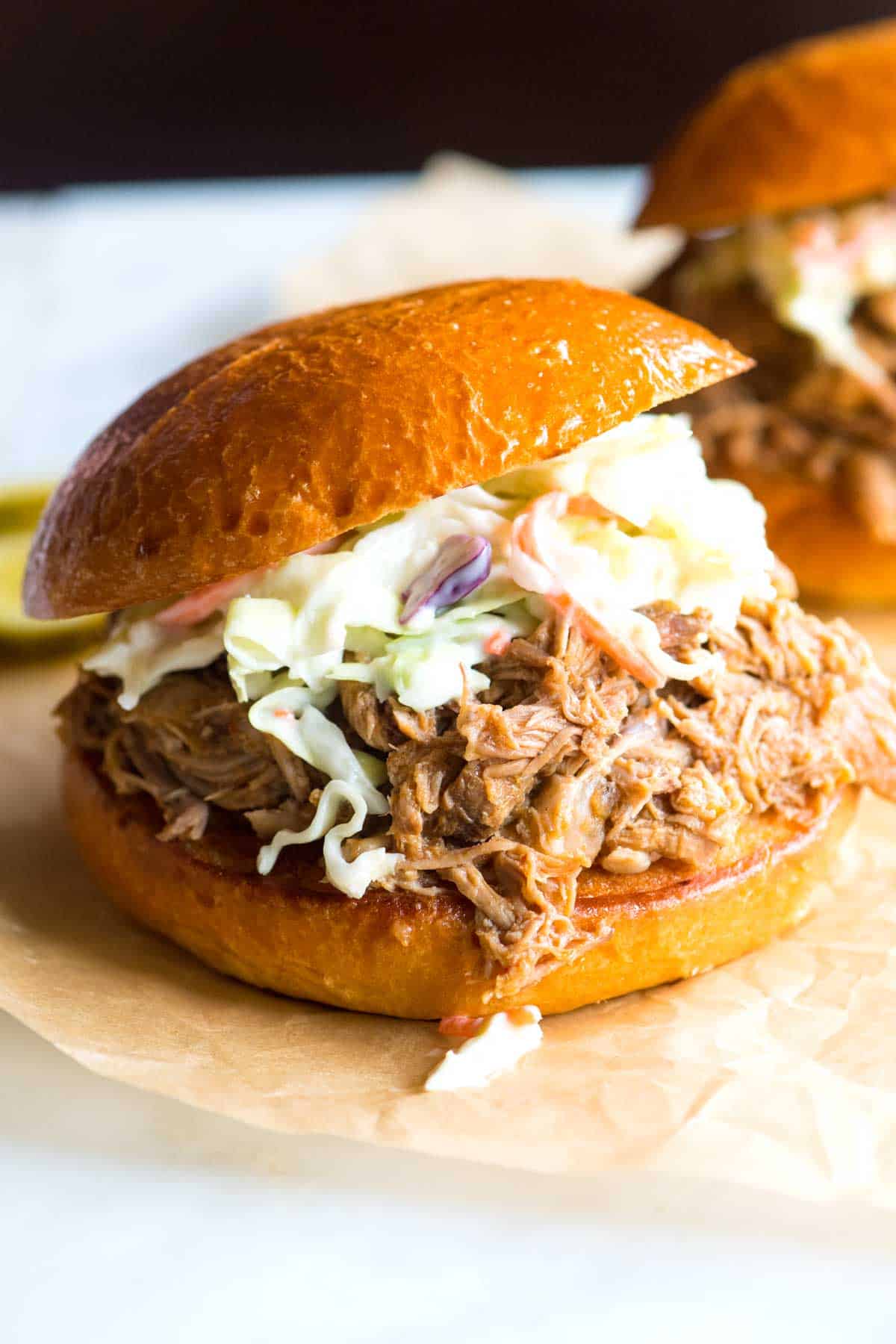 It's a relatively tough cut and does well when cooked over an extended period. It's also well marbled with fat, which prevents the pork from drying out while cooking. As the pork cooks, the fat melts and sort of self-bastes during cooking.
Making pulled pork in a slow cooker or crockpot is easy, but we still have a few tips for you, so you make it best. [If you love cooking with your slow cooker, try our Ultimate Slow Cooker Lemon Chicken, it's delicious.]
INSTANT POT© UPDATE: Since sharing this recipe, we have tested it using a pressure cooker (we have the Instant Pot). Check the recipe notes section below for our method. By using a pressure cooker, you can make this pulled pork in under 2 hours.
Step 1: Season the Meat
Seasoning the pork is essential, especially when using a slow cooker. Once you hit start, you don't want to lift the lid, so taking some time to think about flavors and seasoning up front is a good idea.
We're pretty heavy handed with salt and pepper in the beginning and like to rub the pork with it, getting the salt into all the nooks of the meat. We also season 15 to 20 minutes before adding it to the slow cooker.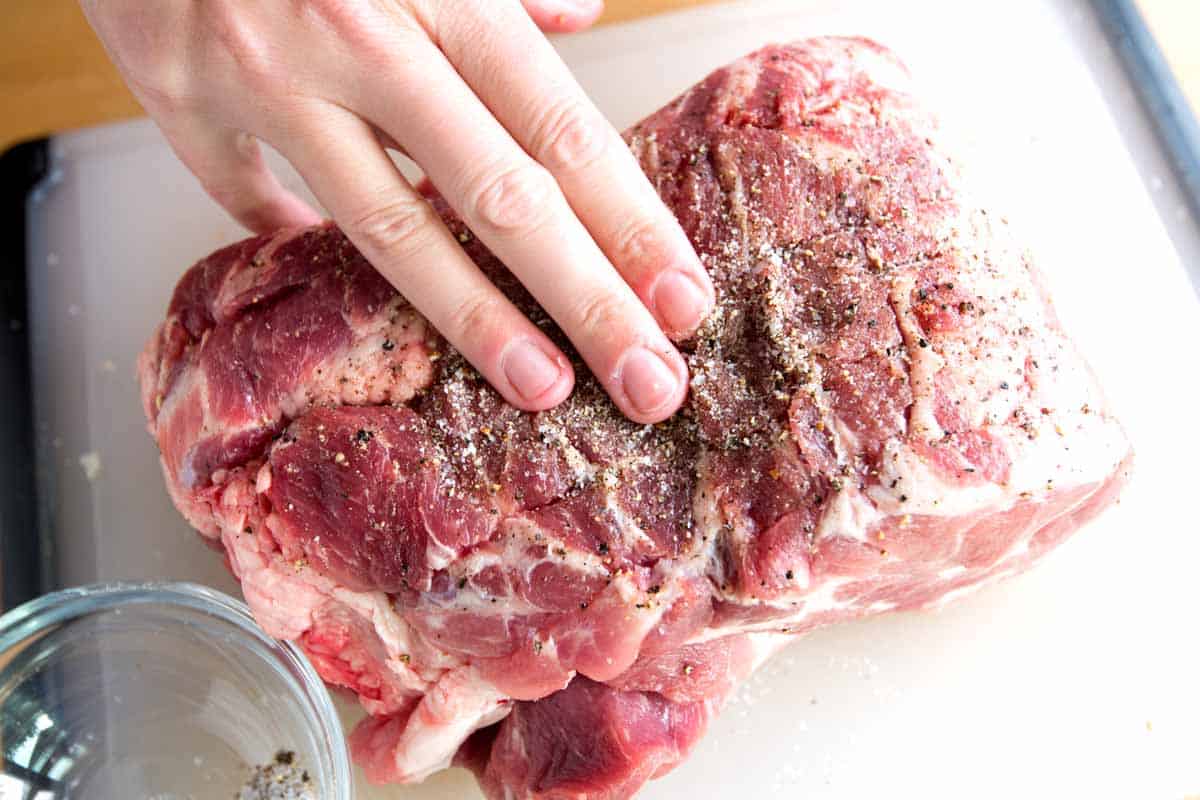 Step 2: Cook the Pork on Low and Cook it Slow
After seasoning the meat, we put together a mixture of cooked onions, garlic, tomato paste, and spices. That's poured over the pork, and we're ready to cook.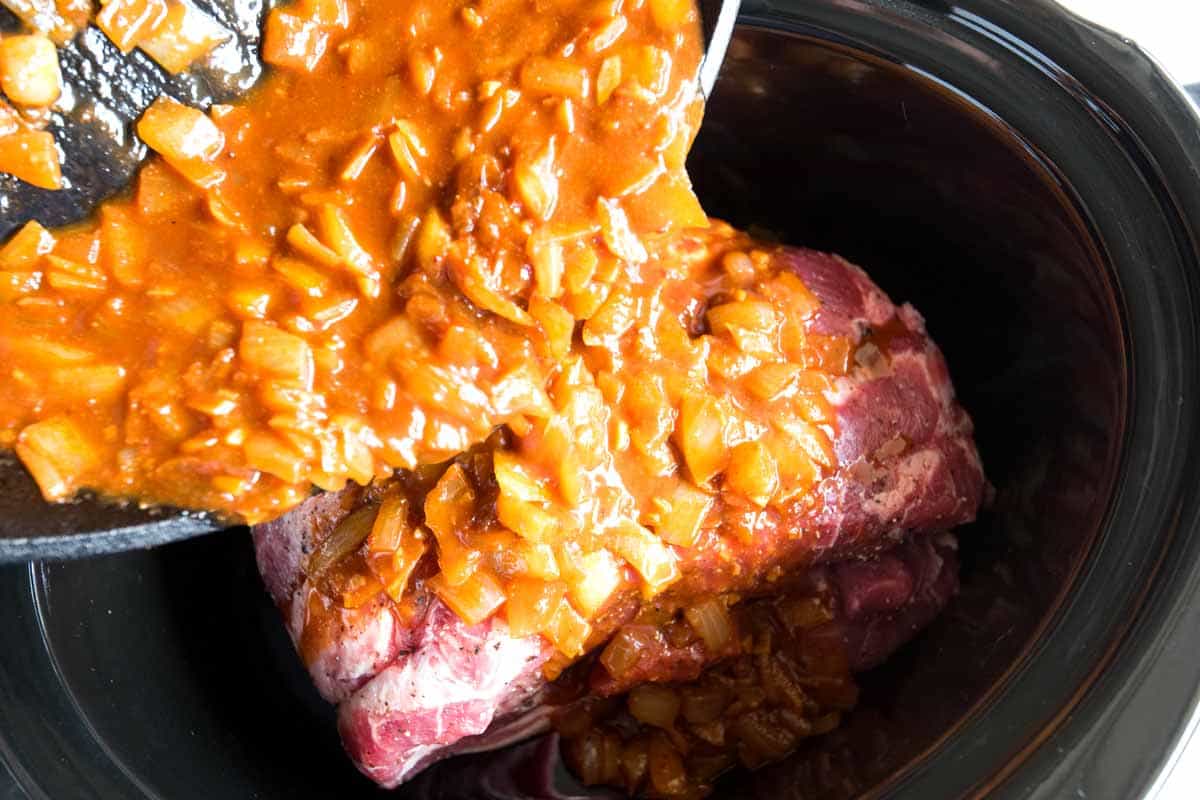 When I said the slow cooker shines in this recipe, I meant it. It's pretty tricky to overcook pork shoulder. It's because of this that we happily cook the pork on low for many hours.
In our recipe below we call for at least 8, but you really can go beyond that. The pork should be so tender that a spoon can cut through it. Doing all of this in a slow cooker makes it easy. Do it overnight or while you are away from the house.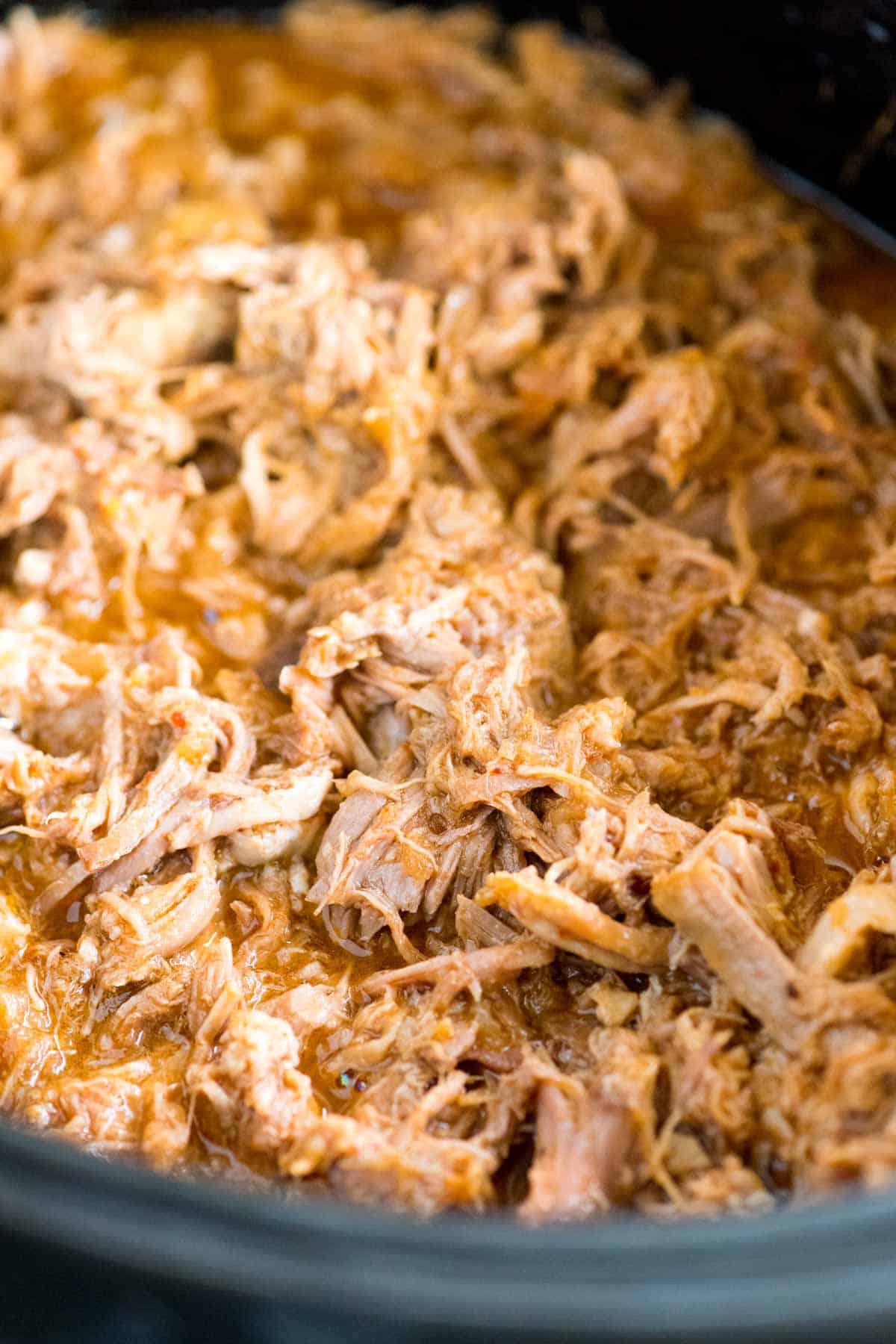 Step 3: Skim the Cooking Liquid then Save it
When the pork is finished, you have juicy and tender pulled pork as well as a rich and flavorful broth. It's pure gold. Remove the cooking liquid from the slow cooker and skim as much fat as possible — remember, pork shoulder is well marbled with fat, so that's all going to melt into the liquid. Discard the excess fat (which will float to the top) and then stir the liquid back into the pork to keep it extra moist and flavorful.
Another alternative is to refrigerate the pork in its cooking liquid. When it's cold, the fat will have solidified, making it easy to scrape off with a spoon.
Step 4: Shred the Pork and Combine with Skimmed Cooking Liquid
After skimming the cooking liquid, place it back into the slow cooker. Then simply shred the pork — I just use two forks to do it. Since it's so tender, the pork literally will fall apart on you.
Place the shredded pork back into the slow cooker with the skimmed cooking liquid then serve!
What to Serve With Pulled Pork
We love pulled pork since it's perfect for so many occasions. Here are some of our favorite sides to go alongside the tender, tasty pork:
Homemade Coleslaw — I love the crunch of coleslaw with pulled pork. If you don't like mayo-based salads, try our mayo-free coleslaw.
Herb Potato Salad — This mayo-free potato salad is perfect served cold or warm. Here's our classic creamy potato salad if that is more your style.
Quick and Easy Pasta Salad — This fresh and easy pasta salad packed with crisp vegetables, fresh mozzarella, and tossed with a simple homemade dressing.
Ultra Creamy Baked Mac and Cheese — You'll love this ultra creamy mac and cheese recipe! With the perfect ratio of milk to cheese to sauce, this macaroni and cheese is at the top of my favorites list!
More Easy Pork Recipes
Ultimate Slow Cooker Pulled Pork
Pulled pork is perfect for the slow cooker. Cooking the pork low and very slow is the secret to the juiciest and most tender pulled pork. Serve the pork as is or feel free to stir in your favorite barbecue or other sauces at the end of cooking.
Makes approximately 3 1/2 pounds, 10 servings
Watch Us Make the Recipe
You Will Need
1 (4 1/2 to 5 pound) boneless or bone-in pork shoulder (also known as pork butt), twine or netting removed
2 teaspoons salt, plus more as needed
1 teaspoon fresh ground black pepper
2 tablespoons neutral flavored oil
1 medium onion, peeled and chopped small
4 cloves garlic, peeled and minced
2 tablespoons tomato paste
1 tablespoon ancho or mild chili powder, see our homemade chili powder recipe
2 teaspoons ground cumin
1 cup water
3 tablespoons apple cider vinegar
1 tablespoon fish sauce or 1 tablespoon Worcestershire sauce
For Serving (Optional)
Bread rolls
Coleslaw, see our mayonnaise based coleslaw recipe or our mayo-free coleslaw
Pickles
Barbecue sauce, see our bacon bourbon barbecue sauce recipe
Hot Sauce
Directions
Prepare Pork

Rub the pork with salt and pepper, and then set aside while you prepare the remaining ingredients. (See notes below if you plan to sear the pork first).

Heat oil in a wide skillet over medium heat. Add the onions and garlic then cook, occasionally stirring, until they are sweet and browned around the edges. Stir in the tomato paste, chili powder, and cumin. Cook, stirring until the tomato paste turns from bright red to orange in color; about 3 minutes. Add the water, apple cider vinegar, and fish sauce and cook for about 1 minute, scraping up the browned bits on the bottom of the pan.

Cook Pork

Rest the seasoned pork in the bottom of a slow cooker then pour the onion and spice mixture on top. Wiggle the pork around the bottom of the slow cooker so that some of the onion and spice mixture slides underneath. Cover with lid and cook until the pork can be easily shredded; LOW for 6 to 8 hours or HIGH for 4 to 6.

To Finish

Turn off the slow cooker and transfer the pork to a cutting board. If the pork has a bone in it, remove and discard it. Use two forks to shred the meat, discarding any connective tissue, and large clumps of fat.

Remove the cooking liquid and skim most of the fat from its surface. Discard the fat then set the cooking liquid aside.

If using barbecue sauce, add it to the slow cooker and stir in the shredded pork. For even more flavor, add back some of the reserved cooking liquid. If you're not using barbecue sauce, add the shredded pork and the cooking liquid back to the slow cooker. Taste and season with salt, additional vinegar, or hot sauce as needed.
Adam and Joanne's Tips
Can I make this Pulled Pork in an Instant Pot© or pressure cooker? Yes! Cook the onions, garlic, spices, tomato paste, water, vinegar and fish sauce as shared in the recipe above. If you have an Instant Pot, this can be done using the Sauté function. Add the seasoned pork and onion mixture to the pressure cooker/Instant Pot, seal the lid and cook on high pressure for 1 hour. Naturally release (this takes 15 to 30 minutes) then shred the pork then skim and discard the excess fat from the cooking liquid. To serve, combine the skimmed cooking liquid and shredded pork.
Fish Sauce: Find fish sauce in the international aisle of most grocery stores, in international markets, or online. It has a salty-sour flavor and is something we use to elevate flavors in savory dishes or dishes with lengthy cooking times. On Inspired Taste, you see us use it in our Homemade Pho recipe. If you do not have any, Worcestershire sauce is a good substitute.
Searing the pork: Some readers have asked why we don't brown the pork first. We've tried it, and while it adds a bit more flavor, in this case, the difference isn't overwhelming. We skip the step. If you prefer, you can sear the outside of the pork in the same skillet you plan to make the onion-garlic mixture. Searing will leave some browned stuck bits to the bottom of the skillet that you can scrape up when you add the water later on.
Nutrition facts: The nutrition facts provided below are estimates. We have used the USDA Supertracker recipe calculator to calculate approximate values.
If you make this recipe, snap a photo and hashtag it #inspiredtaste — We love to see your creations on Instagram and Facebook! Find us: @inspiredtaste
Nutrition Per Serving:
Serving Size
1/10 of the recipe (assumes 10 servings)
/
Calories
404
/
Protein
28 g
/
Carbohydrate
2 g
/
Dietary Fiber
0 g
/
Total Sugars
1 g
/
Total Fat
31 g
/
Saturated Fat
11 g
/
Cholesterol
109 mg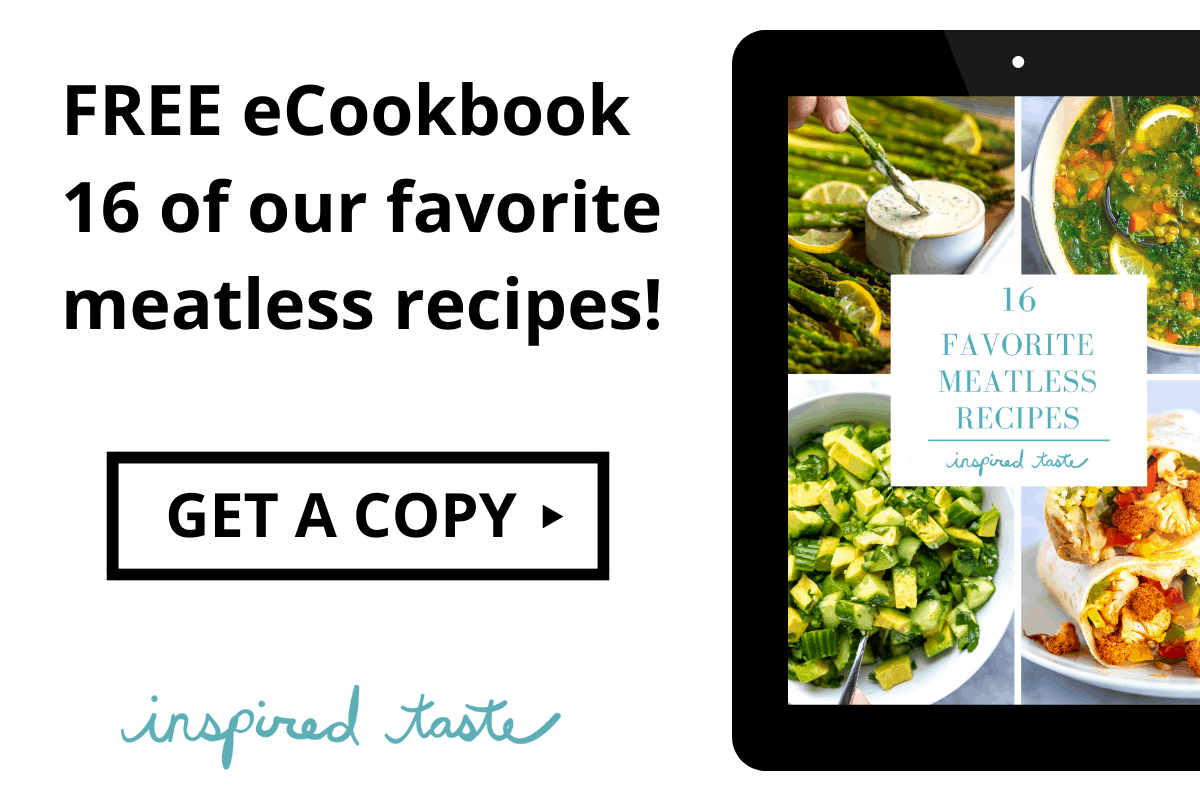 Don't Miss Our Latest Recipes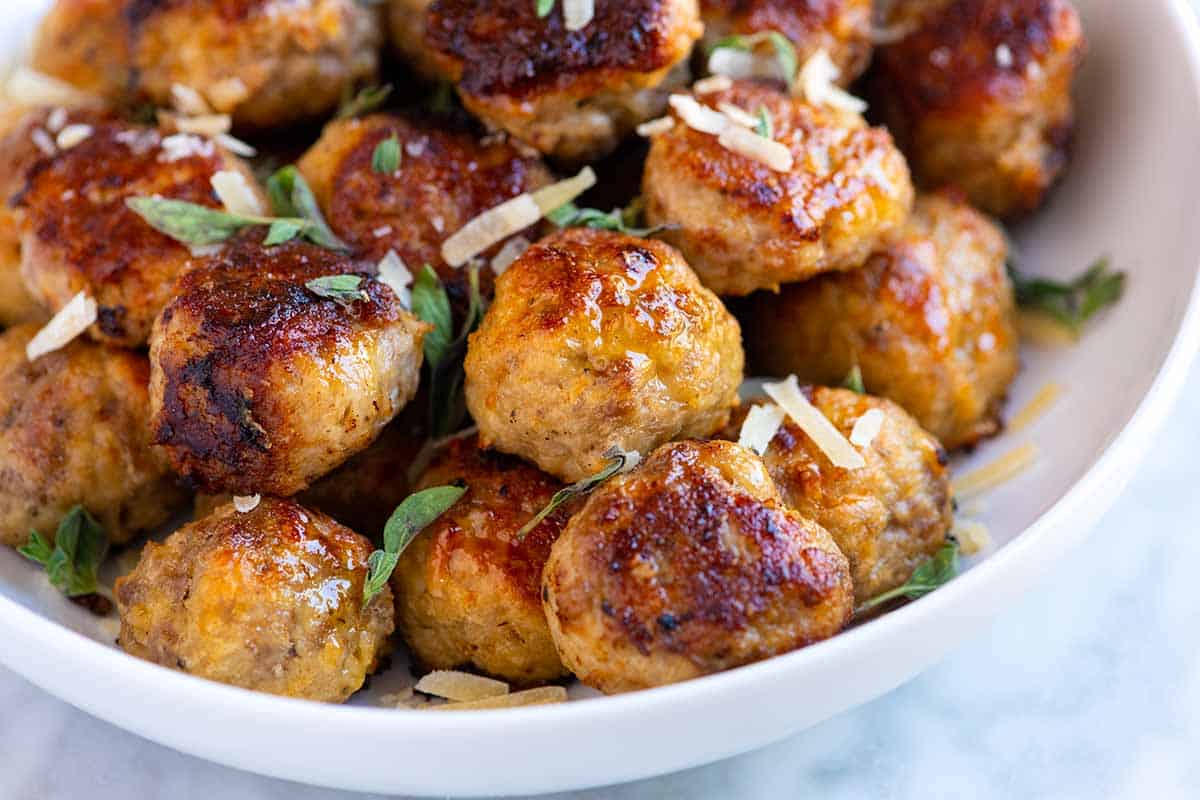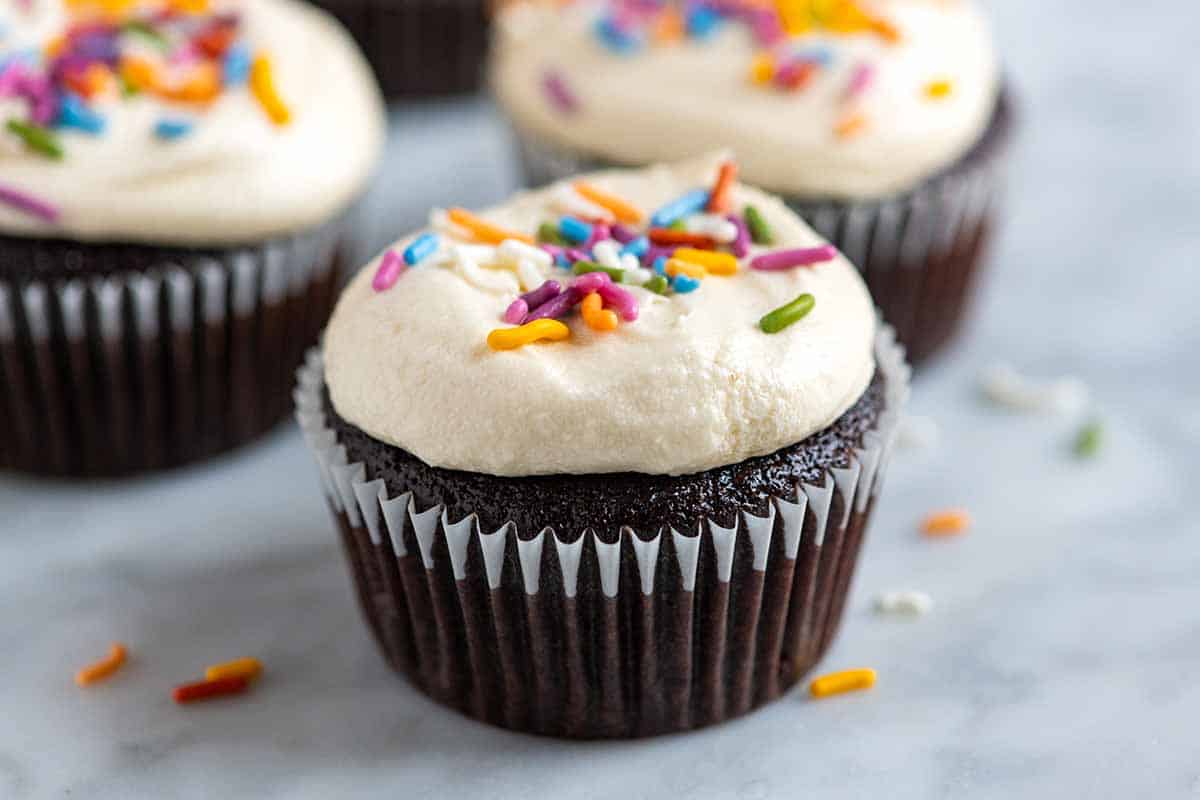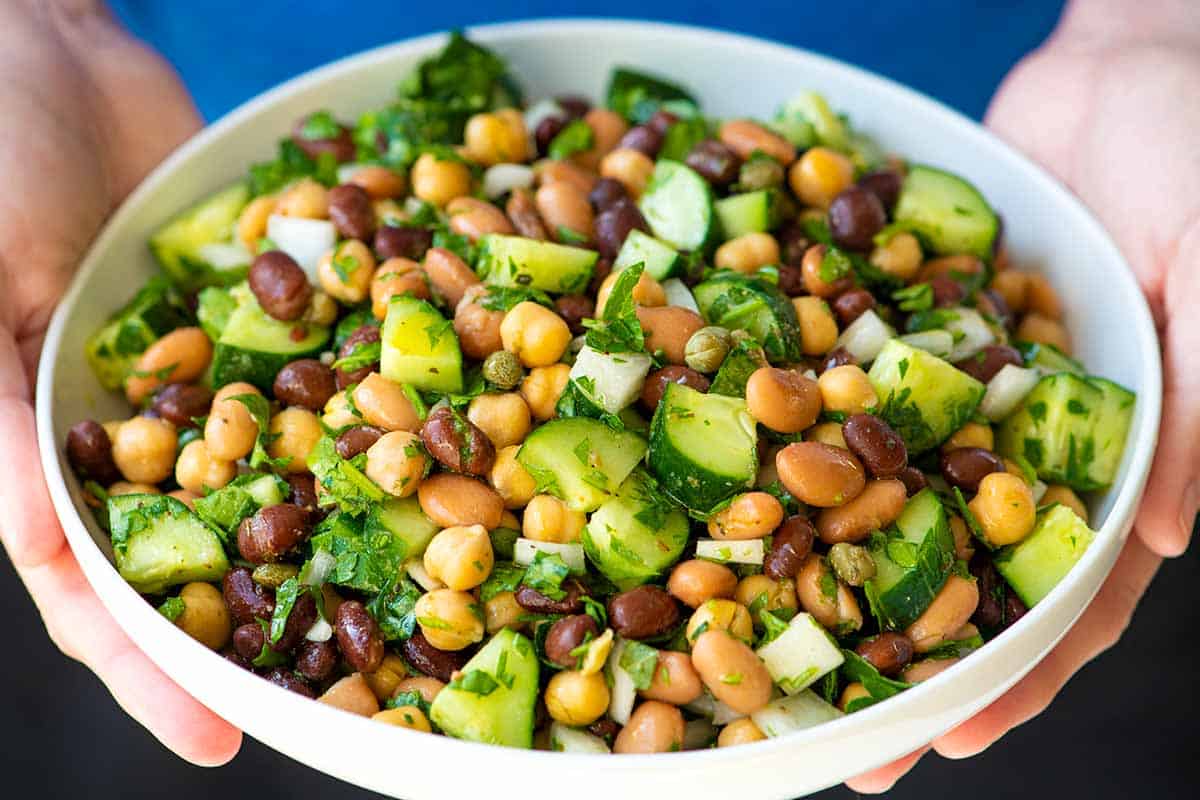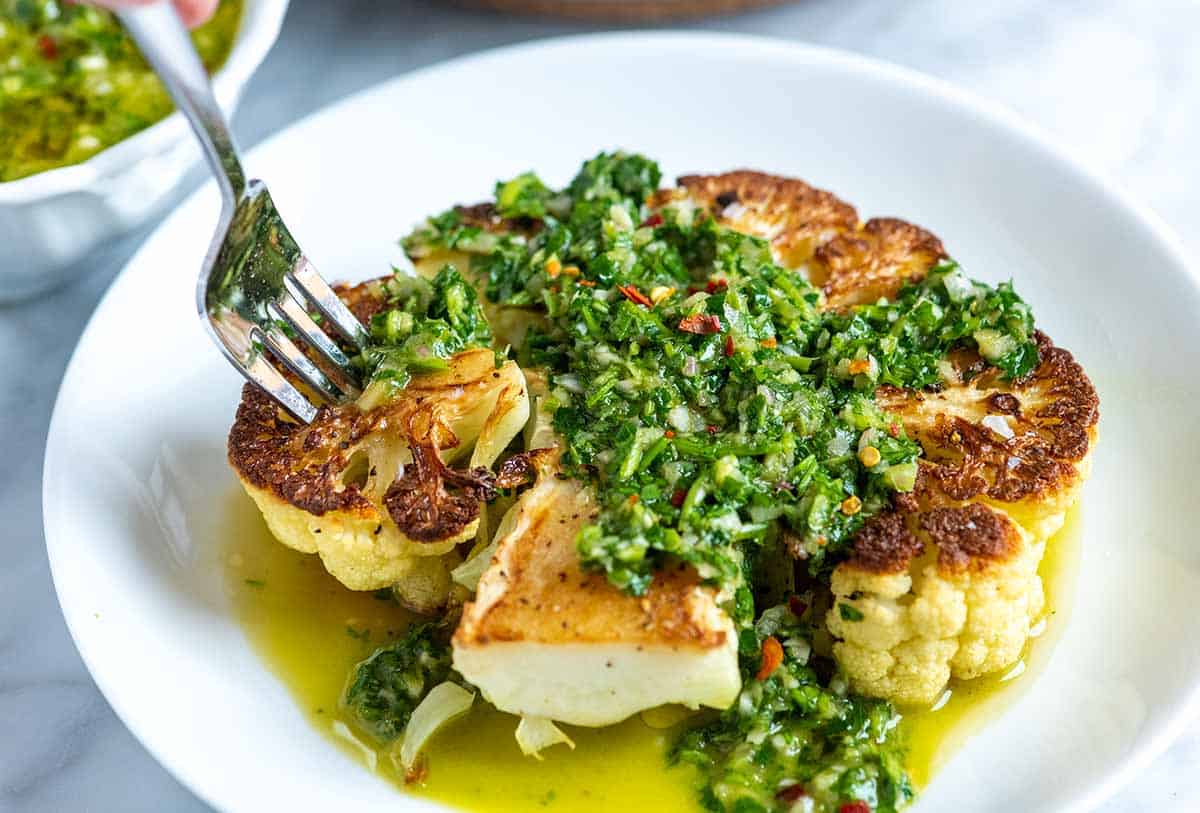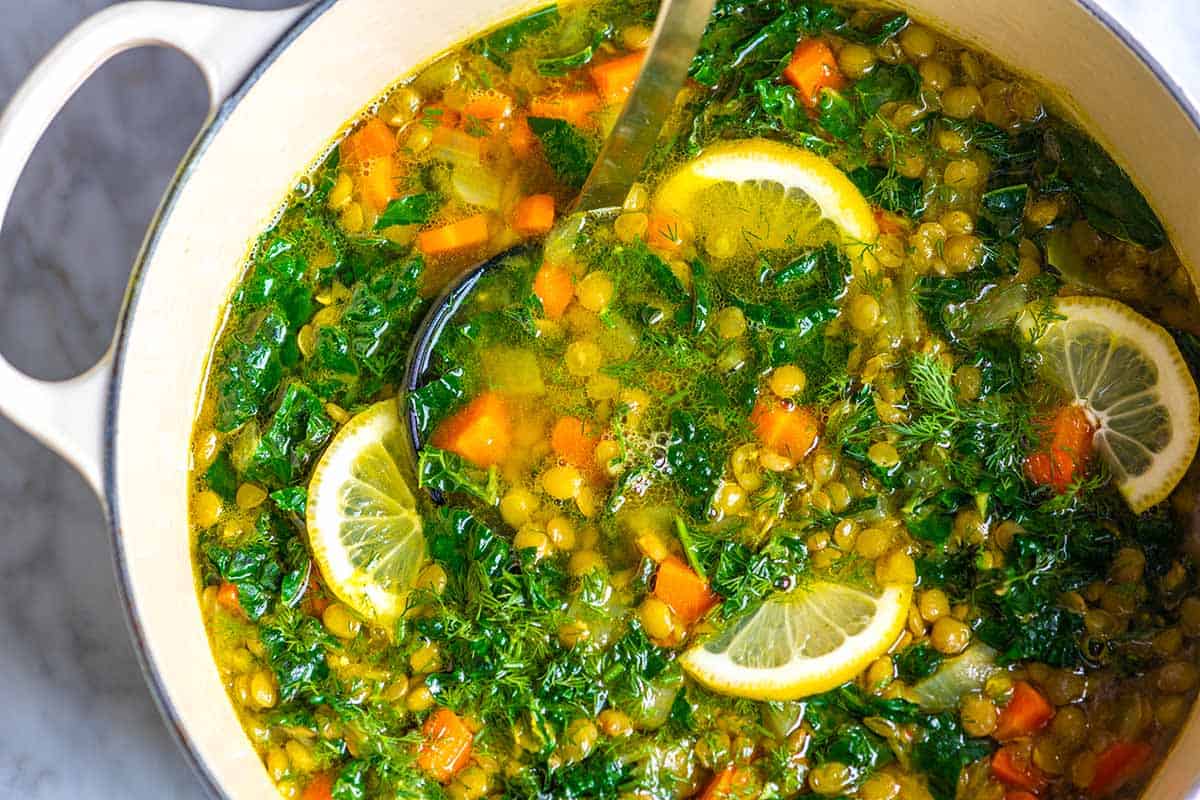 Tour Our New Kitchen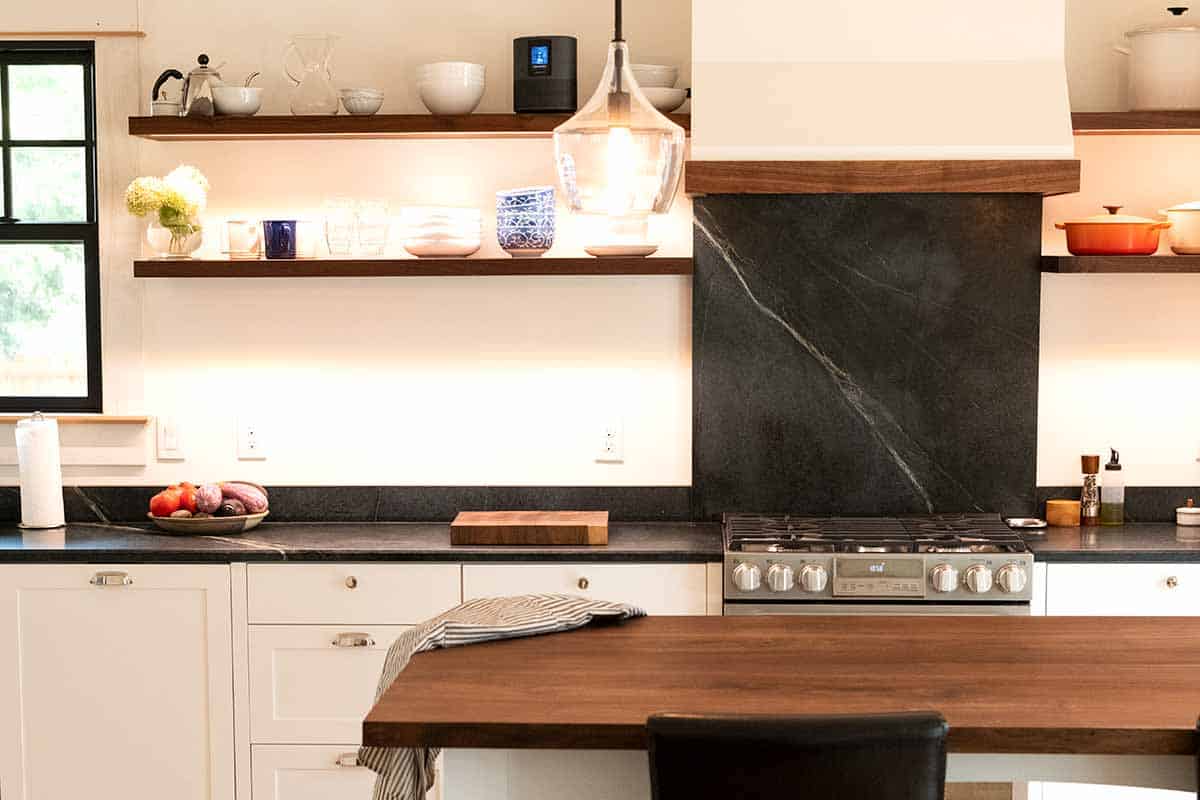 Previous Post: Seriously Good Quinoa Salad
Next Post: Ultra-Satisfying Chicken Noodle Soup