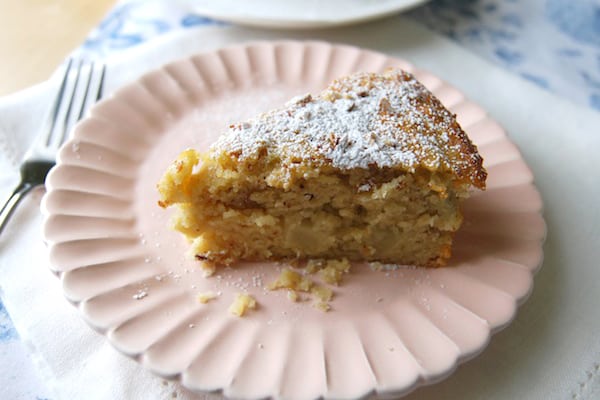 Adam and I are lucky enough to have a work schedule that allows us 2 Friday's off in a month.  This past Friday was one of those awesome Fridays!  There are a few "must-dos" on such a day:
#1 turn alarm OFF
#2 have coffee and a nice breakfast, as opposed to the usual grab something..anything as I run out the door on my way to work breakfast… yes, it has at times been a cookie
#3 test a recipe
So, to start our day, we slept in, which was amazing…we don't usually wake up to sun during the week.  Then, I, being the wonderful and caring wife that I am (hint, hint) made Adam and I breakfast in bed.  Finally, after a slow and gradual move from our bedroom to the kitchen, we poured ourselves another cup of delicious Costa Rican coffee, purchased on our honeymoon, then placed Marmalade on her viewing perch (she is the brains of our operation here by the way… she likes to "supervise") and got to work on this very tasty coffee cake.  Our hopes were to create a cake that was perfect for breakfast or dessert, is enhanced with coffee or tea and most importantly was moist because, well nobody likes a dry cake.  The final result is incredibly nutty from a whole cup of chopped almonds and a dash of almond extract and extremely moist since we use yogurt, some melted butter, diced apples and a squeeze of lemon juice on top right after the cake is removed from the oven.  Its not too sweet and definitely does not need anything like a glaze or icing, a little sprinkle of powdered sugar is pretty though.  It is perfectly moist, has a wonderful fluffy texture with tiny pieces of almonds throughout the cake.  Oh, and one of the best parts … our condo smelled amazing.  Marmalade definitely approved!
Apple Almond Coffee Cake
Created By:
Joanne and Adam Gallagher
You Will Need
1 ½ cups flour + 2 tablespoons
2 teaspoons baking powder
¼ teaspoon salt
¼ teaspoon allspice
1 cup granulated sugar
3 eggs
¾ cup low fat yogurt
6 tablespoons butter, melted
1 tablespoon lemon zest
¼ teaspoon almond extract
1 teaspoon vanilla extract
1 cup almonds
1 Granny Smith apple
Juice from 1 lemon
powdered sugar
Directions
Preheat oven to 350 degrees then butter and flour and 9-inch round cake pan.
While the oven is preheating, place the almonds on a cookie sheet and put in the oven for about 3-5 minutes or until you begin to smell the nuts. Remove the baking sheet and allow the almonds to cool.
Once cooled, use a mini food processor or a knife to coarsely chop the almonds into to small pieces.
Peel and dice (1/4 inch dice) the apple, then squeeze a little lemon juice over the diced apples to prevent browning. Toss the apples in the 2 tablespoons of flour and set aside.
In a large mixing bowl, combine the remaining flour, baking powder, salt and allspice then set aside.
In another large mixing bowl, whisk the eggs and sugar until they are combined, slightly fluffy and a light lemon color. Add the yogurt, butter, lemon zest, almond extract and vanilla extract to the egg mixture, whisk to combine.
Add a third of the flour mixture to the egg mixture and combine with a spatula, once combined, add the next third of the flour mixture and combine, then add the remaining third and use the spatula to combine.
Add ¾ of the chopped nuts and the diced apples to the mixture and stir with a spatula until they are integrated. Pour the cake mixture into the prepared cake pan, sprinkle the top of the cake with the remaining nuts and place into the oven for 40-50 minutes or until a toothpick can be inserted into the middle of the cake and be removed cleanly.
Remove the cake from the oven and squeeze half a lemon over the entire cake then allow to cool for 30 minutes. If desired, sprinkle a little powdered sugar for serving.