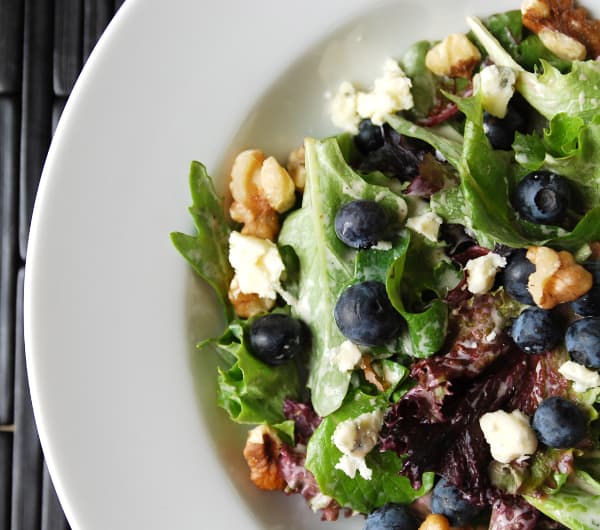 We used to always have lots of store bought salad dressings in our fridge…most of the time you would have found a ranch maybe an Italian and possibly a blue cheese dressing in there.  Today, you really won't find any.  We have just stopped buying them, instead we have fallen in love with making our own salad dressings.  Making your own salad dressing is usually easy and quick.  You probably have most of the ingredients in your fridge/pantry right now.  By making your own salad dressing, you can tailor the salad to whatever you want it to be, it will taste fresher and if you are like us, you will probably enjoy coming up with different variations.
READ:  Las Vegas Photos have absolutely NOTHING to do with this salad.  While we would love to say that we tried to imitate a salad dressing that we had in Vegas one night, we won't becasue that would be a lie.  We just honestly only took one photo of the salad for this post.  So, we just felt we needed to entertain you with a few more photos, even though they are completely random.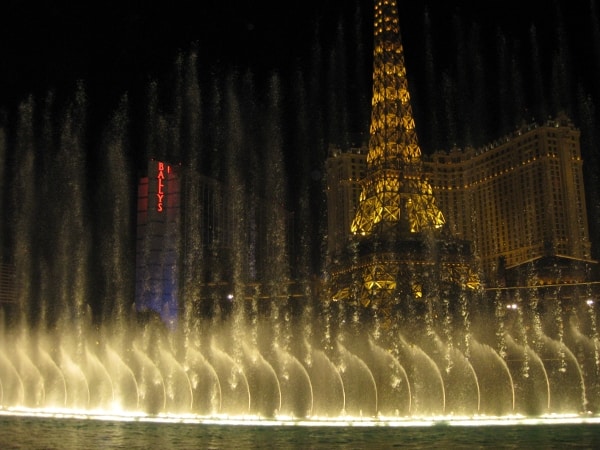 We make lots of different variations, but this one is our absolute favorite.  Although, even then, we change it up all the time!  The basic premise is a creamy base made with sour cream, yogurt, Greek yogurt or creme fraiche.  Then, we add something sour like vinegar or  lemon juice.  Next, we sweeten the dressing up with a bit of  honey or jam and finally, we balance everything out with a touch of Dijon mustard, olive oil and salt and pepper.  It may sound like a lot of ingredients for a salad dressing, but trust us, it comes together extremely fast with very little clean up.  You can create so many variations with substituting different varieties of jam (strawberry, blueberry, apricot, fig, and so on …) or you can completely change the sour note with different vinegars (Champagne vinegar for example) or use a combo of citrus with limes and lemons, maybe even blood orange and a touch of lemon for the sour note with marmalade as your sweet.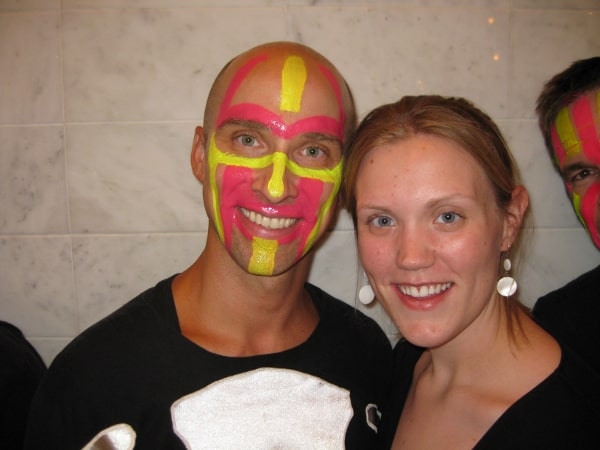 Joanne with a member of the Blue Man Group
For the salad we ate the other night, we kept it pretty simple.  We only had strawberry jam in the fridge, so that was our sweet and we went with red wine vinegar for the sour note.  We also had some organic sour cream (way creamier than non-organic by the way) so that was used for the base.  We tossed a simple spring mix with the dressing and then added fresh blueberries, blue cheese and some toasted walnuts on top.  The salad was simple, but could be passed as a salad sold at a fancy restaurant for $15.  The spring mix had some bitter greens mixed in like arugula and frisée, which played off the slight sweetness and creaminess of the dressing.  When we tossed the salad, we were really careful not to add too much dressing (you don't want to completely cover the greens with dressing, you only need a little bit).  The fresh blueberries were perfectly firm and ripe and burst in your mouth with extra flavor, the blue cheese was slightly tangy and the walnuts brought a mellow and buttery flavor to the salad as well as a much appreciated crunch.
Definitely give the dressing a try one day, you won't regret it and don't forget to make it your own.

Simple Salad with Blueberries, Blue Cheese and Walnuts
Created By:
Joanne and Adam Gallagher
You Will Need
2 tablespoons sour cream
3 teaspoons red wine vinegar
1 teaspoon strawberry jam
1 teaspoon Dijon mustard
1 tablespoon extra virgin olive oil
salt and pepper
Directions
Add all ingredients into a small bowl and whisk until combined then toss your desired amount with salad. Note: If you prefer the dressing a little sweeter just add a little more jam.