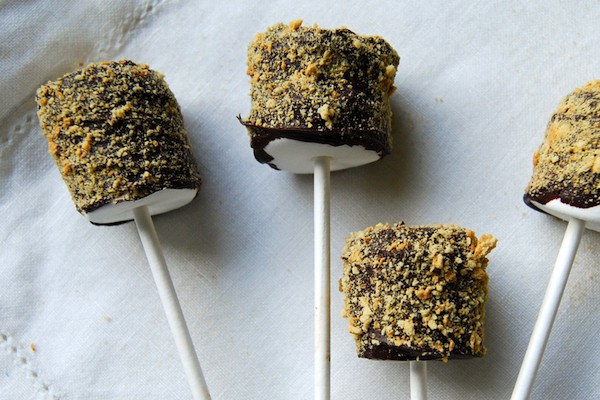 Just less than two months from now Adam and I will be an Aunt and Uncle (Uncle Adam, isn't that just adorable)…  We are, of course, ecstatic.  I've never been an Aunt before and unless Adam has forgotten to tell me something, he has never been an Uncle.  Just thinking about the day when we will have the chance to meet our little nephew/niece for the first time sets my senses atingle with delight (read: until today, I never knew atingle was a word…I knew about tingly or tingle, but had no clue atingle was an option, it's such a great word, I feel I have been missing out all these years).
Anyway, as our first duty as Aunt and Uncle, we are helping out with the upcoming baby shower.  The brains of the operation is my sister-in-law, Heather, who is quite frankly incredible at just about anything when it comes to parties.  Adam and I are taking on the food and have had quite the time figuring out what we want to serve.  I wish I could take the next paragraph to divulge all the fun and tasty plans, but unfortunately, I just can't…it hasn't happened yet, and I would hate to hear that the mother-to-be, my sister-in-law has read this very post and I, single-handedly have ruined the surprise for the day.  So, if you would be so kind as to wait, just a couple of weeks, we promise to provide you with lots of photos, recipes and ideas along with a full write up of all the happenings on the day.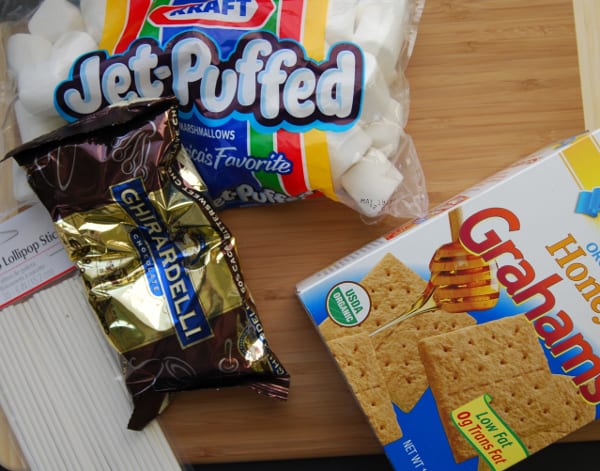 With all of that said, we would hate to keep you totally in the dark, so we thought we could share these awesomely adorable s'mores pops with you.  Since we want to make sure everything goes right on the day of the baby shower, we are testing each recipe.  Last night we tested s'mores pops, woah…they are good!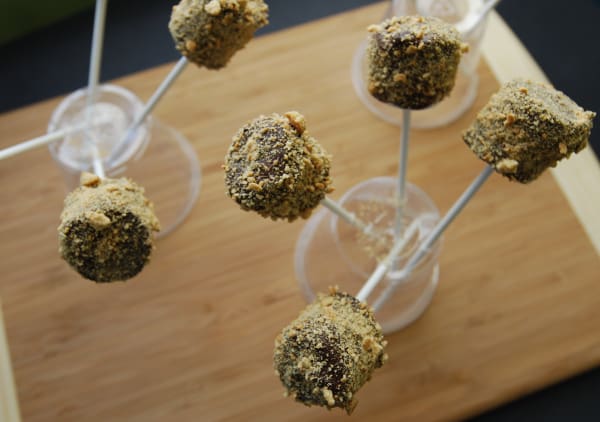 These cute little bites of, in my opinion, the best thing about camping, are just the perfect treat to serve at a party, baby shower or any other type of party.  I bet they would be perfect for a child's birthday party (you could even let the kids make them themselves, with some assistance of course).  I would even consider serving them at a cocktail party, they are fun, not messy and delicious.  Making them is easy, all you need is bittersweet chocolate chips, graham crackers, marshmallows and lollipop sticks (or skewers).  Push one marshmallow on each stick, roll/dip them  in some melted chocolate, sprinkle crushed graham crackers all over, then let them cool about 10 minutes and voila your done, just sit back and watch them disappear.
Update: You can read more about the baby shower here and here. Also, Heather, Adam and I had so much fun planning this party, we decided to join forces on a new project where we bring our love of food, crafts and parties together. See it here
S'mores Pops
Created By:
Joanne and Adam Gallagher
You Will Need
1 1/2 cups bittersweet chocolate chips
20 marshmallows
6 graham crakers, crushed
20 lollipop sticks or skewers
5 to 6 plastic cups (helps when drying)
Directions
Punch small holes, just large enough for the lollipop ticks to slide through, into the bottom of the plastic cups. Turn upside down.
Push 1 marshmallow onto each lollipop stick.
Add chocolate chips to a microwave-safe bowl and heat in the microwave for 20 seconds. After 20 seconds, remove the bowl and stir the chocolate chips. Place the bowl back into the microwave for another 20 seconds and stir again. Repeat process until melted.
Working quickly, dip each marshmallow into the chocolate and sprinkle with crushed graham crackers. Slide the smores pops into the upside down plastic cups prepared earlier to allow the chocolate to harden, about 10 minutes.