Coconut oil roasted sweet potatoes with maple syrup, cinnamon and toasted pecans.
These roasted sweet potatoes came to be because we were on the hunt for more ways to cook sweet potatoes. Sweet potatoes are a staple in our kitchen and can be found roasted or baked and on our plates many days of the week.
You Will Also Enjoy: How to Bake Roasted Sweet Potato Fries that are caramelized and crispy on the outside and tender on the inside. Recipe and Video included.

Or, try our Vegetarian Tacos with roasted sweet potatoes and black beans.
Coconut oil works so well with the caramelized sweet potatoes. Pure maple syrup adds a little sweetness, cinnamon adds spice (just like in our Cinnamon Roasted Butternut Squash Recipe) and for some extra crunch we toss in pecans right at the end of roasting so they become warmed and lightly toasted.
How to Cook Coconut Oil Roasted Sweet Potatoes
This recipe is a simple one. Everything happens on one baking sheet.
We add the coconut oil to a large baking dish and melt it in the oven as it preheats. Then we pile evenly diced sweet potatoes, maple syrup, cinnamon, salt and pepper on top.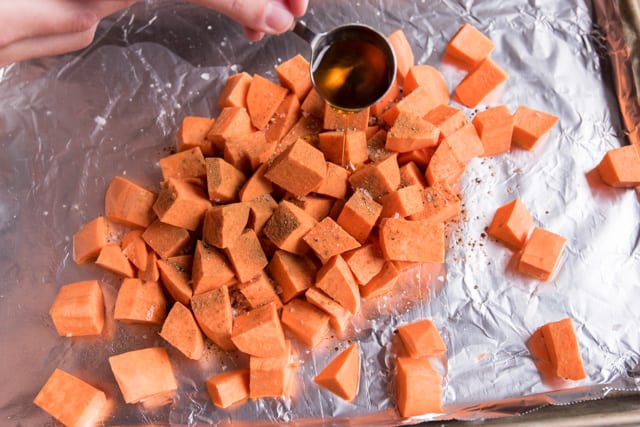 Everything is tossed until evenly coated and then roasted until the potatoes are soft and caramelized — about 45 minutes.
To finish things up, we add some pecans to the baking sheet and continue to roast for about 5 minutes or until the pecans are warmed and lightly toasted.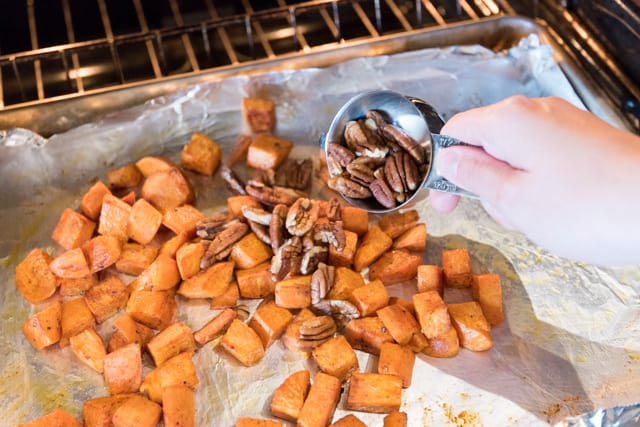 And that's it, an easy sweet potato recipe that requires one baking sheet, minimal dishes and that will make just about anyone happy.
Coconut Oil Roasted Sweet Potatoes with Pecans
We love keeping a jar of coconut oil in our pantry because we love the delicate coconut character it adds. Look for unrefined coconut oil (often labeled as "virgin" or "extra-virgin"). These are typically made from the first pressing of fresh, raw coconut without any added chemicals and have a mild coconut flavor and scent.

This recipe is gluten-free as well as vegan and tastes absolutely delicious. You really cannot beat these coconut oil roasted sweet potatoes. The maple syrup sweetens things up just enough, the cinnamon adds a little spice and the pecans add a nutty crunch.
Created By:
Adam and Joanne Gallagher
You Will Need
1-1/2 tablespoons virgin or extra-virgin coconut oil
4 medium sweet potatoes, peeled and cut into 1/2-inch cubes (1-1/2 to 2 pounds total)
1 tablespoon pure maple syrup
3/4 teaspoon kosher salt
1/2 teaspoon ground cinnamon
1/4 teaspoon ground black pepper
1/4 cup pecan halves
Directions
Heat oven to 350 degrees F. Add coconut oil to a large rimmed baking sheet and place into the oven until the coconut oil melts, about a minute.
Mound the potatoes on top of the melted coconut oil then add the maple syrup, salt, cinnamon and black pepper. Toss until the sweet potatoes are well coated with the oil, maple syrup and spices.
Spread the potatoes in an even layer. Roast, tossing occasionally, until soft and caramelized, 45 minutes to 1 hour. Add the pecans and roast another 5 minutes until the nuts are warmed and lightly toasted.
Notes and Tips
A note about salt: We use kosher salt in our recipes. It's much easier to pick up with our fingers and gives us better control of our seasoning. Use what you have, but keep in mind that kosher salt has larger flakes compared to table or fine sea salt. If using a finer salt, you will need to reduce the amount of salt called for in our recipe by 25% to 50%.

Coconut oil substitute: Grape Seed or Olive Oil.