We love these easy slow cooker chicken meatballs. They are made with lean ground chicken, parmesan cheese, parsley, and oregano, and then cooked in a simple garlic and basil tomato sauce.
Using a slow cooker makes these chicken meatballs so easy. The sauce is cooked first. We throw everything into a crock pot and turn it on. The sauce gets better and better as it cooks. After a few hours on high or 6 hours on low, it's ready for the meatballs.
A+J's Tip: Make this slow cooker tomato sauce in advance — it keeps in the fridge for 2 to 3 days and in the freezer for months!
The chicken meatballs only need an hour in the slow cooker — this way, they cook just until done, guaranteeing their juiciness. No one likes a dry meatball!
You May Also Like our Easy Turkey Meatballs recipe that can also be made in a slow cooker. Everything is made on the stove in about 45 minutes, but you could just as easily make them in the crock pot!
More easy dinners we love are our Creamy White Chicken Lasagna, Easy Lemon Chicken, Easy Shredded Slow Cooker Chicken and these Goat Cheese Stuffed Chicken Meatballs!
How to Make Slow Cooker Chicken Meatballs
I mentioned above that we make the sauce first. You see it gets so much better with time, the meatballs don't since they can become dry.
We add canned tomatoes, tomato paste, olive oil, a small onion that's been halved, lots of garlic and spices to the crock pot. If we're in a hurry, we'll turn it to high and cook for 3 hours. If we're starting in the morning, switching to low and cooking for 6 hours does the trick.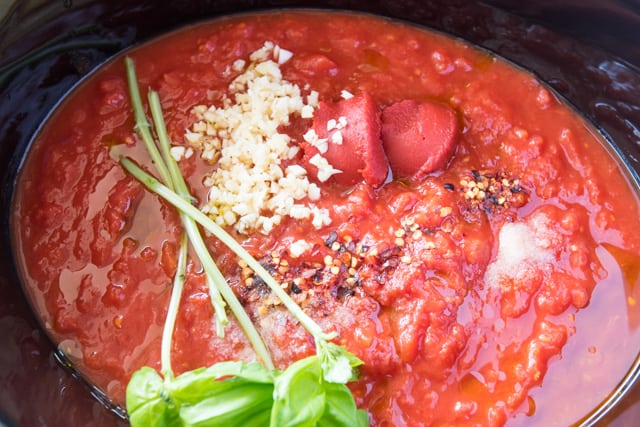 As the sauce slowly bubbles away, we get started on the meatballs. We use panko breadcrumbs and milk for tenderness and lots of parmesan cheese, oregano and parsley for flavor.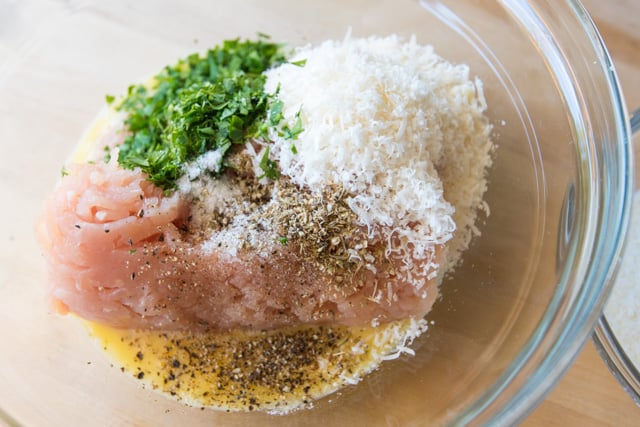 They are cooked at the end after the sauce is made, but you can form the balls whenever you like.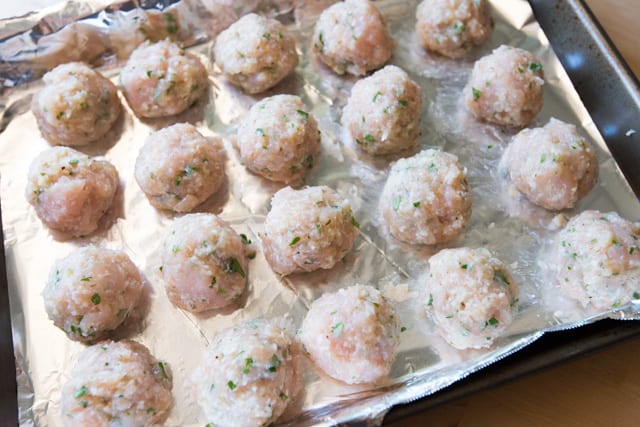 You could do this a day in advance if you wanted to — just keep them covered in the refrigerator. Or, form them weeks in advance and freeze them uncooked.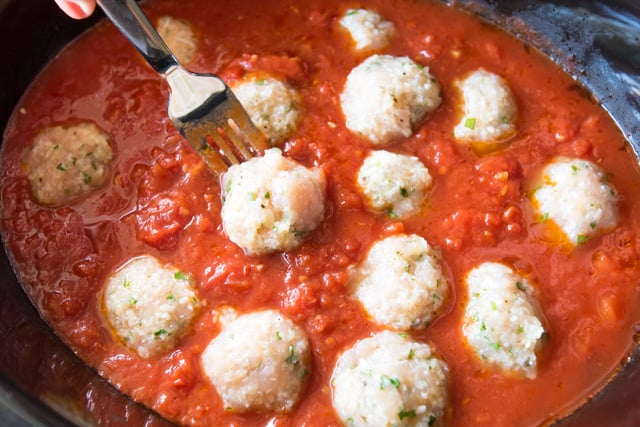 When you're ready, gently drop the formed meatballs into the hot sauce. Cover them and cook for about 1 hour or until they are done.
That's it, slow cooker chicken meatballs that are easy to make, taste great and are perfect for making in advance. We hope you give them a try!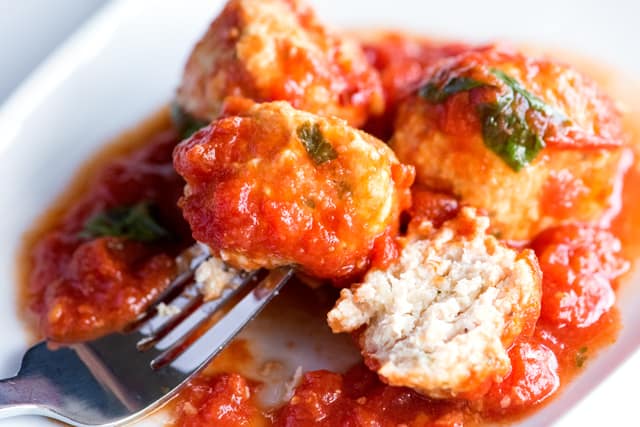 Tomato Basil Slow Cooker Chicken Meatballs
We love these crock pot meatballs. They are made with lean ground chicken, parmesan cheese, parsley, and oregano, and then cooked in a simple garlic and basil tomato sauce. Be sure to look at the notes section below for our tips on making them in advance!

Serve these with pasta, spiralized noodles, vegetables, bread, or as an appetizer.
Yield:
Serves 6, Makes 18 Meatballs
You Will Need
FOR Tomato Basil Sauce
Two 28-ounce cans crushed tomatoes
2 tablespoons tomato paste
1 medium onion, split in half
1-1/2 tablespoons minced garlic, 4 to 5 garlic cloves
2 tablespoons olive oil
1 bay leaf
1/4 teaspoon crushed red pepper flakes
1 large stem fresh basil sprig
Salt, to taste
FOR Chicken Meatballs
1 pound ground chicken, see Jo's notes
1/3 cup (25 grams) panko bread crumbs
1/3 cup milk
1 large egg

1/2 cup finely grated Parmigiano-Reggiano cheese (1 ounce)
2 tablespoons finely chopped parsley
3/4 teaspoon dried oregano
1 teaspoon kosher salt
1/4 teaspoon freshly ground black pepper
Equiptment
Slow Cooker, we used a 6-quart slow cooker
Directions
Make the Slow Cooker Tomato Sauce: Add the tomatoes, tomato paste, halved onion, garlic, olive oil, bay leaf, red pepper flakes and the basil sprig to a slow cooker. Stir then add salt to taste — we use between 1 teaspoon and 2 teaspoons of kosher salt, depending on the tomatoes. It will be cold, but you will get a good idea of whether or not the sauce is well seasoned.
Cover and cook on LOW for 6 hours or on HIGH for 3 hours. Remove the onion, bay leaf and basil sprig. Taste then add additional salt as needed.
Prepare the Chicken Meatballs: The meatballs can be prepared ahead of time, see Jo's notes below.
Combine panko breadcrumbs and the milk in a large bowl. Wait 3 to 5 minutes until the breadcrumbs have absorbed most of the milk then whisk in the egg. Whisk in the parmesan cheese, parsley, oregano, salt, and the pepper.
Add the chicken and use a fork or your hands to then blend the chicken and the egg mixture together. The meatball mixture will be quite moist.
Shape into one-inch meatballs, pressing no more than necessary. This recipe makes approximately 18 meatballs.
Cook the Chicken Meatballs: Once the tomato sauce has finished cooking and the onion has been removed, add the chicken meatballs. To add them, use a spoon or two forks to gently lower them into the sauce. Cover the tops of the meatballs by gently pushing sauce over each meatball. Cook on HIGH for 1 hour or until the meatballs are cooked through.
Notes and Tips
Ground Chicken: This recipe works beautifully with leaner, ground chicken breast, however, using ground dark meat (thighs) makes more tender meatballs. You can also used ground turkey for these meatballs.

Make-ahead sauce: The sauce can be made ahead and kept refrigerated 2 to 3 days and 3 to 4 months in the freezer.

Make-ahead meatballs: Meatballs can be shaped and kept refrigerated up to a day ahead. Arrange them on a baking sheet, cover, and then refrigerate up to 1 day.

Freezing uncooked meatballs: Meatballs can be shaped and and arranged on a baking sheet lined with aluminum foil or parchment paper. Freeze until solid then transfer them to a freezer-safe container or bag, and freeze up to 1 month. Thaw meatballs in the refrigerator overnight before cooking.

A note about salt: We use kosher salt in our recipes. It's much easier to pick up with our fingers and gives us better control of our seasoning. Use what you have, but keep in mind that kosher salt has larger flakes compared to table or fine sea salt. If using a finer salt, you will need to reduce the amount of salt called for in our recipe by 25% to 50%.