Easy, sheet pan baked chicken thighs recipe with garlic, yukon gold potatoes, red onion and peppery arugula. Jump to the full baked chicken thighs recipe now or read on to see our tips.
This chicken recipe is so quick and easy because there aren't many things to chop and everything happens on one sheet pan. It takes 10 minutes to prep and then it's practically hands off while it bakes. Talk about easy!
We're big fans of chicken thighs and prefer buying them with the bone-in and skin-on. The bone and skin add a ton of flavor and help to keep the chicken tender and juicy. If you're looking to use skinless chicken thighs or prefer chicken breast, take a look in the notes section of our recipe below for our tips.
For more baked chicken recipes, take a look at these easy recipes:

Garlic-Basil Baked Chicken Breasts with chicken that's marinated in garlic and basil and baked alongside fresh tomatoes! This is one of our newest recipes on Inspired Taste. We love it!

Lemon-Garlic Baked Chicken Breasts with chicken that's marinated in fresh lemon, garlic and Dijon mustard. We love the combination of lemon, chicken and garlic. This one is a must-make.

Baked Lemon Chicken Thighs with Herbs with juicy and flavorful chicken thighs that are seared in a pan then finished in the oven (so delicious). We love this recipe and with over fifty 5-star reviews it seems you do, too!
How to Make Garlic Baked Chicken Thighs with Potatoes
I absolutely love this meal because you can make it as simple or complex as you want.
The chicken and potatoes are delicious and simply seasoned with salt and pepper then baked with garlic. We add the garlic towards the end of the baking time. This prevents it from burning and becoming bitter.
Spice Things Up a Bit…
To spice things up a bit, simply throw in your favorite spice rub — an ancho spice rub or mustard and lemon rub would be wonderful.
This time, we kept the seasonings simple, but chose to include some interesting textures and color with red onion and a handful of peppery arugula tossed onto the pan right before serving — two things we almost always have in our kitchen. When we don't have arugula, baby spinach works wonders as a stand-in.
I should also mention that the potatoes could very easily be swapped for sweet potatoes or carrots. Broccoli or cauliflower would be great, too.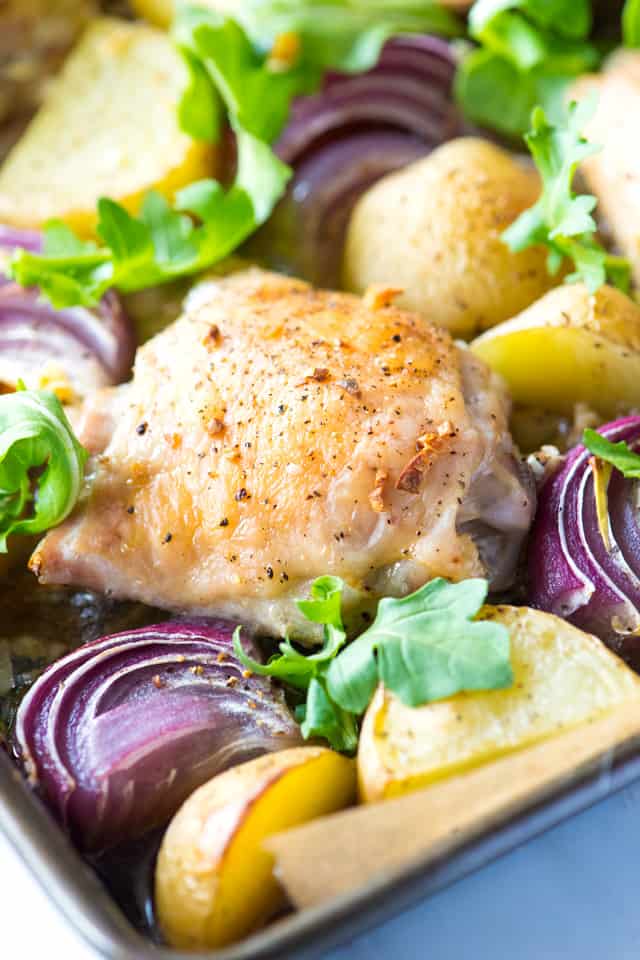 It really doesn't get much easier. The potatoes soak up lots of flavor from the chicken, the onions become soft and sweet and the chicken stays juicy with crispy skin.
An easy and practically hands off sheet pan meal that should be added to your dinner rotation. Enjoy!
Easy, Sheet-Pan Baked Chicken Thighs with Potatoes
This one-pan meal is fuss-free and can easily be made during the week. We keep seasoning simple, but you could easily throw your favorite spice blend on top of the chicken and vegetables.
Created By:
Adam and Joanne Gallagher (inspiredtaste.net)
Yield:
Serves 4 (one chicken thigh each)
You Will Need
4 bone-in, skin-on chicken thighs, about 1-1/2 pounds
2 medium yukon gold potatoes, cut into 1/2-inch pieces, about 8 ounces
1 medium red onion, cut into 1/2-inch wedges
2 teaspoons olive oil
1 teaspoon kosher salt
Freshly ground black pepper
2 garlic cloves, minced
1-1/2 cups fresh arugula leaves (substitute baby spinach leaves)
Directions
Heat the oven: Heat oven to 425 degrees F. Line a rimmed baking sheet with parchment paper or aluminum foil.
Prepare the chicken: Trim excess skin and pat chicken dry then generously season with a 1/2 teaspoon of salt and pepper on both sides.
Prepare potatoes and onions: Spread potatoes and onions on baking sheet and toss with 1 teaspoon of the oil, a 1/2 teaspoon of salt and pepper.
Bake chicken and vegetables: Nestle the seasoned chicken thighs between the potatoes and onions. Bake for 15 minutes.
In the meantime, toss minced garlic and the remaining teaspoon of oil in a small bowl. After 15 minutes of baking, scatter the garlic over chicken, potatoes, and the onions; continue to bake until chicken is no longer pink, about 20 minutes more.
Just before serving, scatter arugula leaves over the chicken, potatoes and onions.
Notes and Tips
If using skinless chicken thighs or chicken breast follow the recipe as stated, but rub the skinless chicken with a teaspoon of oil before baking. After adding the garlic, continue to bake until the chicken is done (this will likely take less time than mentioned above for bone-in chicken thighs).