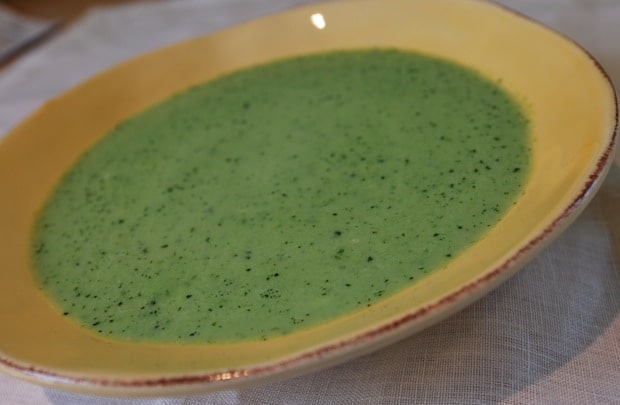 I am addicted to our TiVo!  So much so, that if I watch live TV I am at a loss when commercials come on (pretty sad huh?).  If you are like me, my top TV picks are usually food related, in fact I think most of what I record is food related.  One show I record and watch a lot is Everyday Italian with Giada De Laurentiis.  I like how simple a lot of her dishes are, and to be honest probably try her dishes more than other Food Network chefs.  During the last episode I watched, she made her version of  Pea and Basil Soup.  It looked so easy and is really beautiful, so I thought I would give it a try.  When I was younger I hated the taste of peas, I mean I really hated peas!  But now that I am older, I am starting to appreciate them.  This recipe is very similar to the one shown on Everyday Italian, but I have lightened it up a bit with milk instead of cream and removing butter.  The soup is very light and refreshing and it has a slightly sweet taste from the peas.  It is very delicious!

Created By:
Adam and Joanne Gallagher
You Will Need
2 tablespoons of olive oil
1 diced medium onion
1 minced garlic clove
1 bag of frozen peas
1/2 a cup of chopped fresh basil leaves
2 cups of low sodium vegetable broth
2 cups of low fat milk
1 teaspoon of salt
1/2 teaspoon of freshly ground black pepper
Directions
In a large saucepan over medium heat, add the olive oil, onion, salt and pepper, saute for about 5 minutes.  Next, add the garlic and saute for another 5 minutes.  Add the peas and basil, and saute for another 2 minutes then add the broth and bring to a simmer until heated through.  Remove the soup from the heat and use an immersion blender or regular blender to blend the soup.  Place the soup back on the heat and turn the heat to low.  Add the milk and heat through, but do not boil.  Serve.