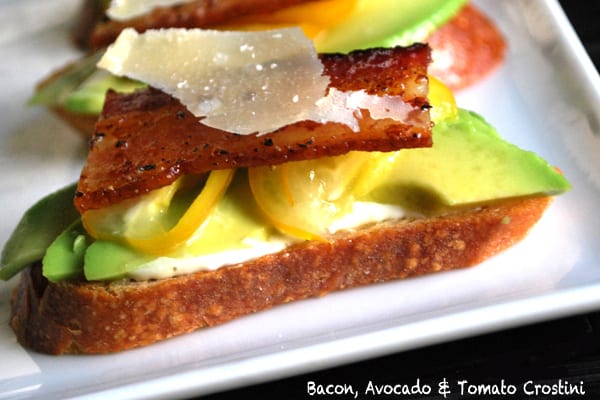 There are a few things in life that I am pretty sure about, for example, I know that every time I pass one of those mini two seater cars on the road, I giggle, I mean how can you not?  Here is a car that when parked beside a large SUV doesn't even make it to the side-view mirrors, I mean, most people have lawn mowers that are bigger than that.  I also cannot help but remember the time I was parking at Trader Joe's in Alexandria and noticed one with a bumper sticker that reads "Dishwasher Safe" … now, that is someone I admire, they made their choice in car, even though it is pretty funny looking, and still have a sense of humor.
Couldn't you just see Marmalade (our cat pictured below) driving down the road, it is the perfect size for her!
Of course, we are only kidding, anything that can save us all money on gas or help our environment gets an A+ in our books!
Now, the other thing off the top of my head that I am sure about is that (read: I know the next few words might upset you) … I don't really like bacon!  Adam is a fan, but me… not so much.  That is until the other night … after wanting to, for some inexplicable reason, make some type of crostini, we took a stroll to our local market.  As we wandered around the store looking for inspiration, some thick cut bacon at the deli counter caught Adam's eye.  I went with it and we built our recipe from there.  I knew it was going to be tasty, but again, I really am just not a fan of bacon … but, then I tried this bacon… it was salty, sweet, smoky, almost buttery and actually led to a fundamental life moment – the moment when I realized I LOVE bacon!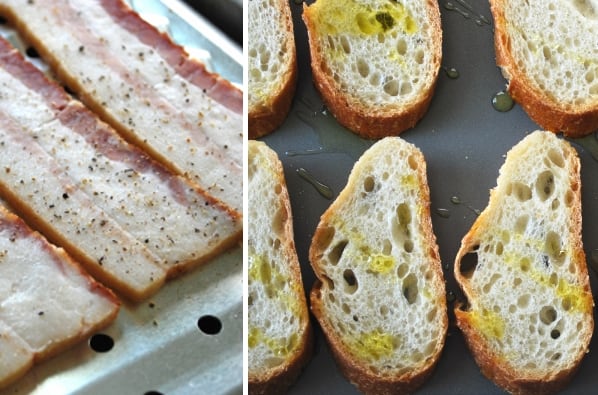 Fortunately, before I had the chance to scarf down the sheet pan full of bacon, Adam reminded me about the need to actually do something with it and take a few photos, so we got to work (I was positioned as far away from the bacon as possible).  We made a really simple flavored mayonnaise for the base; all we did was use a microplane to grate fresh garlic and lemon zest into store bought mayo.  Then, we added lemon juice, a pinch of salt and freshly ground some pepper to finish it off.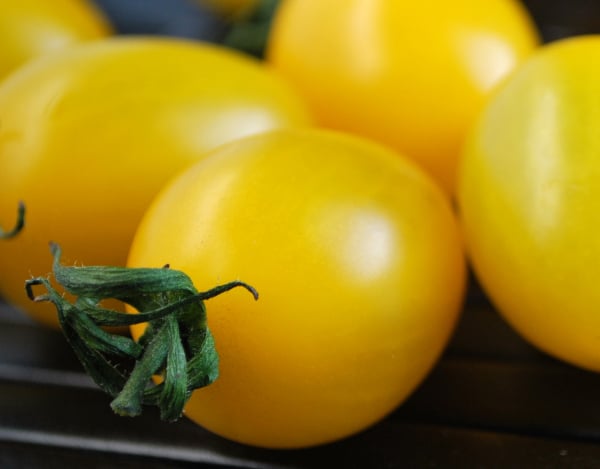 Next, we carefully sliced some beautiful yellow cherry tomatoes as well as some avocado.  We layered all our ingredients onto our crostini and topped them with shaved parmesan.  The creaminess of the avocado brings everything together from the bright mayo, slightly sweet tomatoes, smoky bacon and the salty cheese.  You can finish one crostini in 2 bites or less and surprisingly, they do not fall apart after the first bite.  They are fun, somewhat nostalgic and perfect for an outdoor BBQ or get-together.
Bacon, Avocado and Tomato Crostini
Created By: Joanne
Serves: 12 crostinis
Ingredients
Mayonnaise
1/2 cup Mayonnaise
1/4 teaspoon grated fresh garlic
1 teaspoon lemon zest
1 tablespoon lemon juice
pinch of salt
freshly ground pepper
For the Crostini
12 slices French loaf, on diagonal
1 tablespoon olive oil
4 slices high-quality thick cut bacon
1 ripe avocado
1 tablespoon lemon juice
12 yellow cherry tomatoes, thinly sliced
12 shavings of parmesan cheese
Method
Mayonnaise
Use a microplane to grate the fresh garlic and lemon zest into a mixing bowl, add the lemon juice, mayonnaise, salt and pepper. Stir to combine, then set aside.
For the Crostini
Preheat the oven to 350 degrees F.
Place the bacon slices on a baking sheet, sprinkle freshly ground pepper all over the bacon and place into the oven for 15-20 minutes, or until cooked and crispy. Once done, remove from the oven and cut each slice into thirds, set aside.
Place the bread slices onto a baking sheet, drizzle with a little olive oil and bake in the oven until slightly golden, about 12 minutes. Once done, remove fromt the oven and set aside.
Peel and remove pit from the avocado then thinly slice, squeeze a bit of lemon juice over the avocado slices to prevent browning.
To assemble the crostini, smear some mayonnaise add 2-3 thin slices of avocado, 3-4 thin tomato slices, bacon and a parmesan shaving.