These mini jam sandwiches are perfect for birthdays, baby showers and afternoon snacks. Jump to the Mini Cream Cheese and Jam Sandwiches Recipe or read on to see our tips for making them.
We love these cute little sandwiches. The recipe below calls for cream cheese and jam, but you can just as easily use other fillings. Try peanut butter or almond butter and jam, Nutella or cheese and ham.
YOU MAY ALSO LIKE: How to make our favorite open-faced avocado sandwiches with bacon and tomato. Jump to the Bacon, Tomato and Avocado Open-Faced Sandwiches.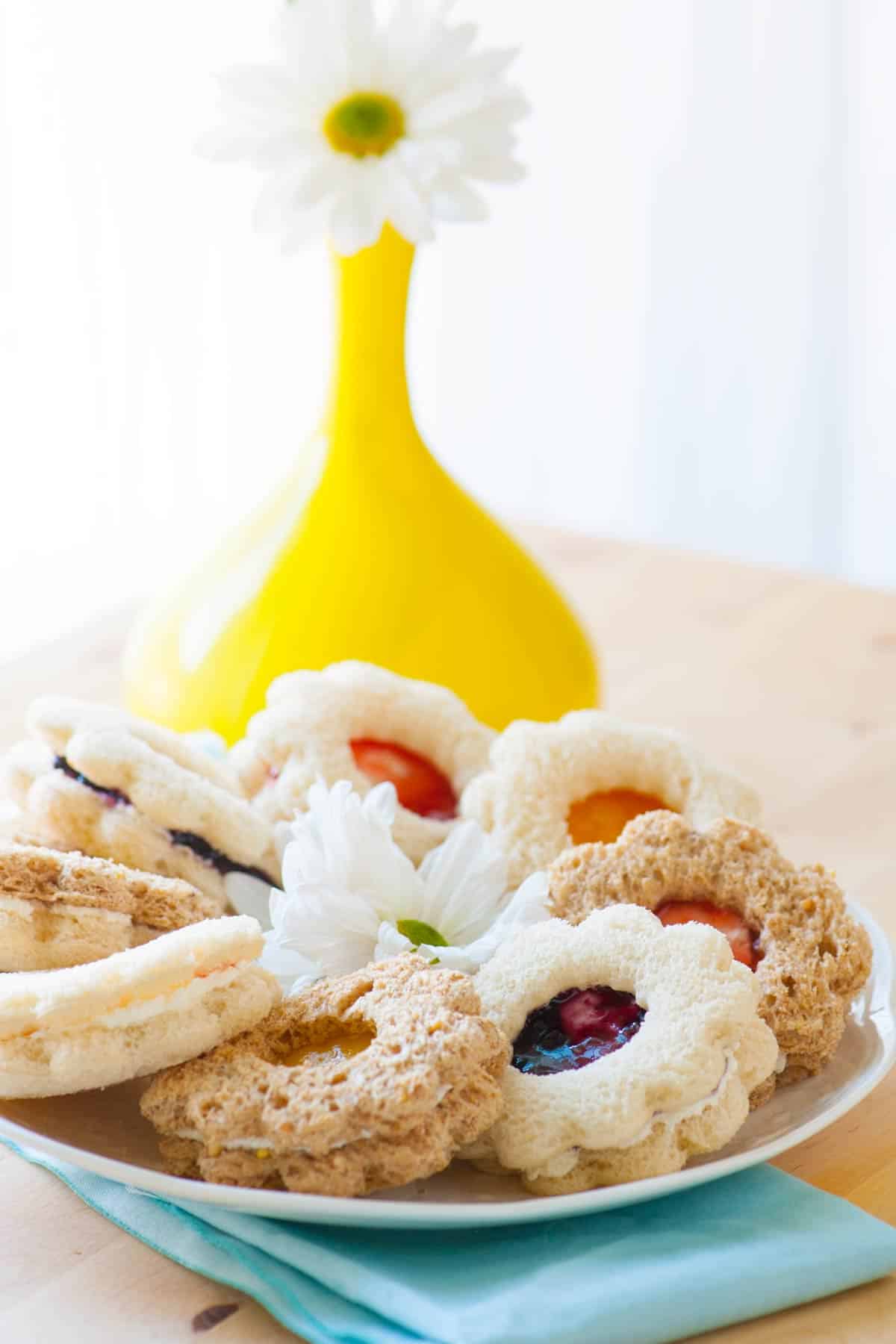 We used a daisy shaped cookie cutter to make ours, but any cookie cutter will work. It's also nice to alternate the kind of bread you use when making a big batch.
YOU MAY ALSO LIKE: How to make s'mores pops with marshmallows, melted chocolate, and crushed graham crackers. Jump to the S'mores Pops Recipe.
Recipe updated, originally posted January 2012. Since posting this in 2012, we have tweaked the recipe to be more clear. – Adam and Joanne
Mini Cream Cheese and Jam Sandwiches
Make these on the fly when your children's friends come over or make them the centerpiece for their next birthday. Chose any large cookie cutter shape. You can make these ahead of time, just over each sandwich with a slightly damp paper towel. Store ahead of time up to 2 hours.
You Will Need
20 slices sandwich bread
3/4 cup cream cheese, softened
1/2 cup jam, any flavor
Directions
1Spread cream cheese onto one side of 10 slices of bread. Spread jam over cream cheese. Cover jam with remaining 10 slices bread. Using a 2 1/2-to-3-inch cookie cutter, cut out the sandwiches, avoiding the crusts.