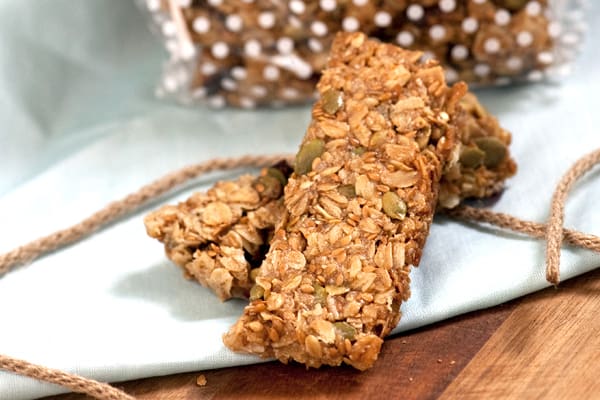 We had been thinking about these granola bars for a while now.  Remember when we gave out granola bars for a baby shower favor?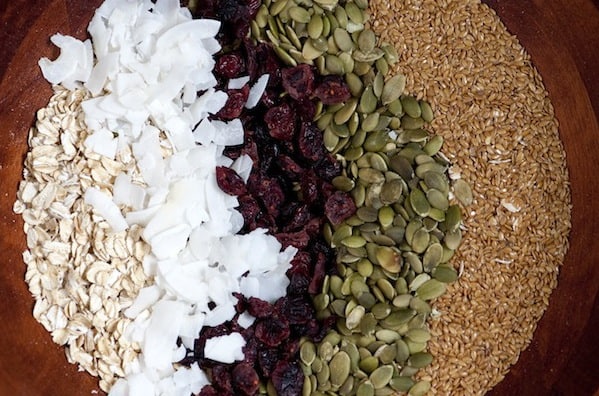 We were so happy with them last time, that we decided to give them another try, but with a slight twist.  It all started on Sunday morning, everything was going swimmingly, even Marmalade was relaxed and happy with our progress.  The bars were in the oven, allowing us some down-time, which Marmalade, the third mind of Inspired Taste, took great advantage of.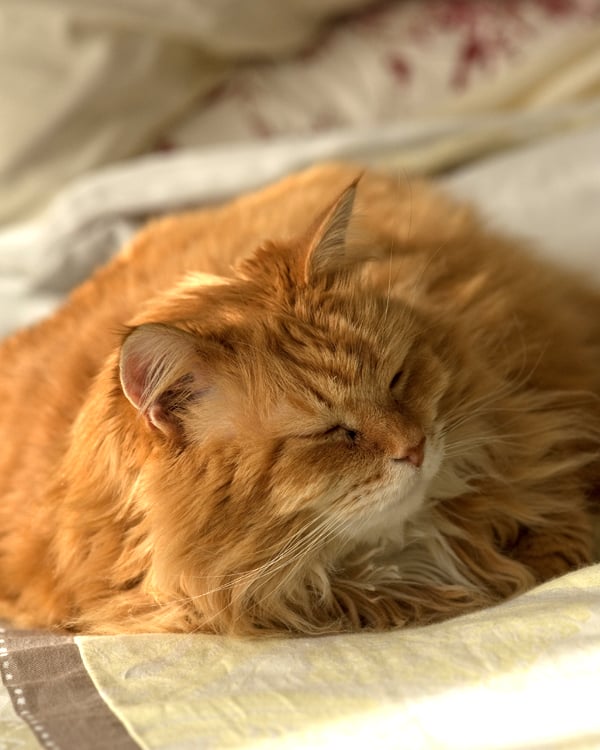 As I said, everything was going well, the colors of the bars were striking, the sticky fingers you get when patting down the granola in the pan tasted great and just about 20 minutes into baking, the kitchen began to smell amazing.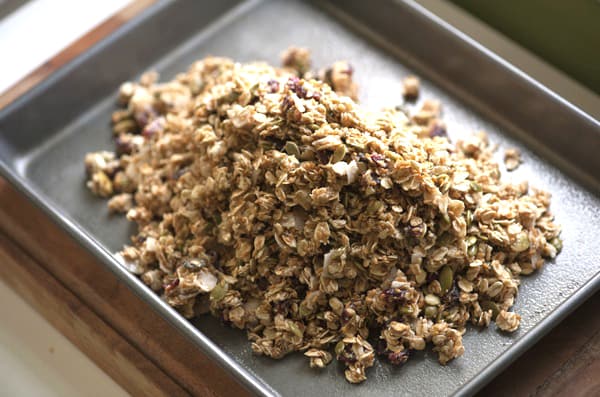 This smell, however, did not inspire Marmalade to move from the bed, she was well aware that the bars take 25 minutes, not 20, so she delicately placed her head back down on the bed until it was time to check the oven – At the 25-minute mark, Adam, myself and yes, Marmalade scurried into the kitchen, removed the bars from the oven and began to deliberate over how, exactly we would go about cutting and removing the bars from the pan, something that we have had trouble with in the past and after reading countless granola bar recipes with comments, other people have too!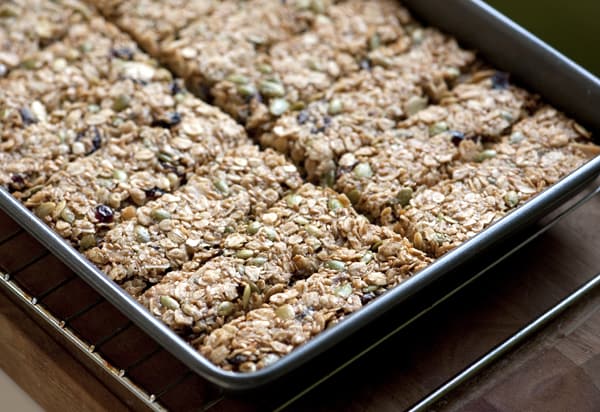 After scouring the blogs and comments, the trick seemed to be to cut and remove the bars while warm and not wait until the granola had cooled.  So, we tried it, but we are not pleased, they were falling apart.  Not too much that we couldn't form them back together once out of the pan, but things began to take a turn for the worst.  Don't you hate it when a recipe, especially one you wish to blog about, falls apart at the last minute (literally)?
To test the process, we stopped removing the bars half way, allowed them to cool a bit more and went in for it again, but it was worse, now they were not just falling apart, but instead crumbing before all three sets of our very little eyes!  We manage to salvage the majority of the bars, but were very dissatisfied with the extra bits stuck to our pan and the many crumbles on our work surface.
The bars are absolutely delicious, which is why we felt we should post this, but we are baffled.  We have done the research and used a similar recipe before, we even used a recipe that had been highly rated, found on the King Arthur's Flour website.  Others have found great success, but we just were not 100% satisfied.  We have been beating our heads together to come up with ideas that would help get those darn bars out successfully, but thought that someone out there may have a better idea, so, we are in need of granola bar removal assistance … anyone up for the job?
Things we have come up with – parchment paper, don't cut the bars in the pan, instead, remove the whole sheet (maybe in halves), then cut?  Maybe we never packed down hard enough (although, we really pushed!) or maybe, Marmalade's idea of 25 minutes was too short and the bars should bake slightly longer?
We have shown the recipe below, but have to be honest in that we are not 100% on board with it yet, any and all suggestions would be welcome!
These bars are perfectly chewy, taste delicious and are full of fiber, perfect for a healthy snack.
Created By:
Adam and Joanne Gallagher
You Will Need
1 2/3 cups quick rolled oats
1/3 cup quick oats, processed till finely ground in a food processor or blender
3/4 cup granulated sugar
1/2 tsp. salt
1/4 tsp. ground cinnamon
1/4 cup pepitas or pumpkin seeds
1/4 cup flax seeds
1/2 cup cranberries
2 tbsp. light corn syrup
1 tsp. vanilla extract
1/4 cup melted butter + 2 tablespoons
1/4 cup honey
1 tbsp. water
Directions
Preheat the oven to 350 degrees F. Lightly grease a 9"x13" pan.
Combine all the dry ingredients; stir well.
In a separate bowl, combine the light corn syrup, vanilla extract, melted butter, honey and water. Whisk well.
Add the wet ingredients to the dry; toss well.
Spread the granola in the prepared pan, pat down.
Bake the granola for 25 – 30 minutes or until they're golden around the edges. Remove from the oven, loosen the edges and cool for about 5 minutes.
Use a sharp knife to cut the bars while they are still in the pan, carefully remove and cool on a wire rack.
The granola bars will keep in a airtight storage container for about a week or so, they also freeze well.