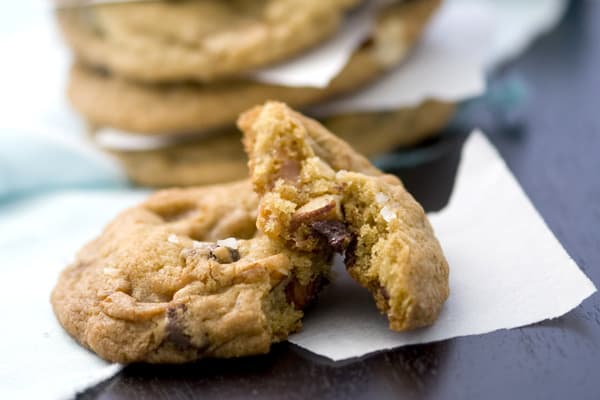 Cookies anyone? We posted these a while back and wished we had a big plate in front of us today! We thought we would share again, so, happy Monday! – Adam and Joanne
***
Over the holidays, Adam and I baked quite a bit, not something we do too often. We had a lot of fun doing it, especially since most of the goodies went to friends and family, but we ended up with odd amounts of baking ingredients that demanded entirely too much space, space that our kitchen is just not willing to give up. So, we came up with these cookies. For some reason we had a ridiculous amount of opened, partially empty bags of chocolate chips, almonds and soft caramel chews, so as you can probably guess, those were the ingredients that were thrown in. The base recipe, from Nestle, was found on the back of one of the chocolate chip bags, so after our additions and a sprinkle of course sea salt, we found ourselves happily sitting in the middle of our living room surrounded in cookie crumbs.
Salted Caramel Chocolate Chip Cookies
You Will Need
2 1/4 cups All Purpose Flour
1 tsp. Baking Soda
1 tsp. Salt
1 cup (2 sticks) Room Temperature Butter
3/4 cup Granulated Sugar
3/4 cup Packed Brown Sugar
1 tsp. Vanilla Extract
2 Large Eggs
1 cup Semi-Sweet Chocolate Chips
10 Soft Caramel Chews, Cut to the size of chocolate chips
1/2 cup Roughly Chopped Almonds
1 tbsp. Course Sea Salt
Directions
Preheat oven to 375° F.
Line a cookie sheet with parchment paper or silpat (silicone non-stick baking mat). Combine flour, baking soda and salt in a bowl. Stir well to disperse the salt and baking soda within the flour.
Beat butter, granulated sugar, brown sugar and vanilla extract in large a bowl until creamy.
Add the eggs, one at a time, beating well after each addition.
Gradually beat in flour mixture. Stir in chocolate chips, caramel pieces and nuts.
Drop by rounded tablespoon onto ungreased baking sheets then sprinkle each cookie with a pinch of course sea salt.
Bake for 10 – 12 minutes or until golden brown.
Cool on baking sheets for 2 minutes; carefully remove the entire sheet of cookies, while on parchment paper or silpat, from the baking sheet to cool until the caramel firms up enough in order to move each cookie to a wire rack and cool completely.