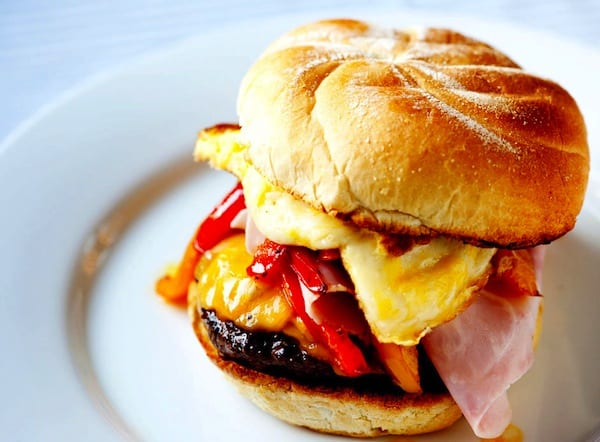 We have been lucky enough to work with Wisconsin Cheese before (see Queso Blanco Burger), so when we were contacted about their Cheeseburgers Across America road trip, we were intrigued.
One of those cheeseburgers was called The Denver – packed with two varieties of cheese, cheddar cheese on top of the burger and then Swiss cheese inside an omelet – yeah, an omelet.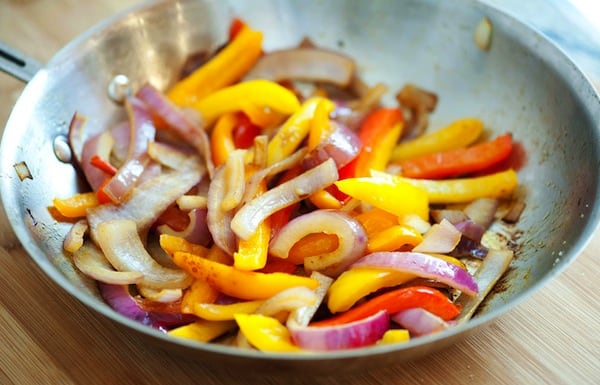 Then, they kept going with sauteed onions and peppers and ham, because why would you not add ham. The first bites we took of The Denver lead to silence, cheese dripping down our face and a quick decision to bite again. So. Good.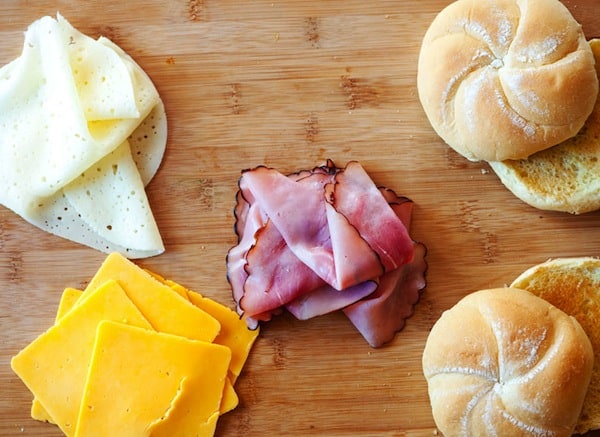 We admit, these are completely over-the-top, but woah.
Other wonderful burger ideas:
Pinch My Salt – Blue Cheese Burger
Simply Recipes – Jim's Famous Hamburger
Homesick Texan – Jalapeno Cheese Bun This isn't a burger recipe but we want to use this bun on a burger

Outrageous Burger: The Denver
This burger is certainly over-the-top. When making burgers patties, go for ground chuck that is a 80-20 split, or 20% fat content in order to ensure a juicy burger.
You Will Need
1 1/2 pounds ground chuck, 80% lean and 20% fat
1 teaspoon salt
1/2 teaspoon black pepper
2 tablespoons olive oil
1 whole red onion, thinly sliced
1 whole yellow pepper, core removed and thinly sliced
4 whole eggs
2 tablespoons butter
8 slices aged cheddar cheese
6 slices swiss cheese
1/3 pound thinly sliced ham
4 whole burger buns, lightly toasted
1/4 cup mayonnaise
Directions
In a large bowl, use a fork to mix the meat salt and pepper without mashing it.
Divide the meat into four equal 6-ounce portions,form into 3/4-inch-thick burger patties.
Heat a grill, broiler, or sauté pan to medium. Cook the hamburgers 3 to 4 minutes on each side, turn off heat and place two slices of aged cheddar cheese on each patty, allow to melt.
In the meantime, heat a sauté pan over medium heat. Add olive oil then the onions and peppers. Sauté until the onions are sweet and begin to caramelize.
In a bowl, whisk two eggs with a pinch of salt. Heat a small frying pan over medium heat then add one tablespoon of butter. When the butter is melted and begins to bubble, pour eggs into the center of pan and stir with a rubber spatula for 5 seconds. Using a spatula, move around the edge of the egg mixture to loosen the edges. After 10-15 seconds, the eggs should be a semi-solid mass.
Add three slices of Swiss cheese. Once the cheese is melted, shake the pan to loosen the omelet then fold over half of the omelet. Remove to a plate and repeat with the remaining two eggs to make a second omelet. Cut each omelet into two, creating four halves.
Assemble the burger by spreading mayonnaise onto both halves of the bun. Place the hamburger patty on the bottom half and add a small handful of sautéed onions and peppers. Top with ham, one half of an omelet and the top of the bun.