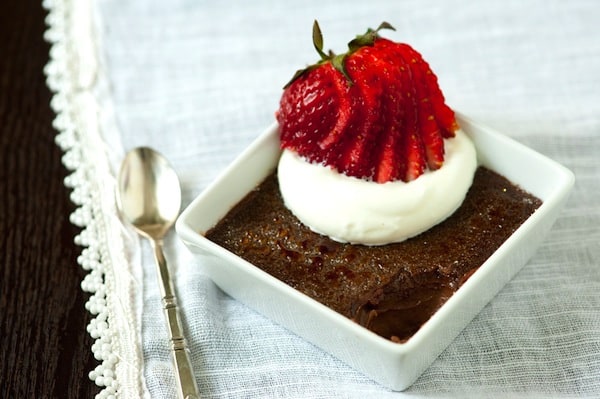 A few weeks ago, we were asked to create food and more importantly desserts for a friends party. Having just made our chocolate creme brulee recipe days prior, we thought it would be fun to surprise everyone with a Creme Brulee Bar! We brought a couple flavored sugars and our culinary torch so everyone could make their own. The idea was inspired by a party we attended at the Food Blog Forum in Orlando, Whole Foods had the coolest selection of sugars!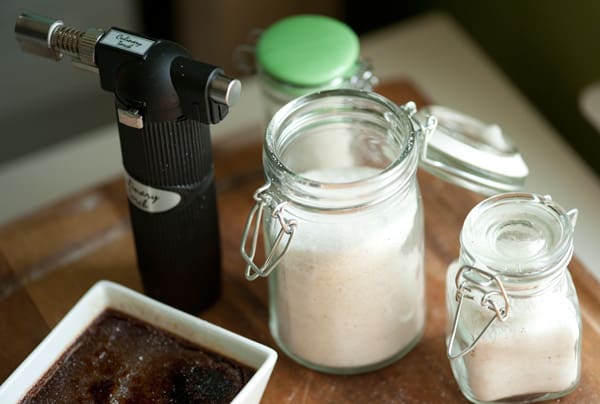 You Can Make Our Chocolate Creme Brulee Recipe Ahead of Time
The Creme Brulee Bar was such a success, plus it was easy for us! You see, you can make this Creme Brulee recipe up to 3 days in advance, so even though we showed up with 20-something ramekins full of silky smooth chocolate Creme Brulee, we actually made them days ago. Quite the hostess trick, if you ask me.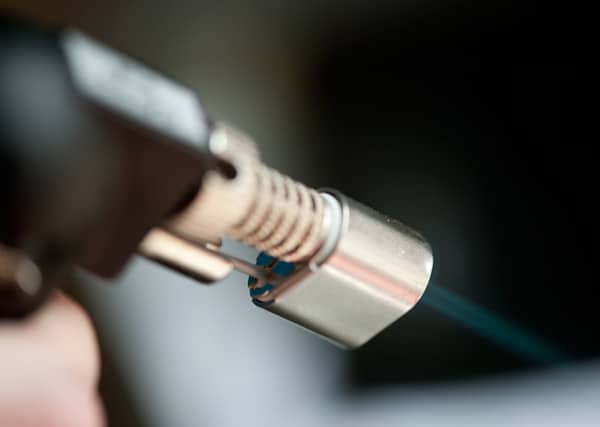 The process is quite simple, all you need to get under your belt is the tempering part — or in other words, the pouring hot liquid slowly into eggs without scrambling part–it is easy, just go slow.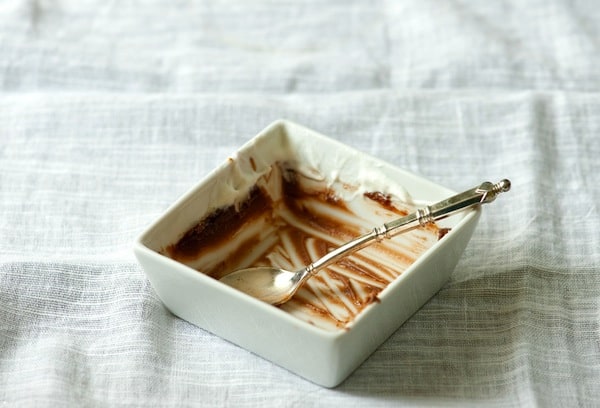 Did you like our Chocolate Creme Brulee Recipe? If so, you might also like a few of these:
Chocolate Creme Brulee Recipe
Creme Brulee can be made up to 3 days ahead and makes for a perfect and decadent end to a meal. Note: If using a vanilla bean instead of vanilla extract, when preparing the cream in step 2, cut the vanilla bean in half, scrape the seeds then add the split bean and seeds into the cream and half of the sugar, place over medium-high heat and bring to a boil. Remove from the heat, cover and allow to steep for about 15 minutes. Discard the vanilla bean and continue to Step 3. Adapted from Mastering and Craft, Baking and Pastry, Culinary Institute of America.
Created By:
Adam and Joanne Gallagher
You Will Need
2 cups (16 fluid ounces) heavy cream
1/2 cup (3.5 ounces) granulated sugar
1/8 teaspoon salt
4 large egg yolks
1/2 cup (3 ounces) bittersweet chocolate, chopped into small pieces
2 teaspoons vanilla extract (or half a vanilla bean)
8 cups (64 fluid ounces) hot water for water bath
6 teaspoons granulated sugar for serving
Directions
Preheat the oven to 300 degrees F (163 degrees C).
Prepare Cream: Add cream and half of the sugar (1/4 cup) and the salt to a medium saucepan over medium-high heat and bring to a boil, stirring gently. Remove from the heat.
Melt Chocolate: Place the chopped chocolate into a microwave-safe bowl, but reserve 1 tablespoon to add at the end. Place the bowl into the microwave for 20 seconds. Stir, then put it back into the microwave for another 20 seconds and stir again. Continue to heat then stir until the chocolate is just melted, now add the reserved chocolate from earlier and stir until it is completely smooth.
Prepare Eggs: In a large bowl, whisk together the egg yolks with the remaining sugar (1/4 cup) until well blended.
Make Custard Base: Slowly stream approximately half of the hot cream to the eggs; do this while stirring constantly with a whisk. Next, slowly pour the tempered eggs with half of the cream back into the saucepan; do this while stirring constantly with a whisk.
Add Chocolate: Slowly pour the custard into the melted chocolate; do this while stirring constantly with the whisk.
Strain Custard: Strain through a fine mesh strainer.
Fill Ramekins: Place ramekins into a large cake pan or roasting pan. Then, ladle the chocolate custard into 6 individual ramekins (5-6 ounce), so that they are approximately 3/4 full.
Bake: Pour enough hot water into the pan so that it comes halfway up the sides of each ramekin, bake until just set in the middle, approximately 25-30 minutes.
Cool: Remove the ramekins from the water bath and wipe dry, refrigerate for at least 2 hours and up to 3 days.
Serve: Remove the ramekins from the refrigerator at least 30 minutes prior to serving. Just before serving, evenly sprinkle the surface with a thin layer of sugar. Using a culinary torch, melt and caramelize the sugar. Allow the creme brulee to sit at least 5 minutes before serving or until the top becomes hard.