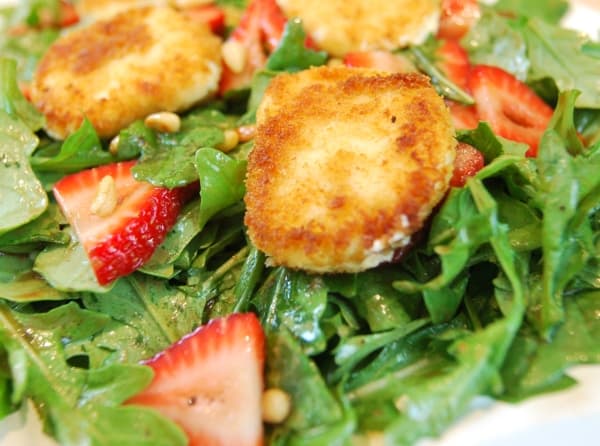 In my last post, I mentioned that I found some really nice strawberries at the store, which is why I made the [p2p type="id" value="587″], but I had some strawberries left over. So, I decided to re-create one of my favorite restaurant salads, Warm Goat Cheese Salad. Goat cheese is already one of my favorites, but when you toss slices of it in bread crumbs and pan fry them, its wonderful. The cheese becomes decadently creamy satisfying.  For the vinaigrette, I made a simple balsamic and olive oil mix, but I added some Dijon mustard and strawberry jam to liven it up a bit. All of these things are in my fridge or pantry and I am sure you would have them too or something similar (use another favorite jam instead of strawberry or even substitute red wine vinegar for balsamic if you have too.) Making your own salad dressing is really easy and quick and you know exactly what is in it as opposed to some of the store bought dressing out there. The rest of the salad is made up of sliced strawberries and toasted pine nuts for a little crunch (again, if you don't have pine nuts use what you have instead.)
Warm Goat Cheese on top of a Strawberry & Arugula Salad
Created By:
Adam and Joanne Gallagher
You Will Need
Warm Goat Cheese with Strawberries and Arugula Salad
4 ounces goat cheese

1 egg white
3/4 cup store bought breadcrumbs

4 cups arugula
1 cup strawberries, sliced
1/4 cup lightly toasted pine nuts
2 Tablespoons olive oil
strawberry-balsamic vinaigrette (recipe below)
Strawberry Balsamic Vinaigrette
1 tablespoon Dijon mustard
1 tablespoon balsamic vinegar
1 tablespoon strawberry jam
2 tablespoons olive oil
salt and pepper to taste
Directions
First, set out the following: 1 bowl with the egg white (whisked) and 1 plate with the bread crumbs.  Next, put the arugula, strawberries and pine nuts in a salad bow and set aside.  Preheat a frying pan to medium high heat and add enough olive oil to just coat the bottom the pan.  While the oil preheats, carefully slice the goat cheese into 4 slices, if any of the cheese crumbles just form it back together.  Dip the goat cheese into the egg white then lightly coat the cheese with the bread crumbs and carefully place each slice into the preheated oil and fry for 1-2 minutes on each side or until lightly browned.
To make the vinaigrette combine all ingredients with a whisk, then pour on to the salad and toss.
While the goat cheese slices are cooking, toss the salad with the vinaigrette then, once the goat cheese is ready, place the cheese on top of the salad and serve immediately.