Therapy.
The kitchen is our therapy, it always has been. A bad day at work means a long night in the kitchen. A stressful week equals a knife, pan, slippers and the intention to cook.
Food is kind; it is stable.
The world outside our kitchen can often seem unkind and full of too many questions without answers. But, inside our small green-walled kitchen, it is happy and makes sense. On a day when outside seemed too much, we stayed in to make this pea soup. It was everything we were yearning for and more; we talked, we drank wine, we laughed and even wiggled our hips a bit when our favorite songs played through the speakers. It was just what we needed.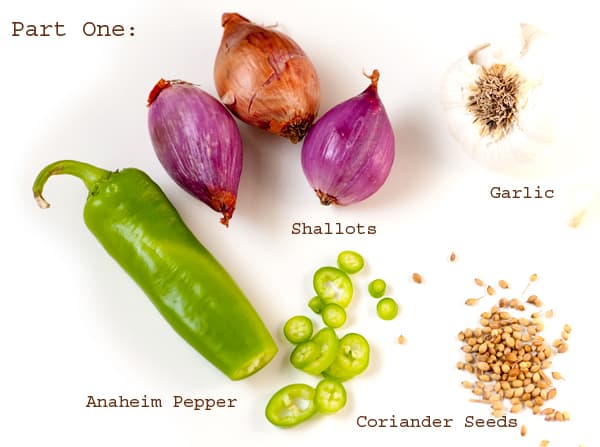 We sliced shallots, garlic and peppers together, finding ourselves tearing up just slightly from the shallots, they were strong that day. We fell in love with coriander all over again, with it's soothing, soft citrus scent then found ourselves opening every spice jar in our pantry just to smell them all again.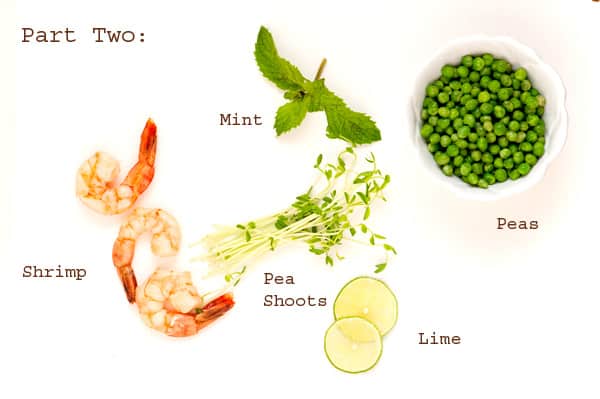 The soup came together in minutes then we blended, strained and chilled. Once chilled, we garnished carefully with the shrimp, mint and lime, or I should say what was left of the chilled shrimp, mint and lime. Then, we ate, quietly on the floor of our condo. We were happy, relaxed and nourished. It was a perfect day.
*Recipe Adapted from Michael Symon's Chilled Spring Pea Soup with Crab Salad, Creme Fraiche and Mint
Here are some other recipes for pea soup from around the web:
Tartelette's Chilled Lemon Cucumber and Fresh Pea SoupFresh Pea Soup from Bitter Sweet
Summer Pea Soup from Simply Recipes
Chilled Pea Soup with Tendrils and Pods from The Runaway Spoon
Chilled Spring Pea Soup with Garlic Cream and Bacon from One Perfect Bite
Chilled Fresh Pea and Buttermilk Soup from The Bitten Word

Chilled Pea Soup with Shrimp
You Will Need
1/2 cup sliced shallots
1/4 cup sliced garlic
1 tablespoon toasted corriander seeds
1 Anaheim pepper, sliced, seeds and stem included
3 1/2 cups creme fraiche
4 cups frozen peas, thawed
1/4 cup packed whole mint leaves
2 cups cooked shrimp
1/4 cup finely sliced mint leaves
2-3 tablespoons olive oil
2 limes, zested and juiced
1/2 cup pea shoots
1 pickled red chili, minced (optional)
salt and pepper
Directions
Bring a large pot of salted water to the boil.
Add shallots, garlic, coriander seeds and peppers, and bring back to the boil.
Add the peas and allow to cook until bright green and warmed through, about 30-45 seconds.
Using a strainer, add the peas, shallots, garlic, coriander and peppers to a blender with about 2 ladlefulls of the flavored liquid. Blend for 30 seconds then add the creme fraiche and whole mint leaves, puree until smooth. Taste and season if necessary. (Note: When blending a hot liquid, try not to the jar more than half full and cover the lid with a dry towel then hold it firmly down by hand)
Pour the soup through a wire mesh strainer into a bowl over an ice bath. Stir the soup until chilled. Taste again for seasoning.
Add the shrimp, sliced mint leaves, olive oil, lime zest and juice, pea shoots and chili (if using). Lightly toss and season with salt and pepper.
To serve, ladle the soup into a bowl and top each bowl with a spoonful of the salad. If desired, drizzle with olive oil.