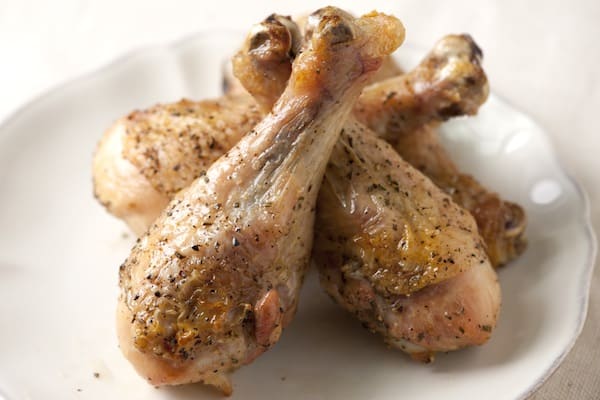 We are obsessed with baked chicken drumsticks. We love dark meat, we love crispy chicken skin and we love easy meals. This one checks all the boxes. Make this for dinner soon, you won't be disappointed.
You can switch out rosemary for thyme or other herbs, for this. Just stick to the method and you should be fine. Have you seen our Baked Chicken Drumsticks Recipe with Old Bay – we love those, too!
Making Our Baked Chicken Drumsticks Recipe
The most important thing about baked chicken drumsticks is to rinse and pat dry the chicken. The chicken needs to be as dry as possible before we bake, this way the skin will crisp up.
Next, rub the chicken drumsticks with a little oil, salt, pepper and finely chopped rosemary.
Then, if you have one, arrange the drumsticks on a cooling rack that is set inside a rimmed baking sheet. This raises the chicken up and allows the heat from the oven to evenly bake the drumsticks. If you don't have a baking sheet that will fit a rack inside of it, just use a regular baking sheet.
Bake the drumsticks in a 425 F degree oven for 20 minutes then use tongs to rotate each drumstick and bake until done.
That's it, we told you it was easy. You will be left with moist and juicy baked chicken drumsticks with crispy skin — the best.
You May Also Like
Baked Chicken Drumsticks Recipe with Rosemary
Baked chicken drumsticks rubbed with Rosemary are so easy to make at home. We like to use a baking rack inserted into a rimmed baking sheet for this -- if you do not have one, you can just place the chicken directly onto the baking sheet.
You Will Need
6 chicken drumsticks with skin
1 tablespoon vegetable or canola oil
2 teaspoons salt
1 teaspoon freshly ground pepper
1 tablespoon finely chopped fresh rosemary (substitute 1 teaspoon dried)
Directions
Heat oven to 425 degrees Fahrenheit. Inset a cooling rack into a baking sheet with sides (or, if you do not have a rack, you can use the baking sheet as is).
Rinse and pat dry drumsticks. Rub with oil, salt, pepper and rosemary. Arrange chicken onto rack/baking sheet.
Bake 20 minutes, turn chicken, then bake another 20 to 25 minutes or until an instant read thermometer inserted into the thickest part of the chicken reads 165 degrees Fahrenheit. Let chicken rest 5 minutes then serve.