I love squash, Adam, not so much. Every time I order it, make it or swoon over it, I think he will fall in love, but he never does. Until this roasted butternut squash recipe. I'm thinking it had something to do with the feta cheese on top, or maybe the sweet spice you get after adding Sriracha. Either way, I am feeling good — We just might have made a breakthrough, here.
How to Make Our Sweet and Spicy Roasted Butternut Squash Recipe
Peel, then cut the butternut squash into 1-inch cubes. (Note: Our friend, Wendi actually doesn't peel her squash before roasting – she says that the roasting time is enough to make the skin tender and it actually adds great texture.)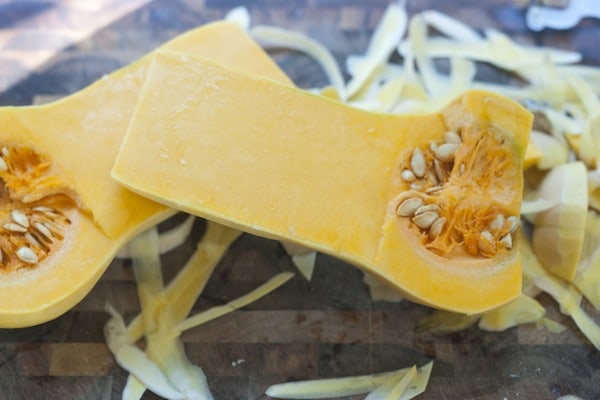 Add a couple tablespoons of olive oil, maple syrup and Sriracha to the squash. Toss everything together and spread the squash into one even layer.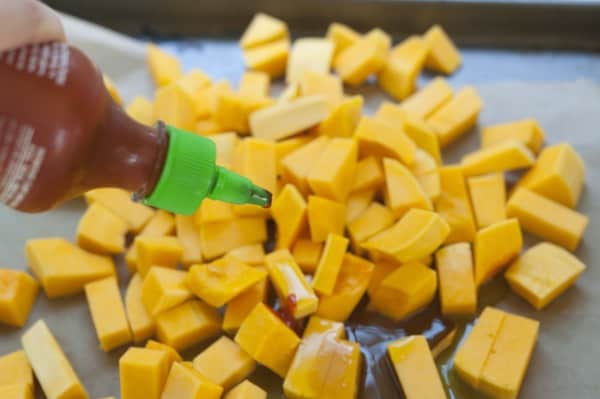 Serve warm topped with crumbled feta cheese and a few basil leaves.t
Did you enjoy this Butternut Squash Recipe? If so, you may also enjoy these recipes:
Mashed Acorn Squash (100 Calories!) from The Novice Chef
Roasted Butternut Squash Soup Recipe from Inspired Taste
Butternut Squash Soup from Food + Words
Roasted Acorn Squash with Walnuts and Cranberries Recipe from Inspired Taste
M&M White Chocolate Candy Corn Blondies from the Little Kitchen (okay, we know it isn't a squash recipe, but yum)
Creamy Butternut Squash and Shrimp Pasta Bake from Aggies Kitchen

Sweet and Spicy Butternut Squash
Sweet and Spicy Butternut Squash is the perfect way to use up that squash you have in the fridge.
You Will Need
1 medium butternut squash, peeled and cut into 1-inch cubes
2 tablespoons olive oil
2 tablespoons maple syrup
1 tablespoon hot chili sauce (suggested: Sriracha)
1 teaspoon salt
1/4 cup crumbled feta cheese
basil leaves
Directions
Preheat oven to 400 degrees F. Line a baking sheet with aluminum foil.
Toss squash with olive oil, maple syrup, chili sauce and salt.
Bake in the oven for 30 minutes, give the squash a stir then bake for another 20-25 minutes until the squash is tender and caramelized.
Top squash with feta cheese and basil leaves.