Here's a quick and easy pizza recipe with an herbed crust, cheese and topped with fresh Caesar salad. Jump to the Quick and Easy Caesar Salad Pizza Recipe or read on to see our tips for making it.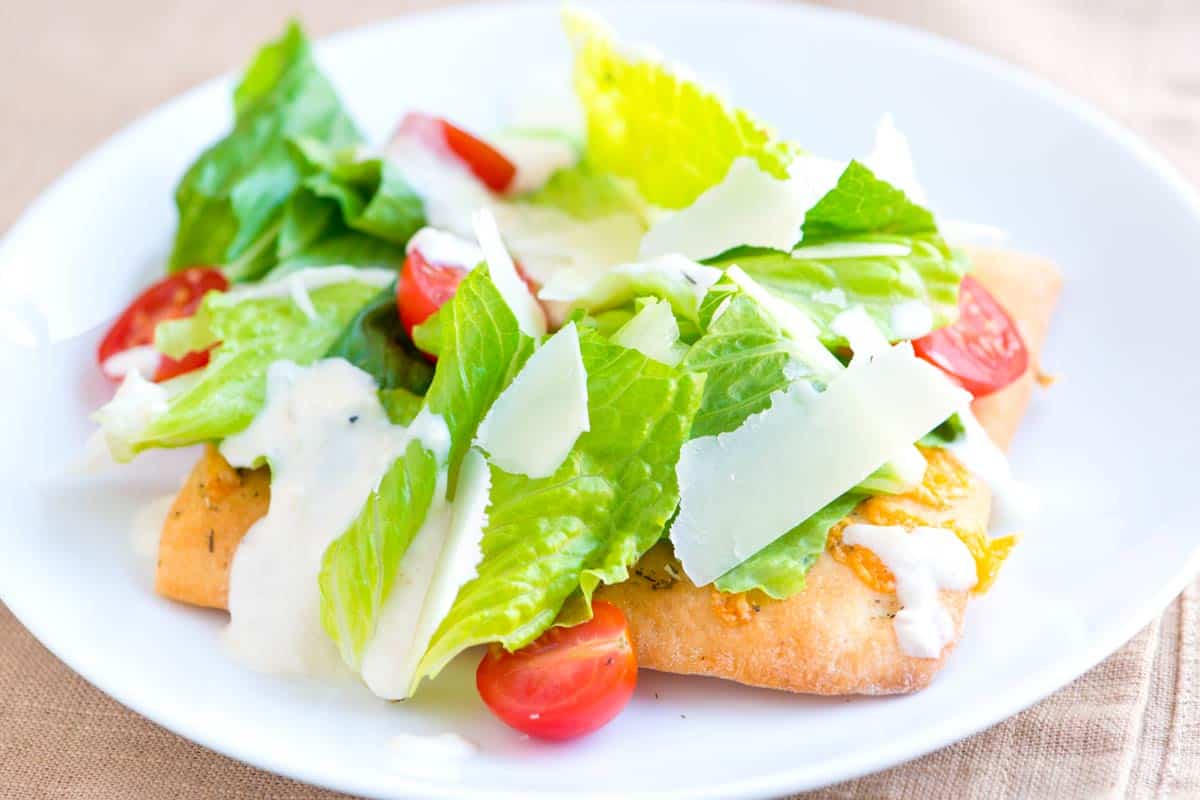 – This Recipe is Sponsored by Pillsbury –
When we're in the mood for pizza we usually like to freshen things up with a salad on the side. With this easy pizza, you don't need to worry about that.  The salad is on top!
YOU MAY ALSO LIKE: Learn how to make egg-free caesar salad dressing for the best salad at home. Jump to the Homemade Caesar Salad Recipe.
This pizza recipe is perfect for the weeknight. It's family-friendly and requires little from you.  Plus, you can make this in 30 minutes (maybe less).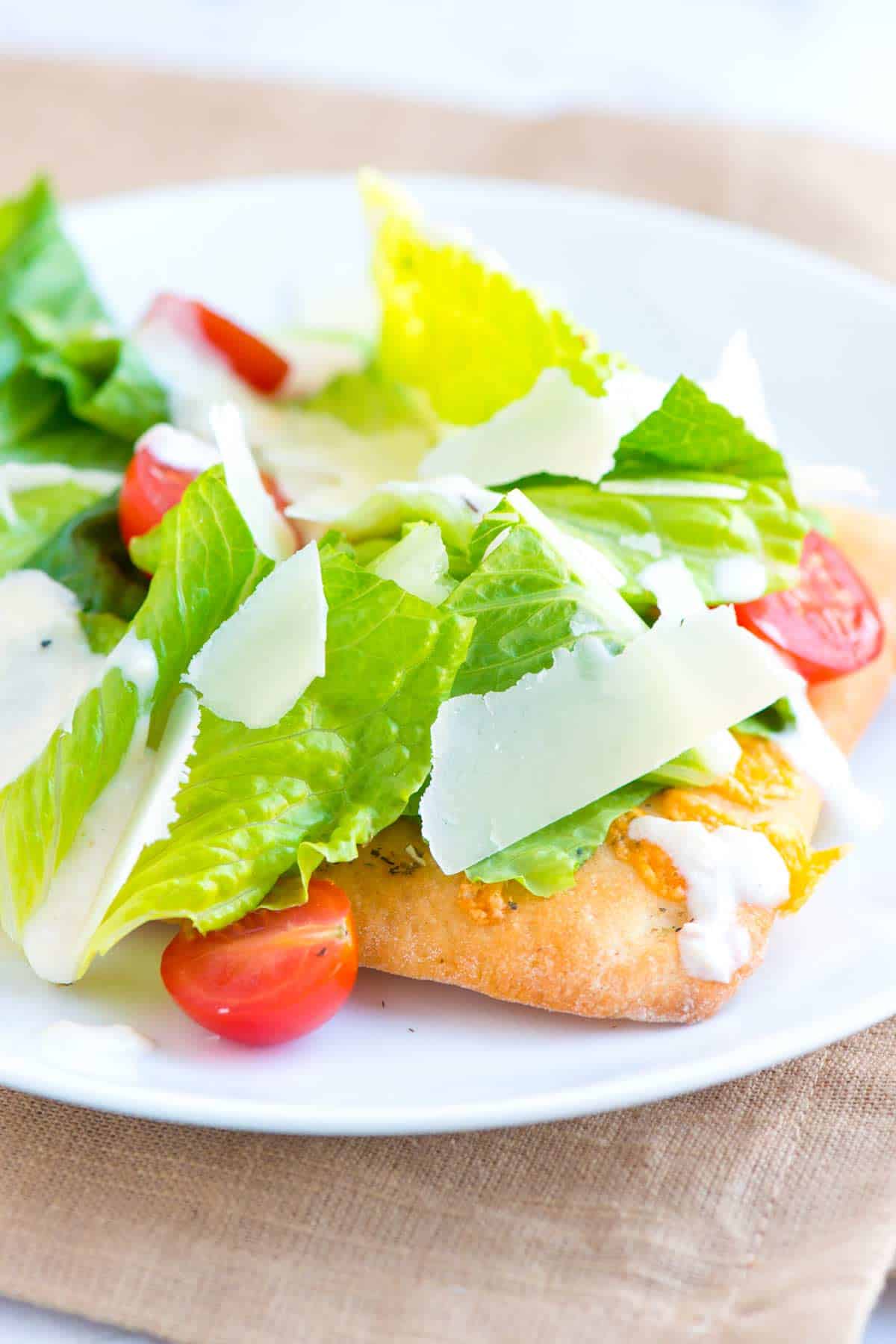 The pizza dough we used is from Pillsbury. We're sure you've noticed their products in your grocery store – we used their Classic Pizza Crust for this. If you can't find Pillsbury's pizza crust, feel free to use any store-bought pizza dough or homemade.
YOU MAY ALSO LIKE: Here's a quick and easy pizza recipe with tomatoes, basil and an olive oil sea salt crust. Jump to the Quick Tomato Basil Pizza Recipe with Sea Salt.
Recipe updated, originally posted November 2012. Since posting this in 2012, we have tweaked the recipe to be more clear. – Adam and Joanne
Quick and Easy Caesar Salad Pizza Recipe
The base of the pizza is topped with olive oil, cheddar cheese and a little Italian seasoning. That's baked, then while the pizza is still warm, we top it with a crisp cool Caesar salad. If you don't like Caesar Salad, try ranch or blue cheese dressing instead of Caesar dressing. You could also add cooked chicken, beef or shrimp.
You Will Need
1 (13.8 ounce) roll Pillsbury Classic Pizza Crust or substitute 12 ounces homemade pizza dough
1 tablespoon extra-virgin olive oil
1 teaspoon Italian seasoning
1 cup shredded cheddar cheese
4 cups chopped Romaine lettuce (about 1 romaine heart)
10 cherry tomatoes, halved
1/4 cup Parmesan cheese shavings
1/4 cup Caesar dressing, see our homemade dressing recipe
Directions
1Heat oven to 400 degrees F. Then spray a rimmed baking sheet with cooking spray.

2Form pizza dough into a 15-inch by 10-inch rectangle (this doesn't have to be exact, just close). Place dough onto baking sheet then bake for 8 minutes.

3Brush olive oil over the baked pizza crust then scatter a teaspoon of Italian seasoning as well as the cheddar cheese on top. Bake the pizza 6 to 10 minutes until cheese has melted and starts to bubble.

4Once baked, top pizza with lettuce, cherry tomato halves and the Parmesan shavings then drizzle the Caesar dressing on top.