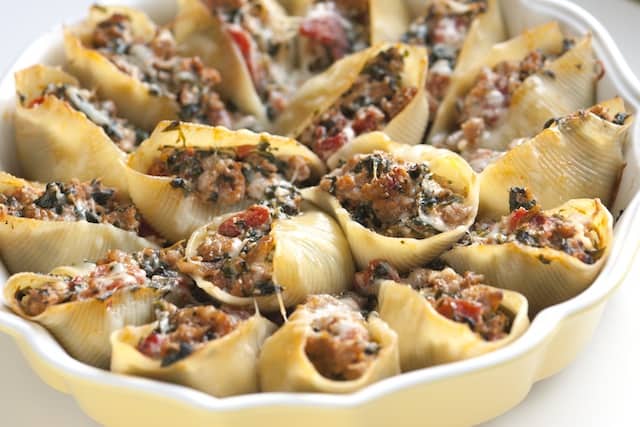 After taking the photo for our sausage stuffed shells recipe, I scrambled into the kitchen to grab plates, knifes, forks and napkins — you know, like any normal person would do before sitting down to have a nice meal with their husband. Just as I was leaving the kitchen, I realized something. I left the shells with Adam. Alone.
How he did it, I'm not sure, but in the time it took me to go to the kitchen, grab our supplies and get back to him, he had finished at least half of the shells. Being someone who likes to look on the bright side of life, that made me think the recipe was a success and as Adam mentioned to me just after his last stuffed shell, hey, maybe we can say these are finger food!
So, there you go. Serve these stuffed shells as the main event or serve as  finger food — while the the filling is not dry, it really isn't overly soft either, so taking a bite doesn't leave you with a mess.
How to make Our Sausage Stuffed Shells Recipe with Spinach
Our stuffed shells recipe is pretty simple. Cook some large pasta shells according to the package directions. Then, when they are cooked, drain and add to a large bowl filled with ice water.
Now, on to the filling. Start by removing the casing from sausage links. Just use a sharp knife to pierce the casing and peel it off the meat.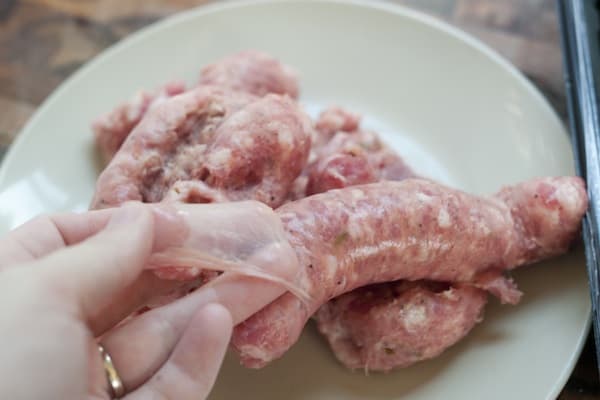 Heat a large skillet over medium heat. Once hot, add the pork sausage to the pan and use a wooden spoon or similar to break the sausage apart. Cook the sausage until browned.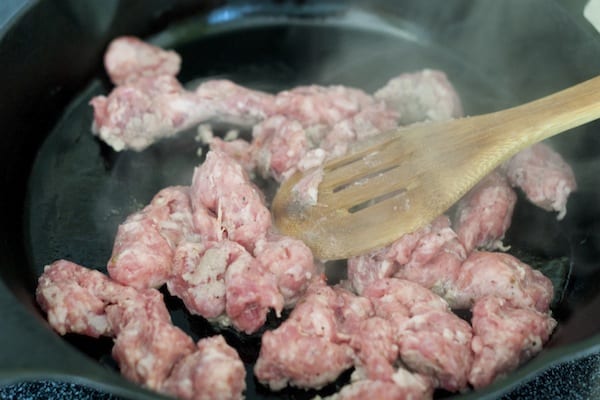 Add a tablespoon of minced garlic and cook for about 30 seconds. Watch the garlic does not burn, here.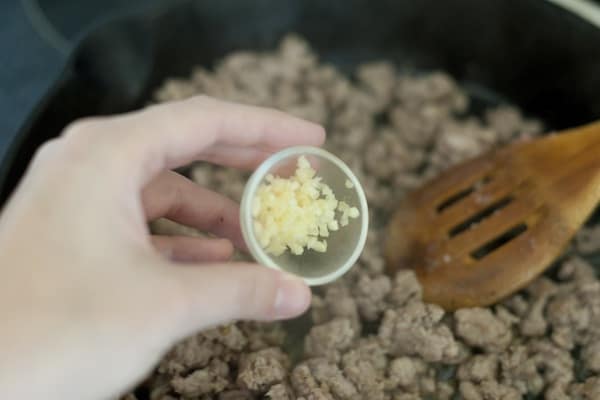 Pour in a can of diced tomatoes, juice and all.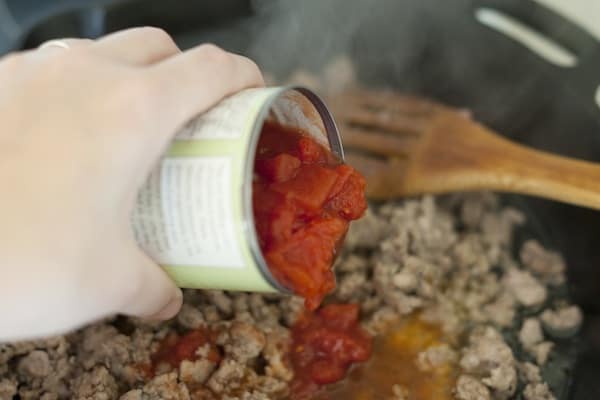 Now defrost some frozen spinach in the microwave (this takes 1-2 minutes), once defrosted, squeeze the spinach over a bowl. We do not want the water, only the spinach. By the way, you could use fresh spinach here, instead.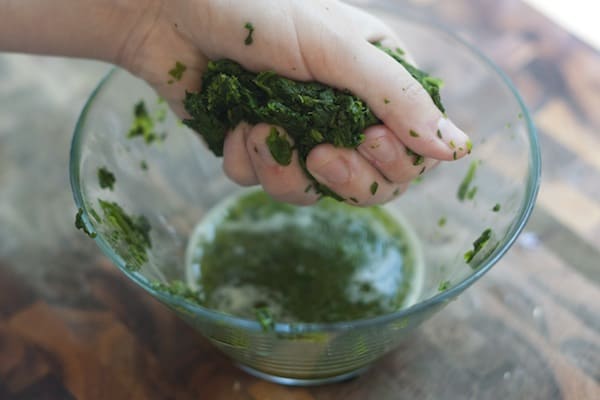 Add the spinach to the pan and stir.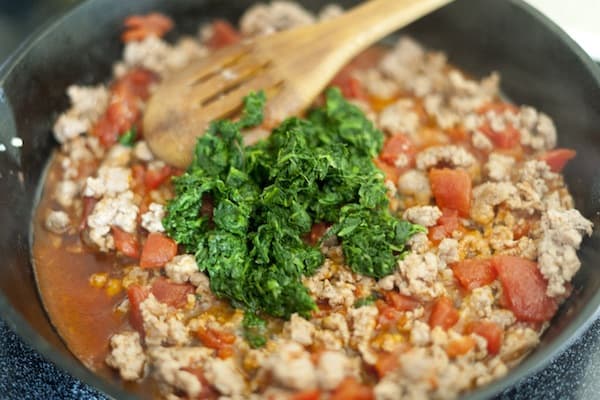 Now, remove the pan from the heat and add in some ricotta cheese. This will make the filling creamy. Taste for seasoning, then use a spoon to fill each pasta shell.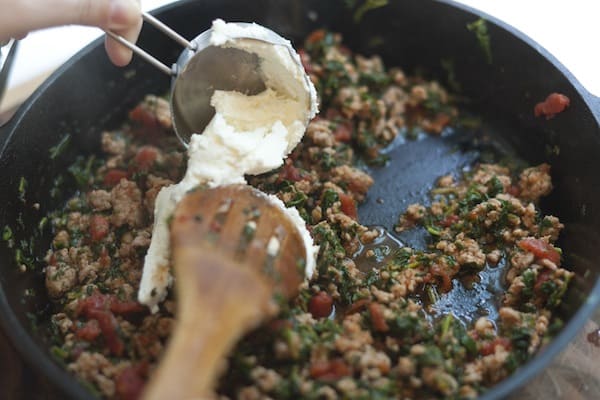 Sprinkle a little cheese on top of the stuffed shells then bake in the oven for 25-30 minutes or until the cheese has melted and the tips of the shells begin to crisp up and brown.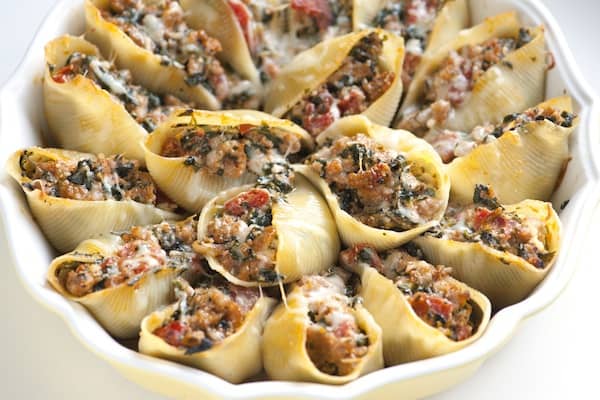 Did you like our Sausage Stuffed Shells Recipe with Spinach? If so, we bet you'll love these, too!
Sausage Stuffed Shells Recipe with Spinach
The filling for our sausage stuffed shells recipe with spinach isn't overly gooey or soft, so not only do they make for an excellent dinner served with a salad on the side, they double as finger food for your next party. Substitute pork sausage for chicken sausage, just add a tablespoon of olive oil to the pan before adding the chicken sausage so it does not stick to the pan.
Created By:
Adam and Joanne Gallagher
You Will Need
16-18 jumbo pasta shells
1 pound fresh pork sausage links, casing removed
1 tablespoon minced garlic
1 (14-ounce) can diced tomatoes
1 cup frozen spinach, thawed and squeeze dry
1/2 cup ricotta cheese
1/2 cup shredded mozzarella cheese
salt and freshly ground pepper
Directions
Preheat oven to 350 degrees F and fill a large bowl with cold water and ice, set aside. Bring a large pot of salted water to a boil. Add pasta shells and cook according to package directions. Drain well then add to ice water until ready to stuff.
Heat a large skillet over medium-high heat. Add pork sausage then use a wooden spoon to break up the sausage, cook 5-6 minutes until browned.
Add garlic and cook 30 seconds then add tomatoes and spinach (make sure the thawed frozen spinach has been squeezed dry); cook 1 minute. Remove pan from heat and stir in ricotta cheese.
Using a spoon, fill pasta shells with pork filling and arrange in a baking dish (9-inch x 9-inch baking dish works well). Sprinkle tops with shredded cheese then bake in the oven 25-30 minutes until cheese has melted and tips of shells begin to crisp and brown.