Skip the oil and fryer and make this easy baked chicken wings recipe coated in a simple restaurant-style hot sauce and served with creamy blue cheese dip.

Every time we're sitting in a restaurant and someone walks by with a fresh plate of hot wings from the kitchen, we die. Well, not really, instead of dying, we promptly find our server and request a plate of our own. Hot wings just do that, they do that to us, anyway.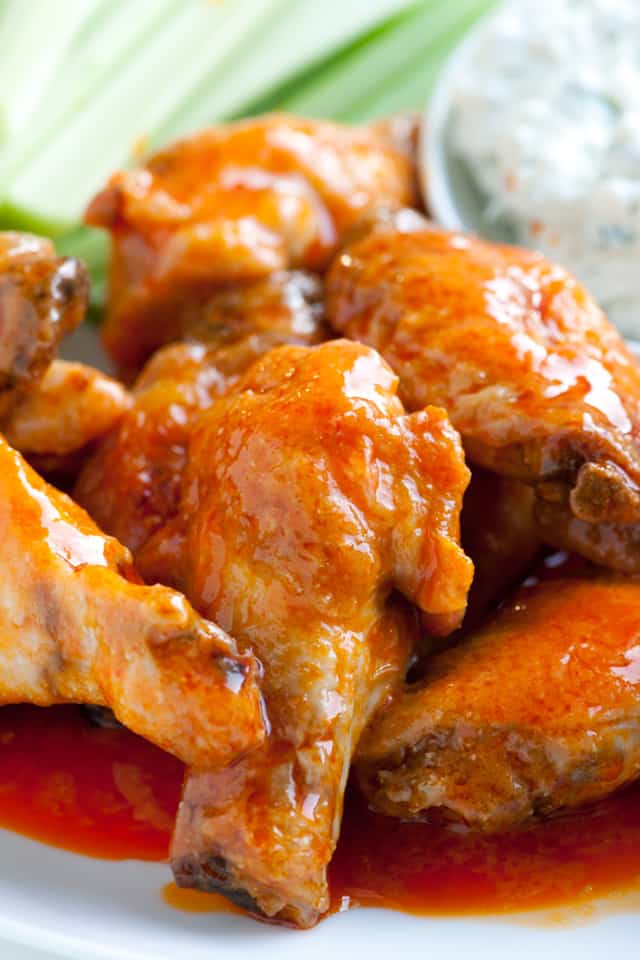 Here's our version. It's quick, easy and perfect for doubling or tripling for a crowd! Plus, you can totally skip the fryer and instead make this easy baked chicken wings recipe coated in a simple restaurant-style hot sauce and served with creamy blue cheese dip.
You May Also Like these Grilled Lemon Garlic Chicken Wings. If you've never tried grilling wings, you need to start and this grilled wings recipe is here to help.
How to Make Our Baked Chicken Hot Wings Recipe
We bake our wings, you could certainly fry yours, but if you bake at a high enough temperature, you will find the wings turn out beautifully. Start, by arranging the chicken on a cooling rack that can be set inside a baking sheet then season with salt. Bake the chicken for 20-30 minutes.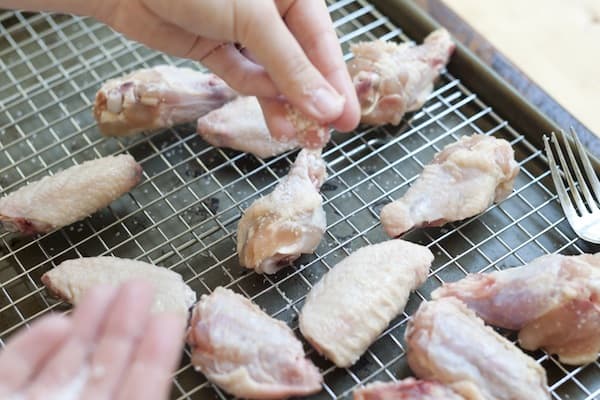 In the meantime, you can make the sauce. It is so simple. Start with butter then add a Louisiana style hot sauce — we used Frank's.
Add some garlic powder.
Then, some salt.
Wait until the sauce comes together, then pour it all over the baked chicken.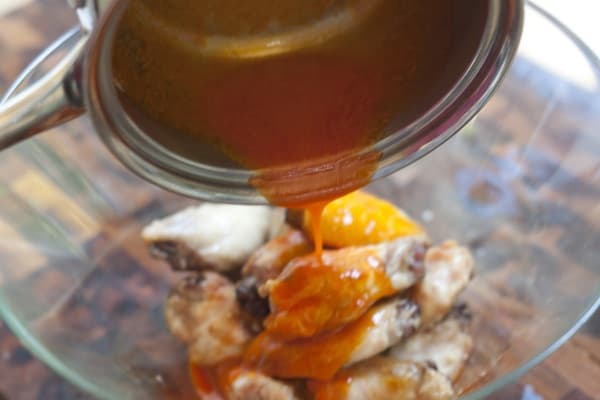 How to Make Creamy Blue Cheese Dressing
We love these baked chicken wings, but just can't imagine enjoying them without a cool creamy dip to go along side them. Here's how we make our blue cheese dressing. Start with mayo (we were good and chose one made with olive oil, it's a bit lighter on the fat). Then, add some sour cream. It should be equal parts mayo to sour cream.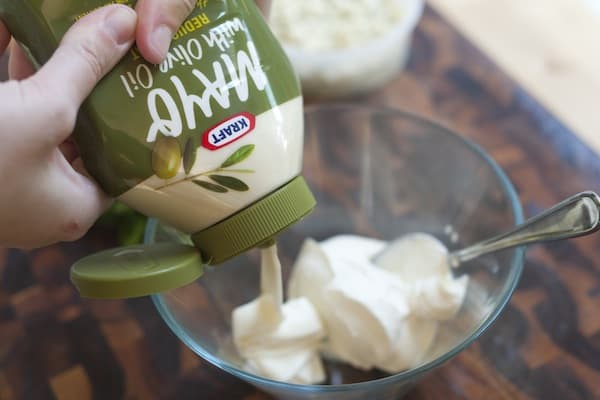 Now, add the blue cheese. Don't skimp here.
Next, add some fresh parsley (you could substitute for chives) and some salt and just mix everything together. That's it! By the way, if you wanted to use this as a salad dressing, add a touch of milk or even buttermilk to thin it out a bit — it's awesome).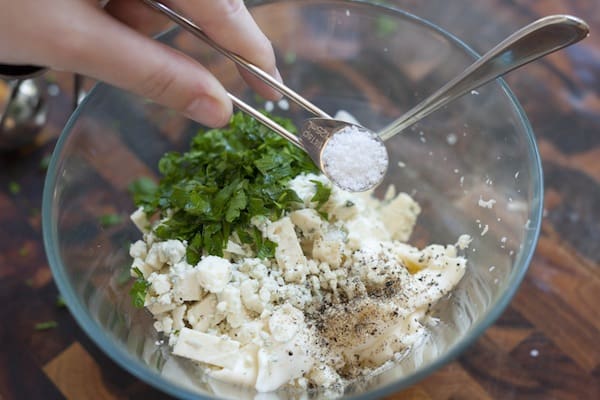 Did you enjoy this Easy Baked Chicken Hot Wings Recipe? Might we suggest you take a look at our Sweet Chili Baked Chicken Wings (with recipe video) or our Brown Sugar Barbecue Baked Chicken Wings.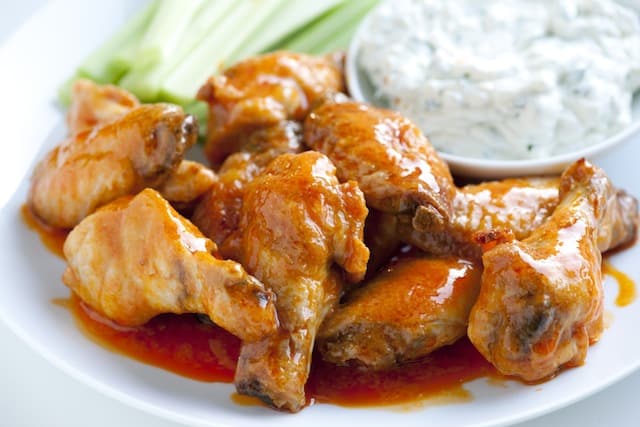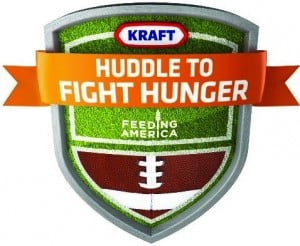 By the way: A while back, we were talking to friends at Kraft and learned about Huddle to Fight Hunger for Feeding America. Kraft donated up to 4,000,000 meals via online and mobile activities, as part of their goal of providing 25 million meals. In fact, Kraft sponsored this very post, we got a few bucks to make the recipe, but more importantly, this very recipe means that Kraft will donate 1000 of those 4,000,000 meals because of us and that makes us smile! You can help too, please take a look at their Facebook page for more details and ways you can help.

Easy Baked Chicken Hot Wings with Blue Cheese Dressing
Spicy with a kick of vinegar, these will leave the plate in no time. To serve, make sure you have lots of blue cheese dressing (store-bought or the dressing below) and celery. Double, triple or quadruple for a crowd.
You Will Need
Easy Baked Chicken Hot Wings
1 pound chicken wings, separated at joints, tips discarded
4 tablespoons unsalted butter
1/3 cup Louisiana style hot sauce (suggested brand: Frank\'s Red Hot)
1/2 teaspoon garlic powder
1/4 teaspoon salt
4 stalks celery, cut into 3-inch matchsticks
blue cheese dressing (recipe shown below)
Thick and Creamy Blue Cheese Dressing
1/2 cup sour cream
1/2 cup mayonnaise
6 ounces crumbled blue cheese
1 tablespoon minced parsley
1/4 teaspoon salt
Directions
Preheat oven to 425 degrees F.
Season chicken with 1/2 teaspoon of salt then arrange onto a cooling rack that has been placed inside a baking sheet; bake 20-25 minutes or until the internal temperature reaches 165 degrees F.
Meanwhile, melt butter in a small saucepan over medium heat then add hot sauce, garlic powder and 1/4 teaspoon of salt.
Toss cooked chicken in sauce and serve with celery and blue cheese dressing.
To make the dressing combine all ingredients, gently mashing the blue cheese into the dressing.
Taste for seasoning and add salt if necessary.