How to make buffalo chicken rice bowls with fluffy rice, lots of vegetables and perfectly cooked chicken. Easy, quick and it won't ruin your diet!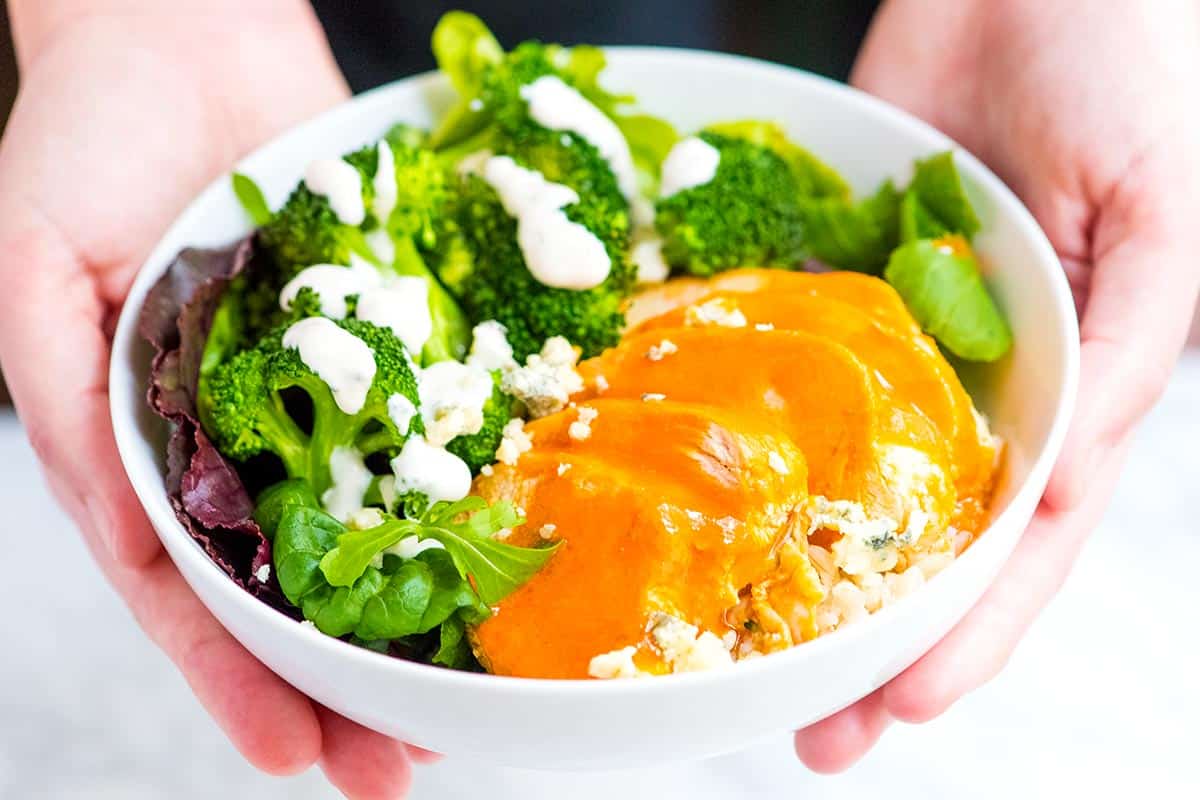 A little bit ago, we shared how we make buffalo wing sauce. Just three ingredients and it can sit in your fridge for weeks — here's the buffalo sauce if you want to take a quick look. Since sharing it, we've kept a constant supply of buffalo wing sauce in the fridge, which is why this easy (and pretty healthy) buffalo chicken rice bowl was born.
How to Make Buffalo Chicken Rice Bowls
The base of the bowl is brown rice. I wasn't the biggest fan of brown rice, until I stumbled onto Saveur's Perfect Brown Rice Recipe. It's a game changer. Instead of heavy, mushy rice, you can make light and fluffy brown rice with ease. If you aren't into brown rice, white rice, this easy cilantro lime rice, or others grains are excellent substitutes.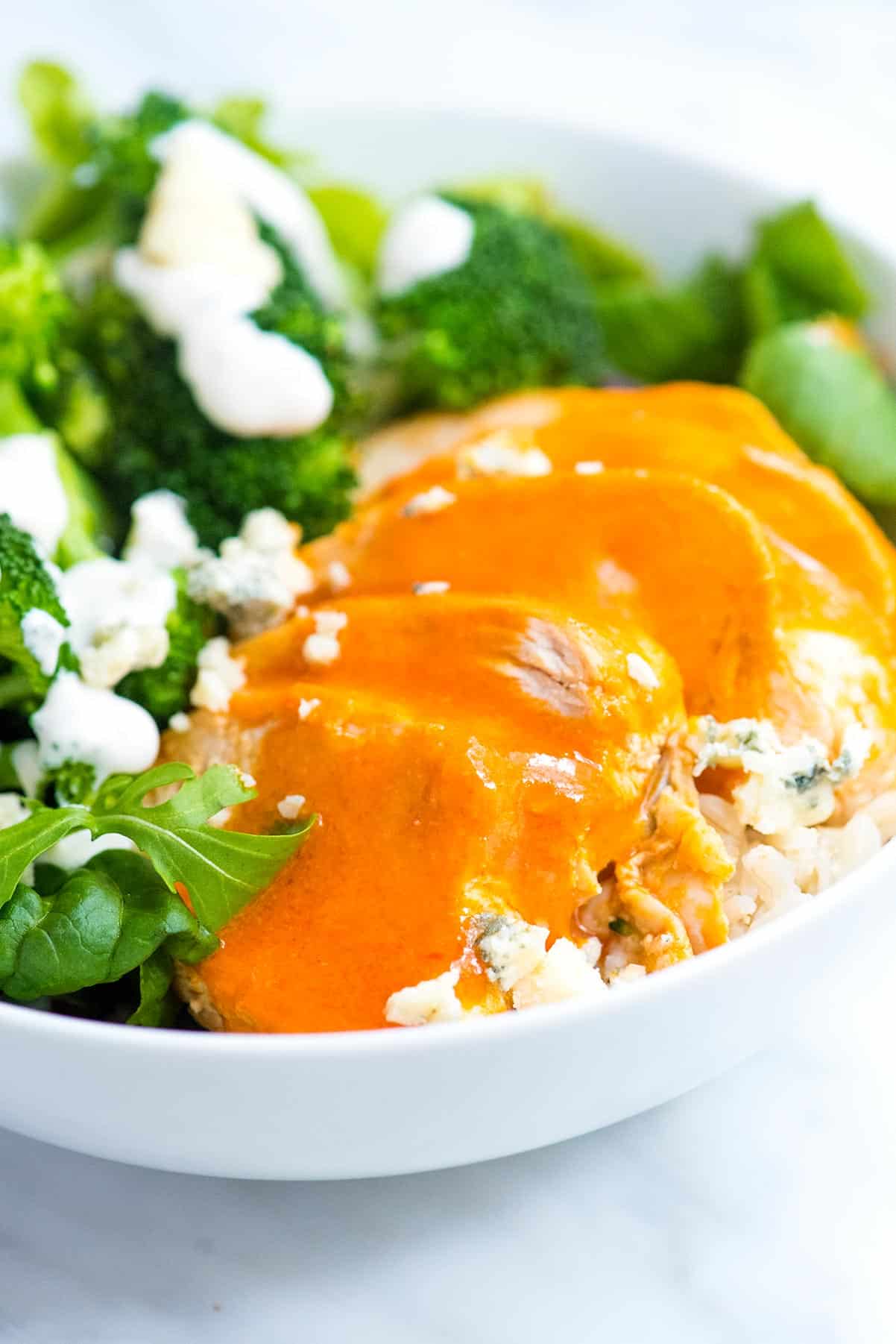 Next to the rice, we pile lots of fresh salad greens and add a handful of lightly steamed broccoli. Then we drizzle a make-shift ranch dressing on top. The star is perfectly cooked chicken breast topped with our homemade buffalo wing sauce. It's tasty, pretty to look at and won't kill your diet.
The rice bowl comes together quickly (especially if you already have cooked rice in the fridge).
To cook the chicken, we use our go-to method of searing in a pan, flipping then covering with a lid and turning down the heat. After 10 to 15 minutes on low, the chicken is cooked through, but not dry. We use this method for our Lemony Chicken Breasts with Cucumber Feta Salad — another quick and easy dinner idea!
An added bonus to this method: you can steam veggies in the same pan. About 5 minutes before the chicken is done, lift the lid and throw in broccoli or other veggies. Place the lid back on and let them steam alongside the chicken. Win win!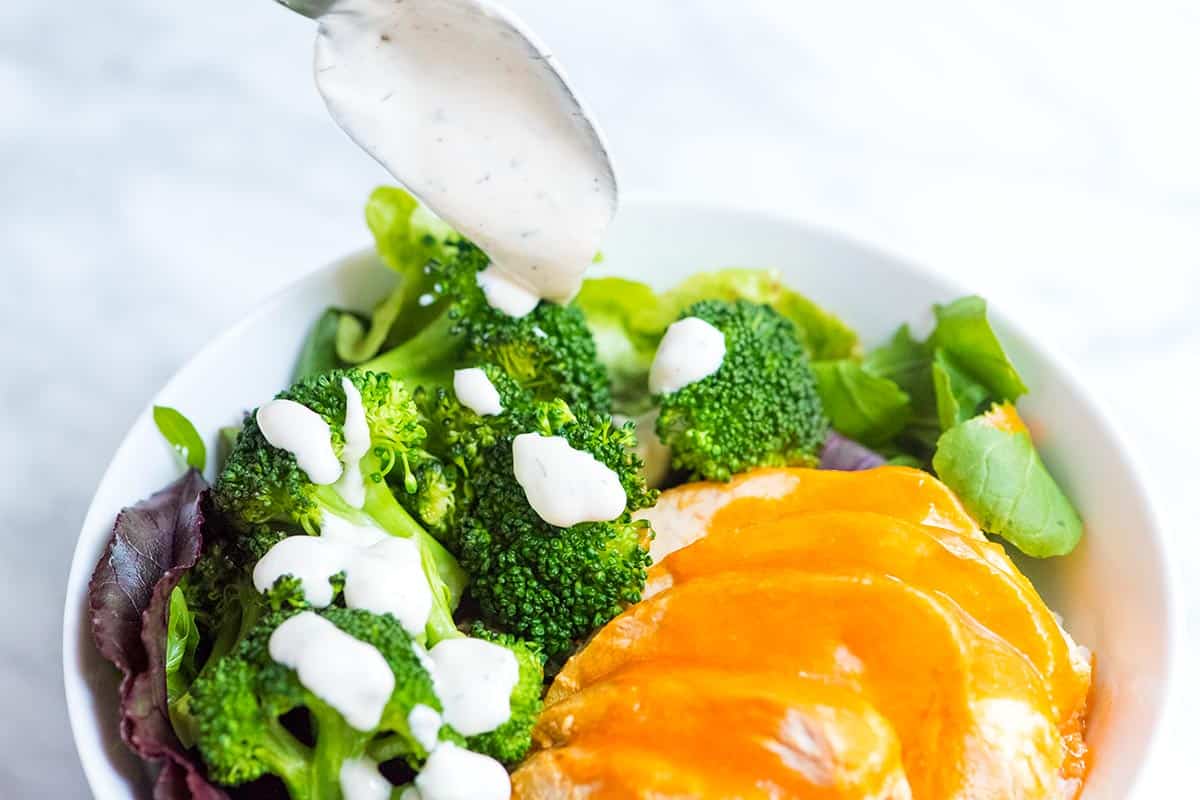 Easy Buffalo Chicken Rice Bowls
The rice, chicken and buffalo wing sauce can all be made ahead of time. The cooking time above includes cooking the rice. In the notes section, we have shared how to make brown rice in advance and store in the refrigerator or even the freezer. The recipe for brown rice below will yield 2 cups, which is double what you need for the two bowls below. You can use store-bought buffalo sauce, but we highly recommend our homemade version. It's just three ingredients and it keeps in the refrigerator for weeks. When we don't have ranch dressing in the fridge, we go to the make-shift version shared below. It's creamy, bright and works nicely with these rice bowls.
You Will Need
Buffalo Chicken and Broccoli
2 skinless, boneless chicken breasts, 6 ounces each
Salt and fresh ground black pepper
1 tablespoon olive oil
2 cups broccoli florets
2 tablespoons buffalo wing sauce, see our homemade buffalo sauce recipe
1 cup warm cooked brown rice, recipe below
3 cups salad greens
2 lemon wedges
2 tablespoons ranch dressing, see our quick recipe below
2 tablespoons crumbled blue cheese
Fluffy Brown Rice
1 cup brown rice
Water
Pinch of salt
Make-shift Ranch Dressing
2 tablespoons sour cream or crema
Juice from 1 lemon wedge
1/4 teaspoon dried dill
Pinch onion powder
Pinch salt and fresh ground black pepper
Directions
Cook Chicken and Broccoli

1Heat a teaspoon of the olive oil in a nonstick frying pan (with lid) over medium-high heat. As soon as the oil is hot and looks shimmery, add the chicken. Cook 2 to 3 minutes until golden. Flip, reduce heat to low then cover with lid. Cook 10 to 15 minutes or until an instant read thermometer reads 165 degrees F when inserted into the thickest part of the breast.

2When there is about 5 minutes left before the chicken is done, lift the lid and throw in the broccoli florets. Cover with the lid then cook until the broccoli is bright green and tender. (If after 5 minutes the broccoli is done, but the chicken still needs time, transfer the broccoli to a plate then continue to cook the chicken until done).
Assemble Rice Bowls

1If it is cold, add the buffalo wing sauce to a microwave-safe dish and microwave 5 seconds or until warm. Stir until smooth and blended.

2Divide the rice between two bowls. Add the salad greens to one half of the bowl. Squeeze a lemon wedge over the salad in each bowl, and then drizzle 1 teaspoon of olive oil on top. Scatter the steamed broccoli over the greens.

3Slice the chicken then place next to the salad greens and broccoli. Spoon the warmed buffalo wing sauce over the chicken. Drizzle ranch over the salad and broccoli then crumble blue cheese on top.
How to Cook Fluffy Brown Rice

1Add rice to a strainer then rinse with cold water until the water runs clear.

2In a large pot with tight-fitting lid, bring 10 cups of water to a boil. Add the rice, stir then bring back to a boil. Reduce heat to a simmer then cook, uncovered, for 30 minutes.

3Drain the rice using a strainer. Shake it a couple of times to remove excess moisture then place the rice back into the saucepan. Cover with the lid and set aside, off of the heat, for 10 minutes. Fluff the rice with a fork and season with a pinch of salt.
Make-shift Ranch Dressing

1In a small bowl, whisk the sour cream, lemon juice, dill, onion powder, salt and pepper until smooth. If it seems too thick, add a small amount of water. Taste then adjust with additional dill, onion powder and/or salt.
Adam and Joanne's Tips
Make-ahead rice: Cook the brown rice as suggested above then cool. Store in the refrigerator 3 to 4 days or divide the rice into portions, add to resealable plastic freezer-safe bags and freeze up to 3 months. Reheat the refrigerated or frozen rice in the microwave or on the stovetop before eating.
Make-ahead buffalo sauce: The buffalo sauce can be stored in an airtight container in the refrigerator up to 1 month.
The method for cooking brown rice is thanks to Saveur. They are the ones who figured out that cooking brown rice like pasta makes it light and fluffy. It's the only way we make brown rice in our kitchen.
Nutrition facts: The nutrition facts provided below are estimates. We have used the USDA Supertracker recipe calculator to calculate approximate values.
If you make this recipe, snap a photo and hashtag it #inspiredtaste — We love to see your creations on Instagram and Facebook! Find us: @inspiredtaste
Nutrition Per Serving
Serving Size
1 bowl
/
Calories
449
/
Protein
34 g
/
Carbohydrate
29 g
/
Dietary Fiber
5 g
/
Total Sugars
2 g
/
Total Fat
23 g
/
Saturated Fat
9 g
/
Cholesterol
112 mg
/
Sodium
652 mg