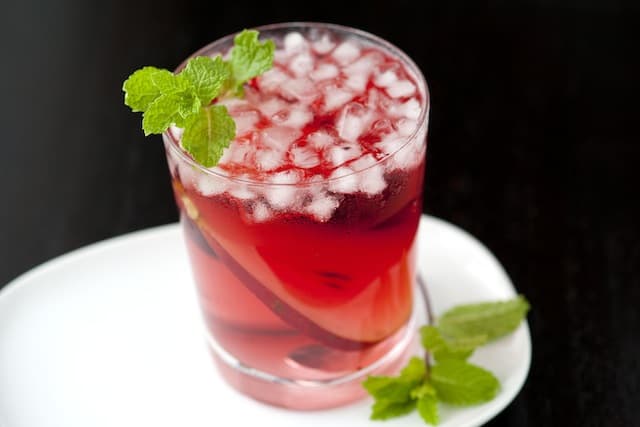 Right now, we are on I-95 traveling down to meet up with family for the holidays (gotta love our mobile hotspot thingy from Verizon). In the back are some seriously critical parts to our Thanksgiving meal, we considered placing some orange rotating lights on the top of our car so everyone around us understands the situation at hand and maybe a large flag at the back with the saying "Mobile Thanksgiving Transport Unit." I don't know, is that too much?
Anyone that knows us, knows that by "critical" we aren't just talking about the turkey or dessert. We're talking cocktails, people, cocktails. Now, do you understand why we considered the flag?
Give this cocktail a spin over the holiday and you won't regret it. Use a high quality pear vodka (we used Grey Goose) for this, the drink is delicate, easy to make and will satisfy so many palates. You can make it strong and martini-like or add a bit more juice for something less intense, both are delish.
Have a Happy Holiday, where ever you are!!
-Adam and Joanne
From Around the Web:
Pomegranate-Champagne Punch from Bon Appetit
Cranberry Margarita from Sweet Life
Spiced Cranberry Prosecco Punch from Heather Christo Cooks
Cinnamon Bun Eggnog Martini from Daydreamer Desserts
Recipe with photograph was happily developed for Betty Crocker.

Pear and Cranberry Cocktail
Add a delicate twist to the common cranberry and vodka with pear vodka.
You Will Need
2 cups cranberry juice
3/4 cup pear vodka
1/4 cup Triple Sec
juice of 1 lime
ice
Fresh pear slices, if desired
Fresh mint, if desired
Directions
Add cranberry juice, pear vodka, triple sec and lime juice to a pitcher, stir to combine.
Fill 4 glasses to the brim with ice, pour cocktail over ice and garnish, if desired with a fresh pear slice and mint sprig.