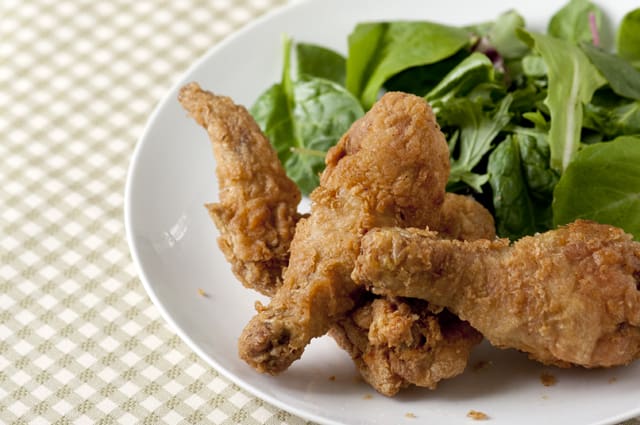 I know we have said we aren't huge fans of frying at home … we aren't, but when the result is flaky crispy chicken, well… we throw in the towel, put on our comfy pants and give in. We did the same for Beer Battered Apples, too. Come to think of it, we did it for the apples twice!
We admit it, we're weak.
…but, can you blame us? Look at that chicken! I think it even made our camera smile. We are obviously very good camera parents.
We fried these up for maché magazine a while ago and got everyone involved drooling, so do yourself a favor, go find some comfy pants and make this chicken!
-Joanne

Spiced and Fried Chicken
This fried chicken batter is light and crispy with hints of cinnamon, nutmeg and ground ginger. Enjoy this chicken soon after frying for the best results. Also, don't forget to sprinkle a touch of salt over the chicken immediately after frying.
Created By:
Adam and Joanne Gallagher
You Will Need
3 eggs
1/3 cup water
2 cups all purpose flour
1 1/2 teaspoons baking powder
3/4 teaspoon ground cinnamon
1/4 teaspoon ground ginger
1/8 teaspoon ground nutmeg
1/2 teaspoon cayenne
1 chicken, cut into pieces or about 1 1/2 to 2 pounds chicken pieces (thighs, drumsticks, etc)
oil for frying, preferably vegetable, peanut or canola oil
Directions
Heat oil to 350 degrees F in a deep pot. NOTE: Do not fill the pot more than 1/2 full with oil.
In a medium size bowl, beat eggs with the water. In another bowl, combine the flour, baking powder, spices and cayenne pepper.
Dip the chicken into the egg and then coat well in the flour mixture. Working in batches, fry the chicken in the oil until brown. Dark meat will take longer then white meat; dark meat will take about 13 minutes and white meat around 8 minutes.