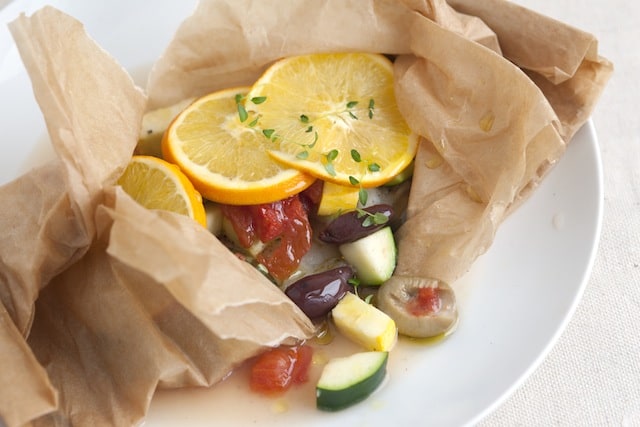 Need a light and healthy meal to get on the right track in 2012? This one will do it, plus it has everything you need in one adorable little packet. There is briny olives, sweet orange, warm cinnamon and fresh veggies all on top of heart healthy fish. Enjoy!
How to make Baked Fish with Orange and Olives
Start by seasoning both sides of the fish. We used salt, pepper and just a hint of ground cinnamon. Add the fish to a large square of parchment paper.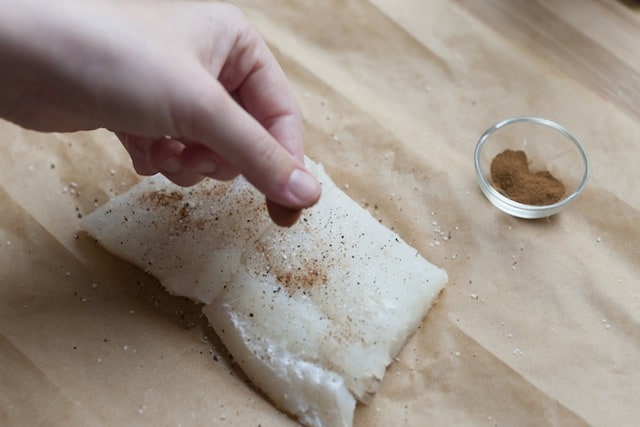 Now, add sliced olives, diced zucchini and diced yellow squash.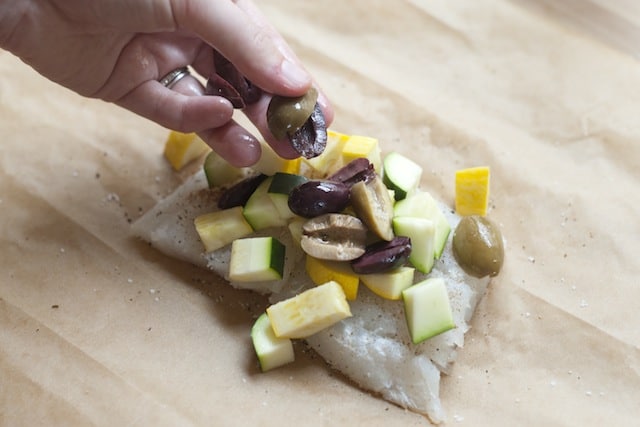 Add a couple spoonfuls of canned diced tomatoes. You could always use fresh diced tomatoes, instead.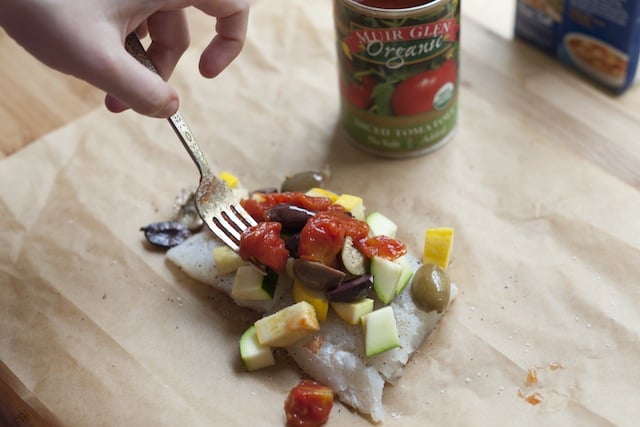 Top with a drizzle of olive oil, a few thin slices of orange and some fresh thyme. If you don't have fresh thyme, just add a pinch of dried thyme instead.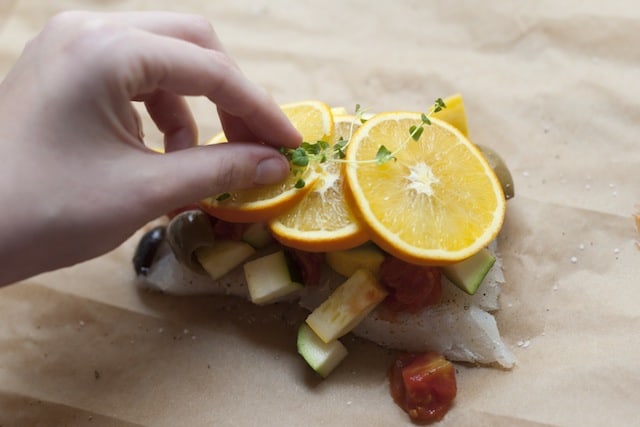 Pour about 2 tablespoons of chicken broth over the fish.
Bring both sides of the parchment paper together….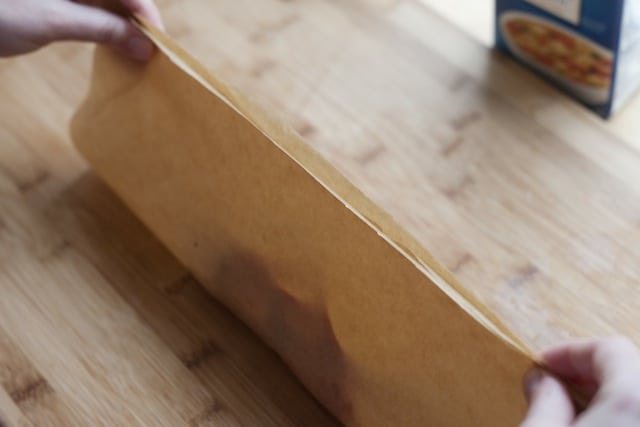 … fold the two edges together and under itself…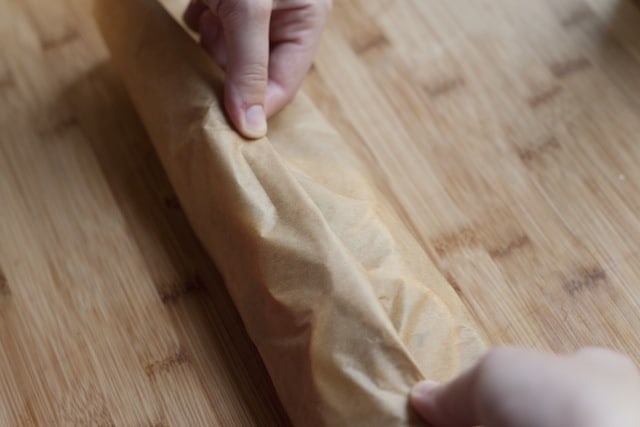 then fold each end over itself until the packet is completely sealed.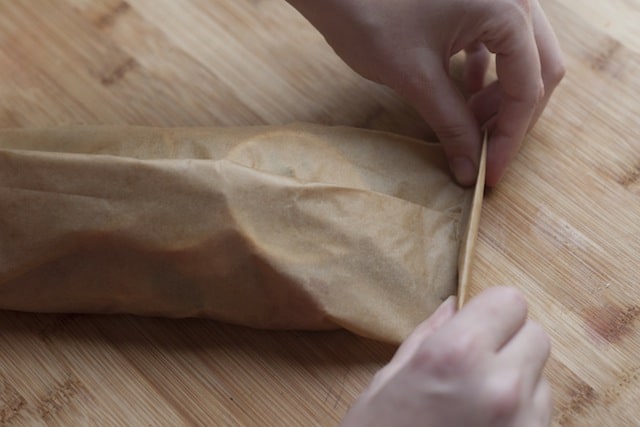 Finally, place each packet onto a cookie sheet and bake in the oven until the fish has cooked through.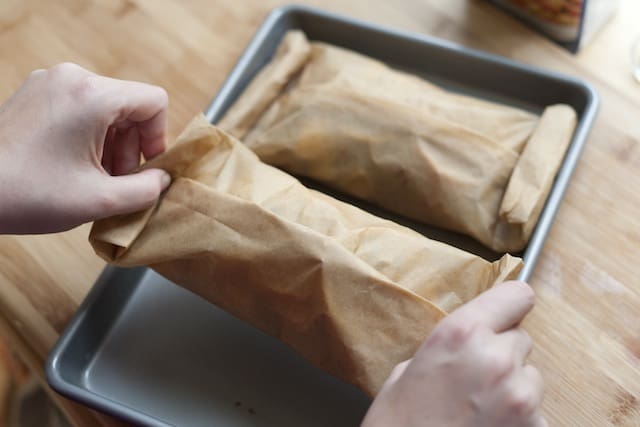 Recipe and photos developed for Eat Better America and Betty Crocker

Baked Fish with Orange and Olives
We use fresh thyme for this, if you would prefer to use dried, use 1/4 teaspoon of dried thyme. When you serve, add the parchment packet to each plate and allow each person to slit through the parchment, releasing the aromas of cinnamon, orange and thyme.
Created By:
Adam and Joanne Gallagher
You Will Need
12 ounces halibut fillets, cut into 2 pieces
1/4 teaspoon ground cinnamon
salt and freshly ground pepper
1 cup diced zucchini and yellow summer squash, 1/4-inch cubes
1/4 cup pitted kalamata olives, halved
1 tablespoon olive oil
1/4 cup drained canned diced tomatoes (Brand suggestion: Muir Glen Organic)
4 tablespoons chicken stock
4 thin orange slices
2 sprigs fresh thyme (substitute 1/4 teaspoon dried thyme)
Directions
Heat oven to 400°F. Cut 2 (16-inch) squares cooking parchment paper or foil.
Season both sides of fish with cinnamon, salt and pepper; place 1 piece each onto middle of parchment paper. For each piece, top with half the zucchini, olives, olive oil and tomatoes; season with a pinch more salt and pepper. Pour 2 tablespoons stock over each, then top with half the orange slices and thyme.
To make packets, roll and crimp opposite sides of parchment paper together over fish and vegetables, then roll and crimp ends to prevent steam from escaping. Place packets on cookie sheet. Bake 12 to 15 minutes or until fish flakes easily with a fork. Transfer packets to plates for serving.