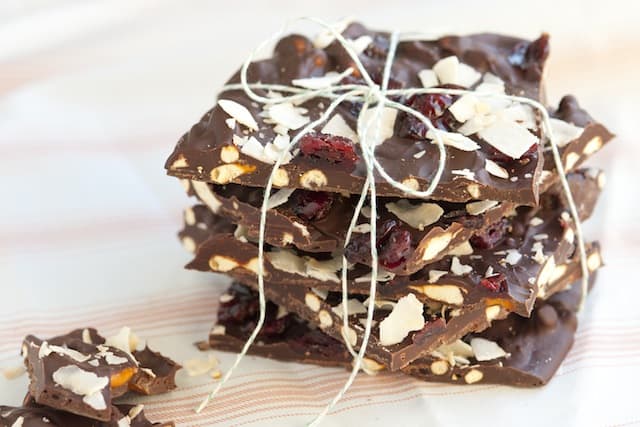 I wish we could say that we made this to give as a gift (this would be a great gift) or to have on hand when friends come over (it would be great for that, too), but we really only made this so I could have something chocolate in the house. You really can't go wrong with chocolate bark, it's easy and so customizable. This one combines salty pretzels with a semi-sweet chocolate, it's such a great combination (I say while eating a piece of chocolate bark and getting chocolate all over the keyboard).
-Joanne
How to make Pretzel, Cranberry and Toasted Coconut Bark
Start with some good quality chocolate, dried cranberries, salted pretzels and even though it isn't in the photo below, some toasted coconut. To toast the coconut, preheat the oven to 350 F then spread the coconut out into one layer on a baking sheet. Bake the coconut 2-3 minutes or until it starts to brown lightly.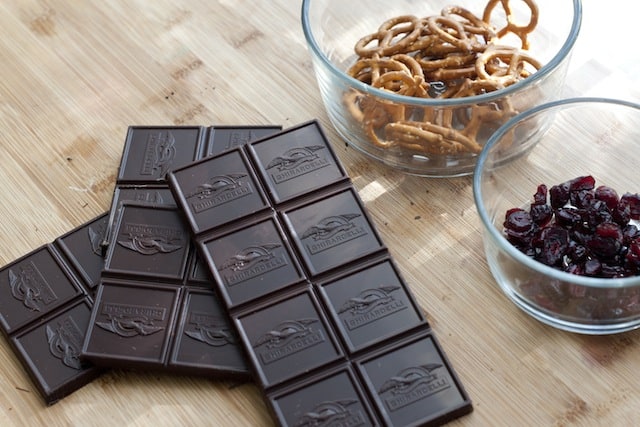 If you have chocolate bars, use a large knife to cut the bar into small pieces.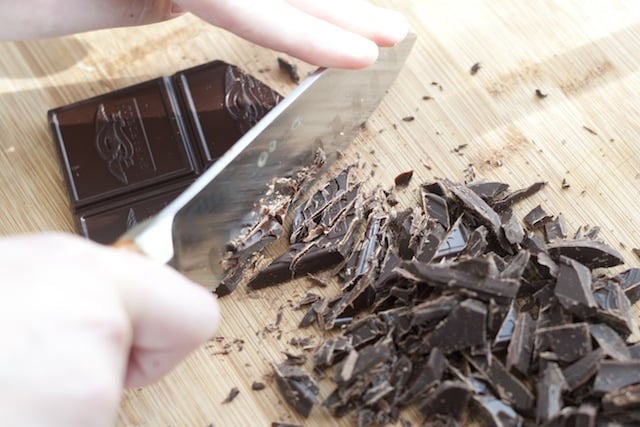 See how small we cut the chocolate? You're looking for something similar in size to chocolate chips. Throw the chocolate into a microwave-safe bowl. Now, place the bowl into the microwave for 20 seconds, stir then add back to the microwave. Repeat this until the chocolate has melted completely.
If you don't have a microwave, you can melt the chocolate over a double boiler. To do this, fill a small saucepan with about 1-inch of water and bring it to a simmer. Now, find a heat-safe bowl that can rest inside the saucepan without actually touching the hot water. Add the chocolate and stir until the chocolate has melted.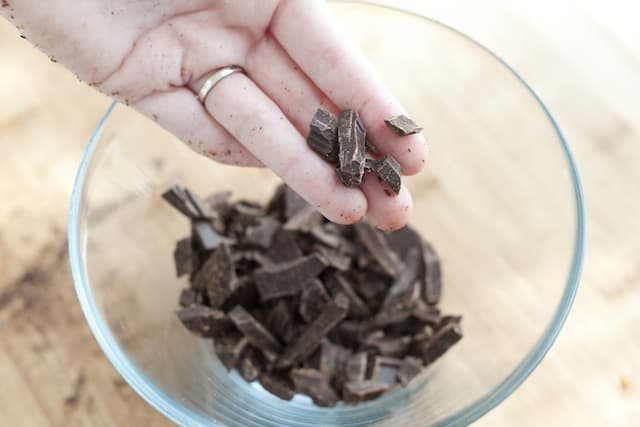 Break or cut the pretzels into smaller pieces.
Then, add them to the melted chocolate and stir until combined.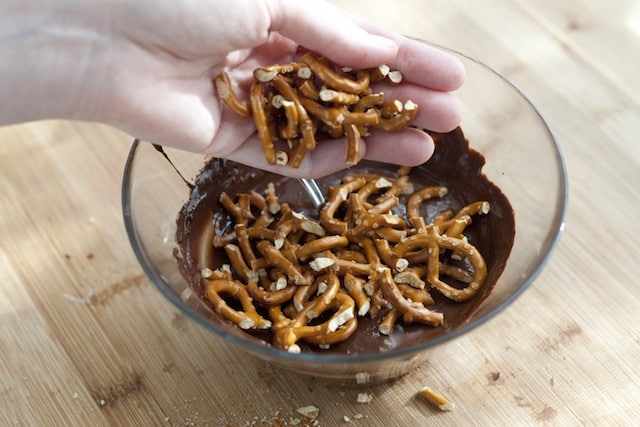 Pour the chocolate/pretzel mixture onto a baking sheet lined with parchment paper. Then, carefully spread the chocolate out into an even square or rectangle — Ours was a 8-inch by 8-inch square.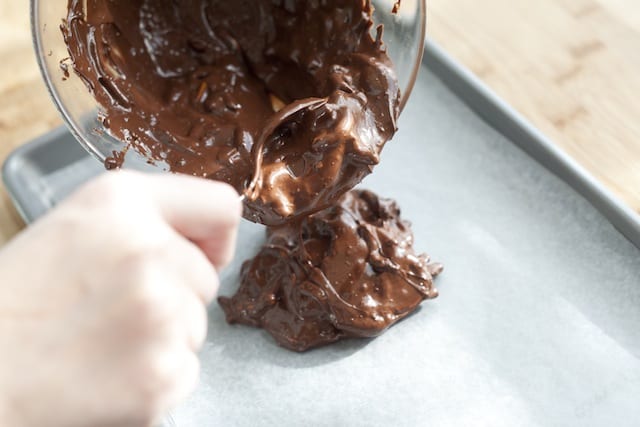 Evenly sprinkle the dried cranberries and toasted coconut over the chocolate. Now, place into the refrigerator for 30 minutes to an hour. Once hardened, either break the bark up with your hands or use a knife to cut it into squares.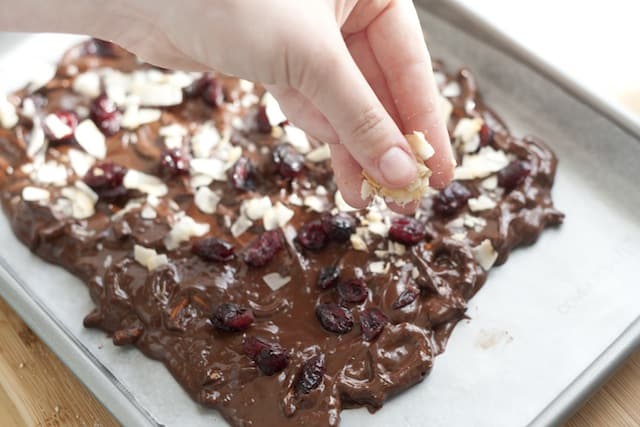 These are perfect for a hostess gift or to set out at a party, people will love the combo of sweet chocolate and salty pretzels. Trust us, you will be a hero! And, hey — if you make them just for you, that's fine, too!

Pretzel, Cranberry and Toasted Coconut Bark
The combination of salty pretzels and sweet chocolate make this bark addictive. We loved the recipe as is, but might add an extra sprinkle of coarse sea salt onto the top of the bark before allowing to cool. Bark can be refrigerated for up to 3 days.
You Will Need
12 ounces bittersweet chocolate, chopped
1/4 cup unsweetedned coconut flakes
3/4 cup coarsely chopped pretzels
1/4 cup dried cranberries
Directions
Preheat oven to 350 degrees F.
Coat a 9-by-12 1/2-inch rimmed baking sheet with cooking spray, and line with parchment, leaving an overhang on long sides.
Spread coconut in an even layer on a baking sheet, bake in the oven until lightly browned, 2-3 minutes.
Melt chocolate in the microwave or using a double boiler. To melt chocolate in the microwave, add chocolate to a microwave-safe bowl and cook 20 seconds, stir then cook another 20 seconds. Repeat until chocolate is melted completely. To melt chocolate in a double boiler, set a heatproof bowl over a pan of simmering water. Add chocolate and stir until melted.
Add pretzels to melted chocolate and stir to combine then pour into baking sheet, and spread in an even layer.
Immediately sprinkle dried cranberries and coconut onto bark.
Refrigerate until firm, about 1 hour. Peel off parchment, and break bark or cut into pieces.