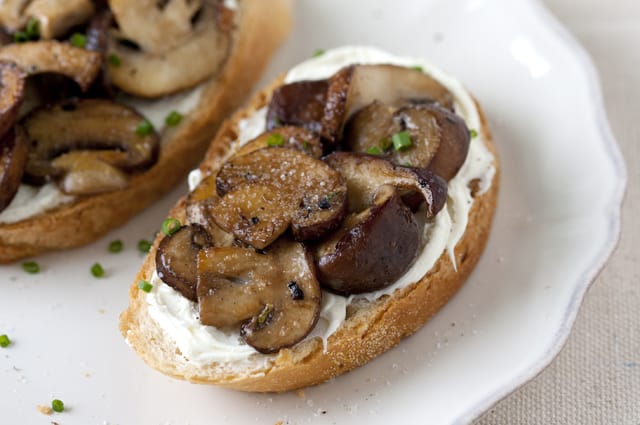 This has to be one of the best possible mushroom toast appetizers to serve your guests, especially when accompanied with a glass of sparkling champagne.
How to Make Our Creamy Mushroom Toast Recipe
Start by sautéing an assortment of mushrooms, we chose cremini, shiitake and portobello mushrooms. Find a large skillet and heat it over medium-high heat, then arrange the mushrooms into one layer (remember what Juila Child said — "don't crowd the mushrooms"). Once they have browned slightly, throw in a touch of salt, fresh thyme, garlic and lemon zest.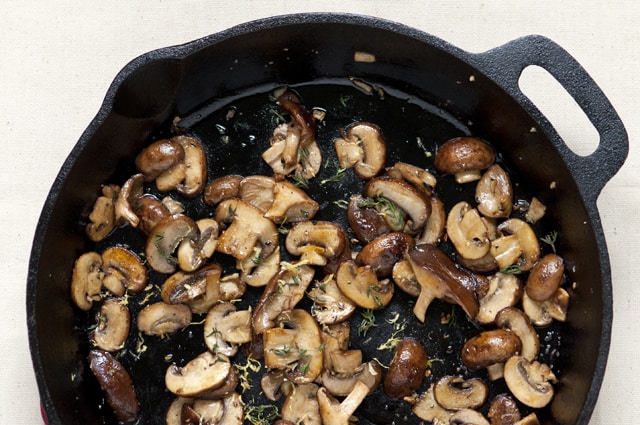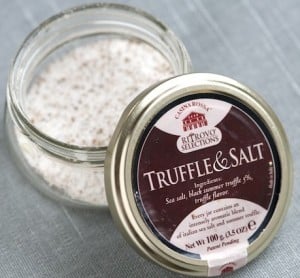 Now, slice a baguette on the diagonal and toast the slices in the oven until warmed and slightly toasted, spread each slice with creamy mascarpone cheese top with the mushrooms and sprinkle with one of our favorite kitchen ingredients, truffle salt. We know truffle salt is pretty expensive, our jar cost about $25. With that said, we use it more than most things in our kitchen (notice our jar is half full). We sprinkle it onto eggs, popcorn, buttered toast, rice, pastas, etc…. You can make these without adding the truffle salt, it's still completely delicious.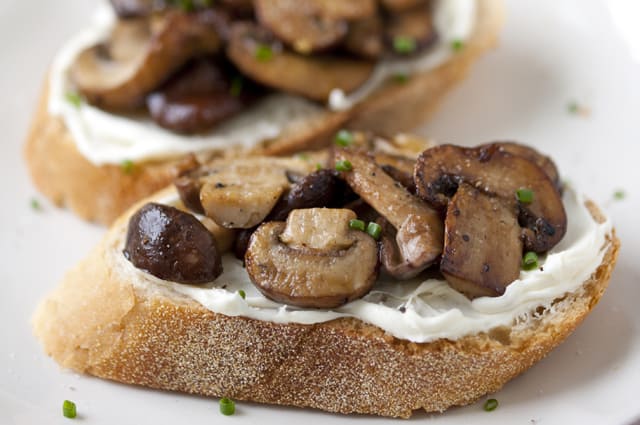 We shared this recipe in the maché magazine's Holiday issue, in fact there are a few more recipes using these same mushrooms. Make sure you take a look. Flip trough the online magazine by clicking here: maché magazine's Holiday issue.
Did you like our creamy mushroom toast recipe? If so, we bet you'll love these, too!
Creamy Mushroom Toast Recipe
When sauteing the mushrooms, arrange them in one layer in the pan, this way they will brown instead of steam. Before serving, sprinkle some truffle salt on top, which adds a lvely earthy character. The truffle salt is completely optional, but if you want to splurge a bit, it is completely worth it.
Created By:
Joanne and Adam Gallagher
You Will Need
8 ounces mixed mushrooms (such as cremini, shitake and Portobello)
2 tablespoons olive oil
1 tablespoon butter
1 teaspoon salt
2 teaspoons fresh thyme leaves (substitute 1/2 teaspoon dried thyme)
1 garlic clove, minced
1 tablespoon lemon zest
juice of half a lemon
1 baguette, cut into 3/4-inch slices
8 ounces mascarpone cheese
truffle salt (optional)
chopped chives (optional)
Directions
Preheat oven to 350 degrees F. Arrange bread slices into one layer on a baking sheet. Bake in the oven until lightly toasted, about 5 minutes.
Using a damp paper towel or clean sponge, brush the caps of each mushroom then remove and discard any hard stems. Slice any small mushrooms into ¼-inch slices and cut the large ones (such as a Portobello mushroom) into large dice.
Preheat a large skillet or sauté pan over medium heat. Add a tablespoon of olive oil, and then sauté mushrooms, stirring until golden brown, 5-8 minutes. Sprinkle in a teaspoon of salt, butter, thyme and garlic and sauté, stirring until the butter has absorbed then squeeze lemon juice over the mushrooms.
To assemble, spread mascarpone cheese onto each bread slice then top with mushrooms and a pinch of truffle salt and chopped chives.