We love this Greek inspired salad with a mixture of lettuce, pasta, cool cucumber, red onion, olives and feta cheese all tossed with a homemade creamy yogurt dressing. Jump to the Easy Greek Salad with a Creamy Yogurt Dressing or read on for our tips for making it.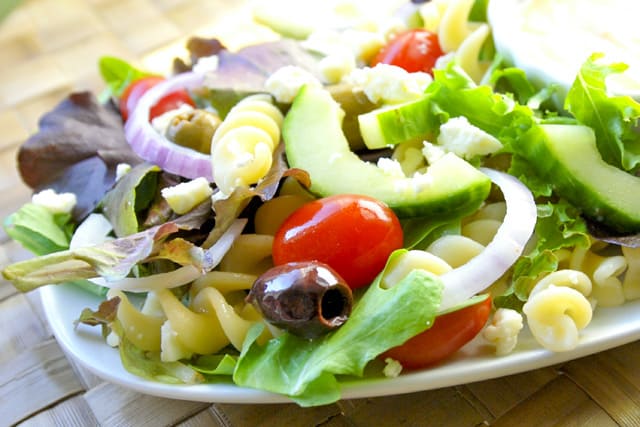 This easy Greek salad was inspired by the Med Salad over at Noodles and Company. The dressing comes together quickly and is made with Greek yogurt, lemon, garlic, olive oil and a "secret" ingredient: Sriracha hot sauce. For a more authentic Greek salad, take a look at Our Favorite Greek Salad recipe.
To make the salad more filling, we add a little cooked pasta, but you could also add baked lemon garlic chicken breast or simply roasted shrimp.
Recipe updated, originally posted October 2009. Since posting this in 2009, we have tweaked the recipe to be more clear. – Adam and Joanne
Easy Greek Salad Recipe with a Creamy Yogurt Dressing
You Will Need
Greek Salad
1 cup warm cooked pasta
4 cups lettuce mix
1/4 cup halved and sliced cucumber
Handful thinly sliced red onions
Handful cherry tomatoes, halved
Handful Kalamata olives
2 tablespoons crumbled feta cheese
Yogurt Dressing
1/4 cup Greek yogurt
1/4 cup extra-virgin olive oil
1 teaspoon lemon zest
2 tablespoons lemon juice
1 tablespoon red wine vinegar
1 garlic clove, minced
1 tablespoon crumbled feta cheese
1 to 2 teaspoons Sriracha hot sauce, depending on how spicy you want the dressing
Salt and fresh ground black pepper
Directions
1Toss pasta, lettuce, cucumber, tomato, olives and feta cheese into a large salad bowl.

2Make the dressing by blending the yogurt, olive oil, lemon zest, lemon juice, red wine vinegar, garlic, feta cheese and Sriracha hot sauce in a blender or small food processor until smooth. Taste then adjust with salt, pepper, vinegar, or more Sriracha as needed.

3Add a few spoonfuls of the dressing to salad then toss until well coated.