How to make tender and moist pumpkin cupcakes with a simple cream cheese frosting. These perfectly spiced pumpkin cupcakes are hard to beat. Jump to the Pumpkin Cupcakes Recipe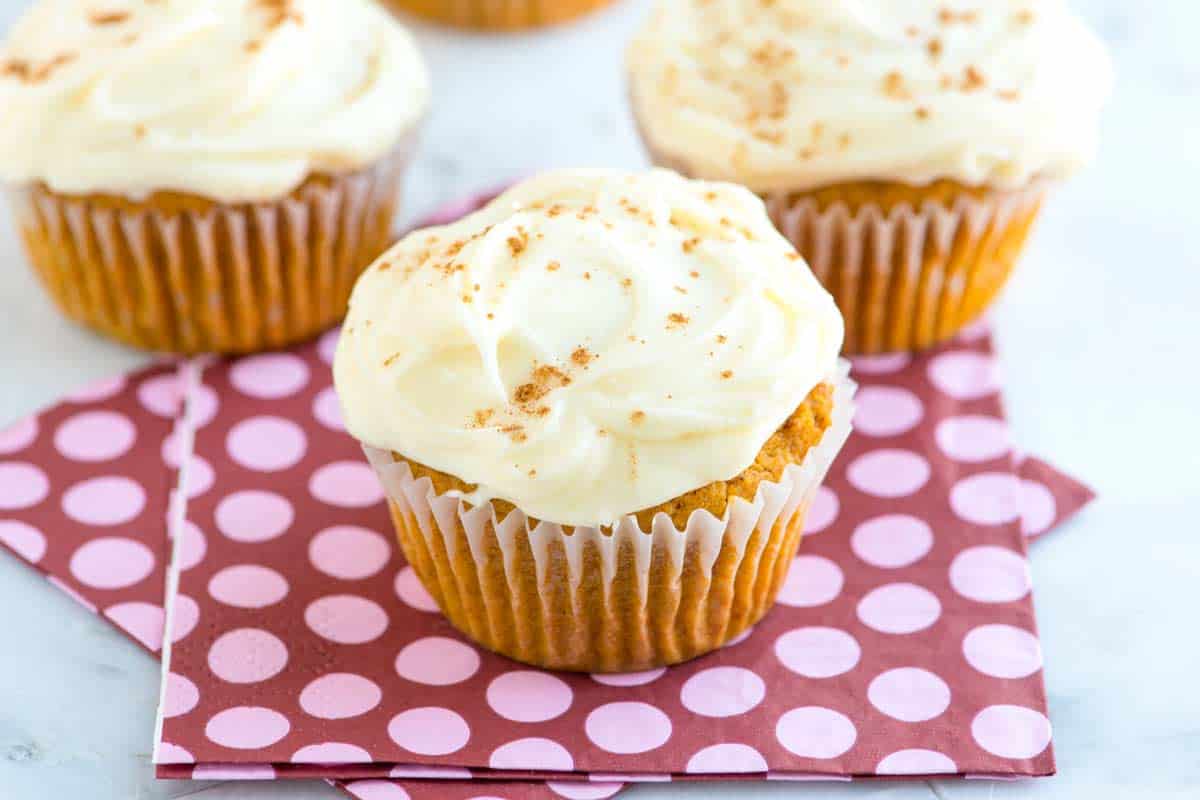 How to Make Pumpkin Cupcakes from Scratch
We love these simple, fall inspired cupcakes. They are packed with flavor thanks to pumpkin puree, brown sugar, butter and lots of warm spices like cinnamon, ginger and nutmeg. You can used canned pumpkin puree or try making your own. Here's our tutorial for making homemade pumpkin puree, if you want to give it a try.
The moment these cupcakes cool after baking we slather perfectly smooth cream cheese frosting on top and sprinkle with even more spices. You will love them! Everyone we have served these to, has loved them. Adam's family has even requested them on multiple occasions ?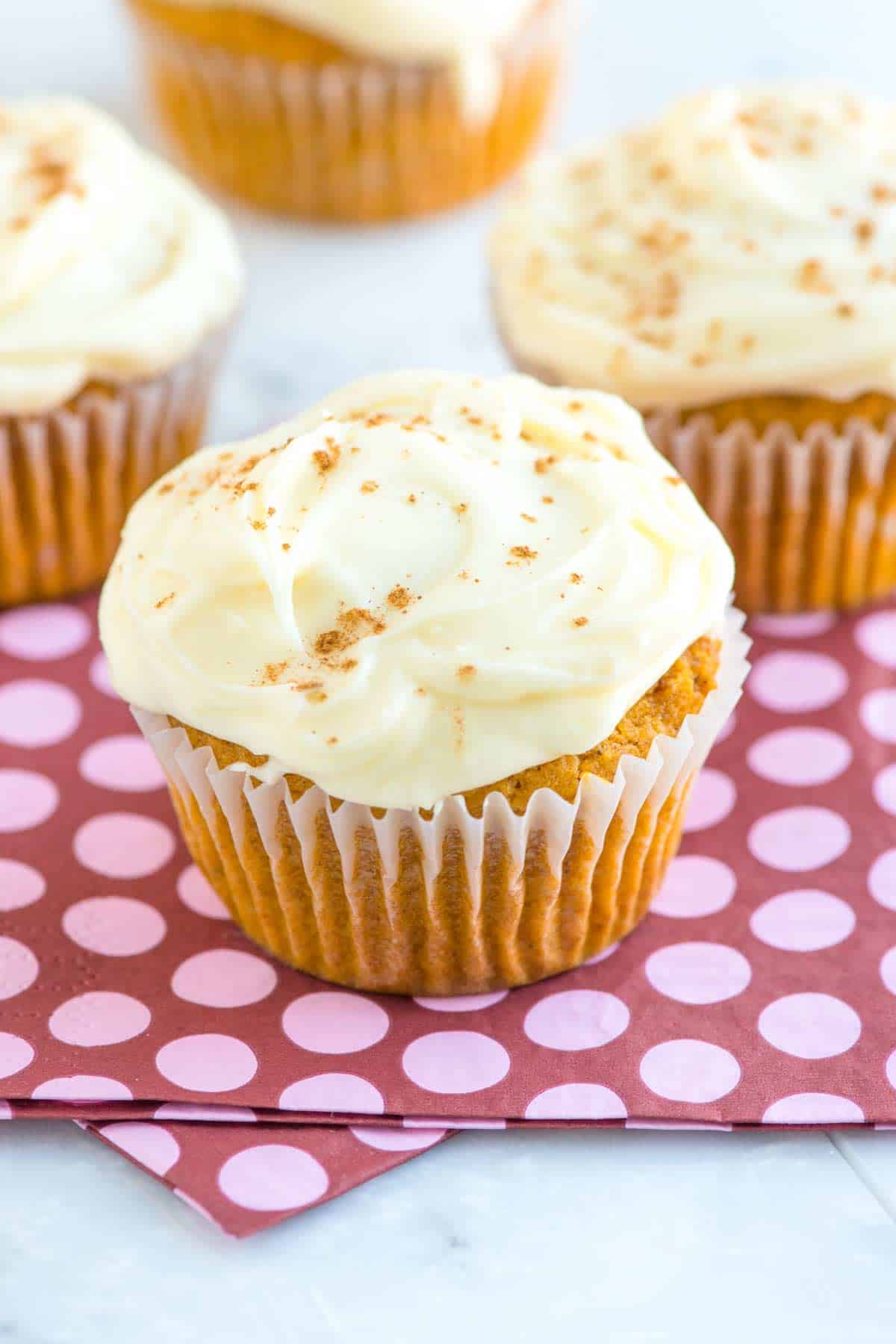 As I've already mentioned, these cupcakes are so simple to make. All you need is a hand blender and a couple of bowls and you are on your way to making them at home.
To make the cupcake batter, whisk or sift dry ingredients together — we use flour, baking powder, baking soda and a mixture of warm fall spices. We make our own spice blend, but you can swap it out for your favorite store-bought pumpkin spice blend.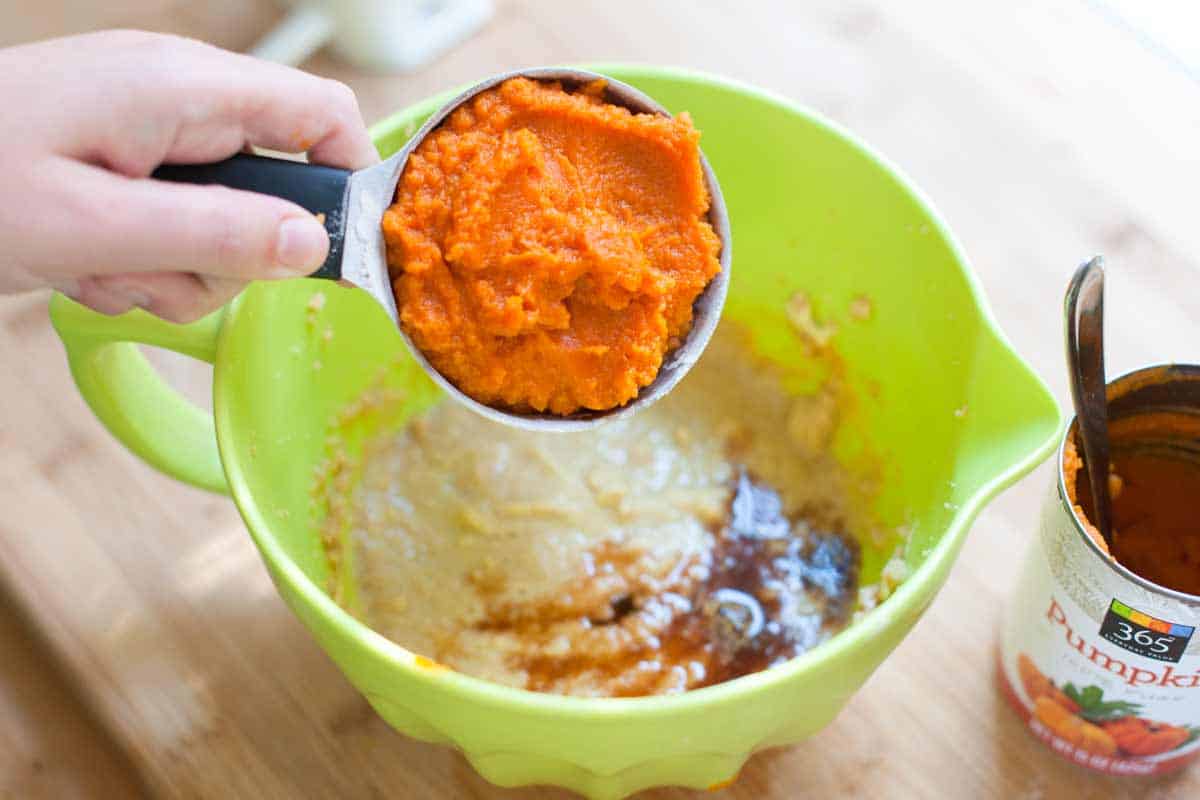 Next, we beat butter with brown sugar, vanilla, eggs, and a whole cup of pumpkin puree. That cup of puree goes a long way to making these cupcakes flavorful and moist inside.
To finish the batter, gently combine the dry ingredients with the pumpkin mixture and you are ready to bake. When they are baked and cooled, we add a simple cream cheese frosting on top. You will love it!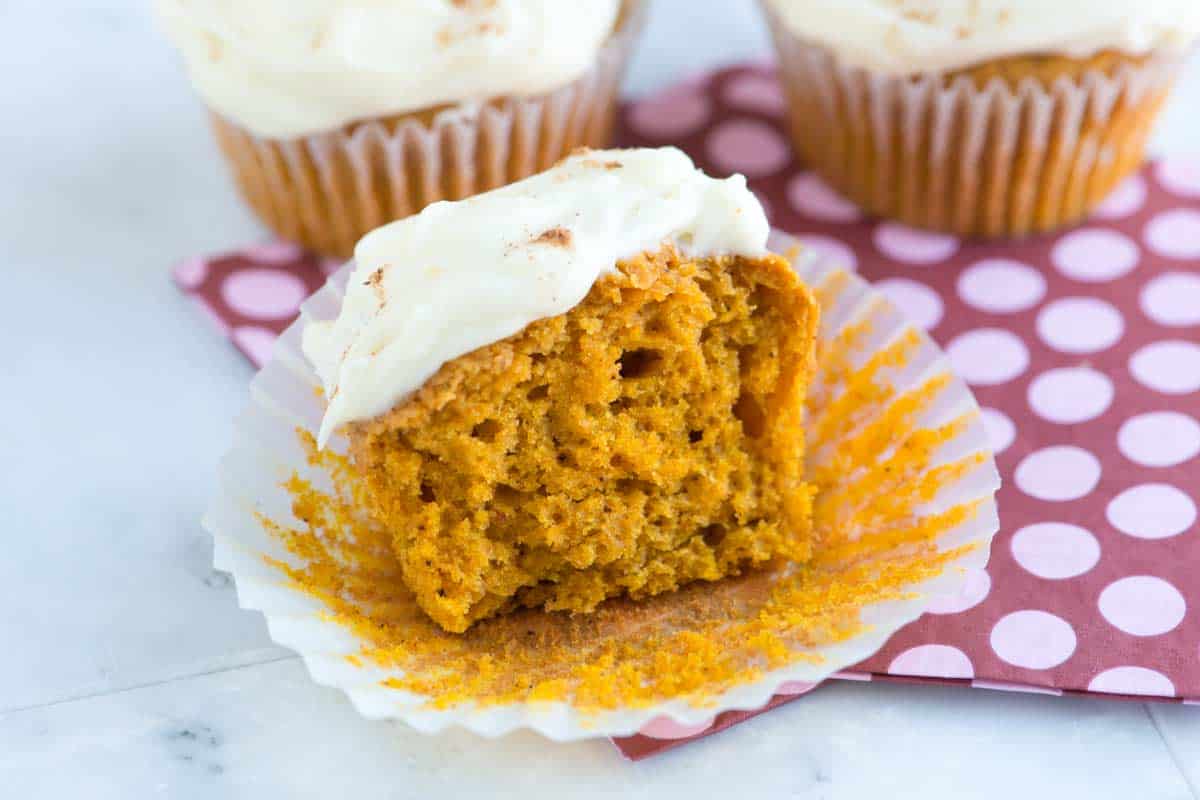 More Pumpkin Recipes
For more cupcake recipes, check out our Double Chocolate Sour Cream Cupcakes and our Easy Apple Pie Cupcakes Recipe.
Recipe updated, originally posted November 2012. Since posting this in 2012, we have tweaked the recipe to be more clear. – Adam and Joanne
Easy Pumpkin Cupcakes from Scratch
For extra flavor, we add lots of spices to this pumpkin cupcake batter. You can use homemade pumpkin puree for this or buy it from the store. When you look for pumpkin puree, don't use "pumpkin pie mix" (usually a larger can) and instead buy the can that is "pure pumpkin puree".
The frosting recipe below makes enough for piping the frosting onto the cupcakes (this usually requires a little more frosting). If you do what we did, which was to spread frosting on top of the cupcakes with a knife, you may have some frosting left over.
You Will Need
Spice Mix
1 1/2 teaspoons ground cinnamon
3/4 teaspoon ground ginger
1/2 teaspoon ground cloves
1/2 teaspoon ground nutmeg
Cupcakes
1 1/2 cups (195 grams) all purpose flour
1 teaspoon baking powder
1/2 teaspoon baking soda
1/4 teaspoon sea salt
8 tablespoons (115 grams or 1 stick) unsalted butter at room temperature
1 cup (200 grams) lightly packed brown sugar
2 large eggs
1 1/2 teaspoons vanilla extract
1 cup packed pure pumpkin puree, see our homemade pumpkin puree recipe
Cream Cheese Frosting
6 ounces (170 grams) cream cheese at room temperature
8 tablespoons (115 grams or 1 stick) unsalted butter at room temperature
2 cups (130 grams) powdered sugar
1/2 teaspoon vanilla extract
1/4 teaspoon almond extract
1 tablespoon milk or orange juice to thin frosting
Directions
Make Batter

1Heat oven to 325 degrees F. Line 12 regular size muffin cups with paper or foil cupcake liners.

2In a small bowl, stir the cinnamon, cloves, ground ginger and nutmeg together.

3Sift the flour, baking powder, baking soda, salt and 2 teaspoons of the spice mix into a medium bowl. Whisk until blended. (Leftover spice mix will be used later to decorate the frosted cupcakes.)

4In a large bowl, use a hand blender on medium speed to beat the butter and brown sugar together until light and fluffy, about 3 minutes. Scrape the side and bottom of the bowl then add the eggs, one at time, on medium-low speed until incorporated.

5Turn the mixer to low and beat in the vanilla and half of the pumpkin puree. With the mixer still on low, beat in half of the flour mixture until incorporated. Scrape the sides and bottom of the bowl then beat in the rest of the pumpkin puree and finally the remaining flour mixture.
Bake Cupcakes

1Fill each muffin cup 3/4 full – the batter should be just enough for 12 cupcakes.

2Bake cupcakes until a toothpick or cake tester comes out clean when inserted into the middle of a cupcake, 20 to 25 minutes. (Another test is to lightly tap the top of a cupcake. If the cupcake springs back, they are done, if an indent remains, they need a little more time.) Cool the cupcakes completely before frosting.
Frost Cupcakes

1In a large bowl, use a hand blender to beat cream cheese and the butter until fluffy. Add a third of the powdered sugar, turn the hand blender to low and beat until incorporated. Repeat with another third of powdered sugar, scrap the bowl down then repeat with the final third.

2Add the vanilla extract, almond extract and the milk then use the hand blender on low until frosting is whipped and fluffy, adding more milk to thin out. Frost cooled cupcakes then sprinkle a little of the spice mix from earlier on top of each cupcake.
Adam and Joanne's Tips
Nutrition Per Serving
Serving Size
1 cupcake
/
Calories
401
/
Protein
4 g
/
Carbohydrate
52 g
/
Dietary Fiber
1 g
/
Total Sugars
39 g
/
Total Fat
20 g
/
Saturated Fat
13 g
/
Cholesterol
84 mg