How to make spaghetti and turkey meatballs tossed with an easy homemade spinach pesto. Jump to the Spaghetti and Turkey Meatballs with Spinach Pesto or read on to see our tips for making it.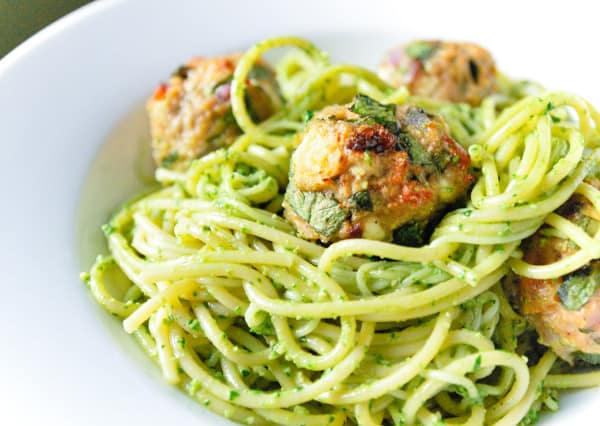 When we cannot find fresh basil, we turn to spinach instead. Our spinach pesto recipe is made almost the same way as our recipe for basil pesto. We use a food processor to blend the spinach with nuts and garlic then slowly steam in olive oil until a sauce forms. We stir in parmesan and season with salt and it is done.
YOU MAY ALSO LIKE: We make pesto with kale, too! How to make pasta tossed with homemade kale and almond pesto. Jump to the Kale and Almond Pesto Pasta Recipe.
We had some fun with the turkey meatballs — they have chopped spinach, plumped up dried fruit and garlic mixed in. The fruit might seem weird, but it adds a little pop of sweetness to balance out all the garlic and greens.
To plump up the fruit, we soak them in warmed Marsala or Madeira wine. This adds a little more flavor, but if you don't have them in your kitchen, plain hot water will still do the trick.
YOU MAY ALSO LIKE: Use up more Marsala wine with this recipe. See how to make chicken Marsala all in one pan. Jump to the Easy, One Pan Chicken Marsala Recipe.
Recipe updated, originally posted November 2009. Since posting this in 2009, we have tweaked the recipe to be more clear. – Adam and Joanne
Spaghetti and Turkey Meatballs with Spinach Pesto
Spinach pesto is a wonderful alternative to traditional basil pesto when fresh basil cannot be found. You could always use basil pesto (see our basil pesto recipe) or use another hearty green like kale in the place of spinach. (See our kale pesto recipe). There will likely be pesto leftover, we have included storing suggestions in the notes section below.
One pound of meat will make 22 to 24 meatballs.
You Will Need
Spinach Pesto
1/4 cup walnuts, toasted
1 pound spinach, rinsed (about 4 cups)
2 cloves garlic, roughly minced
2/3 cup extra-virgin olive oil
1 1/2 ounces Parmigiano-Reggiano cheese, grated (1/2 cup)
Salt and fresh ground black pepper, to taste
Spaghetti and Meatballs
1/4 cup Marsala or Madeira wine
2 tablespoons chopped dried apricots
2 tablespoons chopped dried cranberries
1/2 cup panko breadcrumbs
1 large egg
2 tablespoons grated or very finely chopped onion
2 garlic cloves, minced
1 cup baby spinach leaves, chopped
2 tablespoons crumbled feta cheese
1 teaspoon sea salt
1/4 teaspoon fresh ground black pepper
1 pound ground dark turkey meat
Cooking spray or olive oil for baking
1 pound dry spaghetti
Directions
Make Spinach Pesto

1Toast walnuts in a dry skillet over medium heat, shaking frequently, until fragrant, browned, and not burned.

2Add the spinach, walnuts and garlic to the bowl of a food processor. Pulse a few times so everything is chopped small. With the processor running, slowly pour the olive oil into the bowl. Once all the olive oil has been added, check the consistency of the pesto — we like it to have some texture. If you prefer it smoother, pulse a few more times.

3Transfer pesto to a bowl then stir in cheese and season to taste with salt and pepper. Use immediately or store for later.
Make Meatballs

1Heat wine in a small saucepan until hot. Take the pan off of the heat and add the dried apricots and cranberries. Set aside for 10 minutes to plump up and cool. Drain.

2In a large bowl, mix the breadcrumbs, egg, onion, garlic, chopped spinach, feta cheese, salt and the pepper until well blended. Stir in the dried fruit then use a fork to gently mix in the turkey meat.

3Heat the oven to 400 degrees F. Line a baking sheet with aluminum foil.

4Roll meatball mixture into 1 1/2-inch balls and place on the baking sheet. Spray tops of meatballs with cooking spray or drizzle with a small amount of olive oil. Bake until cooked through, about 15 minutes.
To Finish

1While the meatballs bake, cook the spaghetti in boiling salted water until it is tender but not mushy. Toss with a few tablespoons of spinach pesto, thinning with a little of the hot cooking water as necessary. Serve with the baked meatballs on top.
Adam and Joanne's Tips
Use water in place of the wine called for in the meatball recipe. You will lose a little flavor, but the dried fruit will plump up nicely.
How to Store Pesto in the Refrigerator: Add a thin layer of extra olive oil to the top (to prevent any air from getting to it), cover with a lid or plastic wrap and refrigerate up to 2 weeks.
How to Freeze Pesto: If freezing, leave out the cheese. Fill ice cube trays with pesto, freeze until hard. Then store frozen cubes in freezer-safe plastic bags. Freeze up to 1 month.
If you make this recipe, snap a photo and hashtag it #inspiredtaste — We love to see your creations on Instagram and Facebook! Find us: @inspiredtaste