Just bowls, a whisk and spatula are needed to make this tender, buttery pound cake recipe. Jump to the Buttered Rum Pound Cake Recipe or read on to see our tips for making it.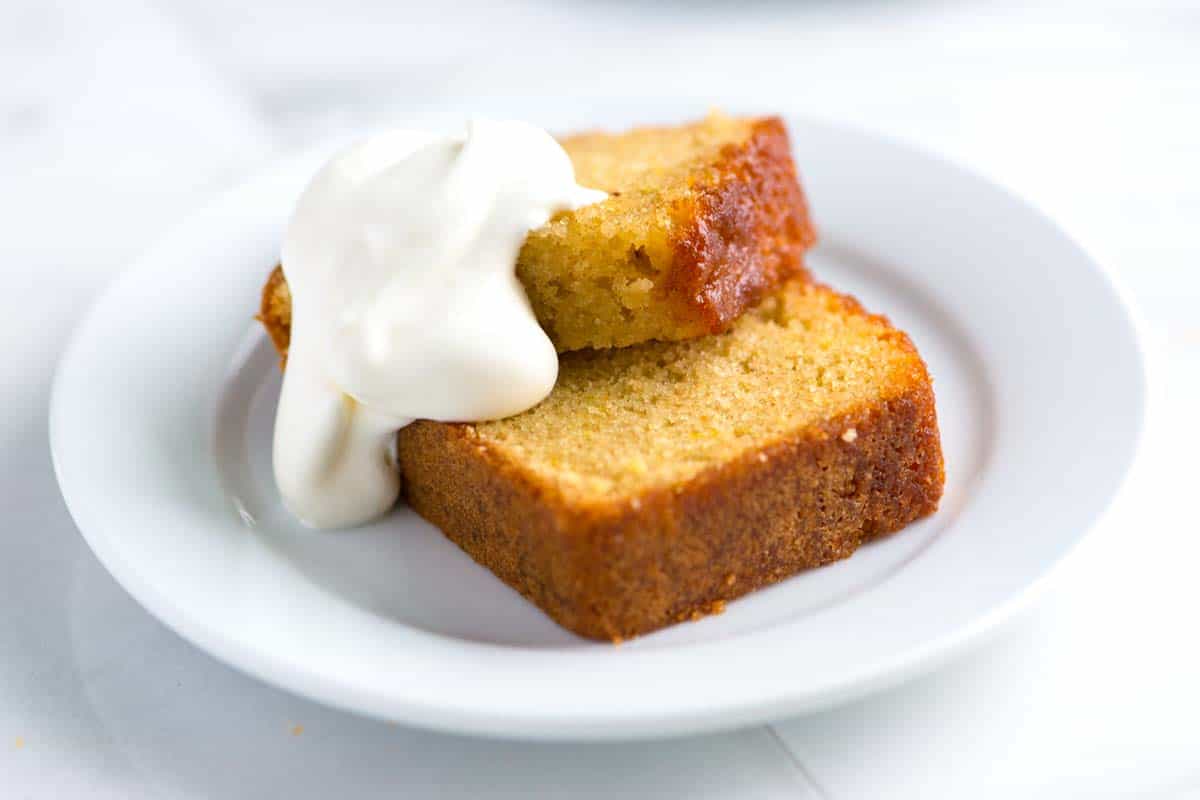 – This Recipe is Sponsored by Gold Medal Flour –
The batter is flavored with orange, vanilla and dark rum. We absolutely love it served in slices with a big dollop of whipped cream. It is also lovely served with any juicy fruit, especially berries.
YOU MAY ALSO LIKE: An incredibly moist carrot cake recipe with an ultra-creamy cream cheese frosting. This is a must make! Jump to the full Carrot Cake Recipe.
How to Make Rum Pound Cake
Not only do we add strong, dark rum to the cake batter, it is also added to a syrup that gets soaked up by the cake just as it comes out of the oven. The syrup is simple to make — just water, sugar and rum.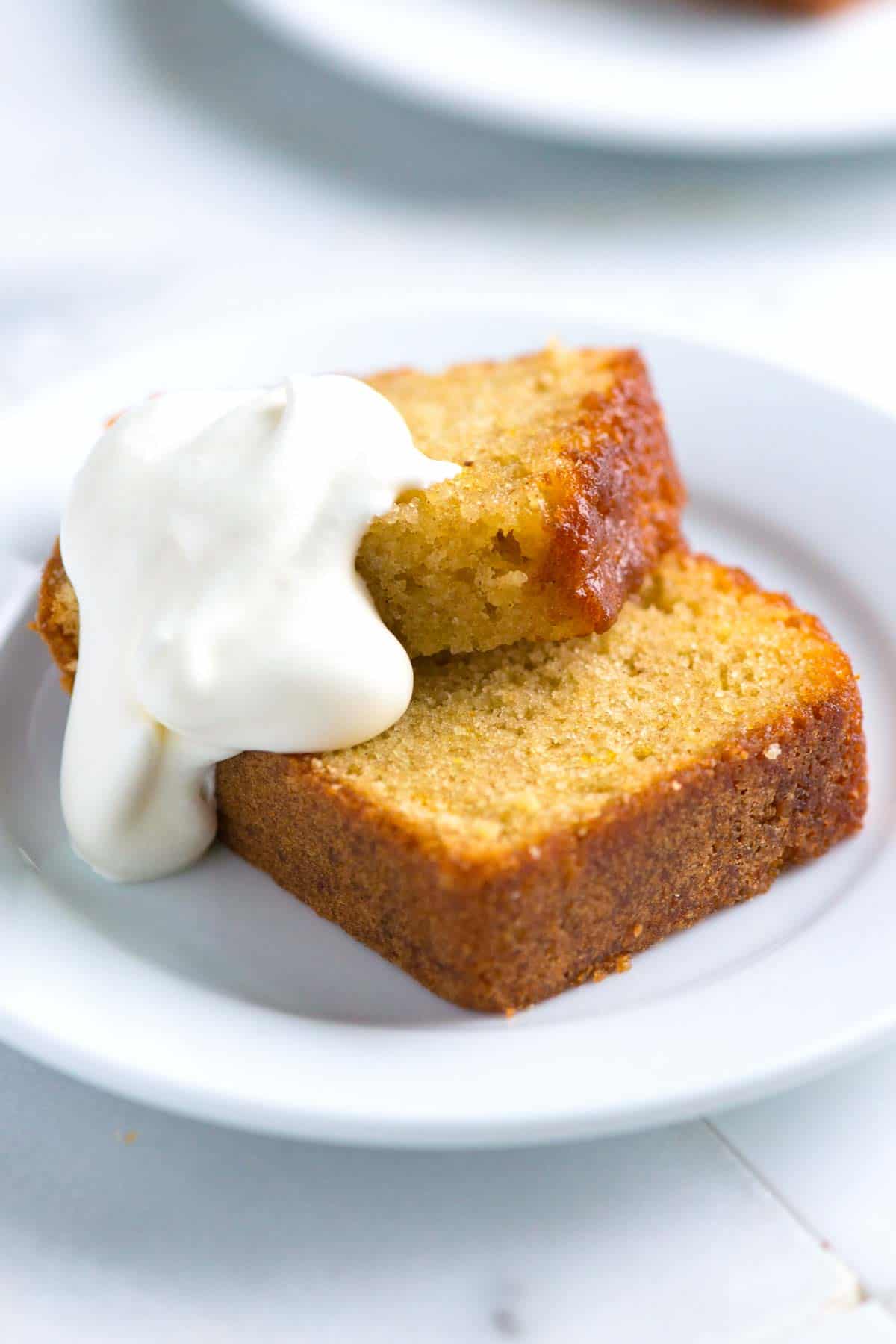 Since the cake is warm, as you brush it all over with the syrup it soaks in the flavor and moisture of the syrup. That's what really makes this pound cake recipe over the top.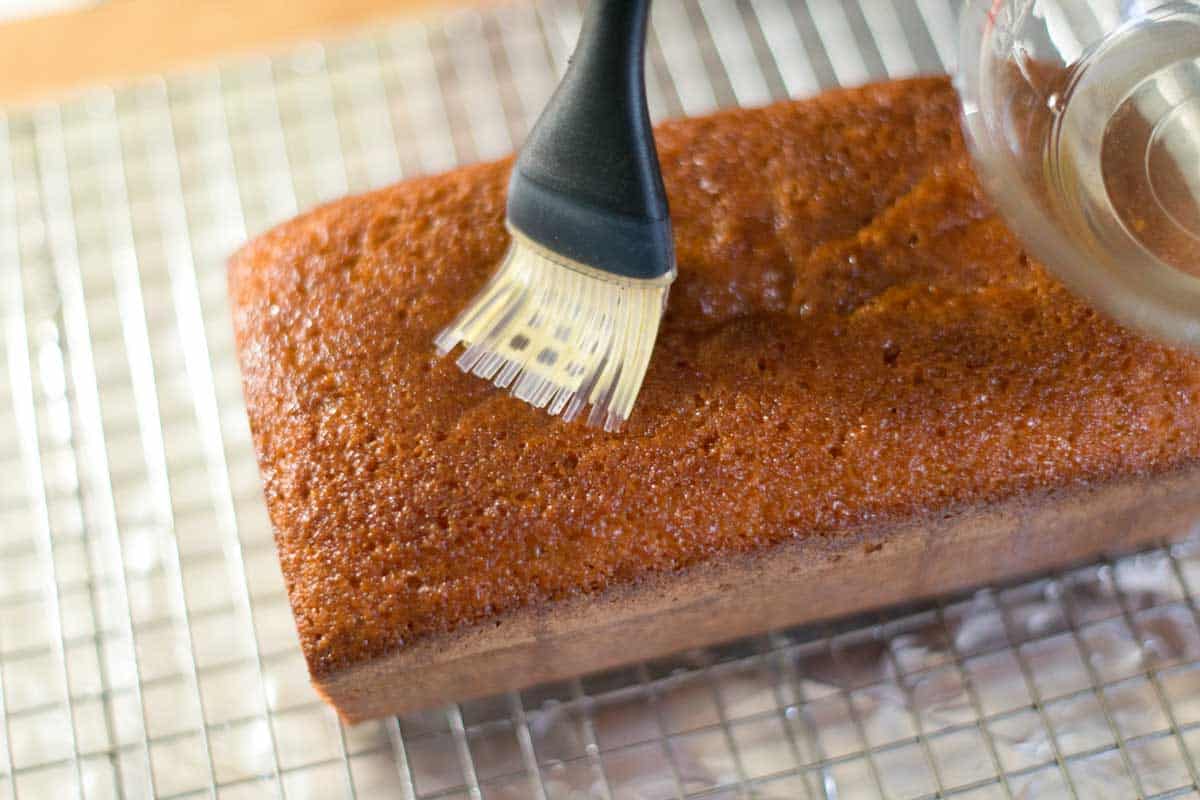 We love the addition of rum, but you could certainly use your favorite liqueur — just make sure it is strong, otherwise the flavor will be lost. We're thinking Grand Marnier or aged tequila would be a great alternatives.
YOU MAY ALSO LIKE: How to make a stunning apple tart with a buttery crust, thinly sliced apples, and toasted almonds. Jump to the Simple Apple Tart Recipe.
Recipe updated, originally posted December 2013. Since posting this in 2013, we have tweaked the recipe to be more clear. – Adam and Joanne
Buttered Rum Pound Cake Recipe
This pound cake is very simple to make — just bowls, a whisk and a spatula are necessary. The cake itself is flavored with orange, vanilla and dark rum. Just as the cake comes out of the oven, we drench it with rum syrup. Divine. The rum used really needs to be dark and strong — otherwise it gets lost. We use an 8 1/2-by-4 1/2-inch loaf pan for this. If you are using a 9-by-5-inch pan, check for doneness 5 minutes before the baking time stated below.
1 loaf, approximately 8 slices
You Will Need
Pound Cake
1 1/3 cups (175 grams) all-purpose flour, we used Gold Medal
1 1/4 teaspoons baking powder
1/4 teaspoon kosher salt
1/2 teaspoon ground cinnamon
Pinch ground cloves
1 cup plus 3 tablespoons (240 grams) granulated sugar
2 teaspoons orange zest
2 teaspoons vanilla extract
3 large eggs, at room temperature
1/3 cup (80 ml) heavy cream
1 tablespoon dark rum
8 tablespoons (115 grams or 1 stick) unsalted butter, melted and cooled
Rum Syrup
3 tablespoons water
2 tablespoons granulated sugar
2 tablespoons dark rum
Directions
Make Batter

1Center a rack in the oven and heat to 350º F. Butter and flour an 8 1/2-by-4 1/2-inch loaf pan. Place the pan on an insulated baking sheet or on two regular baking sheets stacked on top of the other.

2Whisk the flour, baking powder, salt, cinnamon, and cloves together, set aside.

3In a large bowl, rub the sugar and orange zest together until the sugar is moist and fragrant with the orange. Whisk in the eggs and vanilla until blended then whisk in the cream and rum.

4Switch to a large rubber spatula. Scrape the sides and bottom of the bowl then add the dry ingredients in 3 parts, stirring gently until they disappear and the batter is smooth. Fold in the melted butter in 2 parts. The batter should be smooth and thick.
Bake Cake

1Pour batter into the pan and smooth the top. Bake 50 to 60 minutes, or until a knife inserted into the center of the cake comes out clean. Make the rum syrup as soon as the cake goes into the oven.

2After 30 minutes in the oven, check the cake for color. If it looks like it is browning too quickly, loosely cover with aluminum foil.
Make Syrup

1As soon as the cake goes into the oven, stir the water and sugar in a small saucepan over medium heat until the sugar melts, then bring to a boil. Remove the pan from the heat and stir in the rum. Transfer syrup to a heatproof bowl or cup and let cool.
To Finish

1When the cake is done, transfer it, in the pan, to a wire rack to cool for 5 minutes. Unmold the cake and place right side up on the rack. Position the rack over a baking sheet lined with parchment paper or foil.

2Using a toothpick or thin skewer, poke holes all over the cake. Brush the cake with the syrup. Do this slowly so the cake has a chance to absorb the syrup. Cool the cake to room temperature, slice and serve. (We love adding a dollop of whipped cream. Fresh fruit is also nice).
Adam and Joanne's Tips
Recipe inspired and tweaked from Dorie Greenspan's Rum-Drenched Vanilla Cakes. The recipe can be found in her incredible book: "Baking: From My Home to Yours" – we highly recommend it.
If you make this recipe, snap a photo and hashtag it #inspiredtaste — We love to see your creations on Instagram and Facebook! Find us: @inspiredtaste