My favorite lemon bars recipe! These classic lemon bars have a crisp shortbread crust and a creamy delicious tart lemon topping. These bars need to be made in your kitchen, ASAP. Jump to the Lemon Bars Recipe or read on to see our tips for making them.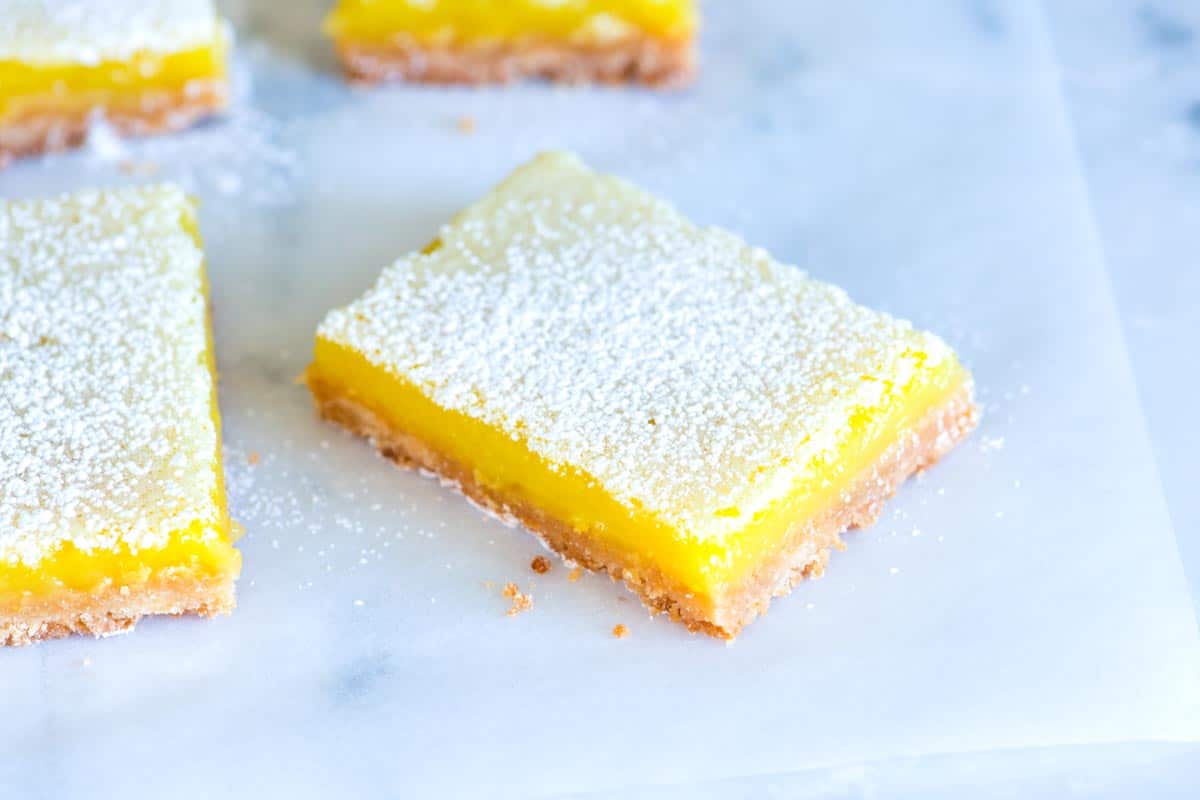 My Favorite Lemon Bars Recipe
I'm not sure it's possible to convey how much I love these easy lemon bars. Let's start with the crust. If you've had shortbread cookies before, then the crust for our lemon bar recipe will remind you of them. I love it so much, I'd be happy to just eat the crust (it's that good).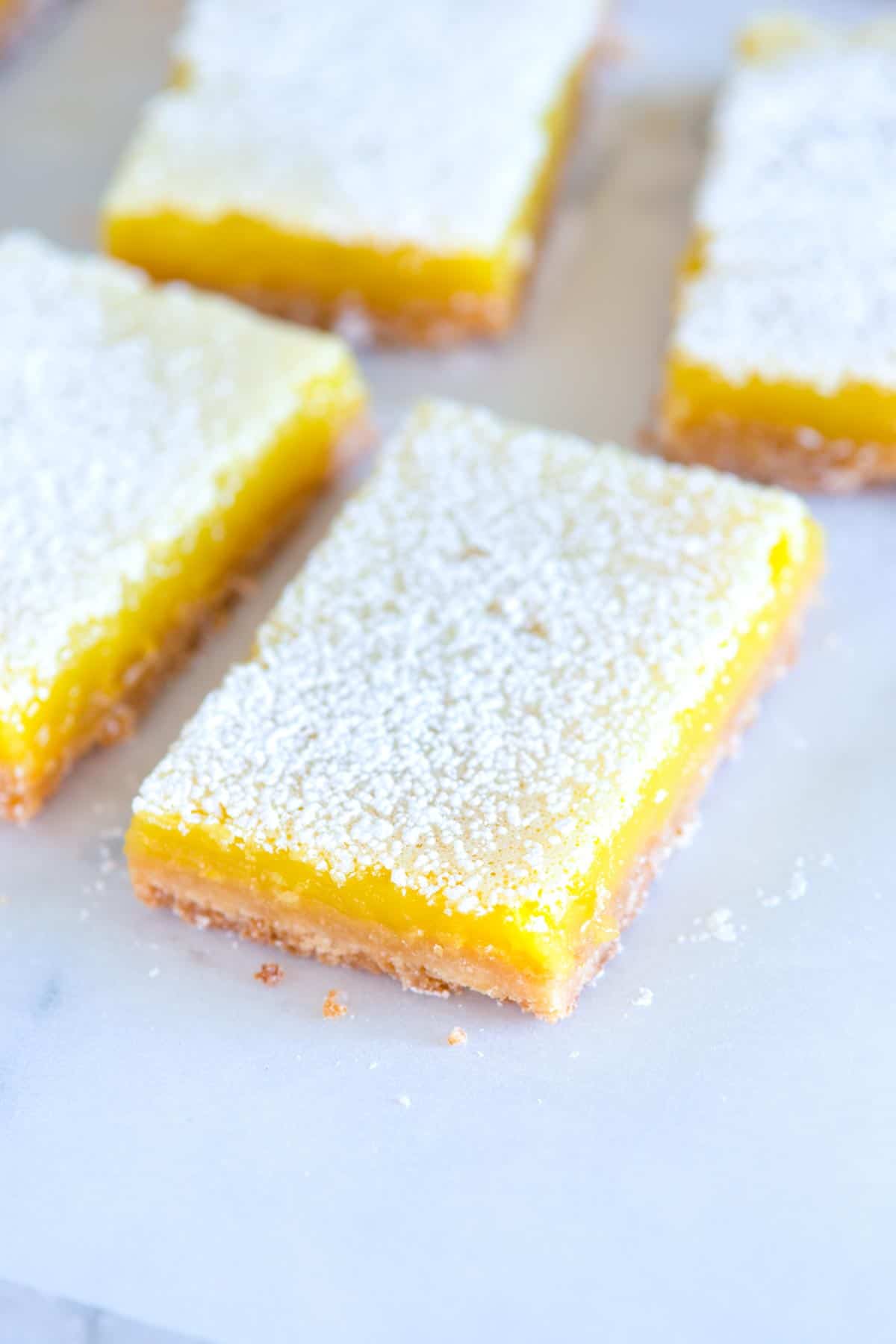 Lemon Bar Ingredients
The ingredient list for these easy lemon bars is not a long one. You really only need 5 ingredients (plus salt). Here's what you'll need:
Butter makes the crust of these lemon bars taste amazing.
Sugar is used in the crust and lemon topping. I use regular granulated sugar.
Lemons are essential (obviously), but for the best lemon bars, I like to use both fresh lemon juice and zested lemon peel for double the lemon flavor.
Vanilla and Salt add flavor and help to make the filling and crust taste incredible.
Eggs provide the base for our filling. We use four large eggs.
My Best Tips for Making Lemon Bars
We're picky when it comes to crusts (pie crust is a great example). For the best lemon bar crust, we have a few easy tips for you:
Add extra flavor to the crust. Mixing the sugar in the crust with lemon zest, vanilla extract and a tiny pop of salt makes the crust delicious enough to stand on its own and even more wonderful with the lemon topping.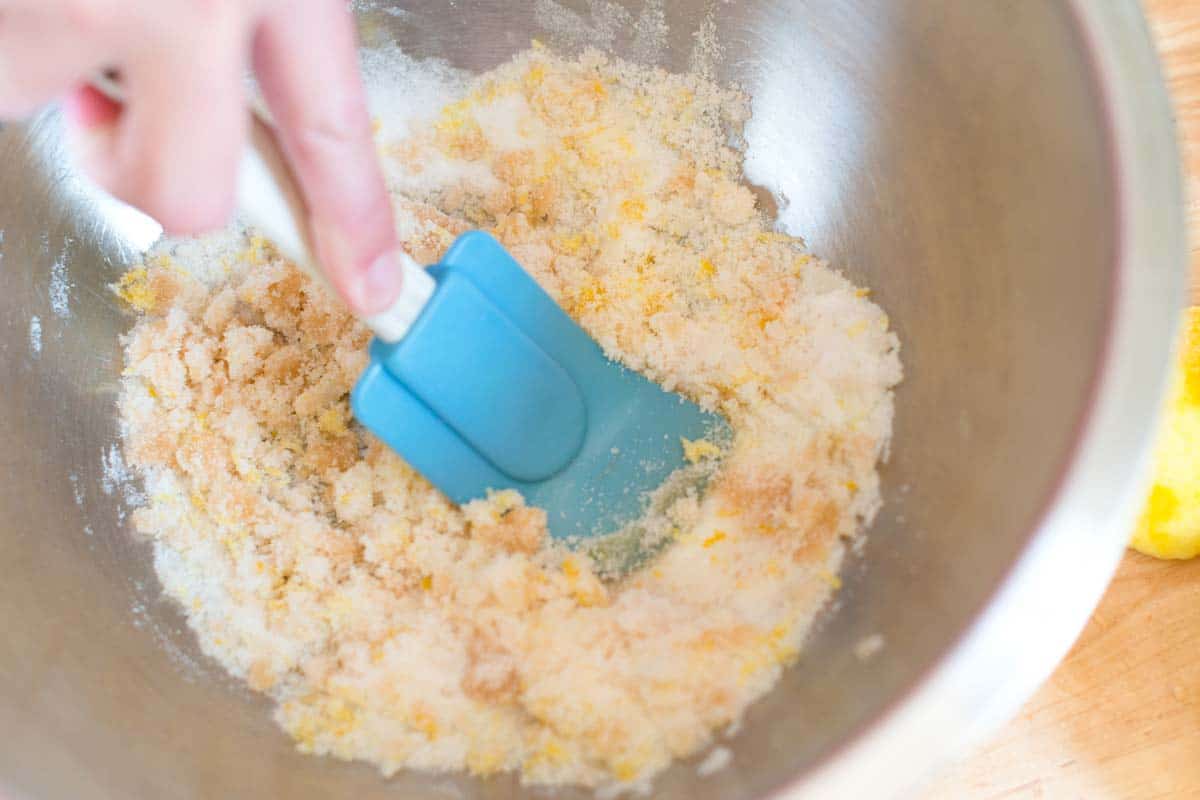 Use melted butter, not softened butter. The crust in most lemon bars usually starts with creaming or rubbing softened butter with a mixture of flour and sugar. Instead of softened butter, I prefer to use melted butter.
Making the crust with melted butter rather than softened keeps it crisp and perfectly contrasted to the creamy, lemon filling on top. Melted butter makes the texture amazing and bonus, it makes the bars easier to make.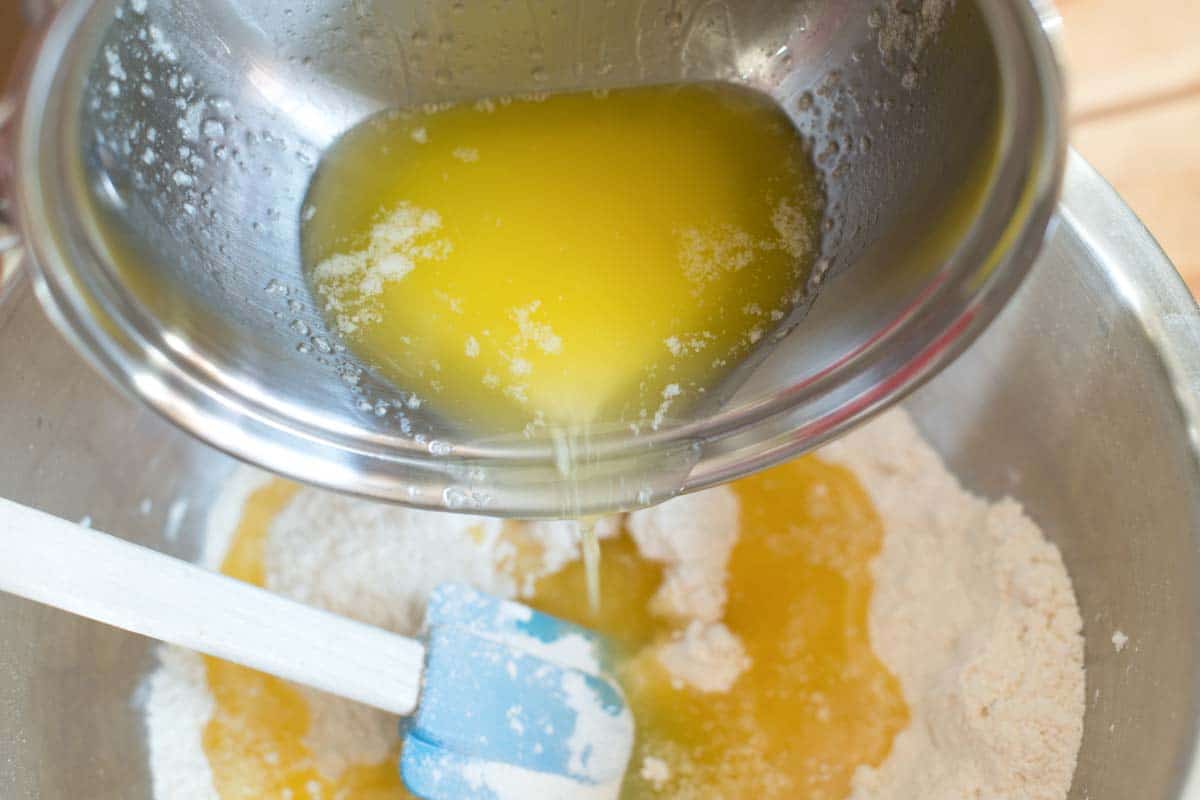 Chill the crust before baking. Just like when we make pie crust, we've found that chilling the crust until firm (about 5 minutes in the freezer) helps achieve the best texture. Instead of puffing up and then shrinking in the pan, a chilled crust crisps, browns and becomes perfectly crunchy.
It's also a good idea to prick the bottom of the crust all over with a fork before baking — this also helps to prevent the dough from puffing up then shrinking.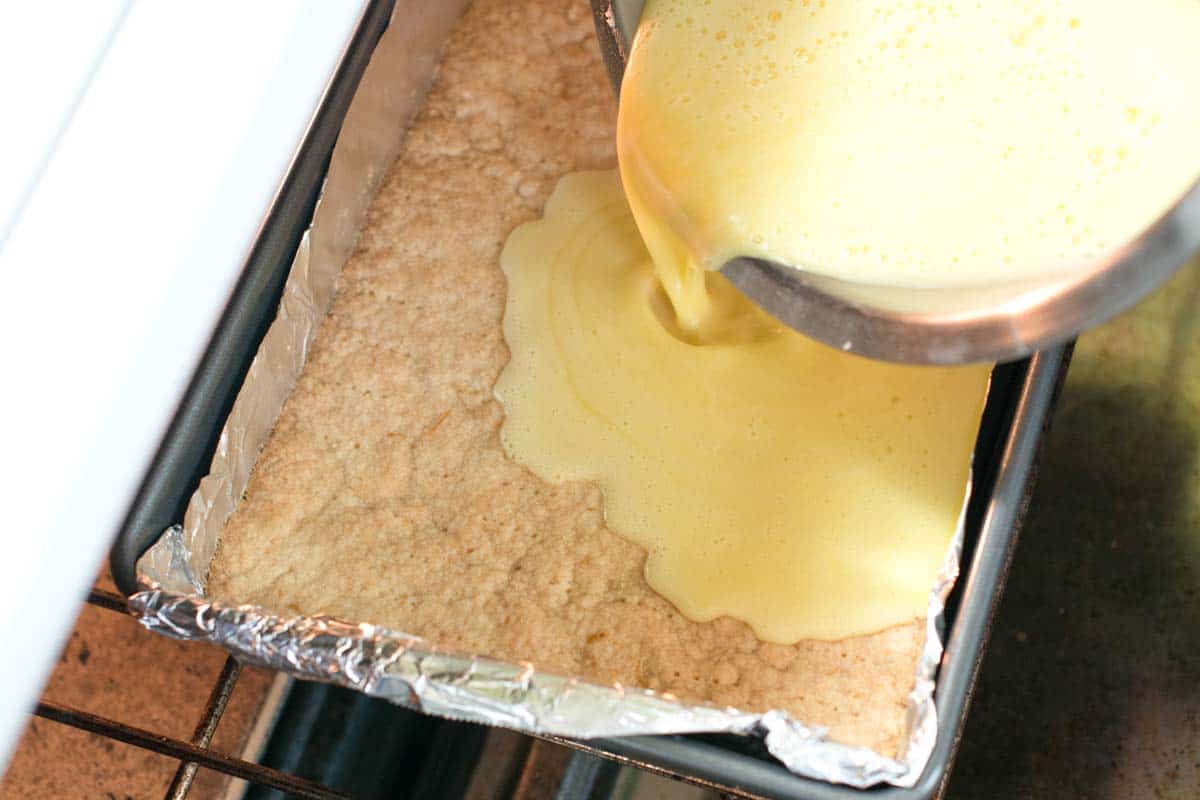 Taste the lemons for sourness. We love a tart lemon bar, but do think you can overdo it. Lemons vary in how sour they are, so go ahead and taste the lemons before using them. If we notice our lemons are unusually sour, we'll add a bit more sugar to the filling. If they are on the sweeter side, we'll pull back the sugar a little.
How to Store Lemon Bars
Since we love lemon bars so much, we will sometimes make a batch for just the two of us. To keep the extra bars fresh, we keep the baked and cut bars in the refrigerator. They last up to 4 days that way.
What Our Readers Are Saying
If I haven't convinced you to make these easy lemon bars, take a look at what our readers have been saying about the recipe:
"By far the best lemon bars I have ever tasted; homemade or pastry shop made!!" – Danette

"Perfect combo of a tart and creamy lemon top and a sweet and crunchy crust." – Shanese

"These are AMAZING! Everyone loved them! They were all fighting over who got to take the leftovers home. A lot of people always comment on how good the lemon filling is, which is fantastic BUT the crust for this is PERFECT!! You could honestly eat it on its own! BEST lemon bar recipe ever!!!!!" – Jessica
You May Also Like These Recipes
Recipe updated, originally posted June 2014. Since posting this in 2014, we have tweaked the recipe to be more clear. – Adam and Joanne
Easy Lemon Bars with Buttery Crust
These easy lemon bars have the most delicious buttery crust and a creamy, tart lemon topping. Making the crust with melted butter rather than softened keeps it crisp and perfectly contrasted to the creamy, lemon filling on top. Don't skip chilling the crust before baking, it really helps keep the crust crisp and crunchy. Lemons can vary when it comes to how sour they are. We like to taste our lemons to check for sourness. If they are really sour, we might consider adding a little extra sugar to the filling. Alternatively, if they are sweeter than usual, we'll pull back the sugar amount (2 to 4 tablespoons should do it).
You Will Need
Shortbread Crust
12 tablespoons (170 grams) unsalted butter, melted and cooled
1/2 cup (100 grams) granulated sugar
1 teaspoon lemon zest
1/2 teaspoon kosher salt
1 teaspoon vanilla extract
2 cups (250 grams) all-purpose flour
Lemon Topping
1 1/2 cups (300 grams) granulated sugar
3 tablespoons (25 grams) all-purpose flour
1/4 teaspoon fine sea salt
2 teaspoons lemon zest
4 large eggs
3/4 cup (180 ml) freshly squeezed lemon juice, from 4 to 5 lemons
1 to 2 tablespoons powdered sugar, for sifting tops of bars
Directions
Make Crust

1Line a straight-sided 13 x 9-inch metal baking pan with foil, leaving an overhang on two opposite sides. (This will help when it comes to removing the cooled bars from the pan). Lightly coat the sides of the foil, but not the bottom, with non-stick cooking spray or extra melted butter to prevent the lemon topping from sticking.

2In a medium bowl, use a spatula to stir and press the sugar, salt, lemon zest, and the vanilla extract together until it looks moist and is fragrant. Stir in the flour and melted butter until a crumbly, stiff dough forms.

3Press the dough evenly into the bottom of the prepared baking pan (it may not look like enough dough at first, but it will cover the bottom nicely). Prick the dough with a fork all over to prevent air bubbles while baking. Freeze dough for 5 minutes, or until firm (or refrigerate for 30 minutes).
Bake Crust

1Position an oven rack near the center of the oven and heat the oven to 325 degrees F. Bake the crust until lightly golden brown and set, 25 to 30 minutes.
Prepare Topping

1While the crust bakes, stir the sugar, flour, salt and lemon zest together. Whisk in the eggs until smooth then whisk in the lemon juice.
To Finish

1Once the crust has baked, pour the lemon topping over the hot crust. Return the pan to the oven and increase the oven temperature to 350 degrees Fahrenheit. Bake until the topping is set in the center and it no longer wiggles when the pan is moved, 20 to 25 minutes.

2Set the pan on a cooling rack and cool until the lemon bars are firm and the bottom of the pan is no longer warm, about 1 hour. (You can speed this up a little by placing the bars into the refrigerator once the pan is no longer hot).

3Once cooled, use the overhang of foil to carefully lift the bars from the pan and place on a cutting board. Peel away the foil then cut into 16 bars or 32 small bars. Sift the powdered sugar over the bars.
Adam and Joanne's Tips
Storing: If stored in the refrigerator, the bars should keep up to 4 days.
Lemon Zest: We use a rasp-style grater or microplane for the lemon zest. You'll want to zest the lemons before juicing. We call for 3 teaspoons in this recipe. Two lemons should do it.
Crust recipe inspired from Fine Cooking's shortbread crust.
Nutrition facts: The nutrition facts provided below are estimates. We have used the USDA database to calculate approximate values.
If you make this recipe, snap a photo and hashtag it #inspiredtaste — We love to see your creations on Instagram and Facebook! Find us: @inspiredtaste
Nutrition Per Serving
Serving Size
1 bar
/
Calories
260
/
Protein
4 g
/
Carbohydrate
40 g
/
Dietary Fiber
1 g
/
Total Sugars
25 g
/
Total Fat
10 g
/
Saturated Fat
6 g
/
Cholesterol
69 mg