We love this turkey chili recipe! It is delicious, easy to make, and features juicy ground turkey, black beans, and a smoky, savory blend of spices that add so much flavor. Plus, it's ready in under an hour. It's one of my favorite healthy ground turkey recipes!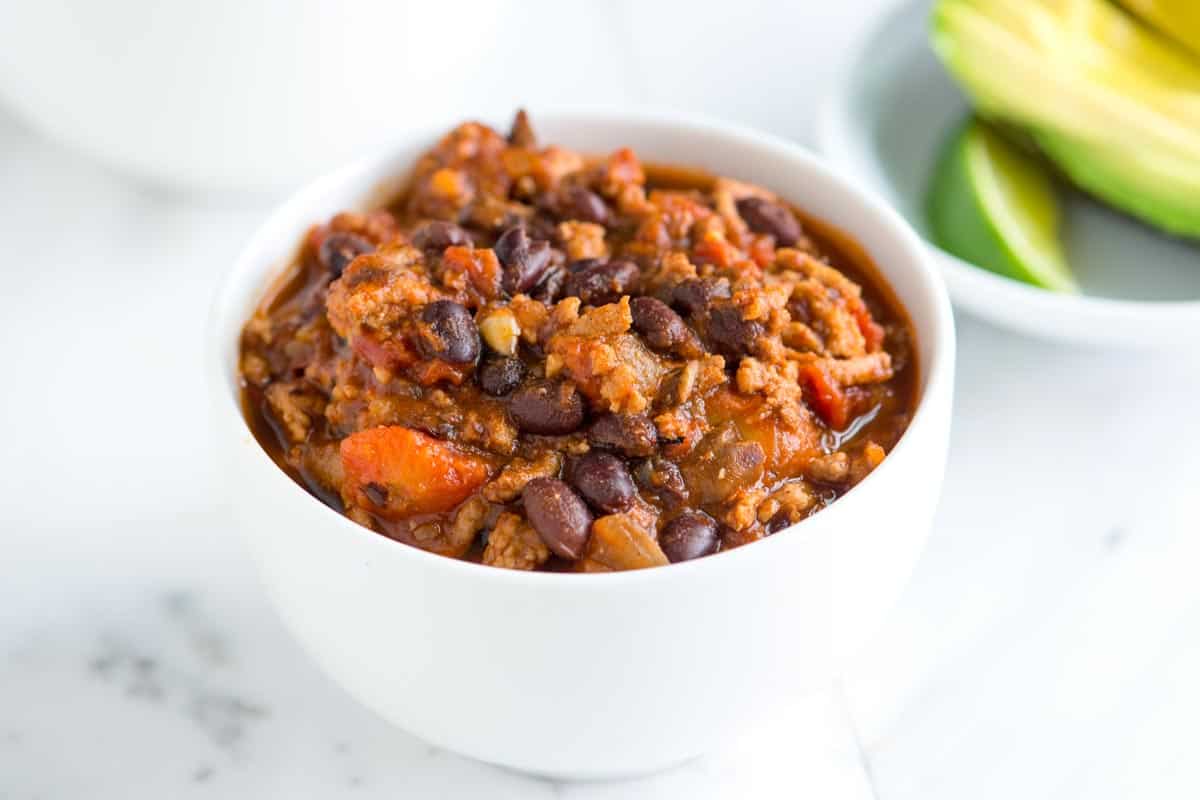 Related: Try our seriously good vegetarian chili with sweet potatoes and beans.
Turkey Chili Recipe Ingredients
To make this turkey chili recipe, you'll need these main ingredients:
Ground turkey – This chili is one of my favorite ways to use ground turkey (I also love these turkey burgers). I like to buy ground turkey with a bit of fat since it's more flavorful, tender, and juicy. Look for 7% to 10% fat. You can also use shredded cooked turkey, so if you're looking for ways to use leftover roasted turkey, shred it and use it in this recipe. Other ground meats like beef and chicken work, too.
Black beans – Unless it's Texas chili, we always add beans to our chili recipes. I love how they bulk up the chili and make it extra satisfying. For this turkey chili, we use black beans, but other beans like pinto or kidney beans are excellent. Since this is a quicker recipe, use cooked or canned beans.
Onions, mushrooms, and garlic – Onions and garlic are pretty standard, but the mushrooms are a game-changer in this recipe. Turkey can be a bit bland, but throw some umami-packed mushrooms in there, and you've really bumped up the flavor. We chop the mushrooms small, so if you aren't a fan of them, you won't notice them in the chili once it's all cooked.
Spices – We use ancho chili powder, cumin, and cinnamon in our recipe for turkey chili. Ancho chili powder tastes more sweet and rich than plain chili powder. That said, you can substitute other chili powders in this recipe (just watch for chipotle chili powder, which is spicy).
Tomatoes and broth (or water) – One can of tomatoes and some extra liquid does a great job adding moisture and creating a gravy for this chili. I use whole peeled tomatoes and break them up with my spoon right in the pan. If you have broth on hand, use it; otherwise, water works fine.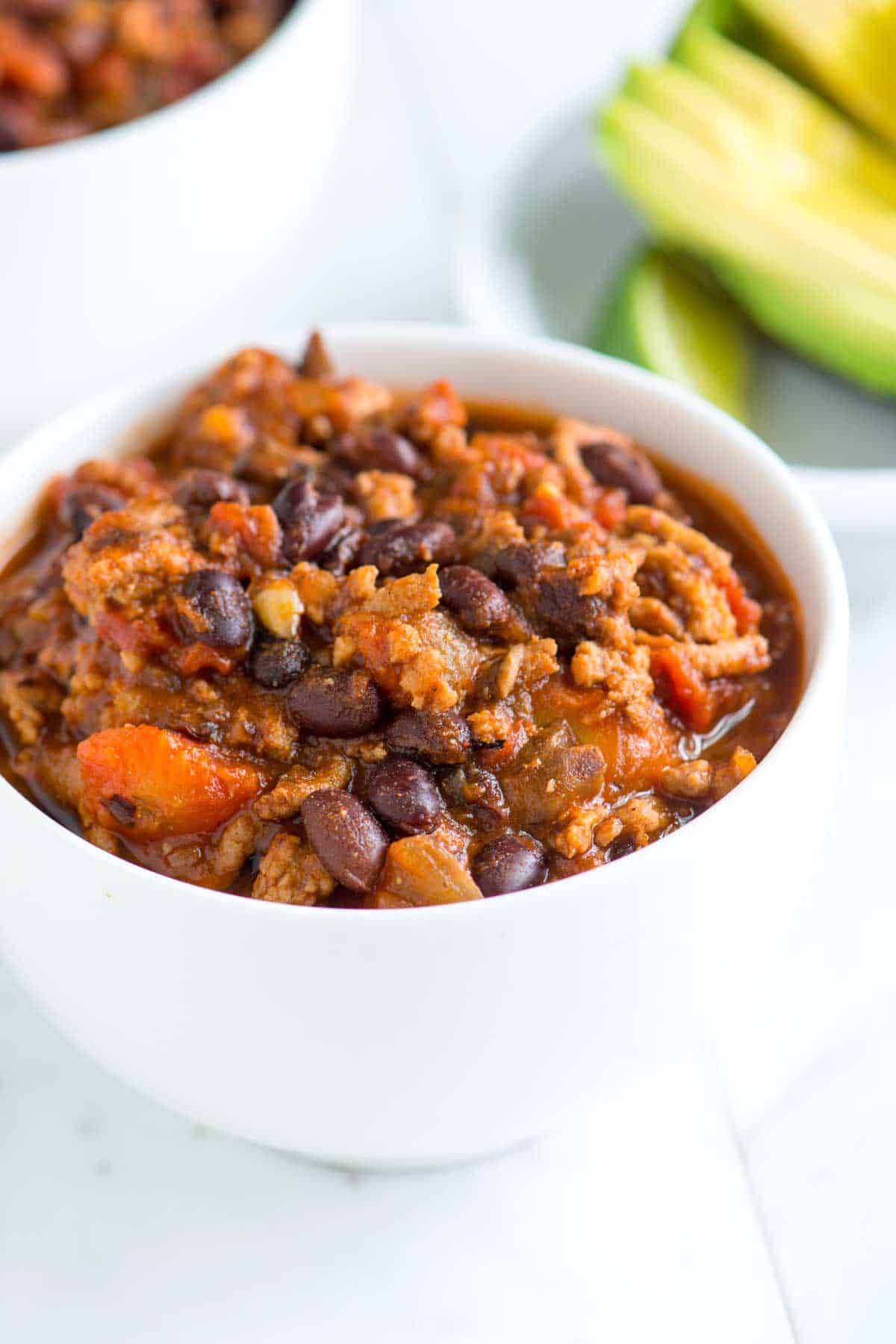 How to Make the Best Turkey Chili
To make the chili, start with sweet onions and savory mushrooms. Once the onions and mushrooms are soft and lightly browned, we add ground turkey and cook, gently breaking the meat apart with a spoon until crumbly and golden brown.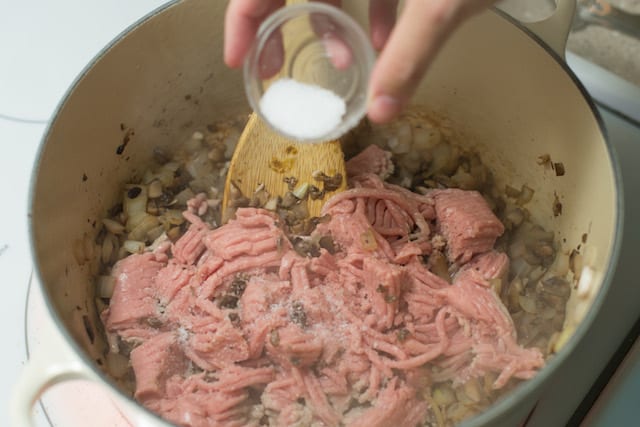 Next, add a hefty dusting of ancho chili powder, cumin, a dash of cinnamon, and garlic. Everything toasts for a minute or two — the kitchen smells fantastic — and we add the last few ingredients: tomatoes, a little broth or water, and black beans. After 20 minutes of simmering, your turkey chili is ready.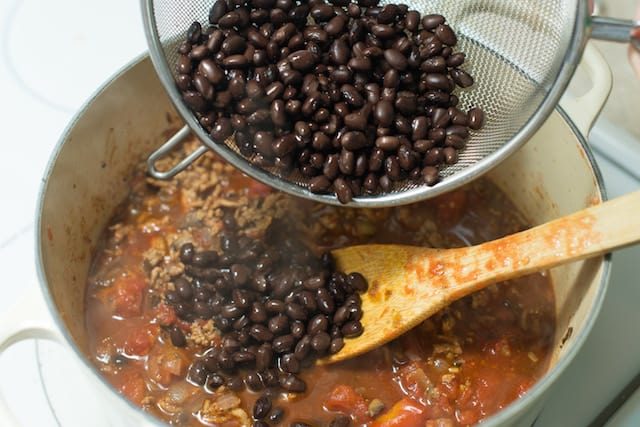 I love (repeat LOVE) serving chili with cornbread. Here's our favorite cornbread recipe so you can take a look.
Storing Tips
One of the best things about this chili — if not most chili recipes — is that it gets better and better over time. So this recipe is also excellent for making in advance. Refrigerate homemade turkey chili for up to 4 days or freeze for up to six months.
More Recipes with Ground Turkey
Our Best Homemade Turkey Chili
This healthy turkey chili is a win-win. It makes it to the table in less than an hour and tastes fantastic. Ground turkey is browned for flavor and then simmered with savory mushrooms, onion, and ancho chili powder. The chili is excellent immediately but gets even better over the next few days.
Makes 4 generous servings
You Will Need
1 tablespoon extra-virgin olive oil
1 medium onion, finely chopped
8 ounces crimini or baby bella mushrooms, finely chopped (15 to 20 medium mushrooms)
1 pound ground turkey, 7% to 10% fat
3 garlic cloves, minced
1 ½ tablespoons ancho chili powder or this homemade chili powder
1 teaspoon ground cumin
1/8 teaspoon ground cinnamon, optional
1 (28-ounce) can whole tomatoes
3/4 cup water or chicken broth
1 (15-ounce) can black beans, drained and rinsed or 1 &frac12 cups cooked black beans
Salt and fresh ground black pepper
Pinch cayenne pepper, optional for heat
Directions
1Heat the oil in a large, deep pot over medium heat. Add the onions and mushrooms, and cook, stirring occasionally, until they are tender and some edges brown, about 7 minutes.

2Add the ground turkey and season generously with salt and pepper. Cook, breaking up the meat into crumbles until most of it has browned, about 10 minutes.

3Stir in the garlic, chili powder, cumin, and the cinnamon. Cook until the garlic and spices begin to toast, about 2 minutes.

4Meanwhile, open the can of tomatoes, pour them into a bowl, and use kitchen shears or your hand to break them apart into smaller pieces — the size is up to you; we like leaving some chunky bits.

5Add the tomatoes with all the juice, water (or broth), and the rinsed beans to the pot. Stir, then bring to a simmer. Taste the chili, then add salt, pepper, and chili powder to your taste. If you enjoy spicy chili, consider adding a pinch or two of cayenne pepper.

6Reduce to a low simmer and cook until the liquid has reduced and chili has thickened; about 20 minutes.
Adam and Joanne's Tips
Ancho chili powder is dried, ground ancho peppers, while generic "chili powder" is usually a blend of ground chilies and other spices. Ancho chili powder is on the milder, sweet side. It's incredibly rich in flavor and works beautifully in this chili, dusted onto meats or tossed with vegetables and roasted. There are a variety of options for buying. For this recipe, we used ancho chili powder from McCormick. Feel free to substitute other chili powders in this recipe. If you switch things up a bit, add the chili powder slowly and taste how spicy it makes the chili. Amounts might vary.
Spicy chili: Add hot sauce, 1/4 to 1 teaspoon cayenne pepper, or 1 to 2 tablespoons chipotle in adobo puree to taste.
Optional toppings: Avocado, sour cream, shredded cheese, tortilla chips, sliced green onion
Nutrition Facts: The nutrition facts provided below are estimates. We have used the USDA database to calculate approximate values.
If you make this recipe, snap a photo and hashtag it #inspiredtaste — We love to see your creations on Instagram and Facebook! Find us: @inspiredtaste
Nutrition Per Serving
Calories
360
/
Protein
38 g
/
Carbohydrate
40 g
/
Dietary Fiber
15 g
/
Total Sugars
8 g
/
Total Fat
7 g
/
Saturated Fat
1 g
/
Cholesterol
56 mg