Our favorite chicken salad recipe combines tender chicken, celery, nuts, dried fruit, and a simple creamy dressing. This easy salad tastes great straight away but improves over time, making it an excellent option for meal-prepping.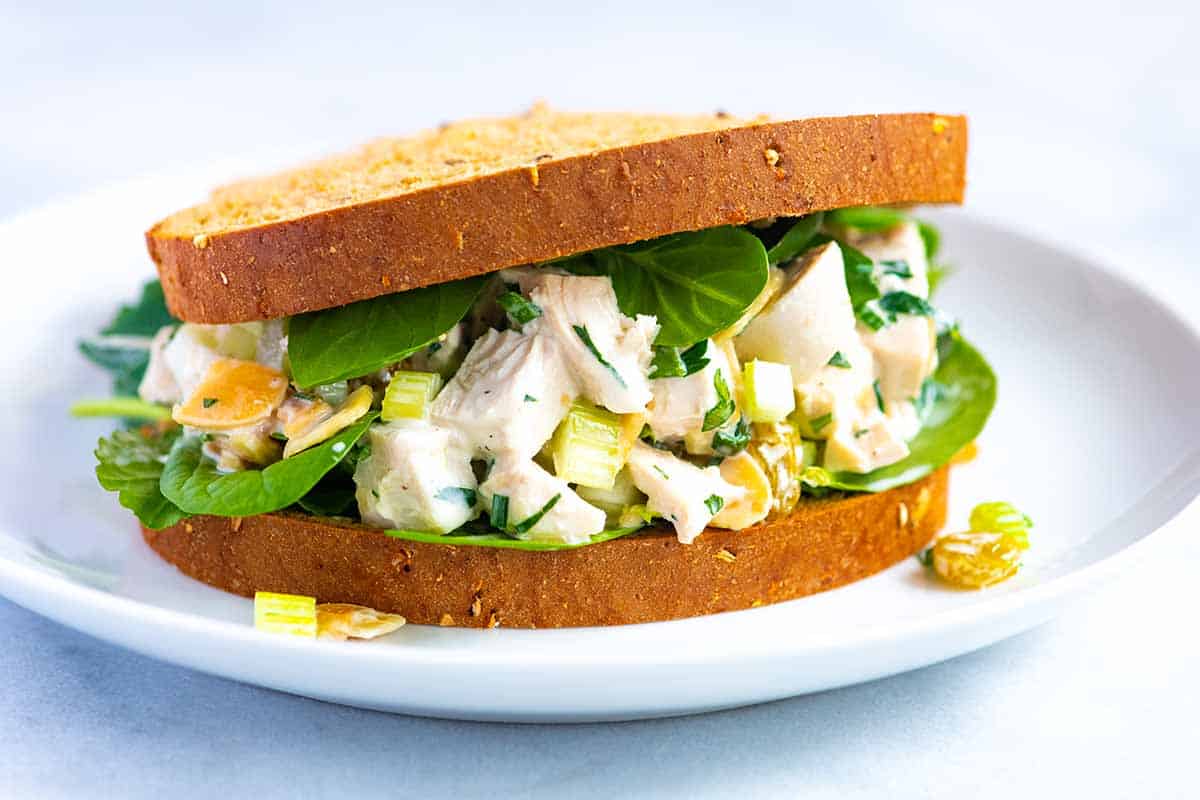 How to Make the Best Chicken Salad
I love this creamy chicken salad, especially the crunchy nuts and dried fruit. It's also quick to make and lasts a few days in the fridge. So let's quickly walk through our tips for making it — the detailed recipe is below.
First things first, we'll need some cooked chicken. For this salad, you can use store-bought rotisserie chicken, leftover chicken, or cook your own using one of these easy methods:
Poached chicken — Our recipe takes 25 minutes, and makes tender, flavorful chicken.
Simmered whole chicken — We love this one, you achieve the most tender chicken and a delicious chicken broth to be used in other recipes.
Whole roasted chicken — This is a classic recipe with lemon and garlic.
In addition to the chicken, we pull together some chopped celery, nuts or seeds (like sliced almonds or sunflower seeds), dried fruit (like raisins or cranberries), and our go-to chicken salad dressing.
Related: Our Favorite Tuna Salad
Creamy Chicken Salad Dressing
The dressing for this salad couldn't get much easier. Combine mayonnaise with a bit of fresh lemon juice, Dijon mustard, salt, and pepper. Then, for a bit more flavor, add a dash of toasted sesame oil (Adam's favorite) or stir in some jam to sweeten things up.
Swap the mayonnaise for plain Greek yogurt if you want a mayo-free salad. It tastes a bit more tangy but will still taste great. We also have an egg-free mayonnaise recipe, if you are interested.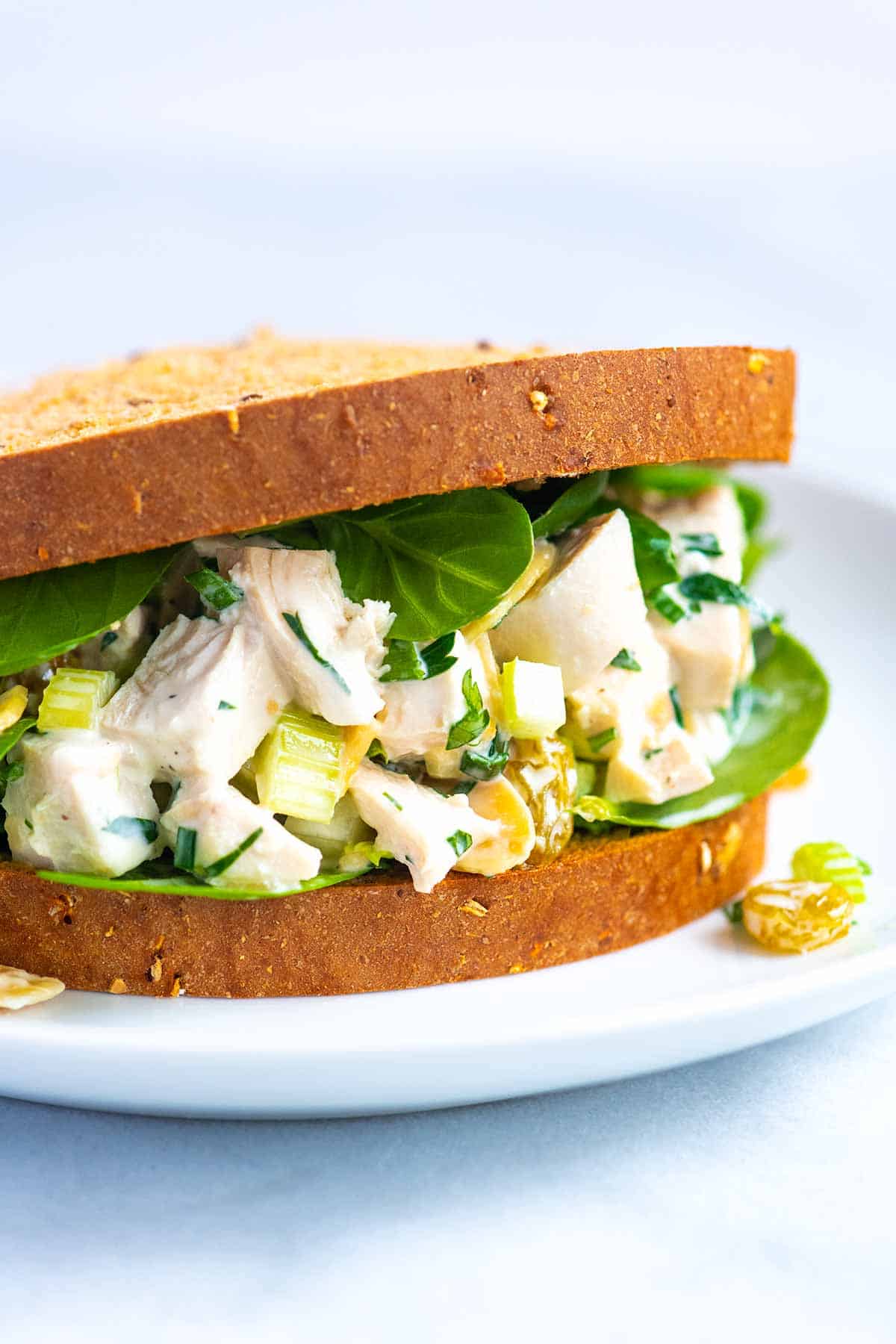 Related: If you love fresh herbs, try our easy herbed chicken salad. It's delicious!
How to Store Chicken Salad
When stored properly, chicken salad stays in the refrigerator for 3 to 4 days, which is excellent news because, as I mentioned above, the salad tastes great the moment you make it, but give it a day in the fridge, and it tastes even better. We keep the salad tightly covered in a glass container.
Our Favorite Chicken Salad
I love this creamy chicken salad, especially the crunchy nuts and dried fruit. It's also quick to make and lasts a few days in the fridge. We highly recommend the toasted sesame oil — it adds a lovely umami flavor to the dressing. A little goes a long way, so only add a few dashes (not more than a 1/4 teaspoon).
When we have the time, we poach chicken breasts for this salad. Here's our detailed recipe for how we poach chicken.
Makes about 8 (1/2) cup servings
You Will Need
For the Salad
3 cups (480 grams) chopped or shredded cooked chicken, see our recipe for perfect poached chicken
1 cup (120 grams) chopped celery
4 tablespoons chopped fresh herbs like chives, parsley, and basil
1/4 cup (40 grams) lightly toasted nuts like sliced almonds, walnuts, pecans or pine nuts
1/4 cup (40 grams) dried fruit like golden raisins, cranberries, dates, or blueberries
For the Dressing
1/2 cup (110 grams) mayonnaise, see our homemade mayo recipe
2 tablespoons fresh lemon juice
1 teaspoon Dijon mustard
1/2 teaspoon fine sea salt, plus more to taste
1/4 teaspoon fresh ground black pepper
2 to 4 small dashes toasted sesame oil (scant 1/4 teaspoon), optional
1 to 2 teaspoons jam, optional
Directions
1Combine the chicken, celery, herbs, nuts, dried fruit, and fresh fruit (if using) in a medium mixing bowl.

2In another small bowl, stir the mayonnaise, lemon juice, mustard, salt, and black pepper together. Taste, then add the optional ingredients. Toasted sesame oil adds umami (a little goes a long way), and the jam sweetens the dressing.

3Toss the dressing with the salad. Taste, then adjust with more salt and pepper. Store, covered tightly, in the refrigerator for 3 to 4 days.
Adam and Joanne's Tips
In addition to or as a substitute for the dried fruit, add a handful of fresh fruit like halved grapes or chopped apples.
For a lighter chicken salad, swap the mayonnaise for light mayo or use plain or Greek yogurt.
Nutrition facts: The nutrition facts provided below are estimates. We have used the USDA database to calculate approximate values.
If you make this recipe, snap a photo and hashtag it #inspiredtaste — We love to see your creations on Instagram and Facebook! Find us: @inspiredtaste
Nutrition Per Serving
Serving Size
1/2 cup
/
Calories
197
/
Total Fat
13.4g
/
Saturated Fat
2.1g
/
Cholesterol
47.1mg
/
Sodium
269.9mg
/
Total Carbohydrate
5.2g
/
Dietary Fiber
0.9g
/
Total Sugars
3.2g
/
Protein
13.9g
More Easy Salads