Say hello to our best easy chili recipe with ground beef and beans cooked in an intensely flavorful, spiced sauce. With our easy recipe, you can make a pot of delicious chili in about one hour!
Watch the Video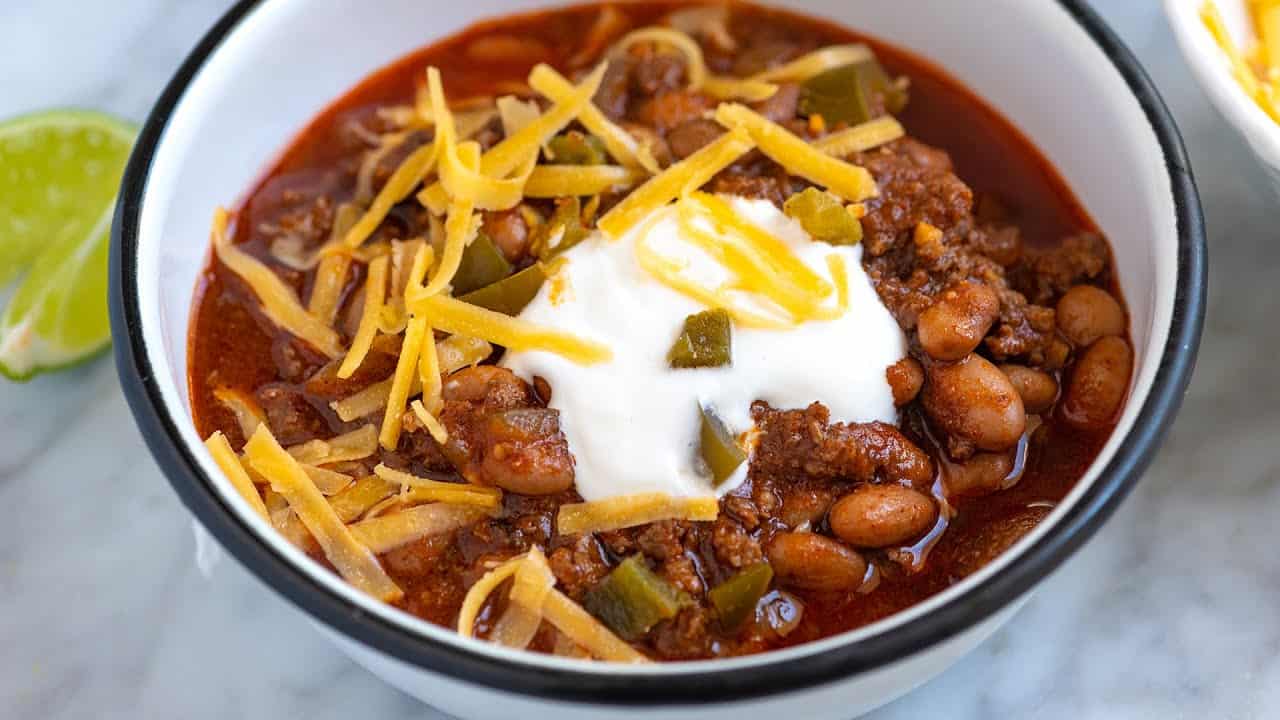 Related: For a vegetarian option we love this chili recipe!
It's hard to believe you can make chili so flavorful with just a little prep time and simple ingredients, but trust me, you can! With our perfect blend of spices, you can make some of the best homemade chili you've ever had. For something a little different, try our white bean chicken chili!
How to Make the Best Homemade Chili
Making chili at home is simple. To give you a better idea, here are the basic steps. The full recipe is below.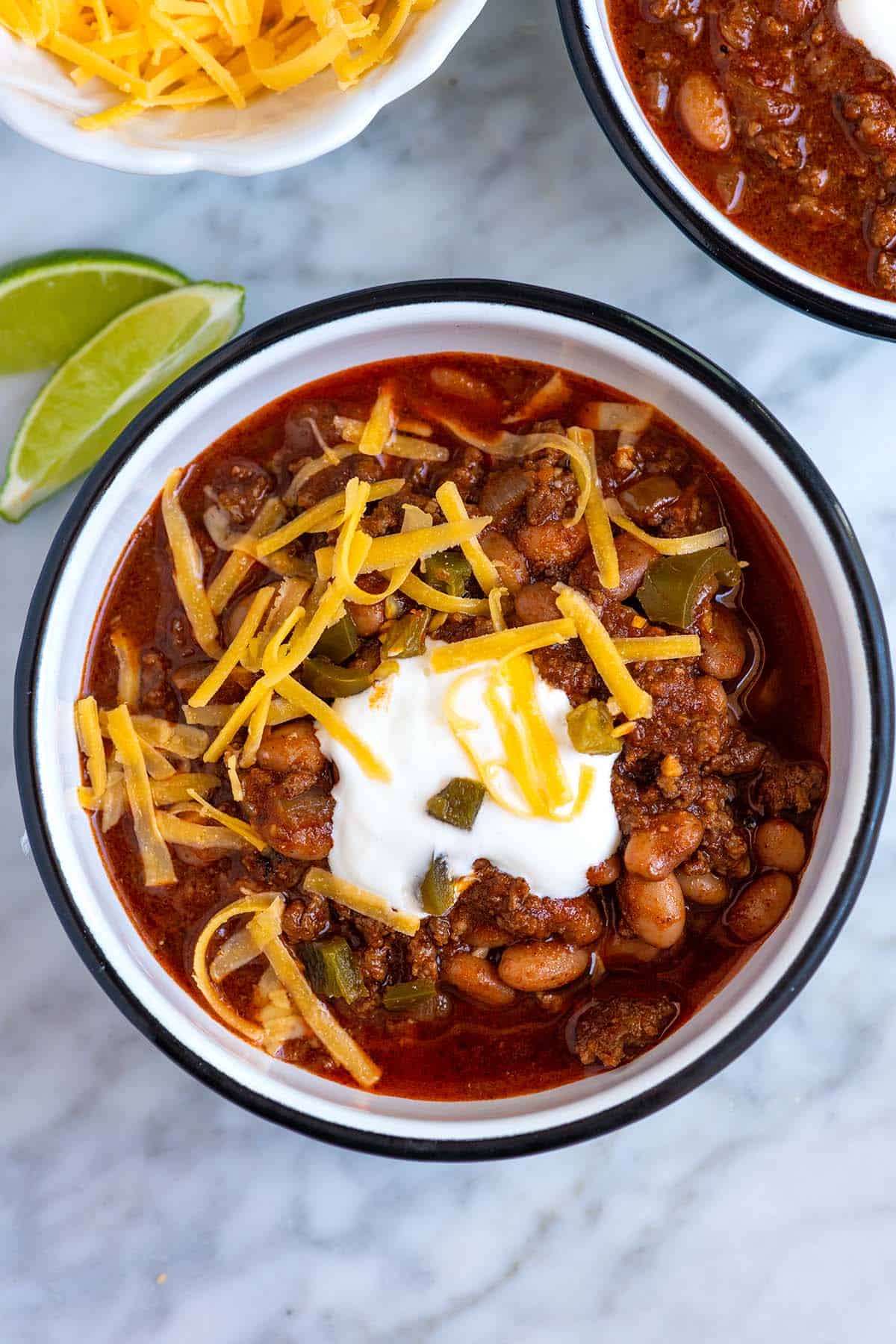 What Ingredients Are Needed to Make Chili
The full recipe with all the ingredients you will need to make our chili recipe is below, but let me answer a few frequently asked questions about them.
What spices are in chili? Talk to any chili connoisseur, and they probably have a secret blend of spices they add to their chili. We do too, but the good news is that it's not a secret! Here are the spices we add: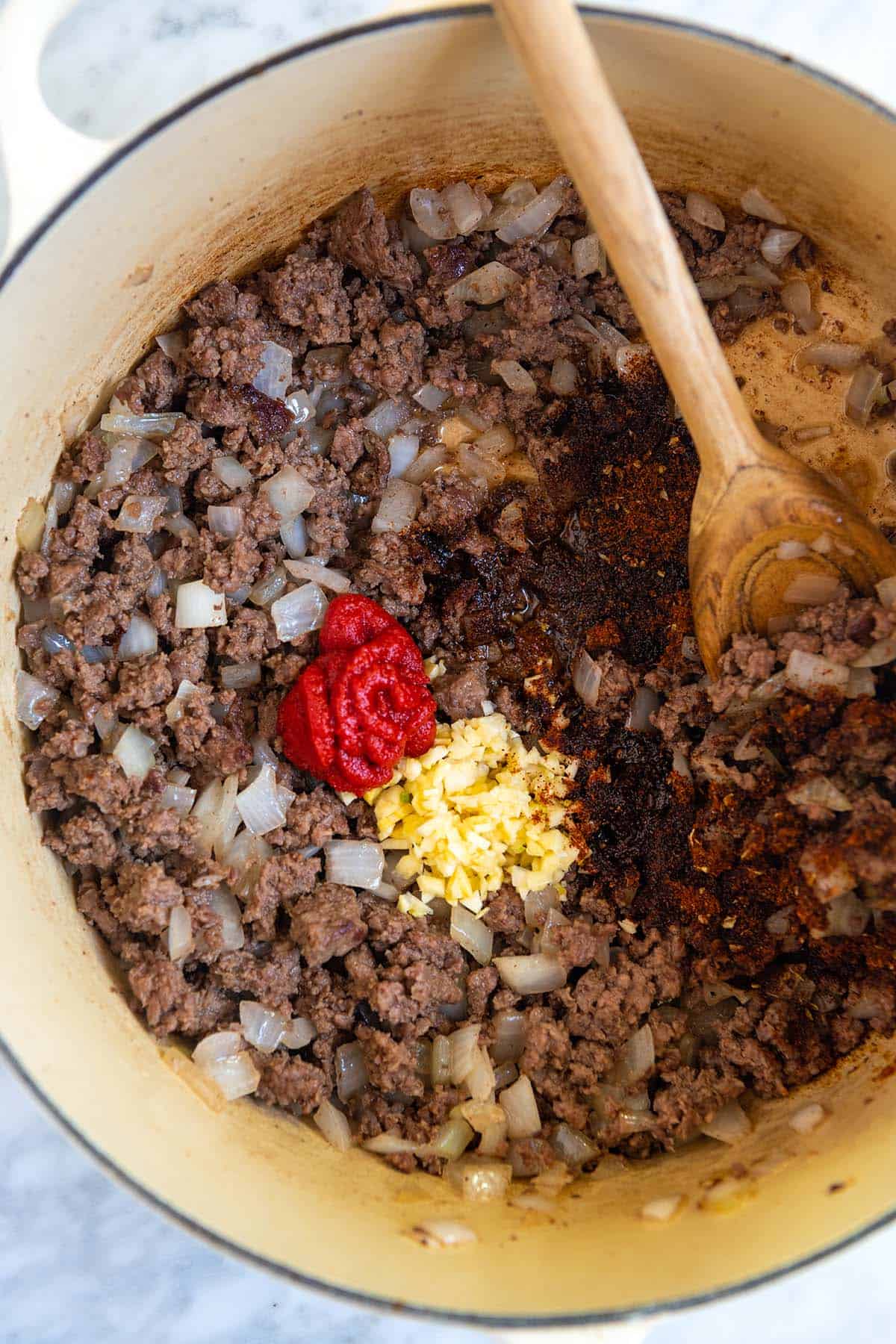 Why do you add pureed tomatoes instead of tomato sauce?
We've made this recipe with pureed tomatoes, tomato sauce, and diced tomatoes and find the pureed tomatoes make the best chili. Use what you have, but if you have the option to use pureed tomatoes, do it. You won't regret it. Since I rarely (if ever) have seen smaller 15-ounce cans of pureed tomatoes, I blend a can of diced tomatoes in my food processor or blender.
Is the masa required to make chili?
We love the gentle corn flavor that masa provides the chili, but if you don't have any at home, you can leave it out or swap the tablespoon of masa for one or two small corn tortillas.
Tear the tortillas into small pieces and stir them into the chili. After a minute or so, the tortillas will disintegrate into the chili. If you have never bought masa before, take a look at our recipe for homemade corn tortillas. We talk all about it there.
Do I have to use ground beef to make chili?
No, not at all! We took photos of beef chili, but this recipe works just as well with other ground meat. Chicken, turkey, pork, goat, and lamb are all fine. I prefer using ground meat with some fat, so when using leaner meats (like chicken or turkey), look for 10% to 20% fat. Chicken or turkey breast will work, but it will be dry.
If you were hoping to make a meatless chili, take a look at our black bean and quinoa chili or substitute the ground meat with a ground plant-based option.
Do I have to add the beans?
We love this chili with beans, but if you prefer your chili without beans, leave them out. You might want to increase the amount of ground meat a bit, though. I'd use 1 ½ to 2 pounds instead of the amount that's called for in our recipe below. For a chili made without beans, try this red beef chili.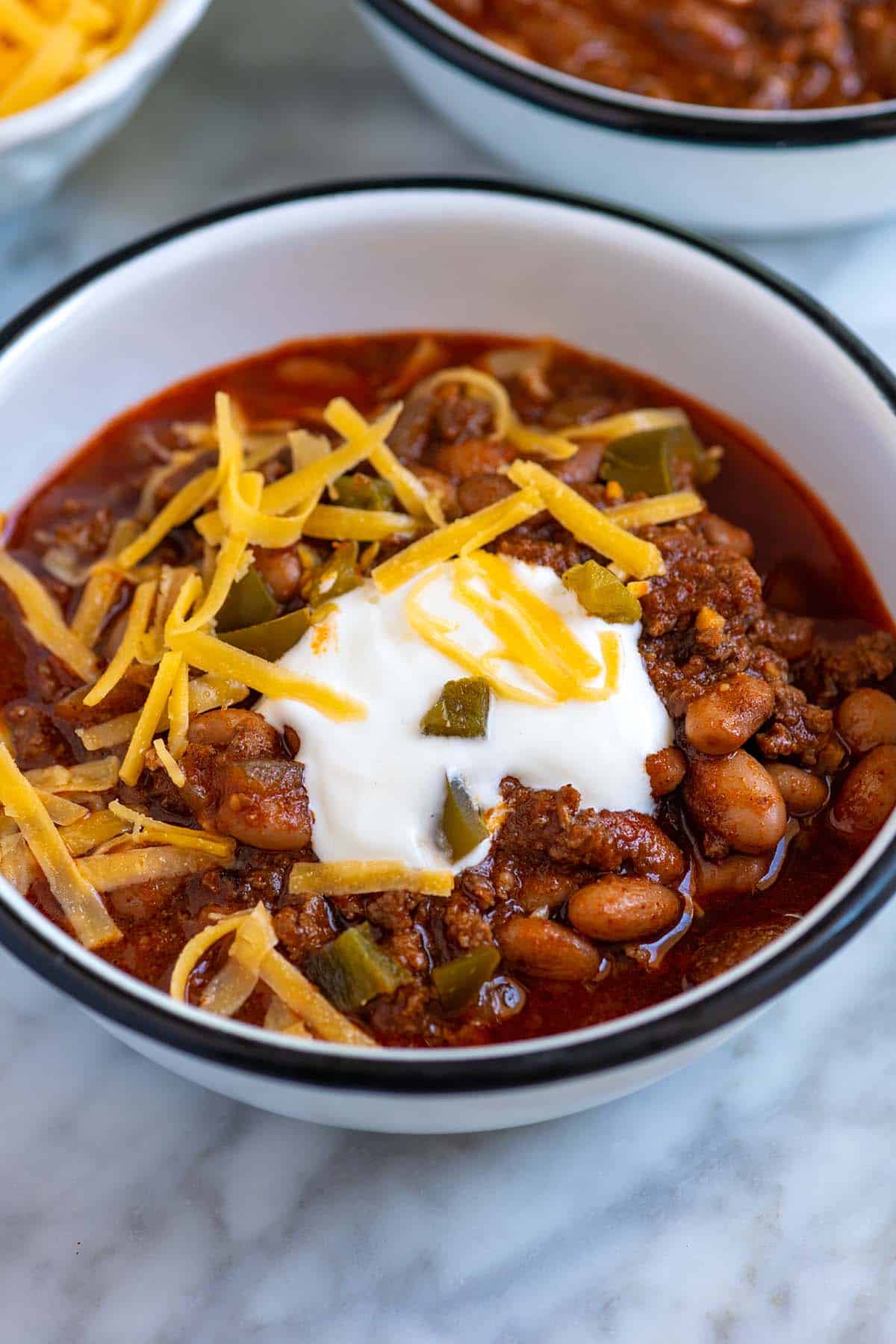 What to Serve with Chili
Thanks to the beans, this chili is a meal on its own, but you can always add a few more things to make it extra special.
As for topping the chili, try shredded or crumbled cheese, chopped onion, sour cream, avocado, guacamole, pickled jalapeños, or pickled onions.
For sides that work well with chili, try:
Make Ahead and Storing Tips
Chili is perfect for making in advance. Store the chili in airtight containers and then refrigerate for up to 4 days in the refrigerator and for up to 6 months in the freezer.
More Chili Recipes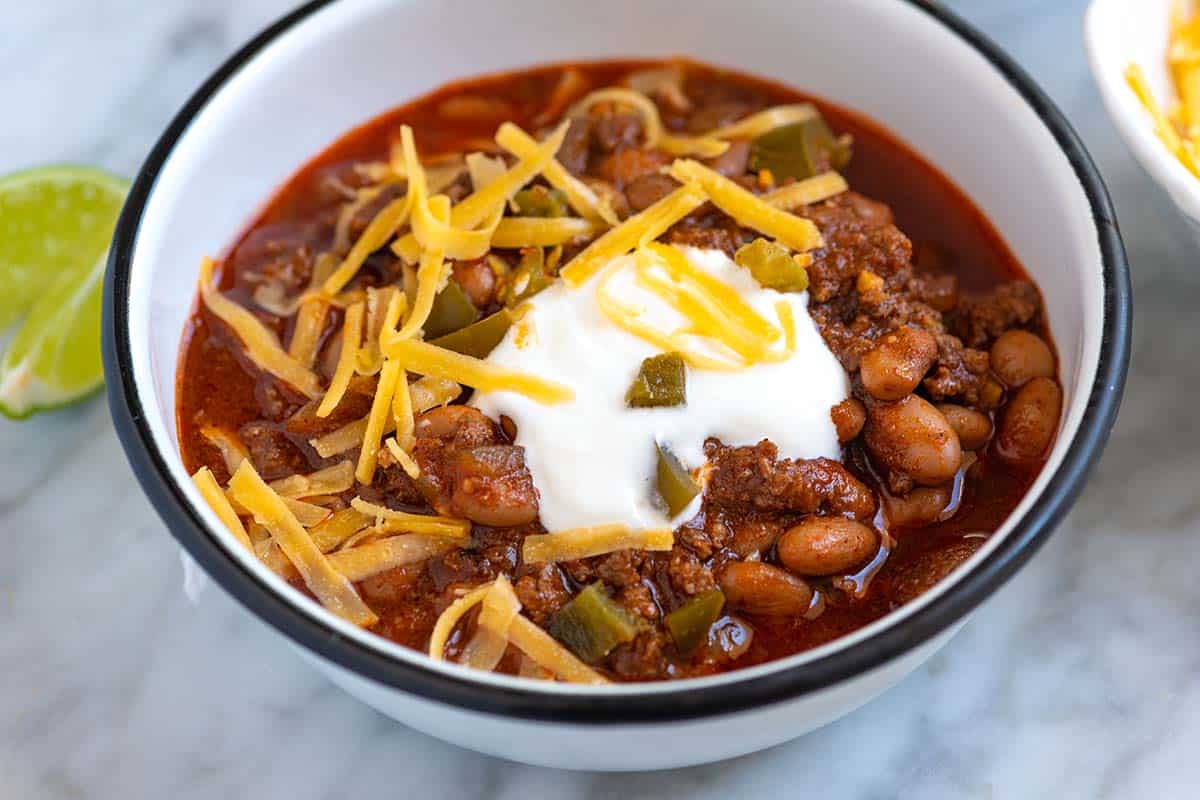 The Best Easy Homemade Chili
Our favorite chili recipe combines ground beef and beans with an intensely flavorful, spiced sauce. With our easy recipe, you can make a pot of delicious chili in about one hour. Feel free to swap the beef for another ground meat like turkey, chicken, or pork. We recommend keeping some fat in the meat, so look for ground meat with 10% to 20% fat.
Watch Us Make the Recipe
You Will Need
1 pound ground beef, 10% to 20% fat
1 large white onion, chopped
4 garlic cloves, minced, one heaping tablespoon
1 tablespoon tomato paste
1 tablespoon chili powder blend, see notes
1 tablespoon pure ancho chili powder, see notes
1 teaspoon ground cumin
1/2 teaspoon dried oregano
1/4 teaspoon cayenne or chipotle powder, optional for heat
1 (15-ounce) can diced tomatoes, pureed, see notes
1 ½ to 2 cups stock, use vegetable, chicken, or beef
1 (15-ounce) can pinto beans, drained and rinsed
1 tablespoon masa harina or 1 to 2 small corn tortillas torn into small pieces, optional
Salt, to taste, we add 1 to ½ teaspoons
Directions
1Heat one tablespoon of oil in a large pot (like a Dutch oven). Add the ground meat and flatten it down into the oil. Wait a minute or two, or until the underside of the beef has browned, and then use a wooden spoon to break the meat apart into smaller crumbles. Cook, occasionally stirring, until the meat is well browned, about 7 minutes.

2Add the onions, and cook, occasionally stirring, until they begin to sweat and soften, about 3 minutes.

3Stir in the garlic, tomato paste, chili powder, ancho chili powder, cumin, oregano, cayenne (or chipotle powder), and 1/2 teaspoon of fine sea salt. Cook for one minute.

4Pour in the tomatoes and 1 ½ cups of stock. Use a wooden spoon to scrape the bottom of the pot to lift any bits of onion or meat that's stuck. Bring the chili to a boil, reduce the heat to a simmer, and then cook, partially covered, for 15 minutes. If you notice the chili is dry, turn the heat down a little and add an extra 1/2 cup of stock.

5Taste the chili, and then add salt as needed. We typically add another 1/4 to 1/2 teaspoon but add to your taste.

6Stir in the beans and cook until they are warmed through, about 5 minutes.

7Mix the tablespoon of masa with three tablespoons of water into a smooth paste, and then stir into the chili. If you are using corn tortillas instead of the masa paste, tear the tortillas into small pieces, and then stir into the chili. After a minute or so, the tortillas will disintegrate into the chili.

8Take the chili off of the heat, and then serve.
Adam and Joanne's Tips
Chili Powder Blend vs. Ancho Chili Powder: Spice jars sold in stores labeled "chili powder" combine a few spices to make the blend. You can also use our homemade chili powder blend. We enjoy it, but find that this chili is best when we also add pure ancho chili powder. We buy McCormick's ancho chili powder. Ancho chili powder is mild, fruity, and sweet. It's completely different than the plain chili powder blend I just mentioned. We use it a lot in our recipes and highly recommend picking up a jar. You can also make your own by toasting and then blending dried ancho chilies. If you only have a chili powder blend and no ancho chili powder, leave out the ancho chili powder and use 1 ½ tablespoons of regular chili powder. Taste and adjust with more as needed.
Tomatoes: For the best texture, use pureed tomatoes. I buy one (15-ounce) can of diced tomatoes, and then blend them into a puree. If you would prefer to skip this step, use diced tomatoes or tomato sauce instead. Alternatively, you can buy a larger can of pureed tomatoes and only use about 2 cups of it.
Nutrition facts: The nutrition facts provided below are estimates. We have used the USDA database to calculate approximate values. We used 1 teaspoon of salt in our calculations and assumed a generous serving (about 1/4 of the pot).
If you make this recipe, snap a photo and hashtag it #inspiredtaste — We love to see your creations on Instagram and Facebook! Find us: @inspiredtaste
Nutrition Per Serving
Serving Size
1 generous serving (4 total)
/
Calories
417
/
Total Fat
18.5g
/
Saturated Fat
6.7g
/
Cholesterol
77.1mg
/
Sodium
1271.1mg
/
Carbohydrate
35g
/
Dietary Fiber
9.7g
/
Total Sugars
7.9g
/
Protein
29.6g