Guacamole meets the grill. Jump to the Easy Grilled Guacamole Recipe or read on to see our tips for making it.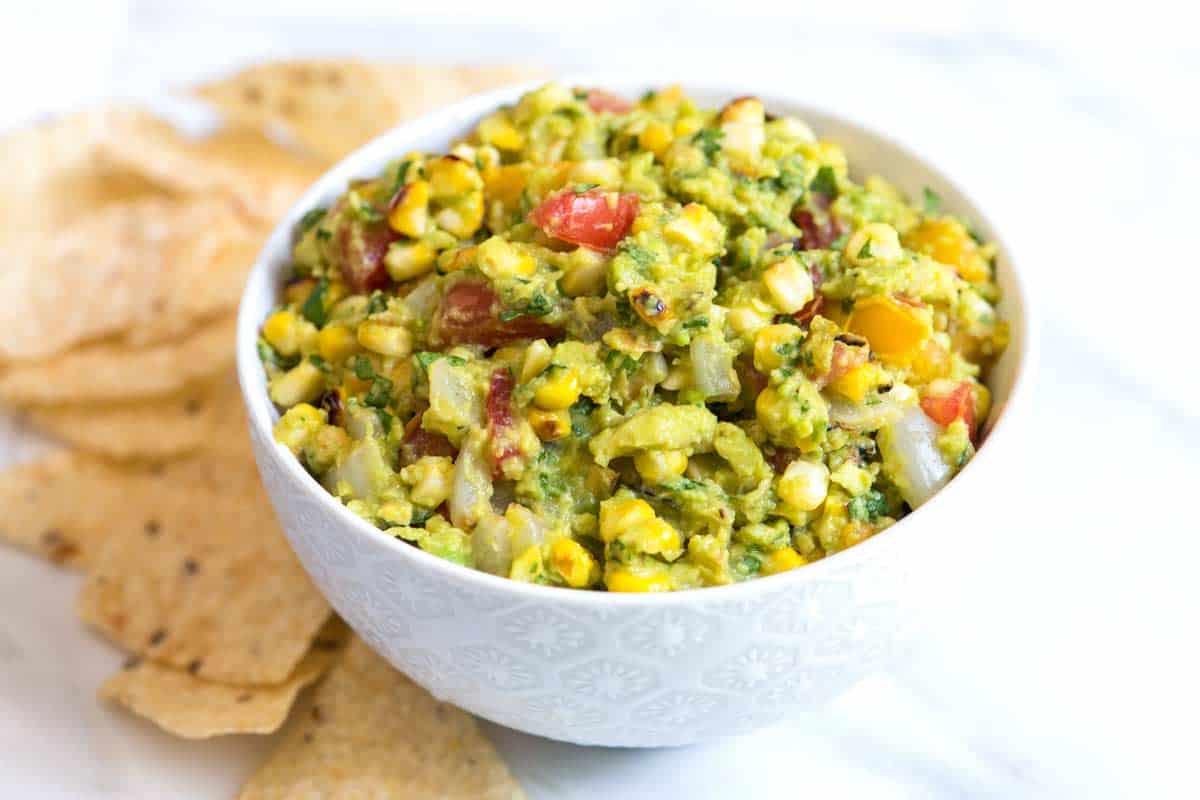 We've always been curious about what would happen if guacamole met the grill. Most days, you would find us far away from anything that fussed with the classic. But after a little nudging from a brand new barbecue, grilled guacamole starring blistered avocados, corn and jalapeños was born.
YOU MAY ALSO LIKE: Easy pasta salad recipe with a dairy-free lemon basil dressing and grilled vegetables. Jump to the Lemon Basil Pasta Salad Recipe with Veggies.
How to Make Guacamole on the Grill
Avocados are pretty delicious grilled — they become slightly sweeter, softer and look more green. We grill them unpeeled, which gives a bit more flavor. The cut side blisters and the flesh inside the shell steams.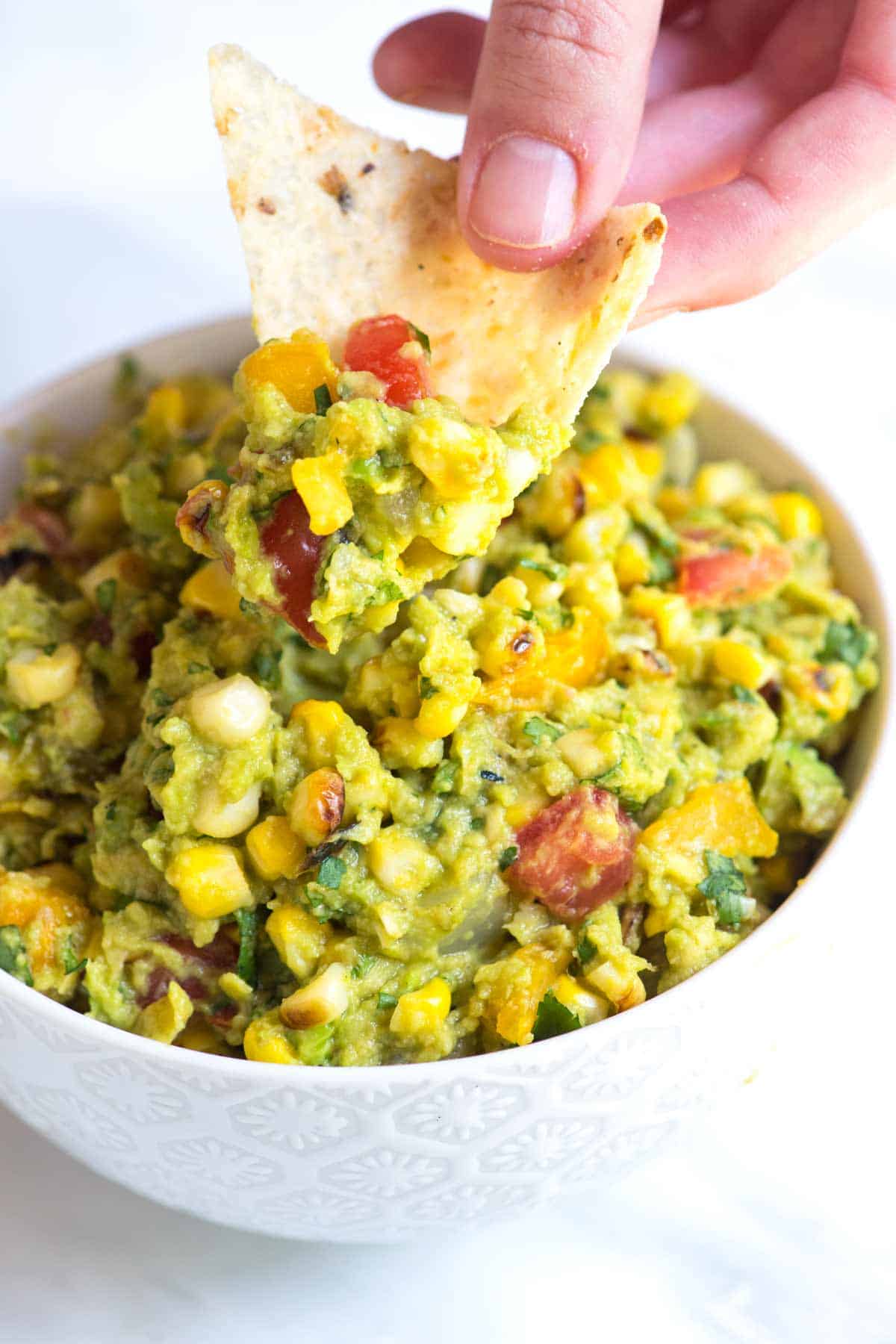 In addition to the avocados, we grill a couple ears of sweet corn, a thick slice of onion and a jalapeño pepper. The avocados come off first — they only take about 5 minutes to grill. Everything else stays on the grill until a few of the corn kernels begin to char and the onion and pepper are soft. Once everything is grilled, the guacamole comes together quickly. Scoop the flesh of the avocados into a bowl, remove the corn kernels from the cobs, chop the onion and mince the jalapeño.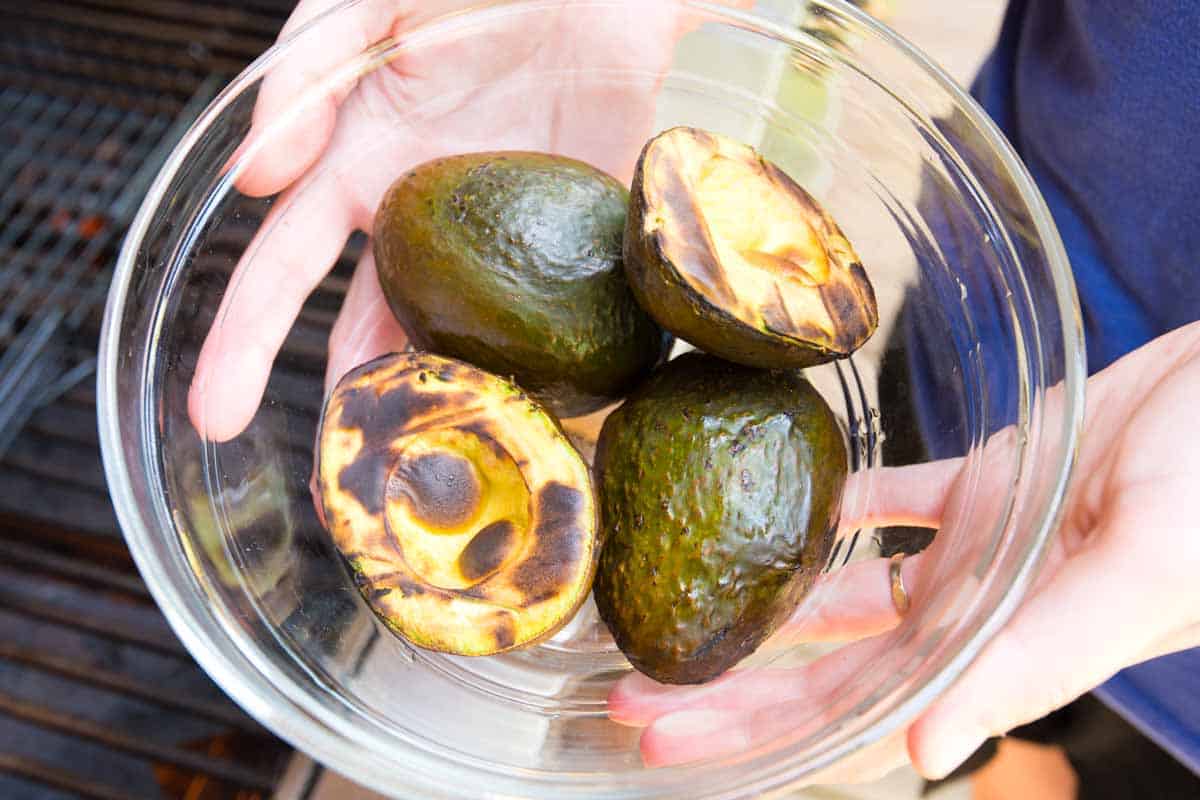 For medium-hot heat, we remove the seeds and membrane from the pepper since they are the spiciest. We then mince what's left of the pepper and add it to the guacamole. For even less heat, add about half of the pepper.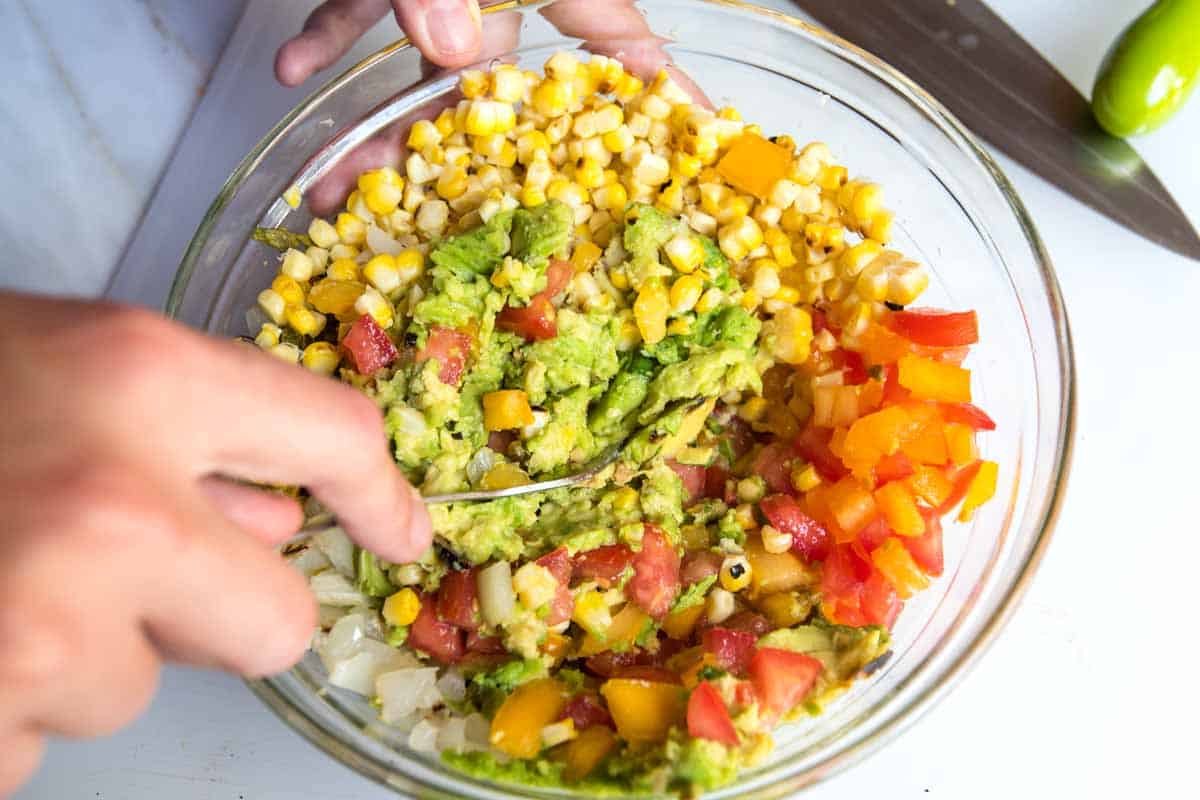 Just before serving, we add chopped tomatoes, cilantro, minced garlic, salt and fresh lime then use a fork to gently mash everything together.
More Avocado Recipes to Try:
Recipe updated, originally posted June 2015. Since posting this in 2015, we have tweaked the recipe to be more clear. – Adam and Joanne
Easy Grilled Guacamole Recipe with Corn
Grilled guacamole starring blistered avocados, corn and jalapeños is a must make, especially if you love guacamole as much as we do. Adjust the heat based on your tastes, if you love heat in your guacamole, add the whole pepper called for below as well as some of the membrane and seeds. If you like things on the milder side, consider discarding all of the pepper membrane and seeds then only add about half of the leftover pepper.
Makes approximately 2 cups
You Will Need
2 medium ripe avocados, halved with pits removed
2 medium ears corn, husked
1 onion slice, about 1/2-inch thick
1 jalapeño pepper
1 cup chopped tomatoes (1 large or 2 medium)
1 clove garlic, finely minced
1/4 cup fresh cilantro leaves, chopped
1/2 teaspoon kosher salt
1 to 2 limes
Directions
Grill Vegetables

1Prepare a grill, with heat medium-high and rack about 4 inches from the fire. Or, heat an indoor grill or grill pan to medium-high heat.

2Place avocado halves, cut side down, corn, onion slice and jalapeño onto the grill. Cook until avocado and vegetables begin to char, about 5 minutes.

3When underside of avocado is blistered, transfer to a bowl and set aside. Turn the corn, onion and jalapeño until all sides are slightly blackened then transfer to cutting board.
To Finish

1Remove corn kernels by standing the grilled corn cob upright. Hold the cob steady and use a sharp knife to make long downward strokes against the cob, separating the kernels from the cob. (It can be helpful to place a dishtowel between the cob and work surface to prevent slipping).

2Chop the grilled onion. Remove seeds and membrane from grilled jalapeño then mince finely. (It is the seeds and membrane that have the most heat, for medium-hot heat, we discard the seeds and membrane. If you like things spicy, save some seeds and membrane to add to the guacamole).

3Scoop grilled avocado into a bowl then top with corn kernels, onion and all or some of the jalapeño pepper, depending on how spicy you like your guacamole. Add tomatoes, garlic, cilantro and salt then squeeze the juice of one lime on top. Use a fork to gently mash and mix the guacamole (we like it pretty chunky). Taste for seasoning then adjust with additional lime juice or salt.