Seriously Good Homemade Turkey Burger Recipe
How to make tasty, healthy and juicy turkey burgers! Thanks to our secret ingredient, these burgers are loaded with umami and won't dry out. Jump to the Seriously Good Homemade Turkey Burger Recipe or read on to see our tips for making them.
Let's just cut to the chase, shall we. The secret to the best turkey burgers is to add mushrooms! The reason these burgers actually taste great and stay moist and juicy is mushrooms. If you aren't a mushroom lover, you should know that you won't actually taste mushrooms. Instead they make the turkey burgers taste more meaty.
YOU MAY ALSO LIKE: We've used mushrooms to make turkey taste amazing before. Take a look at our Unbelievably Moist Turkey Meatloaf Recipe. Mushrooms make it taste incredible. You don't even need to take our word for it, the recipe has lots of reviews to prove it.
How to Make the Tastiest Turkey Burgers at Home
These turkey burgers are easy to make. We're only talking 6 ingredients and about 30 minutes.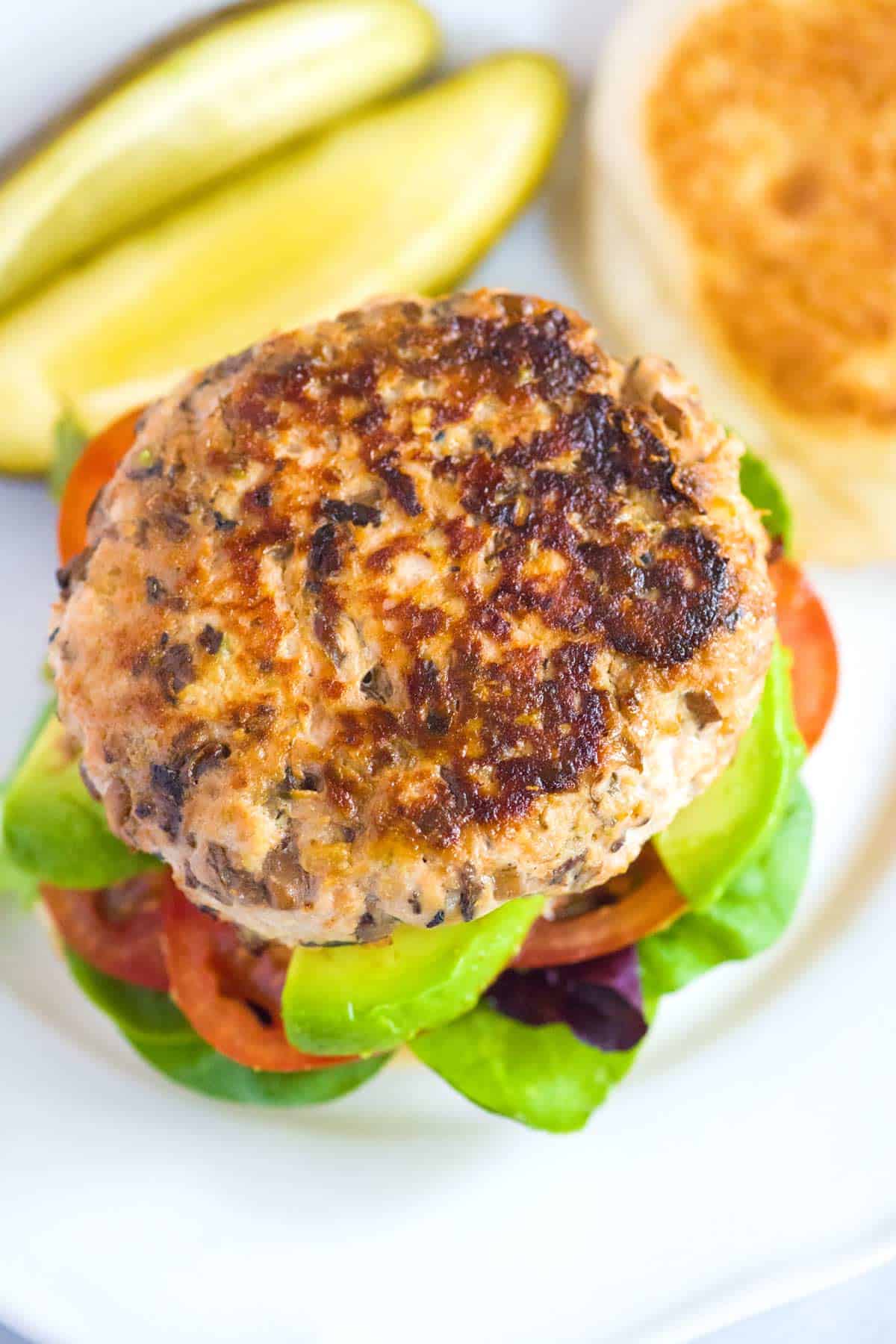 The hardest part is chopping the mushrooms — you want them to be really small so they disappear into the burger mixture. We chop them by hand, but a food processor makes very quick work of them. Once they are chopped small, cook them in a skillet with some olive oil, salt and pepper. After 8 to 10 minutes the mushrooms will have released excess moisture and shrunk considerably.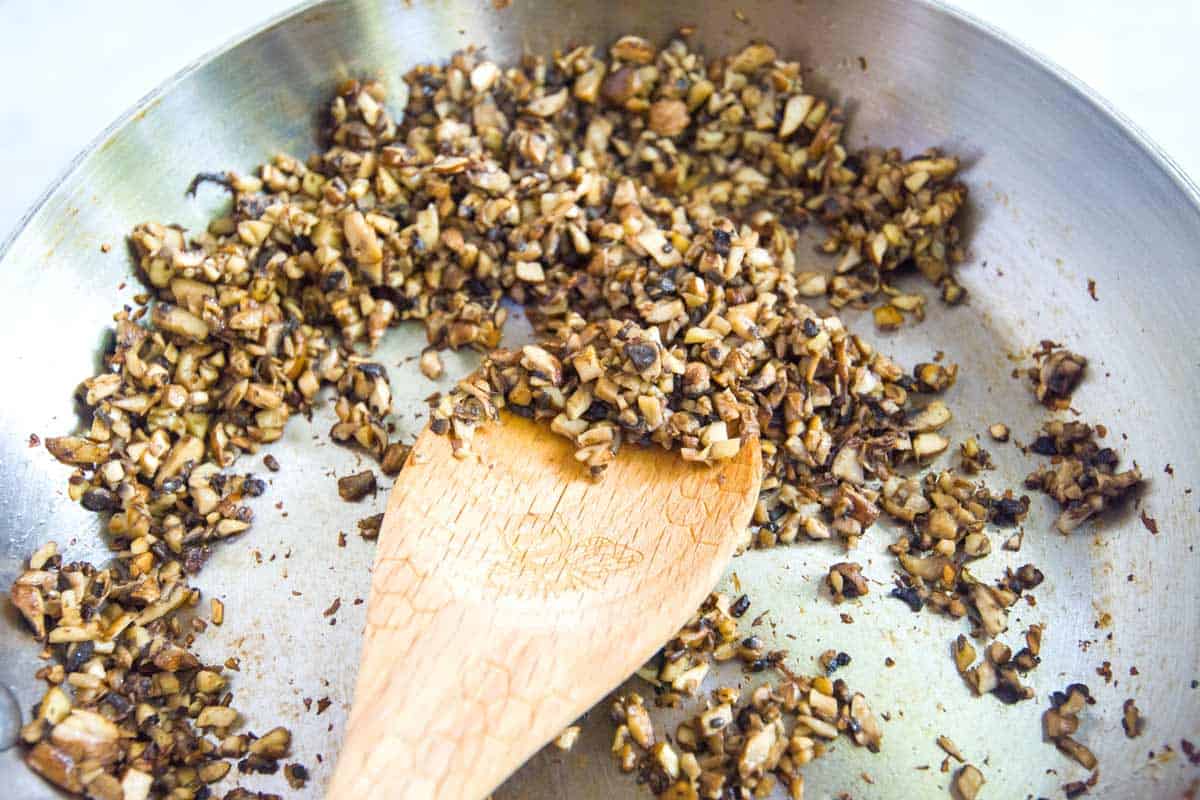 In goes some more umami with fish sauce or Worcestershire sauce (both work nicely). Then we add a little ketchup. I know it might seem odd, but ketchup is loaded with lots of flavor — it's sweet, vinegary and adds a bit of color.
If you love ketchup, you must try making it at home. Here's our Better Than Store Bought Ketchup Recipe.
When the mushroom mixture has cooled off a bit, gently stir it into the ground turkey meat. At this point you can form it into patties and cook them or if you want to check the seasoning throw about a tablespoon of the mixture into a hot pan and cook through. Taste the mini patty then determine whether or not the burgers need a little more salt. If they do, form the patties then lightly sprinkle some salt on both sides before cooking.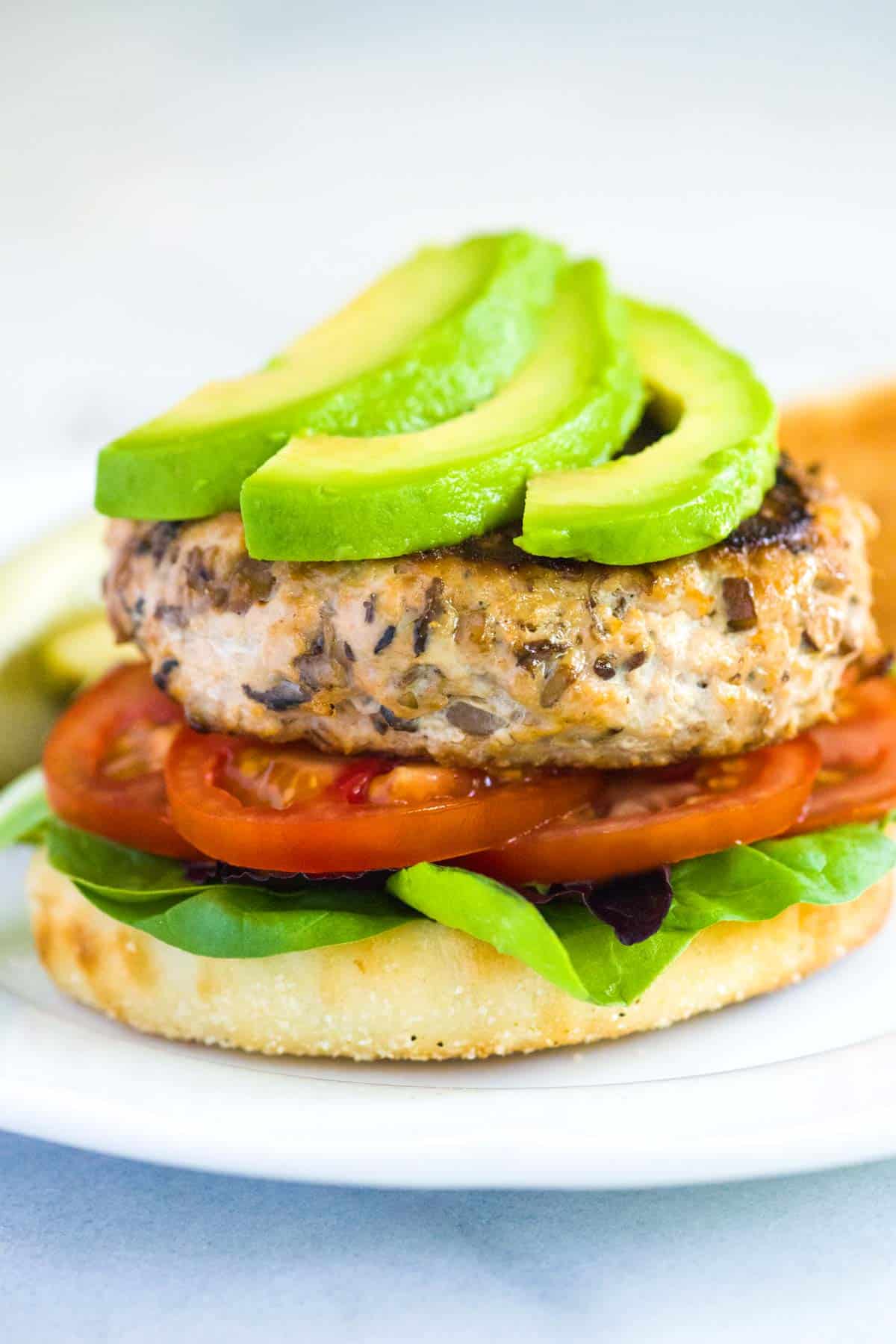 To cook them, we heat a little olive oil in a non-stick skillet over medium heat. Then just cook the patties four to five minutes on each side (or until they are cooked through). We've enjoyed these so many different ways. My favorite is on top of an English muffin with lettuce, tomato and avocado. They are also excellent without the bun and served with a salad — this tomato and mozzarella salad or this feta and cucumber salad are two of our favorites.
YOU MAY ALSO LIKE: Learn our best tips for making a better hamburger including the best meat to use, how to cook them, and when to know they are done. Jump to our No Fuss Simple Hamburger Recipe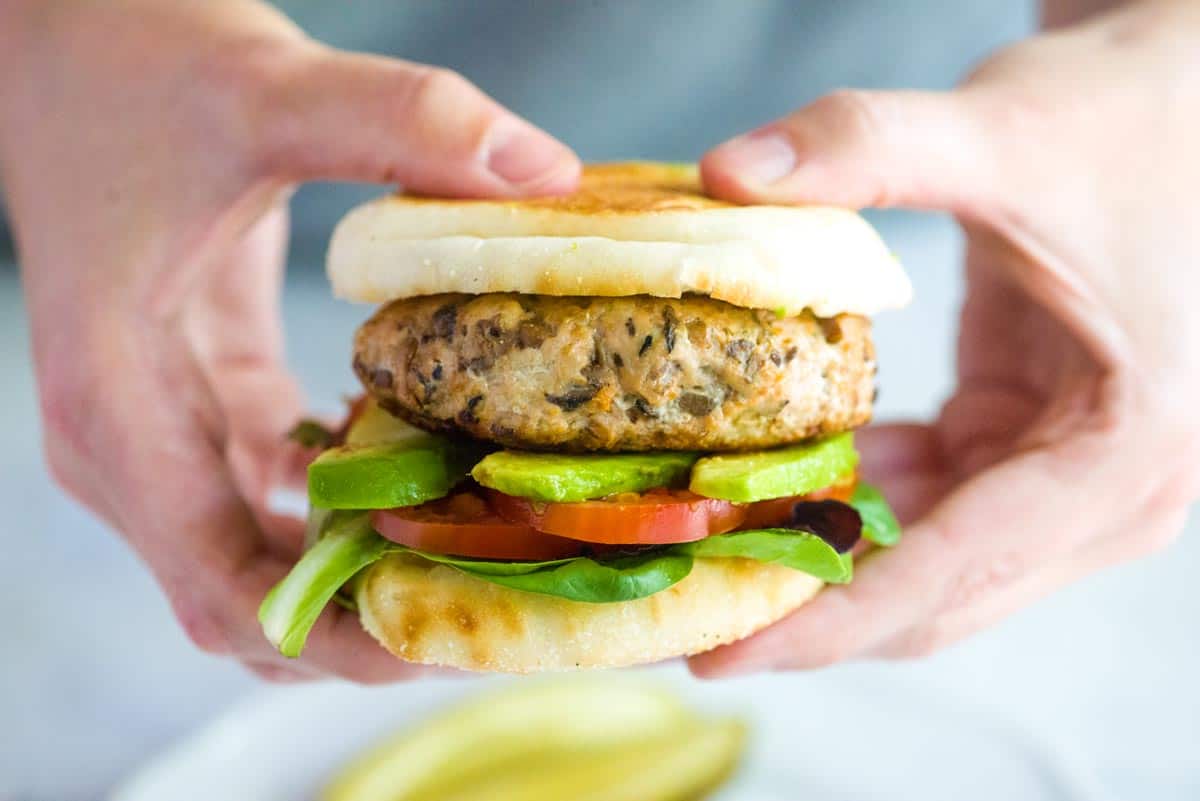 Seriously Good Homemade Turkey Burger Recipe
These easy healthy turkey burgers have become one of our favorite things to make. Since it's just the two us, we make a whole batch and save two burgers for later in the week. Lean ground turkey can be a bit bland. To combat this, we call on mushrooms! By stirring cooked chopped mushrooms into the burger mixture, we add lots of umami and flavor. The magic of the mushrooms doesn't stop there. They also help keep the turkey burgers juicy and moist. If you are not a mushroom fan, don't worry you don't really taste them. Instead they make the burger taste more meaty.
Makes 4 (1/4 pound) burgers
You Will Need
1 1/2 tablespoons olive oil
6 ounces mushrooms, trimmed and very finely chopped
2 garlic cloves, finely minced
1 tablespoon fish sauce or Worcestershire sauce
1 1/2 tablespoons ketchup, see our homemade ketchup recipe
1 pound lean ground turkey, 93% lean preferred
Salt and fresh ground black pepper
Directions
Heat 1 tablespoon of the olive oil in a wide skillet over medium-low heat. Stir in the mushrooms, a 1/4-teaspoon of salt, and a 1/4-teaspoon of pepper. Cook until the mushrooms give off their liquid and it boils away; about 10 minutes. Stir in the garlic and cook about 1 minute or until fragrant.

Remove the skillet from the heat then stir in the fish sauce (or Worcestershire sauce) and the ketchup. Set aside until warm, not hot.

Gently mix the mushroom and garlic mixture into the turkey. The mixture might be a bit sticky. To test the seasoning, heat a pan over medium heat and add a tablespoon of the burger mixture. Cook 1 to 2 minutes, flipping once, until thoroughly cooked through. Taste the mini patty. If it seems under seasoned, you can sprinkle a little salt on the turkey burger patties just before cooking them.

Form the turkey mixture into four patties (or more for smaller burgers). Work quickly and with a light touch. If you feel they need it, season lightly on both sides.

Heat 1/2 tablespoon of olive oil in a wide non-stick skillet over medium heat. Add the burgers then cook 4 to 5 minutes on each side or until an internal thermometer reads 165 degrees F when inserted into the middle of a patty. Transfer to a plate and let rest, lightly covered with foil, for 5 minutes. Serve.
Adam and Joanne's Tips
Mushrooms: Any kind of mushroom will work here. We usually add one or more of the following: white button, cremini or baby bella, shiitake and portobello mushrooms.
Food processor: To quickly chop the mushrooms or to make them extra small, use a food processor.
Serving: We love these turkey burgers served with salad or on top of an English muffin with sliced tomato, avocado and lettuce.
Freezing the burgers for a make-ahead meal: You can freeze these uncooked and cooked. To freeze uncooked patties, prepare them as directed then individually wrap each patty. Freeze. To serve, thaw the burgers then cook as directed. To freeze cooked patties, prepare and cook them as directed then line up on a baking sheet. Slide the baking sheet into the freezer and freeze until partially frozen, about 30 minutes. Wrap them with plastic wrap (place a piece of wax paper if wrapping multiple patties together) then store in the freezer. To serve, reheat in the microwave or oven.
Nutrition facts: The nutrition facts provided below are estimates. We have used the USDA Supertracker recipe calculator to calculate approximate values. In the calculations below we assumed 93% lean ground turkey and no bun.
If you make this recipe, snap a photo and hashtag it #inspiredtaste — We love to see your creations on Instagram and Facebook! Find us: @inspiredtaste
Nutrition Per Serving:
Calories
227
/
Protein
24 g
/
Carbohydrate
4 g
/
Dietary Fiber
0 g
/
Total Sugars
3 g
/
Total Fat
13 g
/
Saturated Fat
3.5 g
/
Cholesterol
65 mg
Don't Miss Our Latest Recipes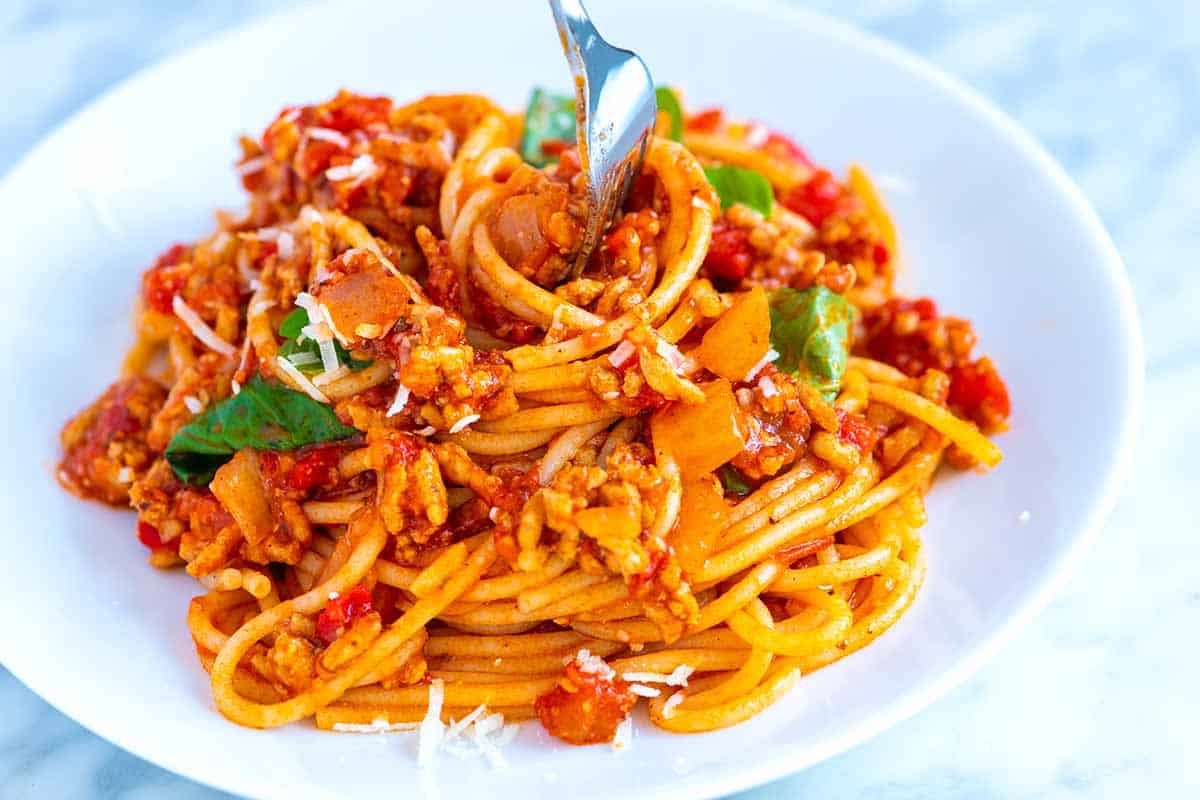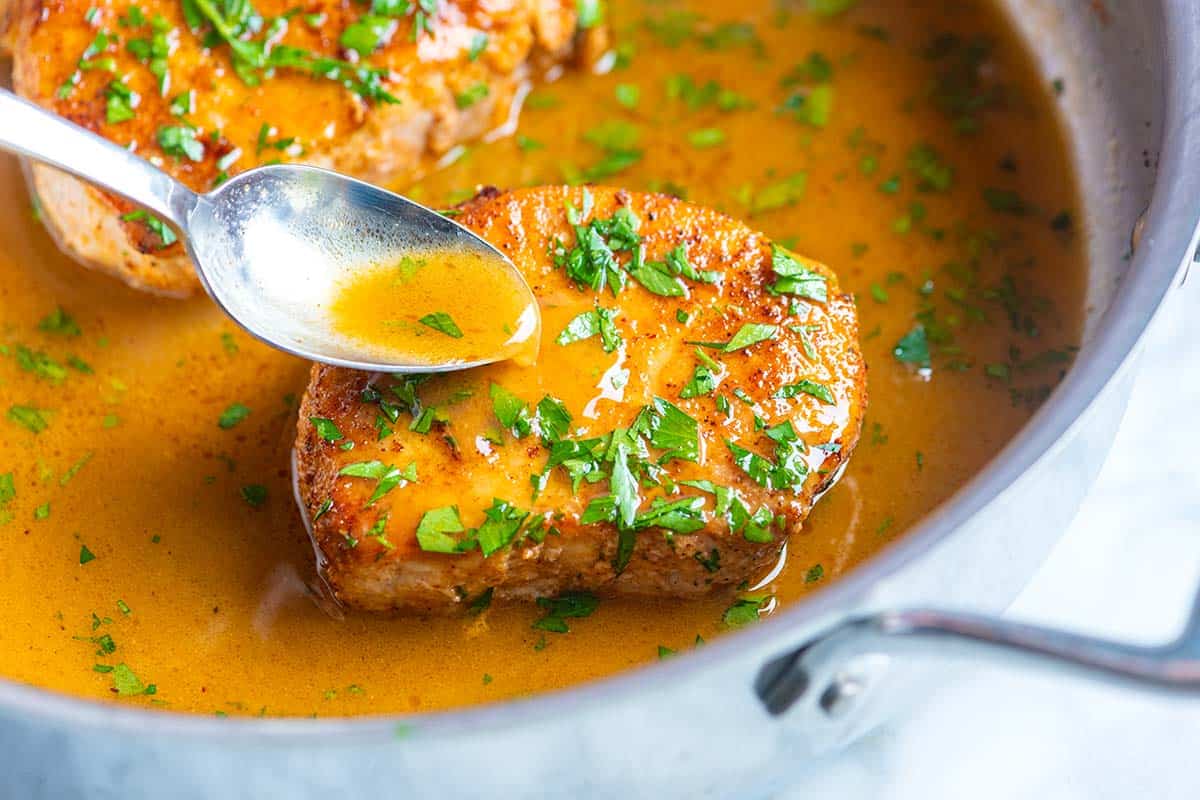 Previous Post: Our Favorite Lemon Herb Couscous Salad Recipe
Next Post: Make Ahead Ham and Veggie Breakfast Sandwich Recipe