Easy chicken stir fry recipe that's 100% from scratch with lots of vegetables and a lightened up homemade stir fry sauce. Jump to the Ginger Chicken Stir Fry Recipe or read on to see our tips for making it.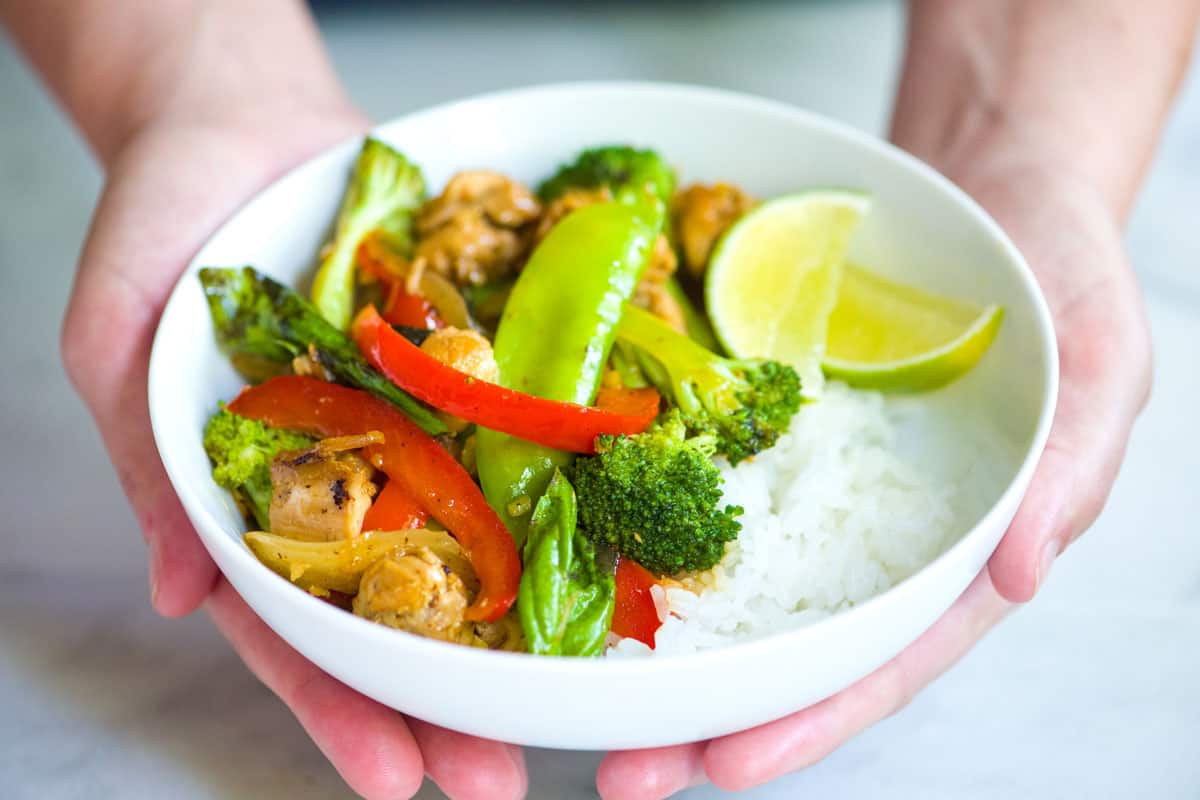 Make the best stir fry at home
I love stir fries, especially when I'm short on time. We've found ourselves coming back to this vegetable chicken stir fry often. It's just so simple! In the recipe below, I've included our favorites veggies to add, but don't be afraid to swap or add other vegetables that you have available to you. You may also enjoy this garlic and ginger chicken broccoli stir fry recipe.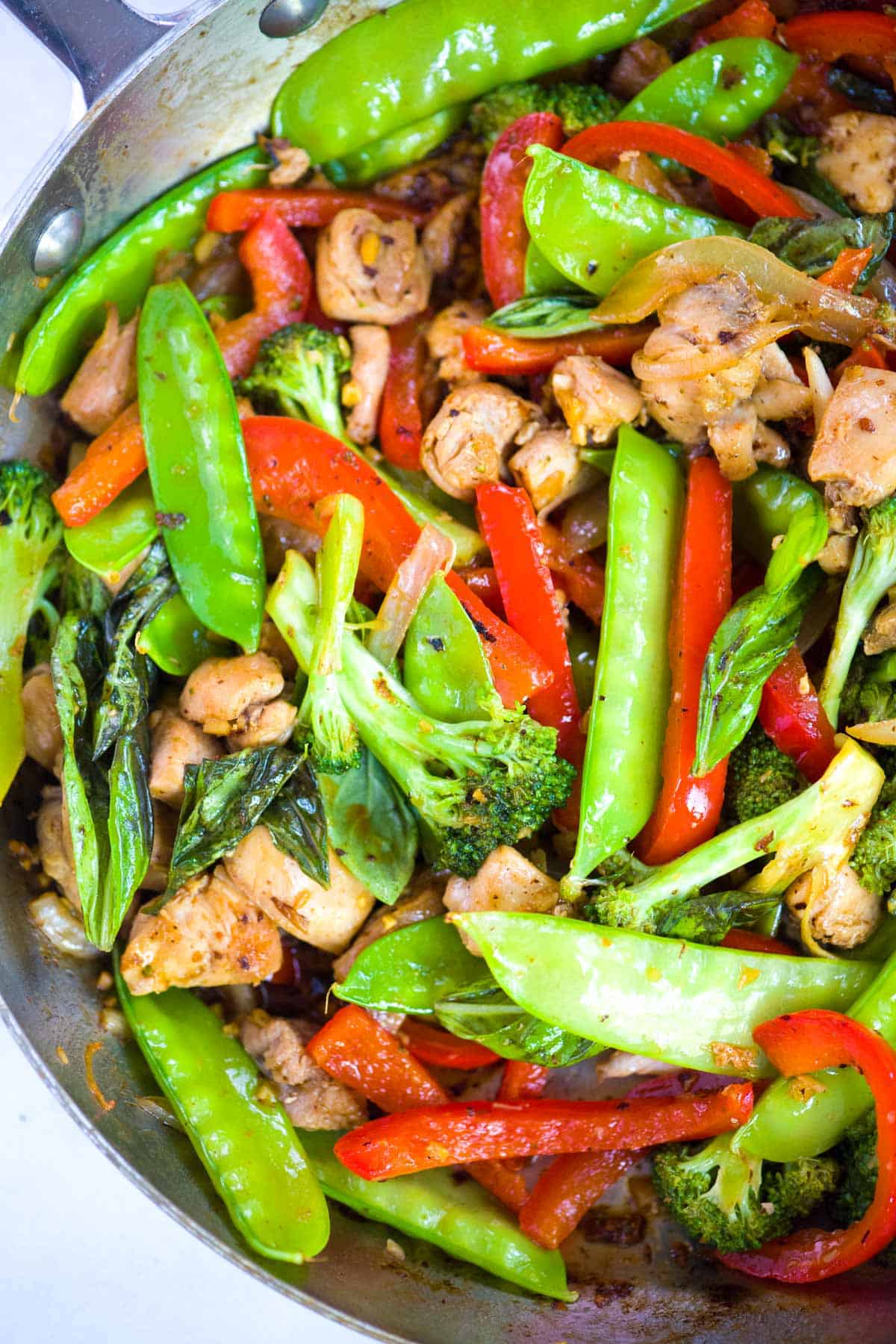 So that you can make the best stir fry at home, here are our best tips:
Use a wide skillet when making stir fries — the bigger the better. The more surface area you have to work with, the quicker the ingredients, especially meats, will brown and cook.
Cook the meat and heartiest vegetables first. If you are adding protein to your stir-fry, start there. Cook chicken or other proteins first then transfer to a clean plate while you cook the remaining ingredients. If you are making a vegetable-heavy dish, start with the heartiest veggies like carrots or broccoli then add more delicate veggies like snow peas towards the end.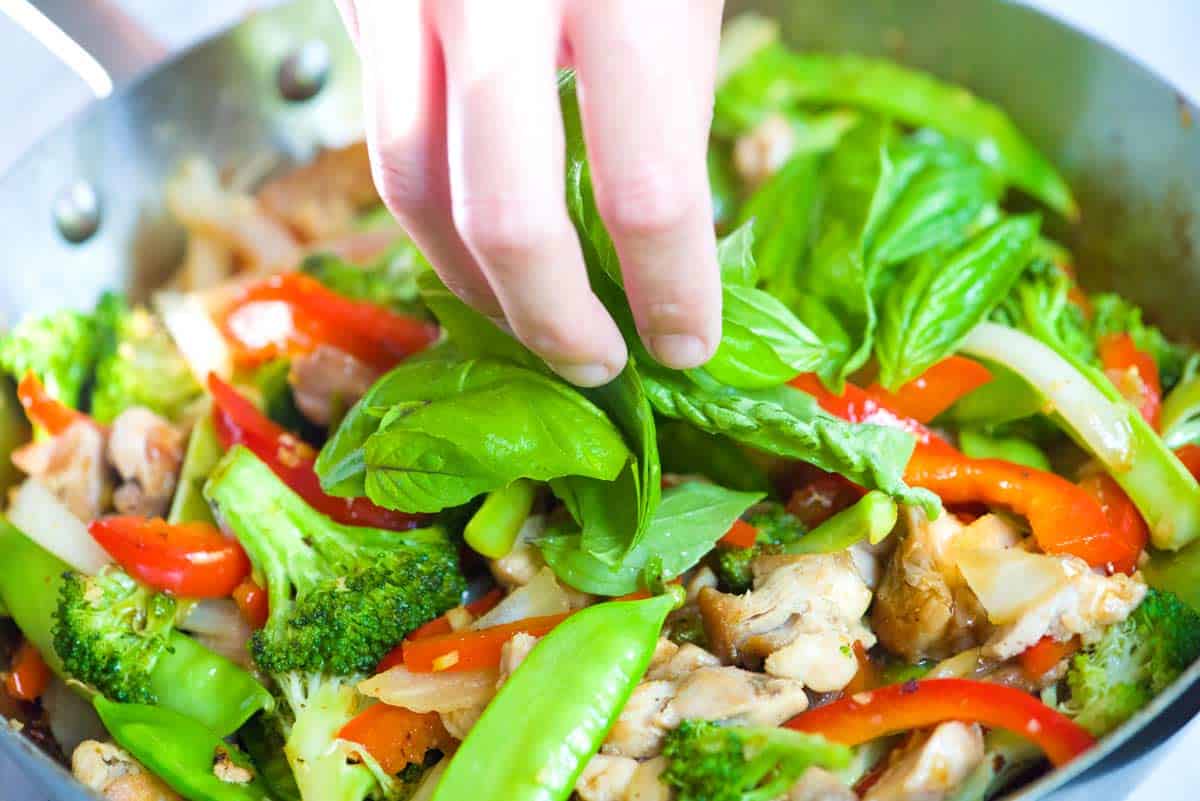 Add aromatics at the end. Ginger, garlic, and herbs burn easily and really don't need a long time to cook. When we stir fry, we stir in ginger and garlic into the stir fry 2 to 3 minutes before the dish is done.
This way they stay fragrant and don't burn. In our chicken stir fry recipe below, we also stir in fresh basil and lime juice at the end of cooking. I know it might seem odd to add basil to a stir fry, but trust me, it's excellent.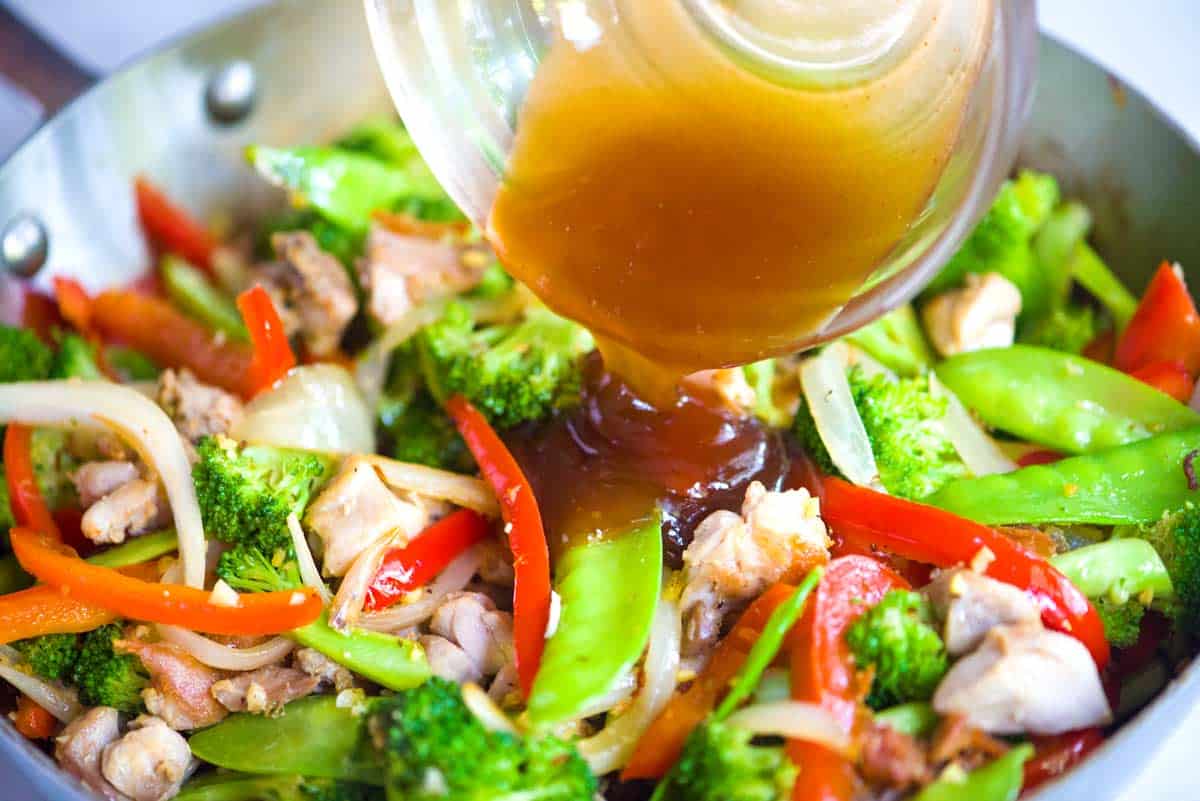 Add the sauce at the end. Just like with the aromatics, we stir in the sauce when everything else is done then give it just enough time on the heat to warm and coat the chicken (or other protein) and vegetables.
We love the easy stir fry sauce provided in the recipe below, but if you love teriyaki, try our homemade teriyaki sauce instead.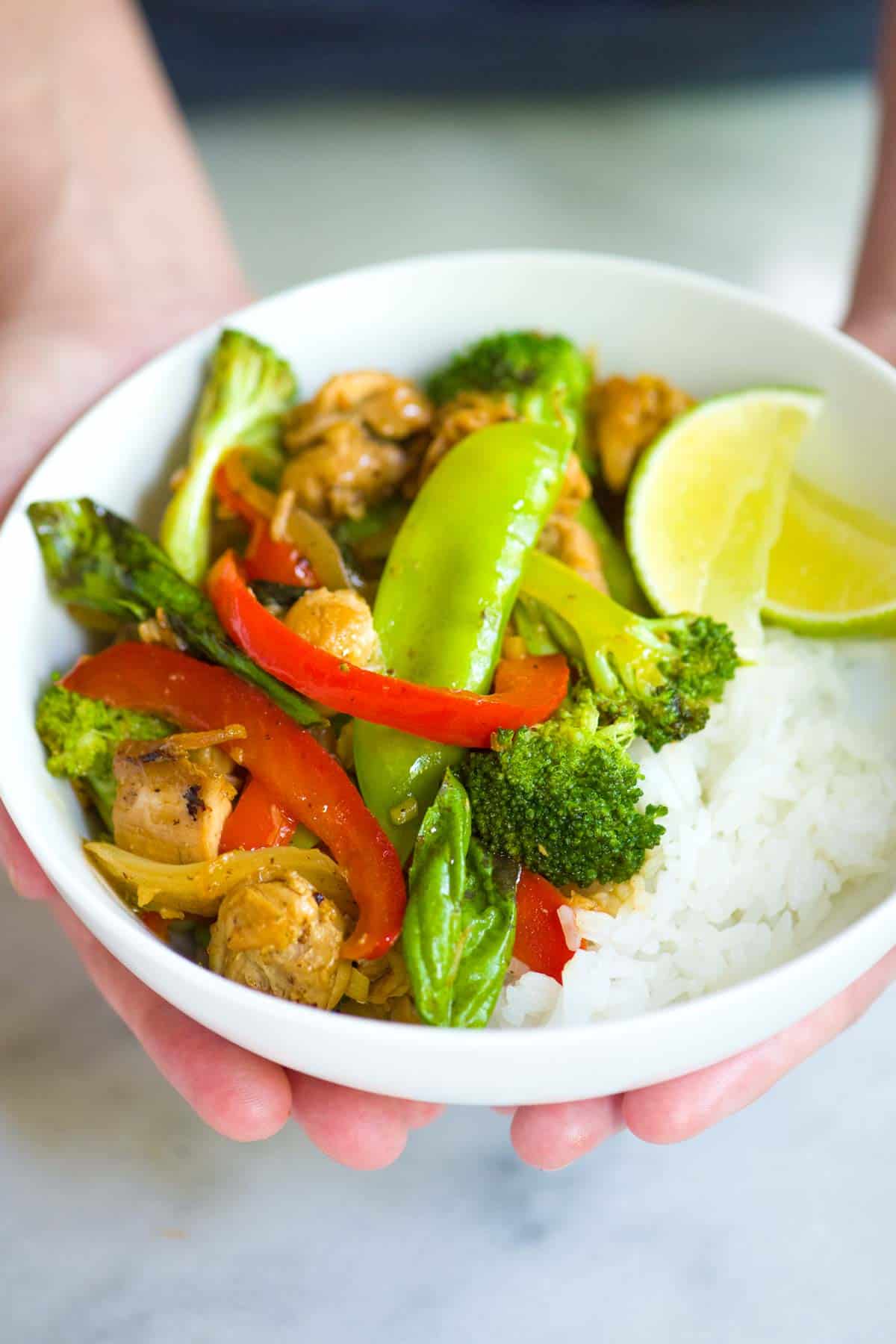 You may also like these recipes
30-Minute Ginger Chicken Stir Fry
The best thing about stir fries is that they are easily modified. This is an excellent use for chicken thighs, but chicken breast, tofu, pork or replacing the protein with more vegetables are all options. The key to the best stir fry is to cook the heartiest ingredients first — like the chicken — then add in less hearty and more delicate ingredients towards the end of cooking. This way, none of the vegetables overcook and stay crisp instead. Use a nice wide skillet for this — the bigger the better.
You Will Need
Chicken and Vegetable Stir Fry
1 1/2 pounds boneless, skinless chicken thighs, cut into bite-size chunks
1 tablespoon neutral-flavored oil like avocado, grape seed or canola
2 cups broccoli florets (1 medium bunch)
1 small onion, thinly sliced
1 bell pepper, core removed and thinly sliced
1 1/2 cups snow peas (about 3 ounces)
1 tablespoon minced fresh ginger (1-inch piece)
1 tablespoon minced garlic (2 to 3 large cloves)
Handful fresh basil leaves
Juice of 1 lime, plus extra lime wedges for serving
Stir Fry Sauce
1 tablespoon honey
2 tablespoons fish sauce
1 teaspoon reduced sodium soy sauce
1/3 cup water or chicken stock
1 1/2 teaspoons cornstarch
1/2 to 1 teaspoon Sriracha hot sauce, depending on how spicy you like things
Directions
Prepare Stir Fry Sauce

1This step can be done in advance. Once made, store covered in the refrigerator for up to a week. You might even consider making a double or triple batch for meals later in the week.

2Whisk honey, fish sauce, soy sauce, water and cornstarch in a small saucepan over medium-low heat until well blended. Continue to whisk as it heats up and thickens, 2 to 3 minutes. When thickened and shiny, remove from the heat and stir in Sriracha hot sauce. Save for the stir fry or store covered in the refrigerator up to one week.
Prepare Stir Fry

1Heat a large, wide skillet over medium-high heat. Add the oil and swirl it in the pan until the bottom is well coated. Scatter the chicken pieces in one layer. Cook, without moving, until starting to brown on the bottom, about 5 minutes. Stir the chicken and continue to cook until cooked through, about 3 minutes. Transfer the chicken to a clean plate.

2Reduce the heat to medium then place the skillet back onto the burner. Add the broccoli and cook, stirring frequently until it turns bright green, about 2 minutes.

3Throw in the onion and bell pepper then cook, stirring frequently until the onions begin to sweat, about 2 minutes.

4Add the snow peas, ginger and garlic then cook, tossing frequently until the ginger and garlic are fragrant and the snow peas turn a brighter green, about 2 minutes.

5Stir in the cooked chicken, and then when all of the vegetables are crisp-tender and the chicken reheated, take the skillet off of the heat and stir in the stir fry sauce. As you stir, use tongs or a spoon to scrape the bottom of the pan to lift any bits stuck to the pan and mix into the sauce. Finish by tossing with fresh basil leaves and the juice of one lime. Serve with extra lime wedges.
Adam and Joanne's Tips
Make-ahead: The stir fry sauce can be made in advance — just keep it covered in your fridge until you are ready to use it.
Buying Fish Sauce: We keep a bottle of fish sauce in our kitchen at all times. It's truly a magical ingredient. Not only can you use it here and in other Asian-inspired dishes, it is excellent for adding to soups, stews and pasta sauces. We have Red Boat in our kitchen. It has a clean flavor and no water or sugar added. If you cannot find it, go for a mid to high priced fish sauce that's sold in a glass bottle instead of in plastic and look for a light amber or reddish color rather than a very dark color.
Nutrition Facts: The nutrition facts provided below are estimates. We have used the USDA Supertracker recipe calculator to calculate approximate values. Since it depends on how well trimmed the chicken thighs are, the nutritional data will vary. We used the data provided by the National Chicken Council to help calculate the values below.
If you make this recipe, snap a photo and hashtag it #inspiredtaste — We love to see your creations on Instagram and Facebook! Find us: @inspiredtaste
Nutrition Per Serving
Serving Size
1 1/4 cups
/
Calories
308
/
Protein
37 g
/
Carbohydrate
16 g
/
Dietary Fiber
3 g
/
Total Sugars
9 g
/
Total Fat
10 g
/
Saturated Fat
2 g
/
Cholesterol
142 mg