How to make the best, most flavorful homemade gravy with or without pan drippings. Use our easy recipe for chicken, turkey, beef and even vegetables! Vegan/plant-based gravy substitutes are also shared below.
Watch the Video
How To Make the Best Gravy from Scratch
There are some recipes we all need to have in our back pocket. This gravy is one of them. Use this gravy recipe with homemade stock, store-bought stock, or use pan drippings. You need less than 10 minutes, and you can make it in advance. It keeps in the fridge up to 5 days. Let's do this!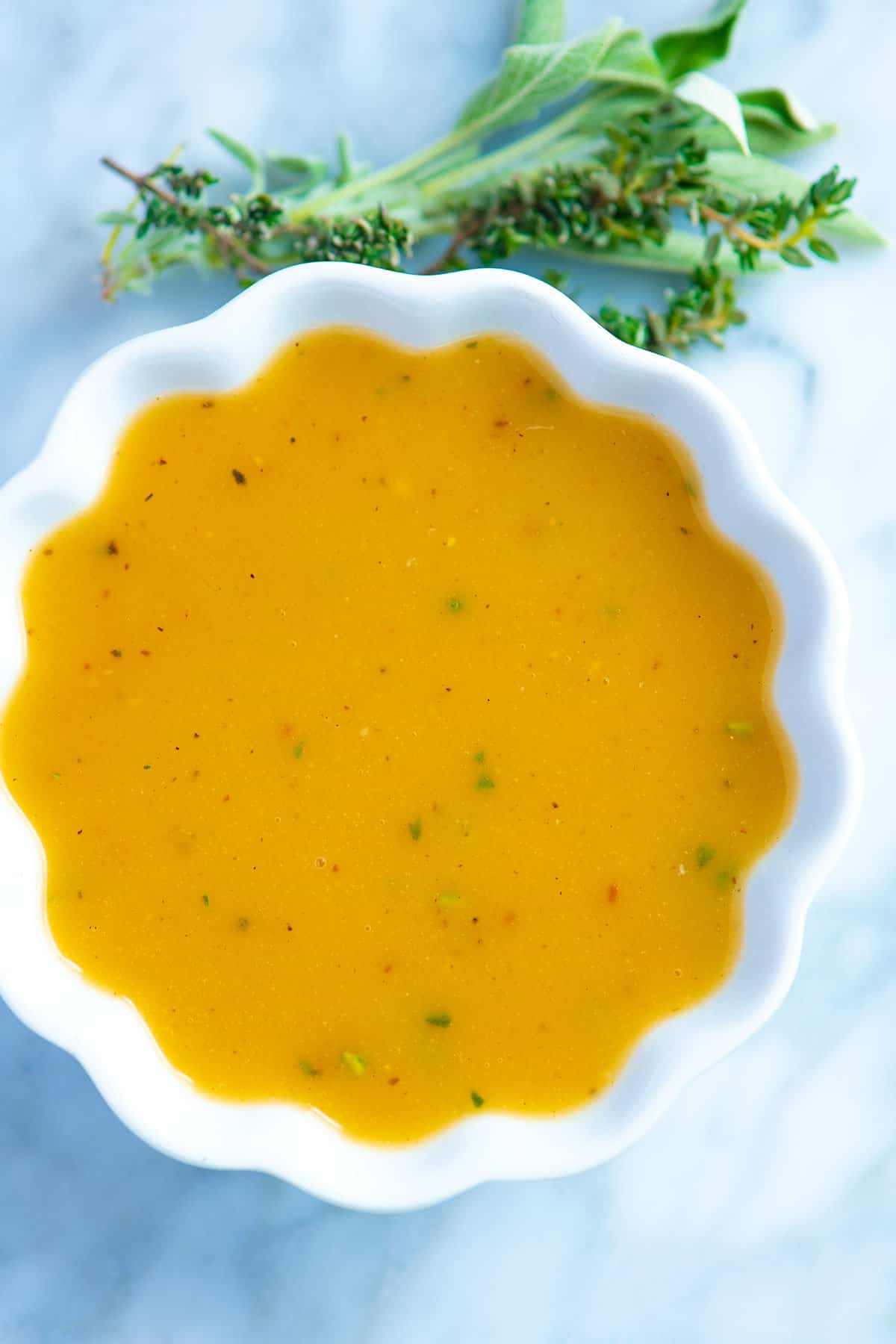 Our easy method works for all the meats — chicken, turkey, beef, pork, and lamb will all benefit from our gravy recipe. I've even made a vegetarian gravy using our ultra-satisfying vegetable broth as a base. Speaking of vegetarian recipes, you might enjoy our amazing mushroom stuffing recipe, which is naturally vegan.
What You Need To Make Gravy
Here's the basic ingredients for our easy homemade gravy, I've also shared some optional ingredients for making it extra tasty.
Butter and all-purpose flour combine to make a paste (also called a roux), which helps to thicken broth into a velvety gravy. For gravy without butter or for gluten-free gravy, see my tips below.
Warm stock or broth is the base of gravy. As I mentioned above, you can use poultry, beef or even vegetable stock. You can also use pan drippings.
Salt and fresh ground black pepper are essential for making sure the gravy isn't bland or under seasoned.
Optional Ingredients (Flavor Enhancers)
Fresh or dried herbs like sage, thyme or rosemary add so much extra flavor to gravy. I especially love adding sage when making turkey gravy.
Half and half or cream added just before serving makes the gravy extra creamy and luscious.
Mushroom powder, Worcestershire sauce or fish sauce might sound odd to add to gravy, but they all add a savory, umami element. We use mushroom powder quite a bit in our recipes, it is easy to make yourself and can even be purchased in specialty stores or online. Fish sauce and Worcestershire are seasonings we use quite a bit in our own kitchen. Just a dash makes dishes that seem as though they are lacking in flavor really sing.
The Steps For Making Perfect, Creamy Gravy
If you've never made gravy before, don't worry! Gravy is simple to make. You'll be an expert in no time! The process takes less than 10 minutes so let's do this!
Step 1: Make a smooth paste from melted butter and flour. This paste (also called a roux) thickens the stock, so the gravy becomes silky and smooth. To do it, I melt butter over medium heat in a skillet then I whisk in the flour. I like to cook the butter and flour for a minute or two. You will actually see the paste darken slightly in color. We are looking for a blonde color.
Step 2: Whisk in stock, broth or liquid left in a roasting pan. I like to add the liquid warm since it seems to incorporate better into the butter and flour. As the liquid heats up and begins to simmer, the gravy thickens. After a minute of simmering, you have gravy!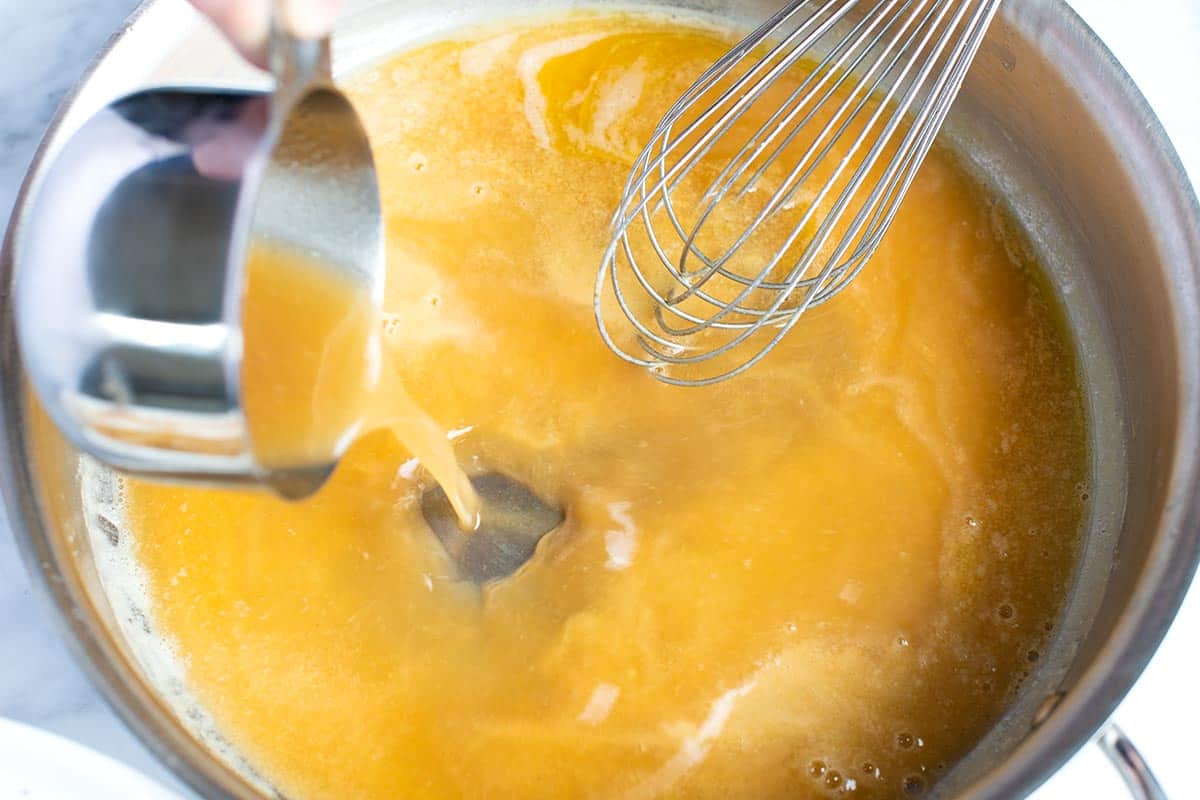 Step 3: Season with salt and pepper and optional ingredients. Before serving the gravy, taste it. If it doesn't sing, adjust the seasoning by adding some salt, herbs, or umami flavor enhancers like mushroom powder, fish sauce, or Worcestershire sauce.
Step 4: Add a splash of half-and-half or cream. This is optional, but it does make the gravy extra creamy and decadent.
How To Make Gravy With Pan Drippings
As I've already mentioned, you can use our recipe to make gravy with or without pan drippings. In the photo below, we show the dish used when following our whole roasted chicken recipe. The chicken roasts on a bed of onions, which makes the chicken and the pan drippings ultra-flavorful. I'd hate to lose all that flavor so I like to make a gravy from it, here's how I do it:
First, I separate the fat and broth left in the bottom of the roasting pan. I typically use a spoon to scoop off the fat from what's left in the bottom of the pan. Then I strain the remaining liquid. The fat I saved can be used in place of the butter called for in the recipe and the liquid I saved can be used as the broth. If you don't want to use a spoon to separate the fat from the liquid, there are gravy fat separators you can buy (OXO makes one).
If you used a roasting pan or Dutch oven that is safe to place over the stovetop, you can make the gravy right in it. This is ideal since there will be lots of flavor stuck to the bottom of the pan/dish. If you used a baking dish like we did for our chicken, you will need to make the gravy in a skillet.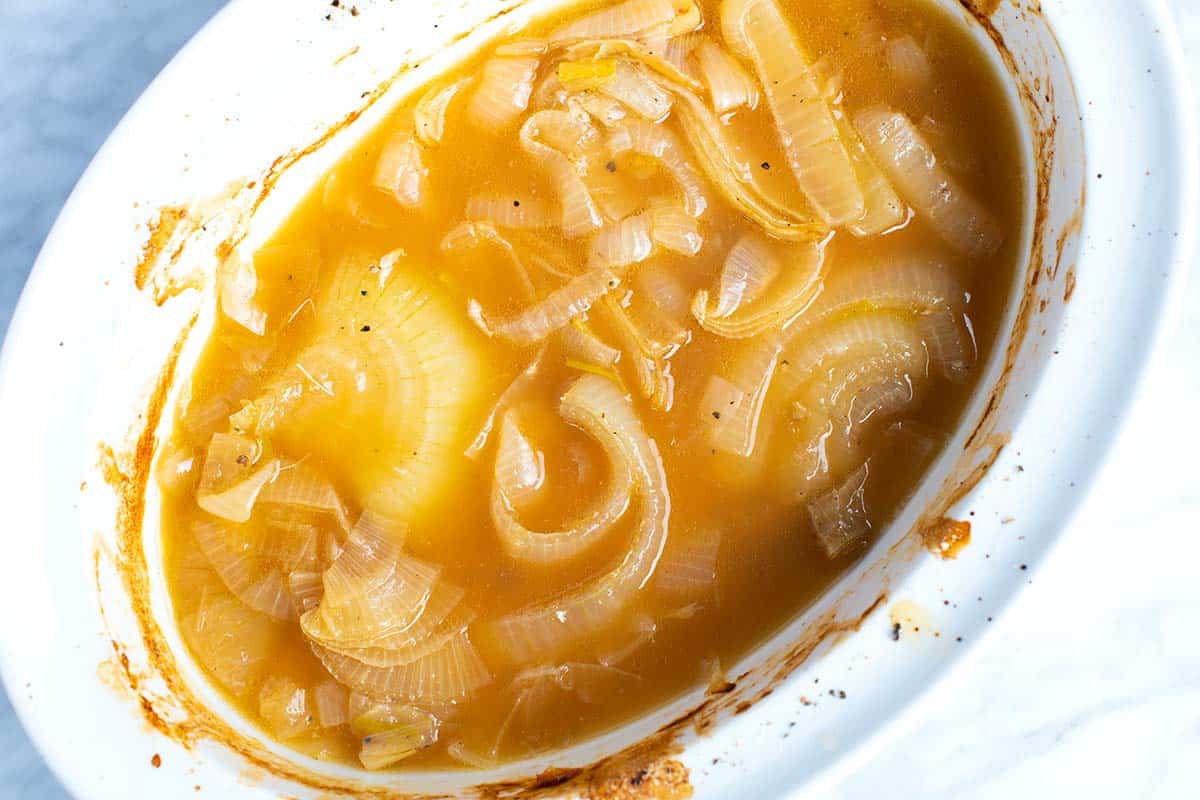 Making Gravy Without Butter
Butter can be substituted with other animal fats like chicken fat or lard. You can also use fat separated from pan drippings. For vegan gravy, use vegan butter or follow our method for gluten-free gravy shared below (made with cornstarch starch).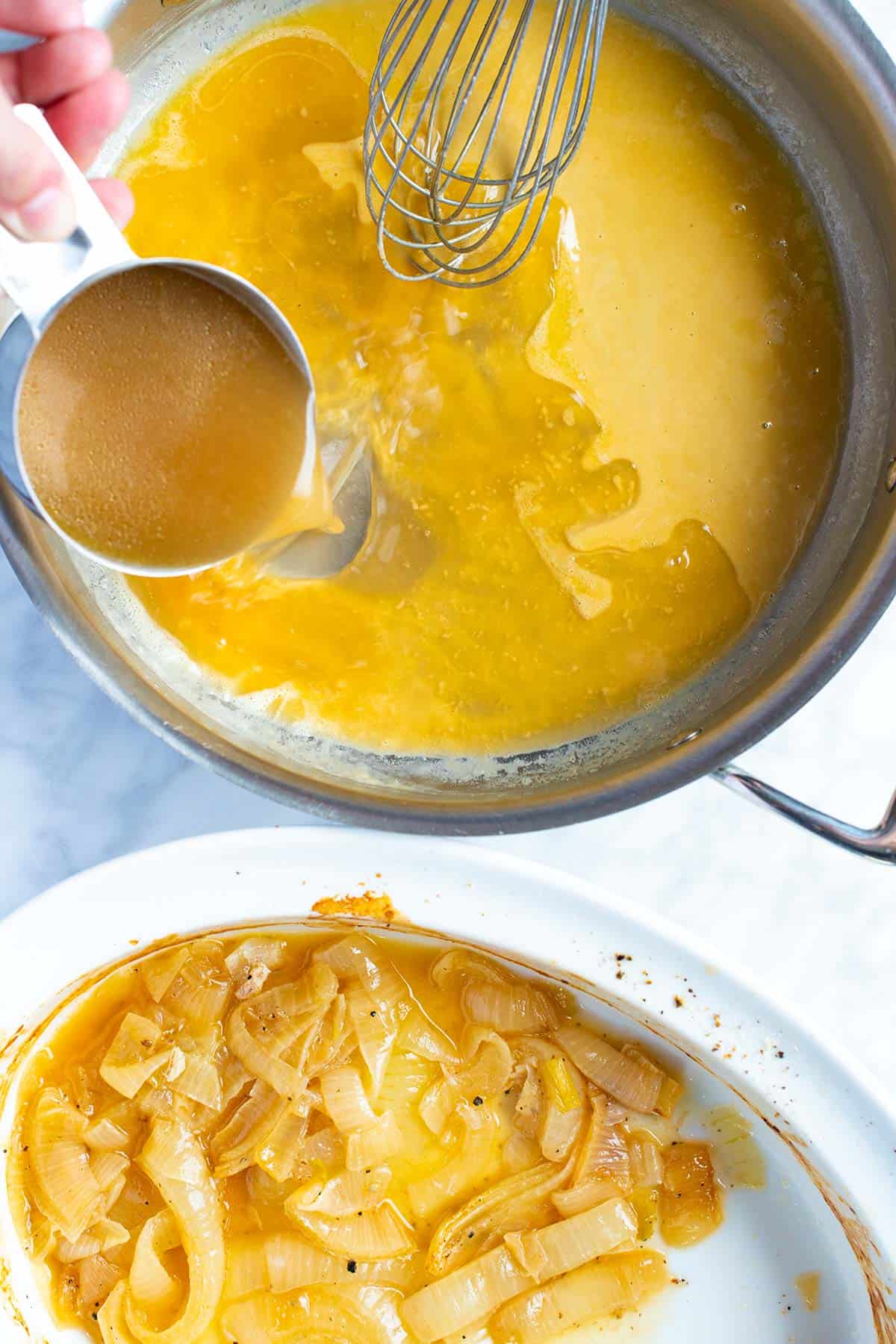 Making Gluten-Free Gravy (Without Flour)
For gluten-free gravy, we switch up the method a bit. It's still extra easy to make, though. Here are the steps I follow for making the gravy gluten-free:
Warm the broth in a skillet until a low simmer.
Mix 2 tablespoons of cornstarch with 2 tablespoons of water.
While whisking the simmering broth, slowly add the cornstarch mixture.
Continue to whisk until the gravy is thickened, lower the heat, and then season with salt, pepper, and optional flavor enhancers like herbs.
How To Make Extra Creamy Gravy With Milk
You can use milk to make creamier gravies. Simply substitute half or more of the broth called for in our recipe with milk.
Serving Suggestions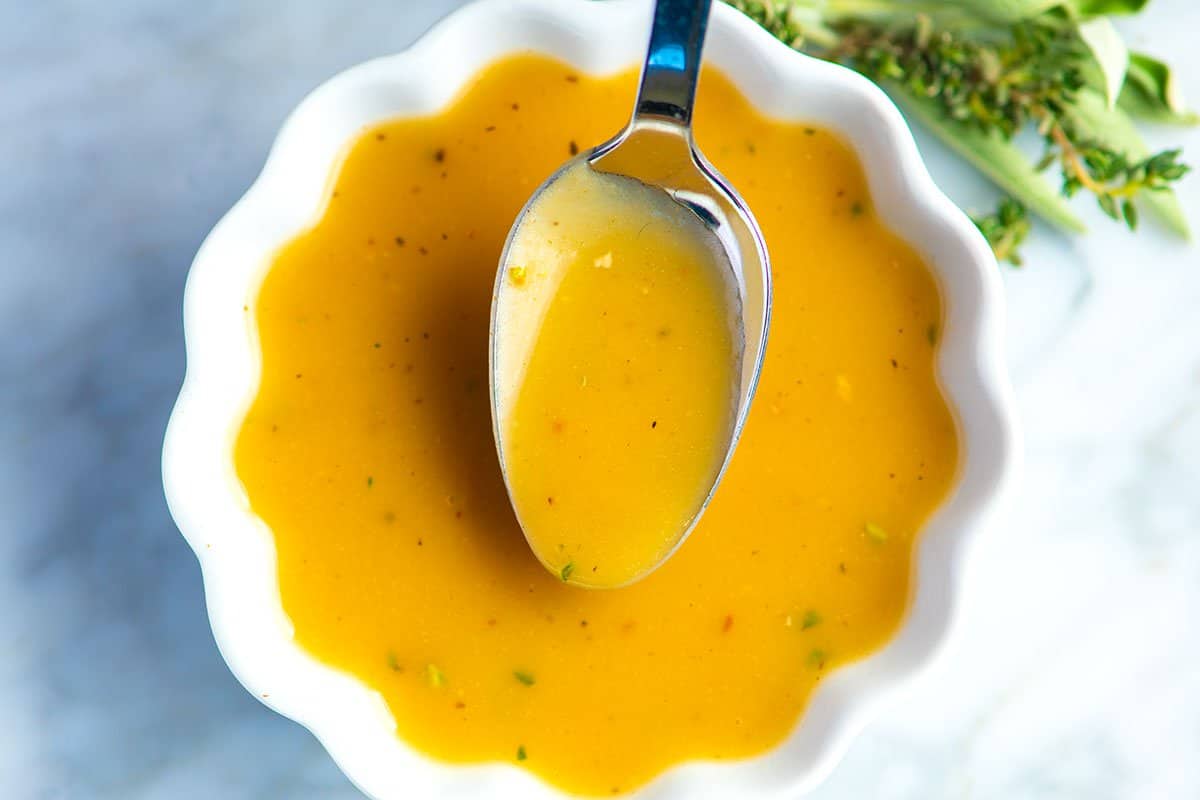 Easy Gravy From Scratch
Homemade gravy is quick and easy. If you've roasted chicken, turkey or beef, use the drippings left in the roasting pan. They make the gravy extra flavorful and seasoned. You can make gravy without drippings and use stock or broth in it's place. Store-bought stock is usually under seasoned. Take care when seasoning with salt and pepper towards the end of the recipe. Finally, for more flavor, whisk in mushroom powder. This is optional, but adds a deep savory flavor.
Watch Us Make the Recipe
You Will Need
1/4 cup unsalted butter
1/4 cup all-purpose flour
3 cups warm stock (poultry, beef or vegetable stock) or use pan drippings, see note below
1/2 teaspoon mushroom powder, optional, see our recipe
1/2 tablespoon chopped fresh herbs or 1/2 teaspoon dried herbs (try sage, thyme or rosemary)
2 to 3 tablespoons half and half or cream, optional
Sea salt and fresh ground black pepper to taste
Directions
Make Gravy

1In a wide skillet with sides, melt butter over medium heat. When melted and sizzling, whisk in the flour. Whisk until the flour and butter turn into a smooth paste and look medium blonde in color; about 1 minute. It smells toasty, like browned butter.

2Pour in stock and whisk until smooth. Bring the gravy to a low simmer. As it simmers, it thickens and becomes glossy.

3Whisk in the herbs and mushroom powder then cook at a low simmer for a minute or two. Remove from the heat then stir in half and half or cream (optional).

4Taste for seasoning and adjust with salt and black pepper (we like a generous amount of pepper).
Tips for Using Pan Drippings

1Substitute some or all the butter with fat left in the pan from roasting. If there are juices left in the pan, strain them then swap all or some of the stock for the pan juices. Pan drippings and juices will be well seasoned compared to the stock. When seasoning, taste the gravy first then adjust with more salt and/or pepper. If you used a stove-top safe pan such as a Dutch oven or stainless steel pan for roasting, there is no need for the skillet. Make the gravy directly in the roasting pan.
Adam and Joanne's Tips
Make ahead: Cool the gravy then store in an airtight dish. Refrigerate up to 5 days. When ready to serve, reheat the gravy over low heat. If you have pan drippings pour some of them into the gravy before serving.
Make onion gravy: To add even more flavor and sweetness, chop 1/2 an onion then cook in the butter until very soft and translucent (10 to 15 minutes). When the onion is ready, whisk in the flour and follow the recipe as stated above.
More flavor: Depending on the stock used, you may find you need to add more flavor. A dash of Worcestershire sauce, fish sauce and even soy sauce can help deepen the flavor of sauces.
For vegan/plant-based gravy, use vegan butter or follow our method for gluten-free gravy shared above in the article (made with cornstarch starch).
Nutrition facts: The nutrition facts provided below are estimates. We have used the USDA database to calculate approximate values.
If you make this recipe, snap a photo and hashtag it #inspiredtaste — We love to see your creations on Instagram and Facebook! Find us: @inspiredtaste
Nutrition Per Serving
Serving Size
About 1/3 cup
/
Calories
76
/
Protein
2 g
/
Carbohydrate
4 g
/
Dietary Fiber
0 g
/
Total Sugars
0 g
/
Total Fat
6 g
/
Saturated Fat
4 g
/
Cholesterol
15 mg
/
Sodium
285 mg