I love this satisfying strawberry smoothie! With 6 grams of protein and 7 grams of fiber, this utterly delicious strawberry banana smoothie will keep you full and energized for your day.  Jump to the Strawberry Banana Smoothie Recipe or read on to see our tips for making it.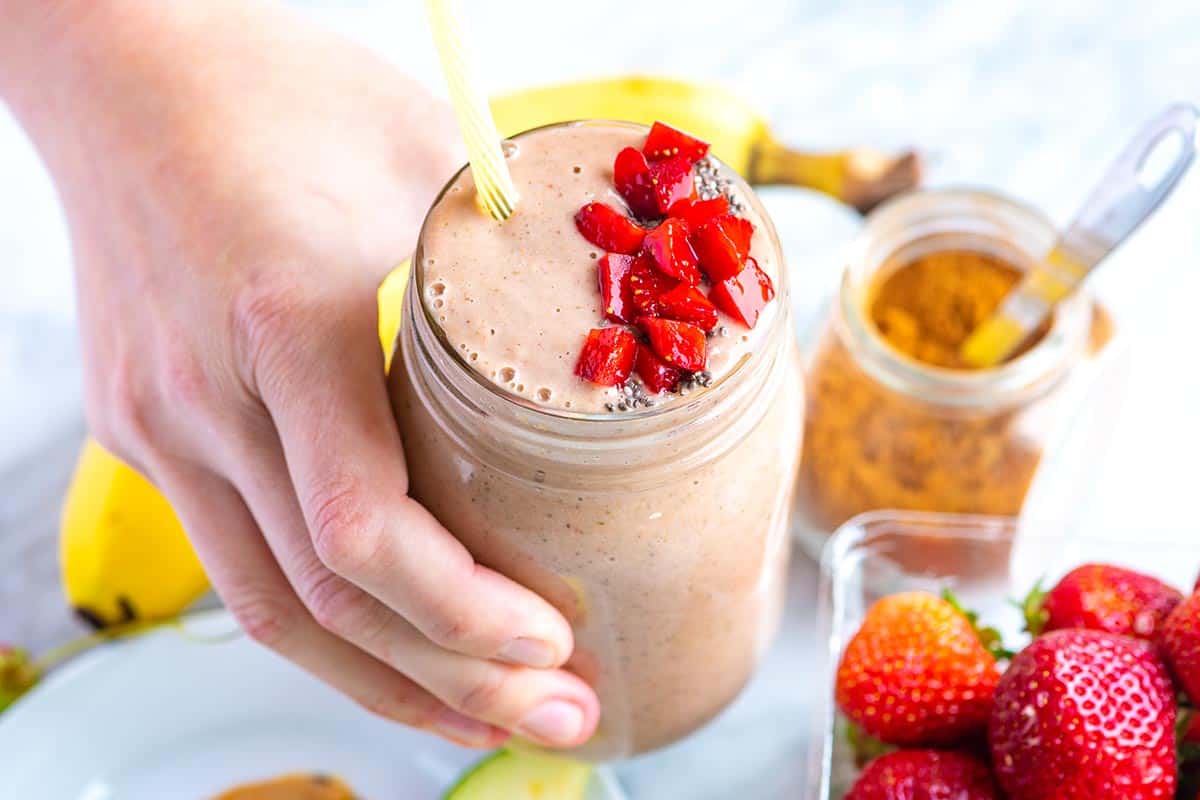 We adore this easy strawberry smoothie. Banana is blended with strawberries for a naturally sweet and creamy base. Then we add extra nutrition with zucchini (you don't really taste it), nut or seed butter, chia seeds and cinnamon.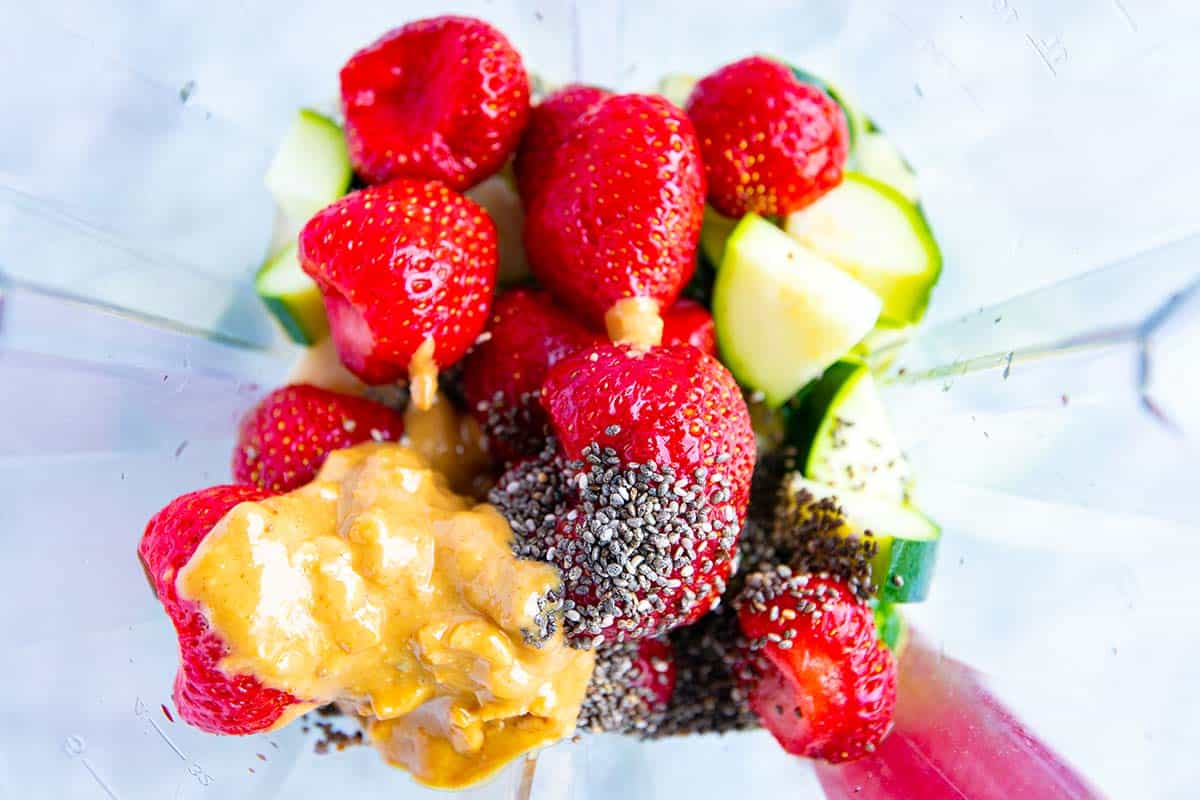 Banana adds creaminess, but it doesn't stop there. They are a nutritional powerhouse packed with heart-healthy potassium, vitamin B6 and fiber. (You might also be interested in our easy banana smoothie recipe.)
Strawberries add natural sweetness and are rich in vitamins C and K. They also provide a good dose of fiber, folic acid, manganese and potassium. Try our Basic Strawberry Smoothie.
Zucchini also adds creaminess. It's practically undetectable in the smoothie and provide Vitamin C, A, potassium, folate, and fiber.
Nut/Seed butter adds creaminess, flavor and protein. (You may like our homemade peanut butter recipe or homemade almond butter)
Chia seeds are rich in fiber, omega-3 fatty acids and bring even more nutrition to the party.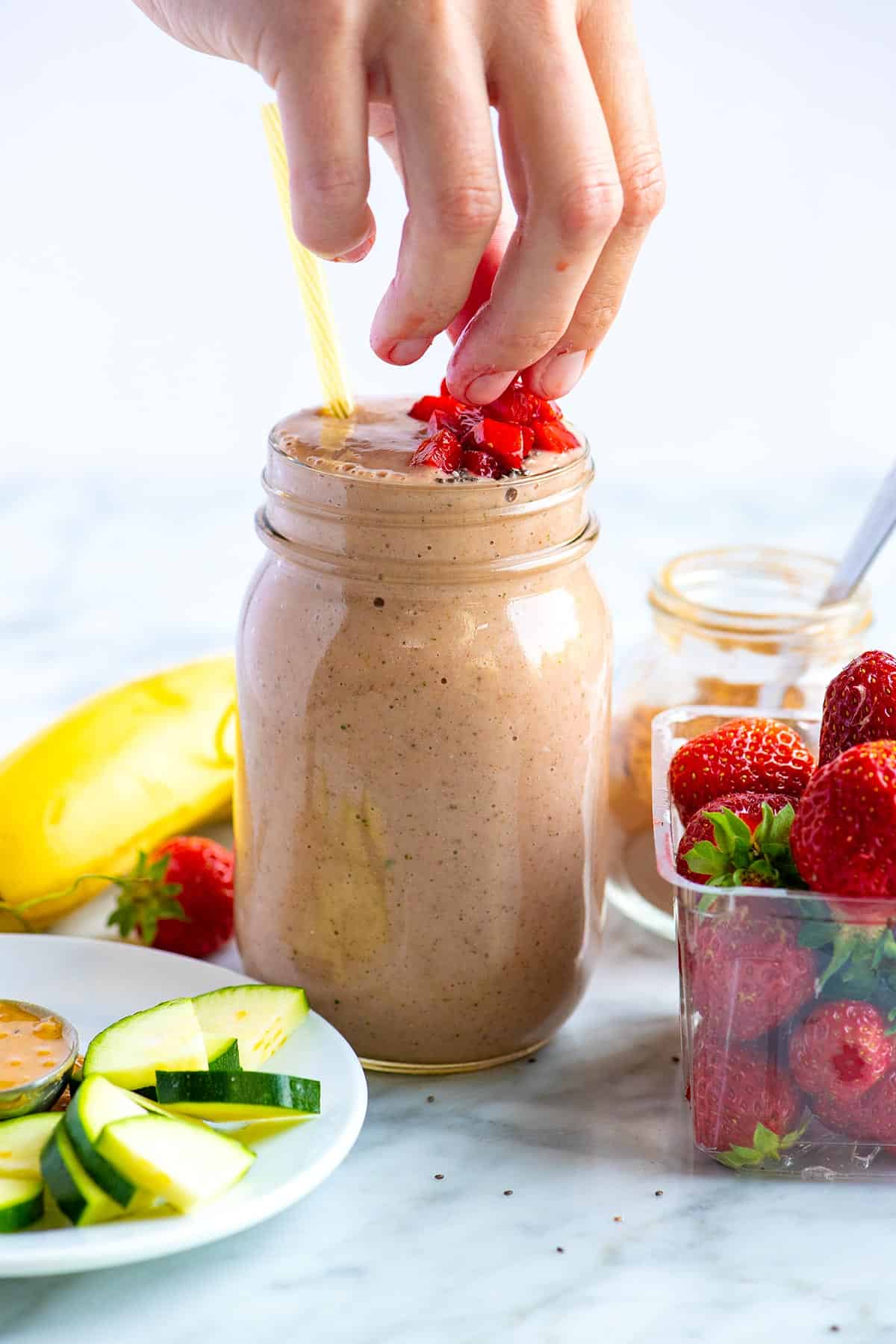 For more healthy recipes, take a look at our Guilt-Free Garlic Parmesan Zucchini Noodles, this Strawberry Iceberg Salad with Blue Cheese Vinaigrette, our Homemade Veggie Burgers and these Healthy Baked Sweet Potatoes with Tomato Avocado Salsa.
Ultra-Satisfying Strawberry Banana Smoothie Recipe
This healthy strawberry smoothie recipe with banana is satisfying and delicious. If you can, use frozen banana — it makes the creamiest smoothies. Next time you have a bunch of bananas in the kitchen, chop a few up and freeze for smoothies another day.
You Will Need
1 medium (125 grams) ripe banana, 1 cup chopped
1 heaped cup (150 grams) fresh or frozen strawberries
1 1/2 cups (185 grams) chopped zucchini (about half a medium zucchini)
2 tablespoons nut butter like peanut or almond butter, see our homemade peanut butter recipe
1 tablespoon chia seeds
Pinch ground cinnamon
Pinch sea salt
1 cup water or milk (dairy or non-dairy)
Honey, agave or other sweetener as needed
Directions
1Add banana, strawberries, zucchini, nut butter, chia seeds, cinnamon, salt and the water to a high speed blender. Blend on high until creamy and smooth. Taste then, if needed, adjust with a little sweetener. If the smoothie has trouble blending or seems too thick, add a little more liquid and blend until smooth.

2Divide between two glasses (or add to one tall glass for a double serving). If you like, sprinkle some extra chia seeds and diced strawberries on top before serving.
Adam and Joanne's Tips
Nutrition Per Serving
Serving Size
1 small smoothie (1/2 of recipe)
/
Calories
197
/
Protein
6 g
/
Carbohydrate
27 g
/
Dietary Fiber
7 g
/
Total Sugars
14 g
/
Total Fat
9 g
/
Saturated Fat
2 g
/
Cholesterol
0 mg
/
Sodium
129 mg