How to make a striking salad with roasted beets, pears, tomato and pecans. Jump to the Roasted Beets with Pears and Tomato Salad Recipe or read on to see our tips for making it.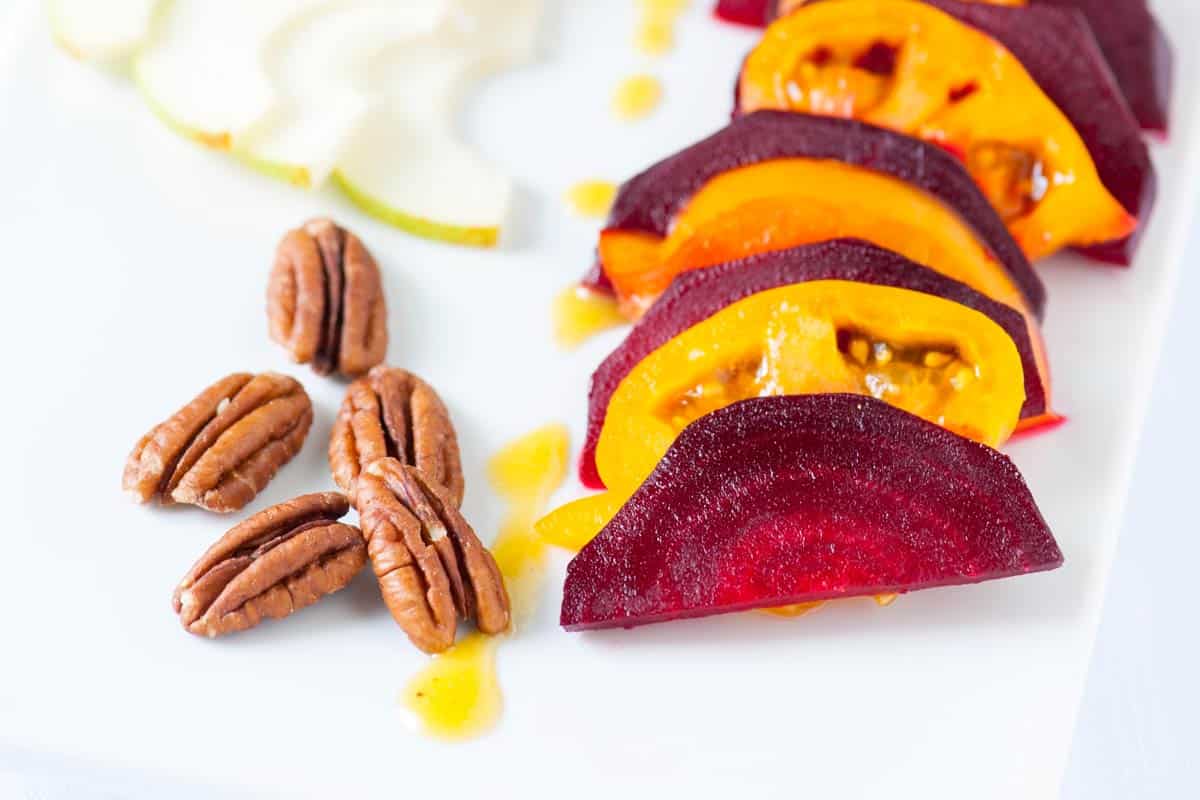 For a while now, Adam has had his eye on beets. Every time we walk through the store, he always seems to gravitate to the beets. It isn't that I don't like beets, I actually love them – sweet, versatile with a touch of earthiness.
YOU MAY ALSO LIKE: How to roast yellow beets and carrots with fresh sage. Jump the the Roasted Beets and Carrots with Sage.
Beets are easy to roast, but when it comes to cutting them, it can get a little messy. If you are not careful, your hands turn red. To deal with this, we use powder-free gloves — a pharmacy is a good place to buy them. You should be able to find a pack of 50 or so for around $8.
You can see from our photos that we "deconstructed" the salad, but you certainly don't need to. Instead, cut everything into quarters or cubes. I liked the look of layering the beets with  tomato and thinly sliced pears. There's a handful of pecans on the side and a serious amount of goat cheese, which if I had my way, would not actually make it onto the plate and instead would be dealt with by me and my spoon.
Fortunately, the goat cheese survived and we were able to enjoy it with our beets. You can serve all of this on top of some arugula, but as I was plating, the French baguette that we bought earlier caught my eye, so I warmed it up slightly and served it along side the salad.
For now, I can say that Adam's yearning for roasted beets has been dealt with. I wonder what the next craving will be? I am hoping for something chocolate.
Recipe updated, originally posted May 2011. Since posting this in 2011, we have tweaked the recipe to be more clear. – Adam and Joanne
Roasted Beets with Pears and Tomato Salad
Instead of slicing and layering the salad, try cutting everything into small cubes or wedges. For a shortcut, use previously roasted beets often sold in larger grocery stores.
You Will Need
2 to 3 beets, scrubbed clean, green tops cut off
1 to 2 yellow tomatoes, cut into 1/4-inch slices
1 pear, thinly sliced
4 ounces fresh goat cheese
1/2 cup pecan halves
1 teaspoon Dijon mustard
1 tablespoon apple cider vinegar
3 tablespoons extra-virgin olive oil
Salt and fresh ground black pepper
Baguette warmed for serving
Directions
1Place the beets into an aluminum-lined baking dish, cover tightly then roast in a 400 degree F oven for about 1 hour or until a fork can easily be inserted into the beets.

2Cool then peel away the skin under running water. Slice into 1/4-inch slices and arrange on a platter, alternating the beets with tomatoes and pears.

3Place the walnuts and goat cheese alongside the beets and tomatoes.

4Make the vinaigrette by whisking mustard, apple cider vinegar and olive oil together then season with salt and pepper. Drizzle over the salad and serve with the warmed baguette.