Easy-to-make pear and vanilla muffins featuring vanilla scented batter and fresh pear slices. Inspired by our trip to France, these muffins are a true delight – soft, light, and bursting with flavor. While we adore the combination of vanilla and pear, you can also experiment with other fruits. Consider trying sliced apples, strawberries, or plums for a delicious variation.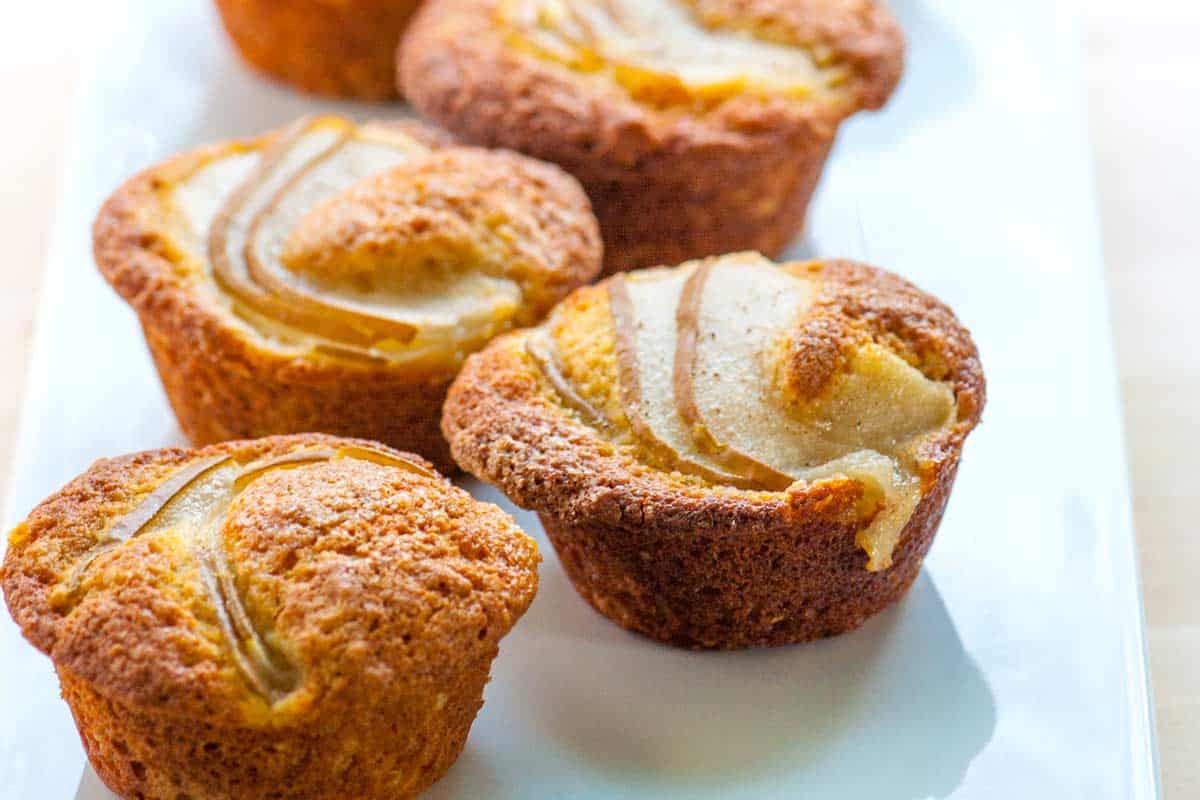 Related: See 12 must-try muffin recipes our family makes over and over again!
During our stay in Paris, we rented an apartment to immerse ourselves in the local culture. In the vibrant streets of the 4th district, just outside our tiny apartment, we could walk to various shops offering wine, cheese, chocolate, and, our personal favorite, a quaint little storefront selling freshly baked muffins.
As we passed the window each morning, we noticed someone meticulously measuring, mixing, and filling baking trays. After a few hours, we would return to select from their daily assortment. Our absolute favorite was the Poire et Vanille, a delightful combination of pear and vanilla. These muffins were a true delight – soft, light, and flavorful. They were served warm, perfect to enjoy while strolling the streets of Paris.
Since our time in Paris, we've been longing for these muffins. The memory of that experience holds true for most of what we encountered in the city. While we can't replicate everything back home, we can try to recreate the muffins. So here we are, our version of those fantastic pear muffins: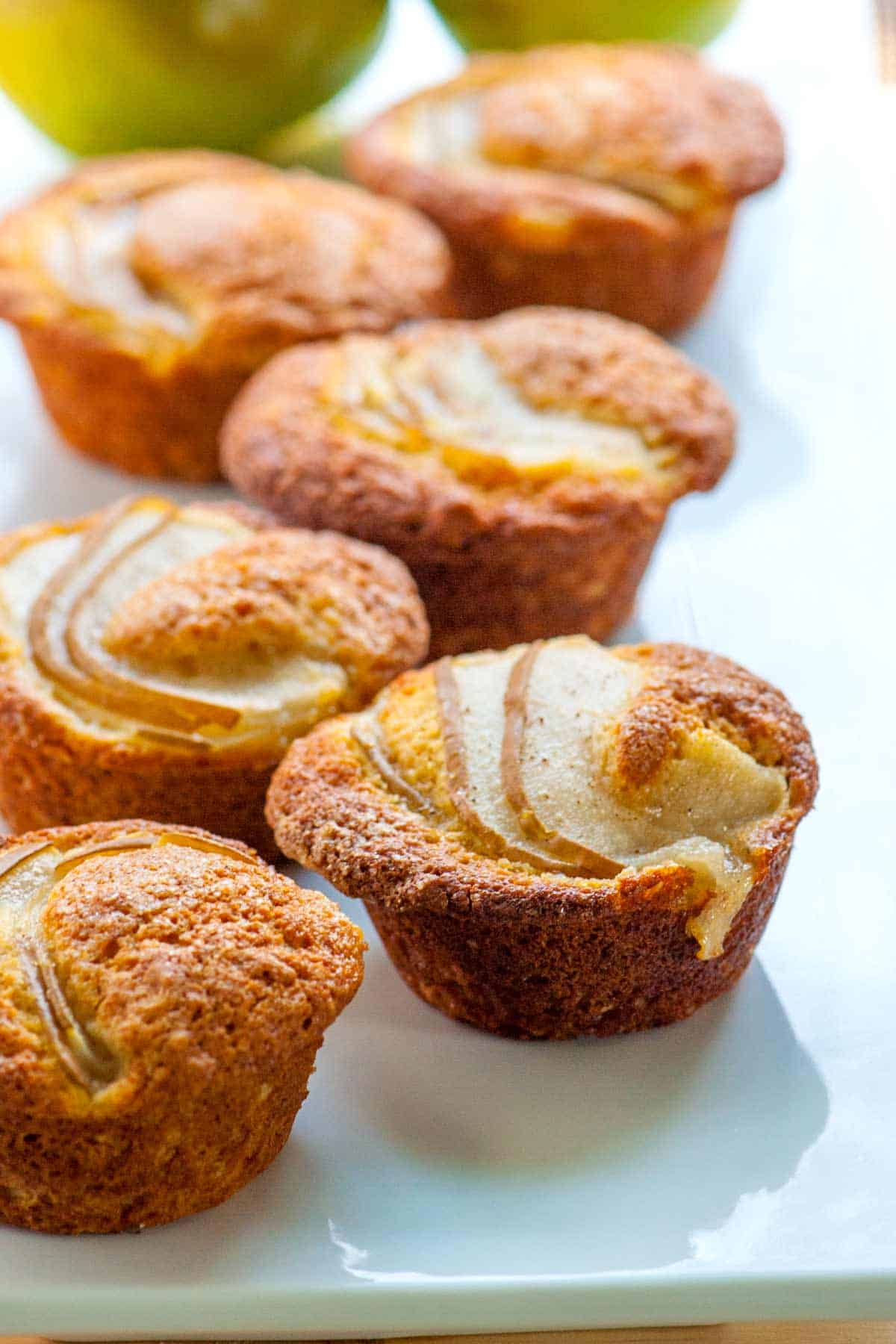 How to Make Muffins with Fresh Pears
We love these muffins. The batter starts with a classic combination of flour, baking powder, baking soda, eggs, and butter. Then we elevate the taste by infusing it with a touch of vanilla, a hint of lemon zest, and flavorful applesauce (or pear sauce, if you have it).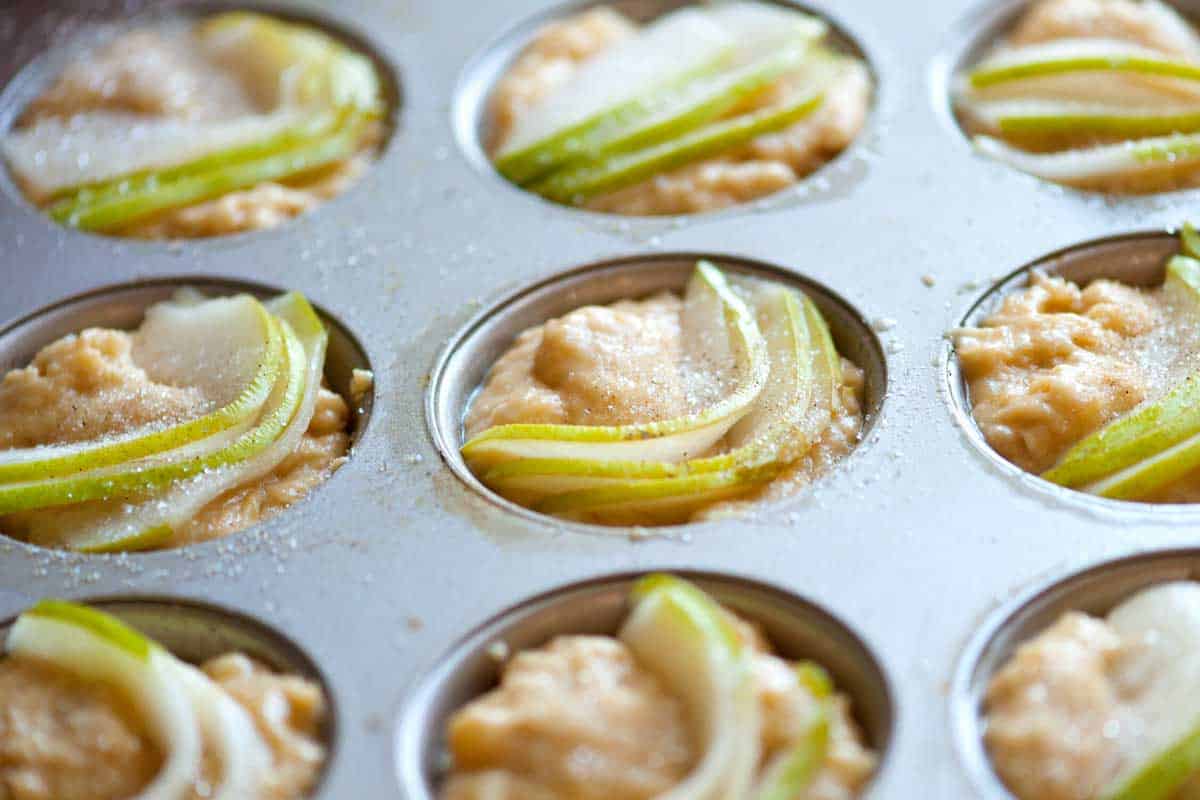 To add an extra touch of deliciousness, we gently press a few slices of juicy pear onto the muffin tops and add a sprinkling of vanilla sugar. As the muffins bake, the fruit softens, and the sugar forms a delicate crust.
With each bite, you'll experience the light and tender muffins with notes of vanilla and lemon and the delightful bursts of sweetness from the thinly sliced pears. These vanilla pear muffins transport us straight back to Paris. We hope you love them!
Vanilla Pear Muffins
These easy vanilla pear muffins were inspired by our trip to Paris. Every day we would walk by a tiny bakery that only sold freshly made muffins. We tried lots of them, but our favorite combined vanilla, spices, and fresh pear. This is our attempt at recreating them in our own kitchen.
You Will Need
1 ½ cups all-purpose flour
1 ½ teaspoons baking powder
1/2 teaspoon baking soda
1/4 teaspoon freshly grated nutmeg
1/4 teaspoon sea salt
2 large eggs
1 ½ tablespoons vanilla extract
1 tablespoon lemon zest
1 cup lightly packed brown sugar
11 tablespoons unsalted butter, melted
1 cup unsweetened applesauce or pear sauce, try homemade applesauce
1 to 2 ripe pears, thinly sliced, for muffin tops
2 tablespoons vanilla sugar, for muffin tops
Directions
1Position an oven rack in middle position and heat oven to 400 degrees F. Grease muffin pan or line with paper cups.

2Whisk the flour, baking powder, baking soda, nutmeg and salt in a bowl. In another bowl, whisk the eggs, vanilla extract, lemon zest and brown sugar until blended. Stir in the melted butter, a little at a time, whisking until mixture is creamy.

3Stir in the applesauce, then fold the wet ingredients into the flour mixture until just combined.

4Divide batter among muffin cups then lightly push a few slices of pear into the top of each muffin. Sprinkle tops with a dusting of vanilla sugar.

5Bake the muffins until risen and golden, about 20 minutes. Remove from the oven and allow to cool in the pan for 5 minutes. Transfer the muffins to a cooling rack.
Adam and Joanne's Tips
You can buy vanilla sugar or make it yourself at home. To make it, split a whole vanilla bean and scrape the seeds into an airtight container. Add about 2 cups of sugar then bury the vanilla pod in sugar and seal tightly with lid. Let sit for 1 to 2 weeks. Use as regular, granulated sugar. To make it on the fly, rub a little vanilla extract into granulated sugar.
If you make this recipe, snap a photo and hashtag it #inspiredtaste — We love to see your creations on Instagram and Facebook! Find us: @inspiredtaste
Nutrition Per Serving
Serving Size
1 muffin
/
Calories
247
/
Total Fat
11.6g
/
Saturated Fat
6.9g
/
Cholesterol
59mg
/
Sodium
121mg
/
Carbohydrate
33.3g
/
Dietary Fiber
1.1g
/
Total Sugars
19.5g
/
Protein
2.9g
Recipe updated, originally posted February 2011. Since posting this in 2011, we have tweaked the recipe to be more clear. – Adam and Joanne